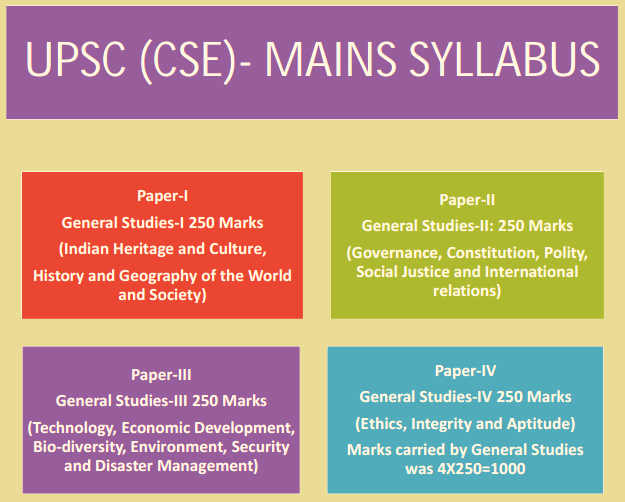 The Civil Services Main examination is designed to check the scholastic skills of the aspirants and also his/her ability to present his/ her knowledge in a comprehensible, consistent and descriptive manner. The Main Exam intents to evaluate the intellectual quality in whole and candidates insight instead of just their mug up and details.  
Candidates can get the detailed syllabus, structure, strategy and topic-wise questions for the GS I, II, III and IV paper of UPSC Mains in the links given below:
Revised UPSC Exam Pattern 2015
The Civil Services Main Examination pattern has been revised by UPSC from 2015. Now, the main examination has 9 papers (7+2) and all of them requires descriptive answering. There are two qualifying papers:
Any modern Indian language

English are of 300 marks each.
However, their marks will are not taken into account in the main examination.   According to the new pattern there are 4 General Studies paper each comprising of 250 marks with a total of 1000 Marks. The syllabus of General Studies for Mains is of degree level. The Four Papers of General Studies are divided as mentioned below:  
UPSC Syllabus for General Studies
Paper-I

General Studies-I 250 Marks

(Indian Heritage and Culture,

History and Geography of the World and Society)

Paper-III

General Studies-III 250 Marks

(Technology, Economic Development, Bio-diversity, Environment, Security and Disaster Management)

Paper-II

General Studies-II: 250 Marks

(Governance, Constitution, Polity, Social Justice and International relations)

Paper-IV

General Studies-IV 250 Marks

(Ethics, Integrity and Aptitude)

Marks carried by General Studies was 4X250=1000
The questions in Mains will be to check a candidate's primary apprehension of variety of subjects that will be relevant to the Civil Services career. Hence, it is advised to candidates to go through General Studies Paper with attention to detail before starting their preparations. Here's a detailed list of General Studies Papers I-IV:
The nature of questions in General Studies in civil services mains exam need answers that are relevant, consequential and synoptic that will impress the examiner and these questions are to test the candidate's skill on assessing and taking a view on the diverging socio-economic goals and objectives.   BYJU's Tab that is preloaded with IAS exam classes and comprises almost 500+ hours of video sessions and classes by the top IAS trainers in India, comprehensive and up-to-date material with proper emphasis on important topics will help the IAS Exam aspirants to crack the Mains exam effortlessly and comfortably. We also have come up with novel educative tools and methods in memorizing techniques and mind mapping that will make learning and remembering easy in this Civil Services IAS General Studies Mains Paper I to IV.   The UPSC Mains Exam 2015 question paper on essay saw almost 3 questions directly or indirectly out of 8 that were discussed by BYJU's.
Click to Download the PDF of UPSC Mains General Studies Paper I, II, III, and IV
To know more about IAS exam click the below links:  
UPSC Current Affairs | How to prepare for General Studies Prelims Papers  | Notes preparing techniques