This article will talk about mental health care bill 2016. It is important from the IAS Exam point of view.
Table of Content:
Aspirants can cover the topics mentioned in the

UPSC Syllabus

by following the below-mentioned links:
Why in news?
The central government has recently introduced the mental health care bill 2016
in the parliament –It is considered as one of the watershed legislation in the field of health.
World Mental Health Day is observed on the 10th October every year, with this year's theme being "Psychological First Aid".
What is mental health?
According to WHO (World Health Organization), mental health is defined as "a state of well-being in which the individual realizes his or her abilities, can cope with the normal stresses of life, can work productively and fruitfully, and is able to contribute to his or her community".                                                      Or
According to Sigmund Freud, mental health is the capacity of an individual "to work and to love".
Why is it a cause of concern?
A survey conducted jointly by the National Institute of Mental health and Neurosciences (NIMHANS) and the Ministry of Health and Family Welfare in 12 states reveals that over 13% of the population in these states is suffering from some mental health disorders ranging from familiar ailments like depression and anxiety to severe illnesses that include bipolar disorders.
According to the World Health Organisation (WHO) "If we do not act immediately, by 2030 depression will be the leading illness worldwide". It has been estimated that by 2020, depression will be the second leading disability globally.
Mental illnesses are normally prevalent in females, children, elderly people, disaster survivors, the industrial workforce, adolescents, and those people who are having chronic medical conditions.
Mental health has become a crisis not only in India but also worldwide. With illnesses ranging from minor depression to conditions like Parkinson's, Alzheimer's, schizophrenia prevalent, there is no denying the fact that it's time to act.
                                   World Mental Health Day
 October 10th is World Mental Health Day. The day is observed every year to raise awareness about mental health issues around the world and mobilizing support for mental health.
The theme for this year is – 'Psychological First Aid'.
 Psychological First Aid (PFA) is a caring, supportive, and practical approach for people exposed to a high level of stress and who may need support. It is an approach to help people recover by responding to their basic needs and showing them concern and care in a way that respects their wishes, culture, dignity, and capabilities.
 It involves giving non-intrusive realistic care and support, assessing people's needs, listening to but not pressurizing to talk, providing them with basic requirements like food, water, clothing, etc, and comforting and protecting people from further harm.
 National Mental Health Week is also observed in India from October 8th to 15th, to create awareness about the magnitude of mental health problems in India.

Main hurdles in overcoming the problem of mental health In India-
·         Lack of awareness in common people.
·         Stigma related to mental disorders.
·         Delayed treatment-seeking behaviour.
·         Lack of low-cost diagnostic test.
·         Limited access and availability to easily available treatment.
·         Over beliefs in traditional medicine and supernatural powers delay diagnosis and treatment.
India gave its attention all these years mainly to improve maternal and child health and communicable diseases. This lead to huge lacunae in developing and implementing policies to address mental disorders.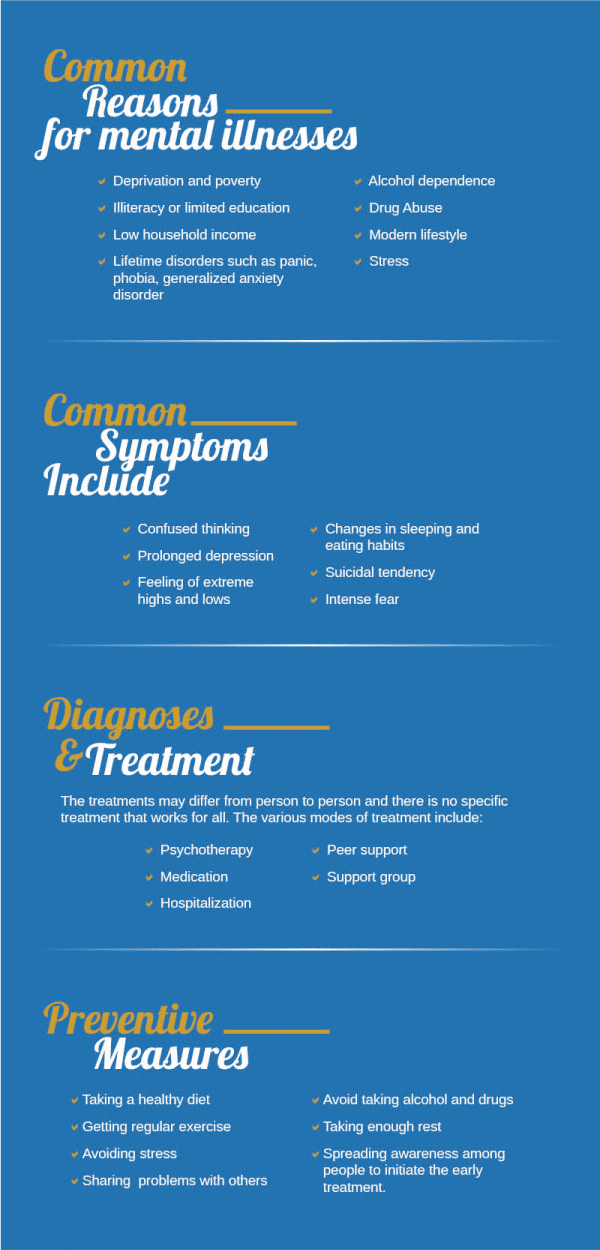 Legislations supporting mental health in India – 
Pre-independence-
·         Lunacy asylum act 1858.
·         Lunacy act in 1912.
 Post-independence-
·         Indian psychiatric society was established in 1947.
·         Narcotic drugs and psychotropic substances act (NDPS) 1985-supports mental health care indirectly
 Mental health Act (MHA) 1987.
An Act to consolidate and amend the law relating to the treatment and care of mentally ill persons, to make better provision concerning their property and affairs and other matters connected therewith.
 Person with disability act 1995-
To remove discriminations in the sharing of developmental benefits concerning non-disabled persons and to prevent abuse and exploitations of persons with disability (PWD). It provided special provisions for the integration of PWD into the social mainstream.
 National trust act 1999-
This act got enacted in the year 1999 for the welfare of persons with autism, mental retardation, cerebral palsy, and multiple disabilities to facilitate and empower them to live as independently and as close to the community to which they belong and to make possible the realization of equal opportunities and protection of rights.
United Nations convention for rights of persons with disabilities 2006 –UNCRPD was adopted in 2006. It was ratified by the Parliament of India in 2008. Accordingly, Countries that have signed and ratified the UNCRPD are required to bring their laws and policies in harmony with it. The convention marks a standard shift in respect of disabilities from a social welfare concern to a human right concern. The new pattern is based on the belief of legal capacity, equality, and dignity.
 The Mental Healthcare Bill 2016(Proposed) –
The Bill repeals the Mental Health Act, 1987. Bill provides for mental healthcare and services for persons with mental illness and to protect, promote, and fulfill the rights of such persons during the delivery of mental healthcare and services.
The Mental Healthcare Bill – 2016
 Background- The United Nations Convention on Rights of Persons with Disabilities and its Optional Protocol was adopted in 2006 and came into force in 2008. Since India signed and ratified the said Convention in 2007, it became necessary to align and harmonize the existing laws with the Convention standards. The mental healthcare bill 2016 repeals the mental health act in 1987.
Aim-Bill provides for mental healthcare and services for persons with mental illness and to protect, promote, and fulfil the rights of such persons during the delivery of mental healthcare and services.
Key terms-
'Mental illness' means a substantial disorder of thinking, mood, perception, orientation, or memory that grossly impairs judgment, behaviour, capacity to recognize reality or ability to meet the ordinary demands of life, mental conditions associated with the abuse of alcohol and drugs.
'Mental retardation' is a condition of arrested or incomplete development of the mind of a person, especially characterized by subnormality of intelligence.
'Mental health establishment' means any health establishment, including Ayurveda, Yoga, and Naturopathy, Unani, Siddha, and Homoeopathy establishment, by whatever name called, either wholly or partly, meant for the care of persons with mental illness, established, owned, controlled or maintained by the appropriate Government, local authority, trust, whether private or public, corporation, co-operative society, organization or any other entity or person.
'Mental healthcare' includes analysis and diagnosis of a person's mental condition and treatment and rehabilitation of such person for his mental illness or suspected mental illness.
Salient Features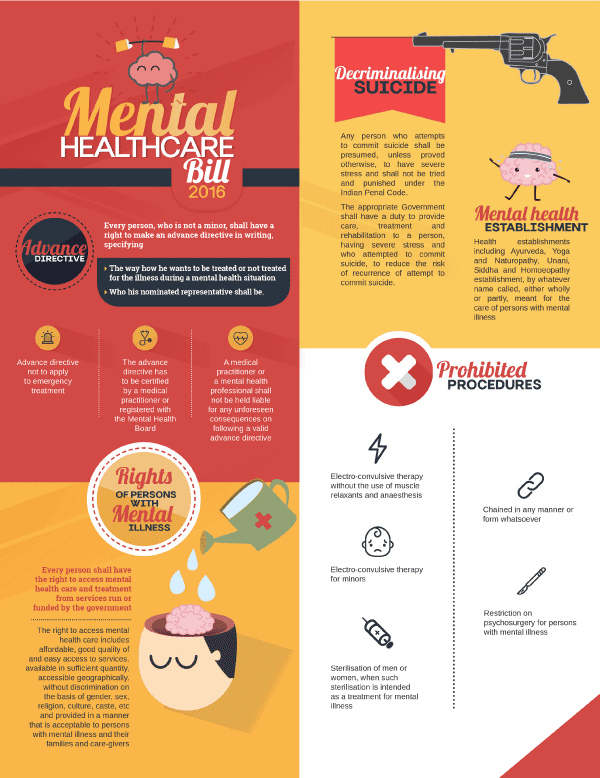 Advance Directive: Every person, who is not a minor shall have a right to make an advance directive in writing specifying –
The way how he wants to be treated/cared for or not to be treated/cared for the illness during a mental health situation.
Who His nominated representative shall be:

An advance directive may be made by a person irrespective of his past mental illness or treatment.
An advance directive is invoked only when such a person ceases to have the capacity to make mental healthcare or treatment decisions
The advance directive does not apply to emergency treatment.
It shall be the duty of every medical officer in charge of a mental health establishment and the psychiatrist in charge of a person's treatment to propose or give treatment to a person with mental illness, in accordance with his valid advance directive.
A medical practitioner or a mental health professional shall not be held liable for any unforeseen consequences on following a valid advance directive.
The advance directive has to be certified by a medical practitioner or registered with the Mental Health Board. If a mental health professional or relative or care-giver does not wish to follow the directive while treating the person, he can make an application to the Mental Health Board to review or alter or cancel the advance directive
Rights of persons with mental illness
Every person shall have the right to access mental health care and treatment from services run or funded by the government.
The right to access mental health care includes affordable, good quality of and easy access to services, available in sufficient quantity, accessible geographically, without discrimination based on gender, sex, religion, culture, caste, etc and provided in a manner that is acceptable to persons with mental illness and their families and care-givers.
Persons with mental illness also have the right to community living, right to equality of treatment, protection from inhuman and degrading treatment, free legal services, access to their medical records, right to confidentiality, and complaints regarding deficiencies in the provision of mental health care.
Duties of Appropriate Government-          
Promotion of mental health and preventive programmes.
Creating awareness about mental health and illness and reducing stigma associated with mental illness.
Appropriate Government to take measures as regard to human resource development and training, etc
Co-ordination within appropriate Government.
Central and State Mental Health Authority: These are administrative bodies are required to do-
To register, supervise, and maintain a register of all mental health establishments.
To develop quality and service provision norms for such establishments.
To maintain a register of mental health professionals.
To Train all persons- law enforcement officials and mental health professionals on the provisions of the Act.
To advise the Central Government on all matters relating to mental healthcare and services.
To receive complaints about deficiencies in the provision of services.
Inspection and inquiry–
The Authority may suo moto or on a complaint received from any person with respect to non adherence of minimum standards specified by or under this Act or contravention of any provision thereof, order an inspection or inquiry of any mental health establishment.
Any mental health establishment aggrieved by an order of Authority can Appeal to the High Court against the order of Authority.
Mental Health Establishments- No person or organization shall establish or run a mental health establishment unless it has been registered with the Authority under the provisions of this Act
To be registered, the establishment has to fulfil various criteria prescribed in the Bill. This include-
Display within the establishment (including on its website), the contact details including address and telephone numbers of the concerned Board.
Every mental health establishment shall provide the person with necessary forms to apply to the concerned Board and also give free access to make telephone calls to the Board to apply for a review of the admission
Mental Health Review Commission and Board:
The Mental Health Review Commission will be a quasi-judicial body that will periodically review the use of and the procedure for making advance directives and advise the government on the protection of the rights of mentally ill persons.
The Commission shall with the concurrence of the state governments, constitute Mental Health Review Boards in the districts of a state.
Powers-
Register, review/alter/cancel an advance directive,
Appoint a nominated representative.
Adjudicate complaints regarding deficiencies in care and services.
To receive and decide applications in respect of non-disclosure of information.
Receive and decide application from a person with mental illness/his nominated representative/any other interested person against the decision of a medical officer or psychiatrists in charge of a mental health establishment.
Insurance:
The Bill provides that the Insurance Regulatory Development Authority shall endeavour to ensure that all insurers provide insurance for the treatment of mental illness on the same basis as available for other physical illnesses.
Central Mental Health Authority Fund-by the central government. It will be credited with-
Any grants and loans made to the Authority by the Central Government
All fees received by the Authority under this Act and
All sums received by the Authority from such other sources as may be decided upon by the Central Government
(Note-On the same lines state mental health authority fund has to be established.)
Decriminalising suicide–
Any person who attempts to commit suicide shall be presumed unless proved otherwise, to have severe stress and shall not be tried and punished under the Indian Penal Code.
The appropriate Government shall have a duty to provide care, treatment, and rehabilitation to a person, having severe stress and who attempted to commit suicide, to reduce the risk of recurrence of attempt to commit suicide.
Offences and Penalties-
Penalties for establishing or maintaining mental health establishment in contravention of provisions of this Act
For the first contravention – a penalty which shall not be less than five thousand rupees but which may extend to fifty thousand rupees
For a second contravention- a penalty which shall not be less than fifty thousand rupees but which may extend to two lakh rupees
For every subsequent contravention –a penalty which shall not be less than two lakh rupees but which may extend to five lakh rupees.
Penalties for a mental health professional (for contravention of any of the provisions) – shall be liable to a penalty which may extend to twenty-five thousand rupees.
Penalties for Other persons – be punishable with imprisonment for a term which may extend to six months, or with a fine which may extend to ten thousand rupees or with both, and for any subsequent contravention with imprisonment for a term which may extend to two years or with fine which shall not be less than fifty thousand rupees but which may extend to five lakh rupees or with both.
All sums realized by way of penalties shall be credited to the Consolidated Fund of India.
Whoever fails to pay the amount of penalty, the State Authority may forward the order to the Collector of the district and the Collector shall recover from such persons or mental health establishment the amount specified thereunder as if it were an arrear of land revenue.
Prohibited procedures under the bill
Prohibited procedures under the bill-
Electro-convulsive therapy (ECT) without the use of muscle relaxants and anaesthesia-ECT is a procedure in which small electric currents are passed through the brain, intentionally triggering a brief seizure. ECT seems to cause changes in brain chemistry that can quickly reverse symptoms of certain mental illnesses.
Electro-convulsive therapy for minors.
sterilization of men or women, when such sterilization is intended as a treatment for mental illness
Chained in any manner or form whatsoever.
Restriction on psychosurgery for persons with mental illness.
Mental illness person shall not be subjected to seclusion or solitary confinement, and physical restraint may only be used when-
It is the only means available to prevent imminent and immediate harm to the person concerned or others.
It is authorized by the psychiatrist in charge of the person's treatment at the mental health establishment.
Some of the Drawbacks in the present system-
Mental hospitals are-

Away from the community.
Dumping ground for the mentally ill.
Run by wardens rather than doctors.
Poor human rights record.
Custodial rather than therapeutic.

Emphasis on curative rather than preventive and Promotive aspects of mental health.
No clear cut model for macro implementation.
Inadequate mental health resources.
Uneven distribution of resources across states.
Limited undergraduate& postgraduate training in psychiatry.
Lack of policy-driven epidemiological data and research-driven mental healthcare policies.
Late privatization in mental health care.
A limited number of models and their evaluation
Role of NGOs
ROLE OF THE NGO'S
Non-governmental organizations (NGOs) have played a significant role in the last few decades in not only helping to bridge the treatment gap but also by creating low-cost replicable models of care.
 NGOs are active in wide-ranging areas such as child mental health, drug and alcohol abuse, schizophrenia, dementia, and psychotic conditions, etc. Their activities have included treatment, rehabilitation, community care, research, training, and capacity building, awareness, and lobbying.
Non-government organizations (NGO's) are playing a key role in identifying and  treating  people  with mental illness in the following ways:
Conducting camps, awareness campaigns.
Keeping hospital or institution based clinics
Establishing specialized educational and rehabilitation centres in different corners of the country.
For example-
Sangath Society (Goa) and Umeed and the Research Society (Mumbai)-leaders in Providing outpatient and school-based services.
Alzheimer's and Related Disorders Society of India (ARDSI), which was started in Cochin, and has now extended to reach more than a dozen centres in India.
 Way Forward
The problem of mental disorders seen by the world is only the tip of the iceberg. To promote mental health, there is a need to create a healthy living environment that supports mental health and allows people to adopt and maintain a healthy lifestyle.
National mental health policies should not be solely concerned with mental disorders, but should also identify and address broader issues like education, justice, environment, housing, and health sector, which promote mental health.
It is accepted that the onset of many mental disorders starts at such an early age. India needs to aim at improving child development by early childhood interventions like nutritional and psychosocial help, preschool psychosocial activities to give roots for a healthy community
Since women are at increased risk of developmental problems, there is a need to empower women socially and economically by improving access to education and employment opportunities.
Society needs to be free of discrimination and violence. Eliminating discrimination against gender, caste, disability, and socioeconomic status is an important facet to reduce mental disorders. stress prevention programmes at workplaces and programmes addressing concerns of indigenous people, migrants and people affected by disasters need to be established
Social support for elderly people needs to be strengthened. More day centres and community centers for the aged should be developed.
Another key to reducing mental morbidity is to strengthen the treatment of mental disorders at the level of primary health care. There are manifold interventions needed to prevent the progression of mental disorders from the early manifestation of signs and symptoms to more serious and chronic cases. There is an urgent need for simple, easily available diagnostic tests and economical treatment to provide better primary health care.
How to approach for the Civil Services Examination
Essay-
"Health is wealth. But, no health without mental health".
Is Mental illness India's ticking bomb?
GS Paper II- Health-related aspect (public health and safety. Welfare etc)
Practice Questions – In Prelims-
Which of the following statement is /are correct
Article 21 of the constitution also deals with the right to health.
The draft bill legalizes active euthanasia in India.
According to the draft bill on passive euthanasia, the advanced medical directive shall be void and not binding on any medical practitioner.
The draft Bill also provides for active euthanasia and physician-assisted suicide in certain cases.
In Mains-
GS paper II-
a) In India, it is said that mental hospitals are run by wardens rather than doctors. Discuss?
b) One of the main reasons for poor mental health care in India is the lack of policy-driven epidemiological data and research-driven mental healthcare policies. Critically discuss?
c) Promoting voluntary agencies and privatization in mental health care will do a world of good in providing quality mental care in India. Discuss?
Frequently Asked Questions about Mental Health in India
What is the vision of the National Mental Health Policy?
The vision of the National Mental Health Policy is to promote mental health, prevent mental illness, enable recovery from mental illness, promote destigmatization and desegregation, and ensure socio-economic inclusion of persons affected by mental illness by providing accessible, affordable and quality health and social care to all persons through their life-span within a rights-based frame work.
.
Why is Mental Health important?
Mental health plays a major role in people's ability to maintain good physical health. Mental illnesses, such as depression and anxiety, affect people's ability to participate in health-promoting behaviors.
UPSC Preparation: