The National Security Guard (NSG) is one of the special forces of India involved in counter-terrorism. In this article, you can read all about the National Security Group (NSG) for the UPSC exam. Various internal security forces and their mandates are an important part of the UPSC syllabus.
National Security Guard:- Download PDF Here
National Security Guard
The NSG is a special force of India that was raised in 1986 to deal with anti-terrorist activities in the country.
In the wake of Operation Blue Star in 1984, the government felt the need for a special anti-terrorist force in India.

Accordingly, in August 1986, a bill was passed introduced in the Parliament for the creation of this organisation. It received presidential assent on 22 September 1986, when the NSG formally came into being.

It is considered a federal contingency force that has been given the specific task of handling all forms of terrorism in India.

The NSG is modelled on the GSG-9 of Germany and the United Kingdom's SAS.

It is a task-oriented force whose primary philosophy is 'swift and speedy strike and immediate withdrawal from the theatre of action'.

It comprises two complementary elements:

Special Action Group (SAG) – comprising Army personnel

Special Ranger Groups (SRG) – comprising CAPF and State Police forces personnel

NSG is an elite force whose personnel receive tough and extensive training.

NSG is directly under the Ministry of Home Affairs, Government of India.

NSG Motto: Sarvatra Sarvottam Suraksha

NSG personnel are also called Black Cats because of their black uniform and black cat insignia on their uniform.

There is no direct recruitment to the NSG. Personnel from the army/police forces serve in the NSG on deputation.

NSG is headed by a Director-General who is generally drawn from the Indian Police Service.

Some of the major operations of the NSG include:

Operation Black Thunder (anti-Khalistani operation in the late eighties)

Operation Ashwamedh (hijack rescue mission in 1993)

Operation Vajra Shakti (Akshardham Temple, Gandhinagar, 2002)

Operation Black Thunder (26/11 Mumbai attacks, 2008)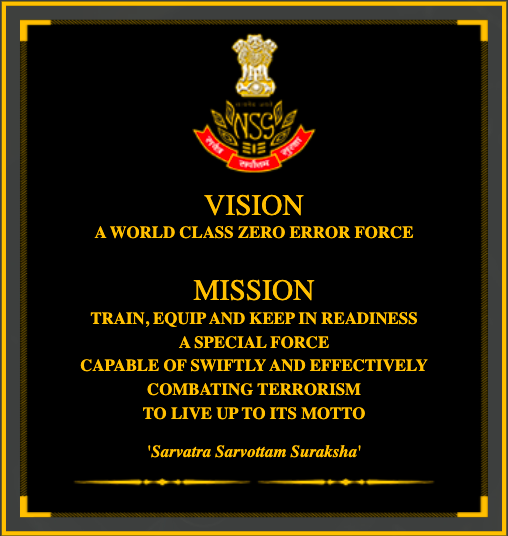 Functions of National Security Guard
The major functions of the NSG are:
Counter hijacking tasks on land, air and sea

Post blast investigation

Bomb disposal (search, detection & neutralisation of IEDs)

VIP security

Hostage rescue missions
NSG Ethos
Pursuit of excellence

Lead from the front

Zero error

Speed, surprise, stealth, precision and accuracy
Read more on the Security Forces and Agencies of India in the link.