Pujya Priyadarshini is one of the candidates whose hard work and patience helped her clear the Civil Services in the 4th attempt with AIR 11 in 2018. She then joined the prestigious Indian Foreign Service.
Aspirants can refer this post to know her success strategies and follow it in the IAS Exam.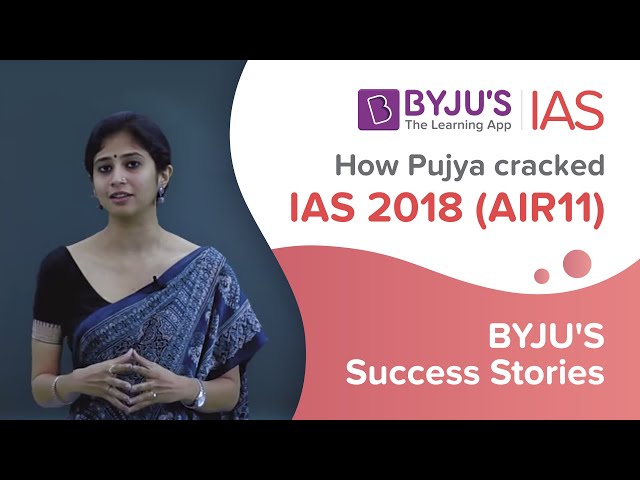 To see more inspirational videos of IAS toppers along with their preparation strategies, marks and optional subjects, aspirants can check the linked article.
Pujya Priyadarshini Background- Study and Work profile
Graduation– B.Com from Shri Ram College of Commerce (Delhi University)
Masters– Public Administration from Columbia University, New York
Work profile– PricewaterhouseCoopers, Delhi ( 2.5 years)
Reliance Foundation, Mumbai
During this journey, she thought of pursuing her passion of getting into Civil Services which she cleared in the 4th attempt in 2018.
The journey of IAS Topper Pujya Priyadarshini
Pujya Priyadarshini mentioned in her interview that her journey had been a bit longer as she appeared Civil Services in 2013 for the first time but cleared in the 4th attempt in 2018.
| | |
| --- | --- |
| Attempt | Year |
| 1st | 2013( Pursuing B.Com) |
| 2nd | 2016 ( Made it till the Interview but could not clear) |
| 3rd | 2017 (Could not clear Prelims) |
| 4th | 2018( IAS Topper, AIR 11) |
Achievement Motivation
Pujya Priyadarshini's grit has helped her achieve her dream. However, she mentioned her achievements secret which are:
Parents – Constant source of motivation and were in the same domain( Civil Services)
The realization to work for her own country– While staying abroad, Pujya realized that her Country needs individual who can bring about a change in society and help in uplifting the development.
Civil Services Preparation- Tips and Strategies
Pujya Priyadarshini gave few important preparation tips to ace the Civil Services exam.
They are:
Thorough Preparation of Current Affairs for  Prelims and Mains Exam
Newspaper reading on a daily basis (The Hindu)
Segregating topics based on syllabus and preparing accordingly.
Don't stress too much before the exam.
Practice the Essay Paper and have it reviewed.
General Studies is portrayed differently in all the 3 stages of the exam. Conceptual and in-depth in prelims and Mains while in Interview the questions are mostly awareness type.
Essay and Ethics Paper are a bit tough and should not be taken lightly.
Pujya Priyadarshini- Civil Services Important Details
Optional subject – Sociology
Favourite subjects- History (paper I), Polity (paper II)
Score Card of Pujya Priyadarshini
The Civil Services 2018 scorecard of Pujya Priyadarshini is given below:
| | |
| --- | --- |
| Score | Paper |
| 108 | G.S Paper I |
| 114 | G.S Paper II |
| 99 | G.S Paper III |
| 115 | G.S Paper IV |
Other IAS Toppers' Marks can be found at the linked article.
Pujya Priyadarshini – Strategy in Civil Service Exam
Pujya is a passionate writer and blogger, which helped her in the Essay Part and that ultimately improved her score in that section.
Pujya Priyadarshini preferred opting for an uncommon topic "Border Management" as her Essay topic which would have some different content from the common ones.
Focusing on case studies in-depth, preparing a list of vocabulary for self-study were few more strategies that helped her crack the Civil Services Exam.
For similar IAS Success stories, refer to the linked article.
Related Links: