The UPSC list of optional subjects consists of 25 non-literature and 23 literature subjects. This list includes Sindhi literature optional as one of the choices allowed in the Mains exam. In this article, we will provide the IAS syllabus for Sindhi optional and also provide a PDF link to download the same.
UPSC Sindhi Literature Syllabus PDF:-Download Syllabus PDF
Sindhi is one of the 22 languages recognised by the constitution of India. It originated in the Sindh province of undivided India and has a large number of speakers scattered throughout the country. Major states having a significant number of Sindhi speakers are Gujarat, Rajasthan and Maharashtra.
Sindhi literature has a rich literary tradition. It is the earliest eastern language into which the Quran was translated Sindhi works include religious, philosophical and scientific texts. Sindhi for the UPSC optionals is written in both Devanagari and Persian scripts. Aspirants who have learnt Sindhi during formal education, or have learnt Sindhi as their native language can opt for this subject to score well in the Mains exam. The syllabus for UPSC covers Sindhi literature from the medieval period to the modern period.
Sindhi Optional Syllabus
The Sindhi optional subject carries 500 marks divided into two papers(Paper I and Paper II) of 250 marks each:
Sindhi Literature Paper I Syllabus:


Sindhi Literature Paper II Syllabus: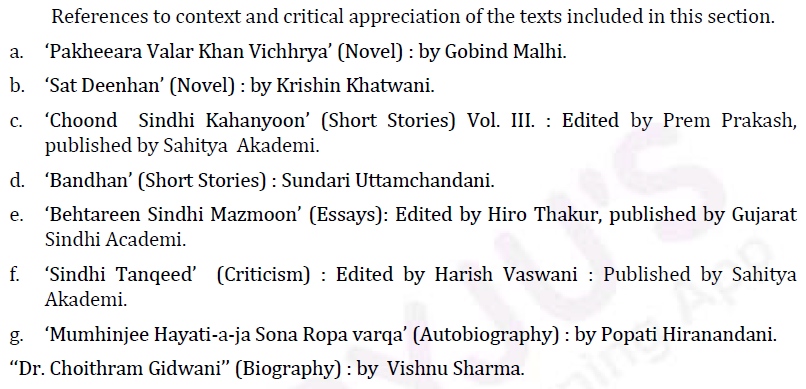 Candidates who opt for Sindhi should study all the texts mentioned in the syllabus and solve previous years' papers to prepare well for the Sindhi exam. This paper has a high probability of success due to the very low number of candidates appearing for the subject.
UPSC Sindhi Literature Syllabus PDF:-Download Syllabus PDF
To read more about UPSC preparation, please visit: