31 July 1940
Revolutionary Udham Singh was hanged
---
What happened?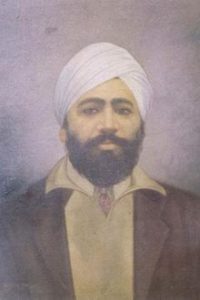 Udham Singh, revolutionary and Ghadarite freedom fighter, was hanged by the British on 31st July for his assassination of Michael O' Dwyer, who had been the Lieutenant Governor of Punjab when the Jallianwala Bagh massacre took place in Amritsar. In this edition of This Day in History, you can read about the life and contributions of Udham Singh, for the IAS exam modern history segment.
Udham Singh Biography
Udham Singh was born on 26th December 1899 as Sher Singh to Tehal Singh Kamboj and his wife at Sunam in District Sangrur, Punjab. His father was a railway crossing watchman in Upalli village.
Udham Singh was sent to an orphanage after his father died. It was at the orphanage that he was administered the Sikh initiation rites and acquired the name, Udham Singh.
After acquiring his matriculation degree, he left the orphanage in 1919.
On 13th April 1919, the brutal Jallianwala Bagh massacre took place where more than 20,000 unarmed people were fired at by the British authorities.
Martial law had been declared in Punjab at that time in the form of the Rowlatt Acts. There were widespread protests in many parts of the country and Punjab especially was volatile.
It is said that Udham Singh was a witness to the events that unfolded during the massacre in Amritsar on that fateful day. He was deeply affected by the violence and became engaged in revolutionary politics.
The Lieutenant Governor of Punjab at that time was Michael O'Dwyer.
Udham Singh blamed O'Dwyer for the massacre.
In 1924, he joined the Ghadar Party that was involved in organising Indians abroad in overthrowing British colonial rule.
In 1927, he returned to India bringing with him associates and ammunition for revolutionary activities. He was, however, arrested and sentenced to five years in prison.
He was released in 1931 and was under constant surveillance by the police. He was able to escape to Germany from where he reached London.
He became employed as an engineer in London.
On 13th March 1940, O'Dwyer was scheduled to give a speech at a meeting in Caxton Hall, London.
Udham Singh entered the hall with a revolver concealed inside his coat. As O'Dwyer was moving towards the podium to speak, Udham Singh shot him twice resulting in O'Dwyer's death immediately.
Some others gathered there were also injured in the shooting. Udham Singh was arrested and tried for the assassination.
His motive was to avenge the Jallianwala Bagh massacre and to draw the attention of the people towards the plight of Indians under colonial rule.
On 1st April, Udham Singh was formally charged with the killing. He was represented in his trial by V K Krishna Menon and St. John Hutchison.
Singh explained his motive as follows, "I did it because I had a grudge against him. He deserved it. He was the real culprit. He wanted to crush the spirit of my people, so I have crushed him. For full 21 years, I have been trying to seek vengeance. I am happy that I have done the job. I am not scared of death. I am dying for my country."
Udham Singh was hanged at Pentonville Prison on 31st July 1940. His mortal remains have been preserved at the Jallianwala Bagh.
Today, the states of Punjab and Haryana observe 31st July as the Martyrdom Day of Shahid Udham Singh.
Leaders in India were divided between condemning Singh's actions and praising his courage. Many in the INC such as Mahatma Gandhi and Jawaharlal Nehru condemned it. Some members of the party refused to condemn it and applauded his actions.
Years later in 1962, as Prime Minister, Nehru did publish a statement saluting Udham Singh as a martyr.
Also on this day




---


1658: Aurangzeb was proclaimed the Mughal Emperor of India.
1880: Birth of Hindi author Premchand.
See previous 'This Day in History' here.
Also See: