30 September 1993
The Latur Earthquake
---
What happened?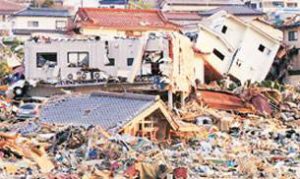 At 3:56 AM on 30 September 1993, a devastating earthquake struck Maharashtra chiefly affecting the districts of Latur and Osmanabad. Around 8000 people died and a further 16,000 were injured.
Latur Earthquake
The 1993 Latur Earthquake, as this earthquake is called, affected the Maharashtra districts of Latur and Osmanabad including the Ausa block in Latur and Omerga in Osmanabad.
The earthquake's epicentre was in Killari, Latur District. Even today, the large crater can be seen at Killari.
The earthquake measured 6.4 on the Richter scale and was classified as 'Severe'.
The earthquake's hypocentre was about 10 km deep. Being relatively shallow, the shock waves caused more damage.
There were three aftershocks on the same day.
Cause: Killari does not locate on a plate boundary. So, the cause of the earthquake was a matter of debate. Some say it was due to the existence of fault webs. Pressure released along the fault lines may have caused the earthquake. Pressure might have been released because of the subcontinent crumpling as it pushes against Asia. Another suggestion was that a reservoir construction along the River Terna might have increased the pressure along the fault lines.
Scientists suggest that the earthquake is an example of fault reactivation in the Precambrian crust.
This has been Maharashtra's deadliest earthquake till date.
Damage
The earthquake caused extensive damage to life and property.
Official toll:
Official Toll
7928 people killed
16,000 people injured
15,854 livestock killed
52 villages destroyed completely
30,000 houses collapsed completely
27,000 houses suffered damages to all amenities and infrastructure
2,11,000 houses in 13 districts damaged to varying degrees
Destruction in Latur which bore the brunt of the earthquake:
Latur Figures
3,670 people killed
446 handicapped
37 villages destroyed completely
728 villages destroyed partially
1,27,000 families affected
Relief work
The government, the Indian Army, Central Reserve Police Force, State Reserve Police Force and other law enforcement agencies rushed their personnel immediately after the tragedy.
The Maharashtra government took the help of the Central government and organisations like the World Bank, the Asian Development Bank, etc.
Temporary sheds were provided for the affected people. Basic necessities like food, clothing, medical aid, utensils, etc. were received from all over the country and from abroad also.
Many villagers provided land voluntarily for the rehabilitation of the affected villages.
Houses were constructed by the government under the Rehabilitation Policy which was devised within 6 months of the event.
Monetary compensation was also given by the government.
Other rehabilitation work included the giving of cattle to villagers, paying off the loans of the affected shopkeepers, artisans provided tools for work, agricultural supplements provided to farmers, repairing of wells, etc.

Also on This Day 
---
1687: Aurangzeb acquired the Golconda Fort from Qutb Shahi Sultan Tana Shah. 1943: Death of Ramananda Chatterjee, who has been described as the 'Father of Indian Journalism'. 1996: Madras city renamed Chennai.
See previous 'This Day in History' here.
Related Links: