The Ethics paper, officially called the General Studies Paper 4 was introduced in the UPSC civil service mains exam in the year 2013. In this paper, there are basically two types of questions – theoretical questions and case studies. Both the sections weigh almost equally with an average of 125 marks worth of questions asked from both of them, making a total of 250 marks. In this article, we have analysed the ethics question papers of the UPSC mains from 2013 through 2016. Read on for a complete trend analysis of the GS paper 4 from 2013 to 2016.
The following table gives the broad classification of topics in GS paper 4 (the questions on theory and case studies have been combined for this classification):
| | | | | |
| --- | --- | --- | --- | --- |
| Category | 2013 | 2014 | 2015 | 2016 |
| Basics and thinkers | 80 | 30 | 40 | 70 |
| Family and society | 10 | 40 | 35 | 40 |
| Work and office | 110 | 90 | 85 | 30 |
| Public organisation | 50 | 70 | 50 | 65 |
| Private organisation | 0 | 20 | 40 | 45 |
| Total | 250 | 250 | 250 | 250 |
The category 'work and office' dominated in 2013 and its importance has diminished since then. In 2016, it was the category that was asked for the least marks. 'Ethics basics and thinkers' was the topic from where the maximum questions were asked in 2016 with 'public organisations' close behind. The share of 'private organisations' has been steadily increasing from nought in 2013 to 45 marks in 2016.
Also Read | Why Did UPSC Introduce the Ethics Paper in UPSC Mains Exam?
Next, we bring you the topic-wise analysis of the questions asked in the GS Paper IV (2013 – 2016).
ETHICS BASICS AND THINKERS
Here, we can classify the topic further into basic theory, thinkers and emotional quotient.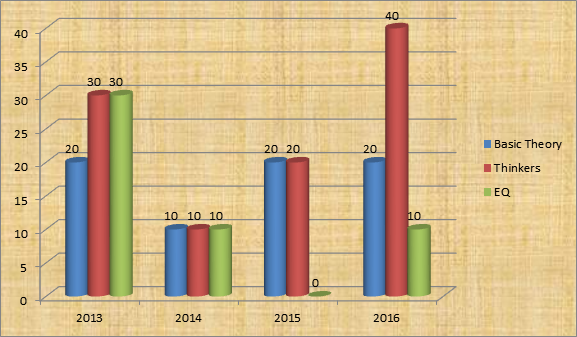 It is evident from the graph that 'thinkers' has been constantly asked and has led the pack in terms of marks.
FAMILY AND SOCIETY
The category 'family and society' can be divided into the subtopics family, social influence and attitude.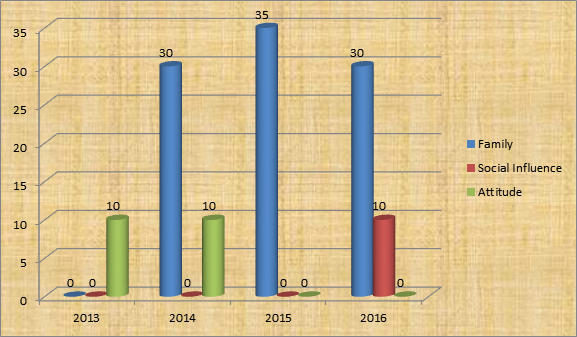 The above graph reveals that 'family' has been the dominating subtopic in this section since 2013 when there were no questions on that topic.
WORK AND OFFICE
Here, we have three divisions namely, neutrality, work culture and compassion.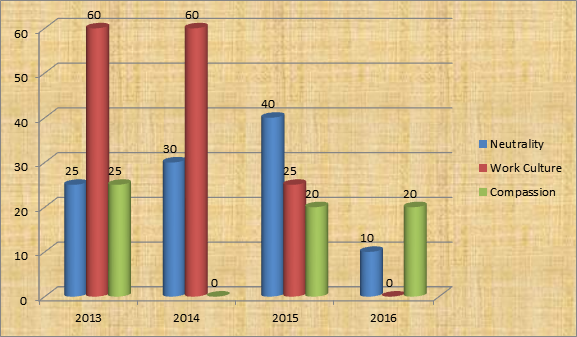 This segment doesn't show any discernible pattern. In 2016, there were no questions on work culture although there were significant marks allotted for it in the previous years.
PUBLIC ORGANISATION
The questions on public organisation can be classified under various headings like theory, dilemma, charter, code of conduct, corruption, RTI and funding and international relations.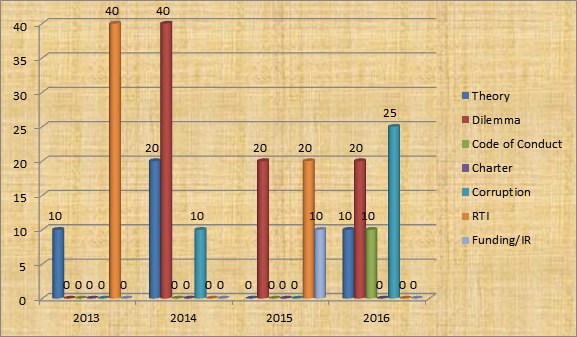 We can see from the graph that there is no definitive pattern in the questions asked here. It is to be noted that there has not been any question asked from the 'charter' segment till date. The 'charter' section contains topics like citizens' charters, probity in governance, quality of service delivery, and the concept of public service.
PRIVATE ORGANISATION
Questions under this section are related to corporate governance. Here, you find case studies more than direct questions.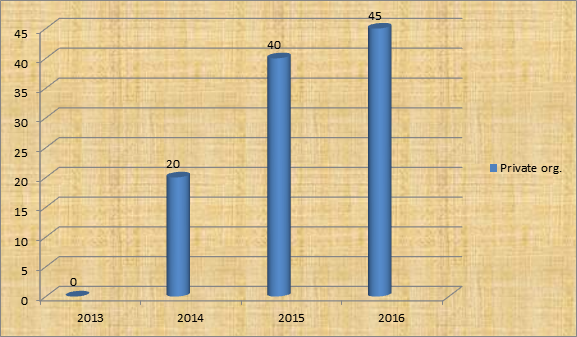 Also See | Analysis of 2016 Mains GS Paper 4
Visit BYJU'S Website for strategy and articles on free IAS prep and all the latest on UPSC IAS exam.