TABLE OF CONTENT
A.

 GS1 Related


B.

 GS2 Related


Polity
1. TN appeal on NEET quota dismissed
2. Push for law to ensure transparency rules
3. Allow payment, live-in couples: House panel for more liberal surrogacy Bill
4. Do not touch
Health Issues
1. It's time to focus on the toxic air we breathe


C.

 GS3 Related
Economy


1. 

Growth likely to be in the lower range, closer to 6.5%
2.'Ease norms for airlines to fly abroad'
3. Survey backs U.P. model on farm loan waivers
Environmental Science and Ecology
1. Not everything labelled 'organic' passes muster, finds study


D.

 GS4 Related


E. UPSC Prelims Practice Questions
F. UPSC Mains Practice Questions 

Nothing here for Today!!!
1. TN appeal on NEET quota dismissed
Context
Tamil Nadu State Government Notification: provided 85% reservation for students from State Board schools in admissions to undergraduate medical courses under the State quota and 15% to students from other boards.
Madras High Court quashed the above order: The HC had found the government order violative of the right to equality and discrimination.
In news
Supreme Court Order:
Merit remains the sole criterion in the National Eligibility cum Entrance Test for State Board and CBSE students.
Upheld Madras High Court order.
2. Push for law to ensure transparency rules
In news
The government could consider introducing a new law to ensure transparency of rules.
Present problems faced by citizens: it is not easy for ordinary citizens [and businesses] in India to navigate the multitude of rules, regulations, forms, taxes and procedures imposed by various tiers of government. Moreover, these rules frequently change and sometimes contradict each other
Transparency of Rules Act (TORA)– recommended by the Economic Survey, stressing that the 'opaque mesh' of regulations prevalent in India not only make life difficult for citizens who cannot feign ignorance of the rules as a valid defence, but also act as a magnet for corruption and endless litigation.
The TORA is an attempt to change in some ways the relationship between the average normal citizen and the State.
3. Allow payment, live-in couples: House panel for more liberal surrogacy Bill
Recommendation of a Parliamentary Standing Committee:
More liberal norms that will allow live-in couples, divorced women, and widows to choose surrogates is the need of the hour
It has recommended that couples should be allowed to choose surrogates from both within and outside the family
The Panel also favoured the decision to debar foreigners from availing of surrogacy services in India
Committee: The committee is a 31 member Parliamentary Committee on Health and Family Welfare
Criticism of the Surrogacy (Regulation) Bill, 2016 by the panel
It criticized the exclusion of live-in partners from the ambit of the legislation
According to the panel, the bill talks about compensation rather than altruism as the guiding principle of surrogacy, the panel finds this anti-women
Basic Information:
The Surrogacy (Regulation) Bill, 2016
The Surrogacy (Regulation) Bill, 2016 was introduced in Lok Sabha on November 21, 2016 and referred to the standing committee
According to the bill, surrogacy is allowed for infertile Indian married couples where the woman is between 23-50 years and the man is between 26-55 years
Also, couple cannot have a surviving child, either biological or adopted
4. Do not touch
Context:
The government's reply last month to the Supreme Court, saying that the questions raised in a petition challenging Article 35A require a larger debate
What is Article 35A?
It was added by a 1954 presidential order issued under Article 370, the constitutional provision that mediates the relationship between the Union of India and Kashmir
Article 35A of the Indian Constitution is an article that empowers the Jammu and Kashmir state's legislature to define "permanent residents" of the state and provide special rights and privileges to those permanent residents.
Who is a permanent resident?
The 1956 J&K Constitution defines a Permanent Resident as one who, apart from being an Indian citizen, was a state subject on May 14, 1954, or a resident of the state for 10 years, and owns immovable property in the state.
Apprehensions
Government's new legal pro-activism against Articles 35A or 370 will lead to more alienation in the Valley.
In the Valley, the government's reply on 35A is being seen as paving the way for moves to do away with Article 370 that excludes J&K from most laws enacted by Parliament, except through presidential orders that have the concurrence of the J&K Legislative Assembly
Court has also asked the Centre to respond to a petition challenging Article 370.
All this has served to strengthen suspicions that the Centre is using the legal route to bring about the changes that it wants
1. It's time to focus on the toxic air we breathe
Context:
Niti Aayog released the draft National Energy Policy.
Several public policy research and civil society organisations criticised the policy from various standpoints.
Public health and growth
It ignores is public health, especially in the context of the energy mix envisaged under the NITI Ambition Scenario
Ambition Scenario is a tool to arrive at a range of possible energy futures for the energy sector till 2040.
National Health Policy of 2017 views reducing air pollution as vital to India's health trajectory.
However, the National Energy Policy neither reflects nor supports the commitment outlined by the Ministry of Health and Family Welfare Ministry
Air pollution menace
WHO reports that air pollution is the number one environmental health risk. In 2012, about 3 million premature deaths were attributable to ambient air pollution.
Children are most affected by air pollution and will be the primary beneficiaries of policies to reduce fossil fuel emissions.
Research has also established links between public health and a nation's economic growth.
Joint study by the World Bank and the Institute for Health Metrics and Evaluation found that the aggregate cost of premature deaths due to air pollution was more than $5 trillion worldwide in 2013 alone.
In East and South Asia, welfare losses related to air pollution were about 7.5% of GDP.
WHO's  Health Indicators of Sustainable Energy
It lays out a few core and expanded indicators that can help monitor the progress of a nation's energy policy.
The core indicators address issues related to health equity where health impact assessments become an integral part of energy policy design and implementation.
It stress on the need to develop baseline data by generating emission inventories and source apportionment of urban air pollution that can inform mitigation and intervention policies.
Way forward
National Energy Policy have to strive to minimise the unavoidable health impacts of energy production, and their associated health costs, especially given the policy's stated objectives of sustainability and economic growth.
It should include a health impact assessment framework to weigh the health hazards and health costs associated with the entire life cycle of existing and future energy projects and technologies
Ensure that policies directed at energy security are compatible with public health goals.
1. Growth likely to be in the lower range, closer to 6.5%
Context:
Key highlight of Second volume of Economic Survey: Macroeconomic indicators pointing to a deceleration trend.
In News:
The second volume of the Economic Survey was tabled in Parliament .
The Indian economy's growth in 2017-18 is more likely to be closer to 6.5% than 7.5%, according to Chief Economic Adviser Arvind Subramanian.
Many indicators — credit growth, index of industrial production, Gross Value Added, manufacturing, investment – all point to the same direction of deceleration in growth.
Demonetisation impact: demonetisation of high-value currency notes by the government last November, could be one possible reason which intensified deceleration in real activity.
Short –term challenge ahead: The real challenge now is short-term growth and we need to bring to bear all the policy tools that we have to revive short-term growth.
Farm loan waivers: waivers will act as a 'drag on growth' rather than have an inflationary impact.
Growth drag reasons:
Rising stress in the telecom and power sectors: new entrant in telecom reducing prices for consumers and in power, renewable (energy) shocks would help climate change in the long run. But in the short run, both are having an impact on balance sheets of companies, demand and growth.
The appreciation in the rupee's exchange rate and the high real interest rates, especially when inflation targets have been 'over-achieved' for nearly a year and are likely to stay below the 4% target on an average through 2017-18, are also dragging down growth. 
2. 'Ease norms for airlines to fly abroad'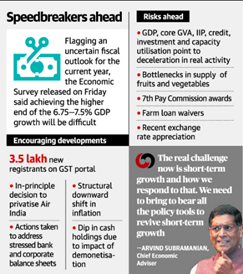 Context:
The Economic Survey has suggested a mix of protectionism 
for domestic airlines and liberal norms for flying abroad to bolster their share in international air traffic.
Economic Survey report observations
Large increase in capacity entitlements under bilateral air service agreements with foreign countries has helped the foreign carriers in gaining a large share in the international traffic to and from India as the domestic carriers have underutilised their rights.
Key fact:
Roughly 38% people fly in and out of India through Indian carriers and the rest 62% from foreign carriers.
UAE, Saudi Arabia, Qatar, Oman and the
 South East Asian countries – Singapore, Malaysia and Thailand as the top destination of passenger traffic to and from India.
These countries were invariably used as stop-overs or hubs by their respective airlines to carry passengers onward to USA, Canada, Europe, among others.
Indian domestic airlines have a very lower share in international traffic to and from India.
Factors responsible
Foreign airlines utilising the sixth freedom of the air
Expansion of capacity entitlements under bilateral air service agreements with foreign countries
Lower utilisation of India's own capacity entitlements
The 0/20 rule and fleet constraints.
What is Sixth freedom?
Sixth freedom is the bilateral air traffic right to fly from a foreign country to another foreign country while stopping in one's own country.
For instance, Emirates operates flight between India and the UK while stopping at Dubai, its home state.
The Survey said this has reduced the share of direct long haul flights for Indian carriers from 25% in 2011-12 to 20.5% in 2015-16.
0/20 rule
A domestic airline needs to deploy at least 20 planes on the domestic sector before getting the right to fly on international routes from India.
The Economic Survey said the 0/20 rule should be further diluted.
Diluted 5/20 rule
In its National Civil Aviation Policy released in 2016, the Central government had diluted the contentious '5/20 rule' that required an Indian airline to have five years of domestic flying experience and 20 aircraft in its fleet before it can fly to overseas destinations.
According to the present norm, known as the 0/20 rule, a domestic airline needs to deploy at least 20 planes on the domestic sector before getting the right to fly on international routes from India. The Economic Survey said the 0/20 rule should be further diluted.
Air India's disinvestment plans
According to the survey Air India's disinvestment will also help India regain international share.
There is a need for committed action plan on privatization or disinvestment of national carrier Air India to enhance its operational and management efficiency because it is a major carrier of international traffic to and from India, accounting for 11.4 per cent of the total international travel.
3. Survey backs U.P. model on farm loan waivers
In news
The Economic Survey assumes that other States will follow Uttar Pradesh's example and waive farm loans, taking the full waiver amount to ₹2-2.7 lakh crore.
Survey Observations
Only a few States have the fiscal space for such waivers, and so most will have to either cut expenditure or increase taxes.
The total impact of waivers could be to lower demand by as much as 0.7% of the GDP.
Increase the net wealth of farm households: loan waivers are assumed to increase aggregate income by 28%, consumption is estimated to increase by 7% or about ₹55,000 crore.
Andhra Pradesh, U.P, Rajasthan, Himachal Pradesh, Kerala, Odisha, and Chhattisgarh have no fiscal room to waive farm loans, States such as Maharashtra, West Begal, Karnataka and Gujarat have ample space.
Waiver and the Four effects
The Survey says the waivers will have four effects on aggregate demand:
On private consumption impact via increases in private sector net wealth,
Public sector impact via changes in government expenditure/taxes,
Crowding out impact via higher borrowings by State governments, and
Crowding in impact via higher credit availability as bank NPAs fall.
Category: ENVIRONMENT AND ECOLOGY
1. Not everything labelled 'organic' passes muster, finds study
Context
Traces of new-generation chemical pesticides found in fruits and vegetables branded as 'organic'
Samples were tested by Kerala Agricultural University.
Organic produce is often sold at higher prices than conventional greens at separate counter in hypermarkets
 In news
The report from Pesticide Residue Research & Analytical Laboratory (PRRAL) coming under the Kerala Agricultural University (KAU) contains test results of vegetables, fruits, spices and condiments sampled from public markets, including hypermarkets, across the districts in Kerala, during the period from April to June 2017.
For Example
A sample of 'organic' labelled green capsicum purchased on June 16, 2017 from a prominent hypermarket in Ernakulam was found contaminated, with the presence of seven chemical pesticides including five insecticides: acetamiprid (1.12 parts per million), clothianidin (0.72 ppm), imidacloprid (0.69 ppm), buprofezin (0.12 ppm), acephate (1.78 ppm) and two fungicides, tebuconazole (0.84 ppm ) and iprovalicarb (0.22 ppm).
Baji chilli marked "pesticide-free" contained three new-generation insecticides: acetamiprid, metalaxyl and chlorantraniliprole.
New equipment used
Detection of a number of new generation pesticides even up to trace levels of parts per billion (nanogram/Kg), which were not previously reported, has now become possible with a new liquid Chromatograph-Mass Spectrometer (LC-MS/MS) apparatus imported from the US.
Inference
The results indicated regular spraying of a cocktail of new generation insecticides and fungicides at close intervals to protect the crop in farms and polyhouses in other States
Nothing here for Today!!!
E. Practice Questions for UPSC Prelims Exam
---
Question 1. India's first micro forest will be built in which state?
Madhya Pradesh
West Bengal
Uttar Pradesh
Chattisgarh
See
Question 2. Which fish has been officially declared as one of the rarest species of fish in 
the world by the Marine Living Resources Department of Andhra University?
Rohu
Rayichapalu
Catla
Tengra
See
Question 3. The "Preservation, protection and improvement of stock and prevention of animal 
diseases, veterinary training and practice" comes under which list of Constitution of India?
State list
Union List
Concurrent List
None of the above
See
Question 4. The State shall endeavour to organise agriculture and animal husbandry on modern 
and scientific lines and shall, in particular, take steps for preserving and improving the breeds, 
and prohibiting the slaughter of cows and calves and other milch and draught cattle is mentioned
 in which part of the constitution?
Fundamental duties
Union list
Concurrent list
Directive Principles of State Policy
See
Question 5. As per NREGA, the minimum number of days within which the workers wages 
must be paid after due completion of tasks is _______.
30 days
25 days
15 days
10 days
See
F. UPSC Mains Practice Questions
---
GS Paper II
"Children are most affected by air pollution and will be the primary beneficiaries of policies to reduce fossil fuel emissions" Evaluate?
GS Paper III
Recently, the Niti Aayog released the draft National Energy Policy. Discuss its provisions related to health and pollution.
Also, check previous Daily News Analysis 
"Proper Current Affairs preparation is the key to success in the UPSC- Civil Services Examination. We have now launched a comprehensive 'Current Affairs Webinar'. Limited seats available. Click here to Know More."
Enroll for India's Largest All-India Test Series