TABLE OF CONTENT
A.

 GS1 Related




B.

 GS2 Related


Polity
1. Nod for Jharkhand religious Bill
2. Understanding the new DNA tech Bill: All your questions answered
3. Don't shoot the messenger
Bilateral Relations
1. Somalia signs pact on convicts


C.

 GS3 Related


Economics
1. Niti Aayog's Appraisal of the Twelfth Five Year Plan: Low manufacturing growth
 holds back job creation 
Agriculture
1. Farmer suicides in India may be linked to climate change, says study
Disaster Management
1. Washed out: On the floods in eastern and western India
Environmental Science and Ecology
1. 5 chemicals banned in firecrackers


D. 

GS4 Related




E. 

Concepts-in-News: Related Concepts to Revise/Learn




F. 

Bills/Acts/Schemes/Orgs in News
G. UPSC Prelims Practice Questions
H. UPSC Mains Practice Questions 
A. GS1 Related
---
---
Nothing here for Today!!!
B. GS2 Related
---
---
1. Nod for Jharkhand religious Bill
In news: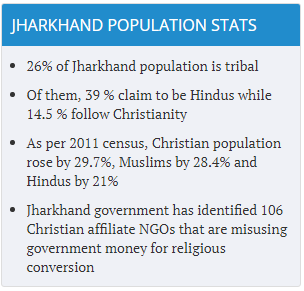 The Jharkhand Cabinet gave its approval to the Jharkhand Religious Independence Bill, 2017.
Main focus: discourages conversion to another religion through force or allurement
Section 3 of the Bill prohibits forceful conversion.
In the event of violation of the Section, there will be up to three years imprisonment or Rs. 50,000 penalty or both.
If the crime involved a minor, a woman or a person from the SC/ST community, the prison term would be up to four years and a penalty of Rs. 1 lakh.
Individuals voluntarily opting to switch to another religion would have to inform the local deputy commissioner/collector about the reasons and the place of conversion, failing which he will be liable for prosecution and punishment.
Key Statistics: As per the 2011 census, the Christian population in Jharkhand rose by a whopping 29.7% in the last 10 years followed by that of Muslims 28.4%, while Hindu population rose by 21%.
2. Understanding the new DNA tech Bill: All your questions answered
Context:
Centre is about to finalise a fresh version of the DNA Fingerprinting Bill, a draft of which was ready in 2015
Law Commission of India released a revised draft of the Bill that is now called The DNA Based Technology (Use and Regulation) Bill, 2017 with some very important changes
Provisions in news bill:
It seeks to establish regulatory institutions and standards for DNA testing, and supervise the activities of all laboratories authorised to carry out such tests.
Significance of DNA analysis:
It is extremely useful and accurate technology in ascertaining the identity of a person from his/her DNA sample, or establishing biological relationships between individuals.
As a result, DNA technology is being increasingly relied upon in investigations of crime, identification of unidentified bodies, or in determining parentage.
But information from DNA samples can reveal intrusive information like their allergies, or susceptibility to diseases. As a result, there is a greater risk of information from DNA analysis getting misused
Bill provisions
It prohibits the collection of any "bodily substance" from an arrested individual (for the purposes of a DNA test) without his/her consent, except if the individual is arrested for certain specific offences.
However, if the consent "is refused without good cause", and a magistrate is satisfied of the need for a DNA test, he/she can order the arrested person to give a sample.
The new Bill has also removed a provision that allowed DNA profiles in the databank to be used for "creation and maintenance of population statistics databank".
While the penalty for misuse of data remains a prison term of up to three years and a fine up to Rs 1 lakh, a reference to a minimum prison term of one month has been removed.
The Bill seeks to set up two new institutions — a DNA Profiling Board and a DNA Data Bank.
DNA Profiling Board
The Board, with 11 members, is supposed to be the regulatory authority that will grant accreditation to DNA laboratories and lay down guidelines, standards and procedures for their functioning.
It will advise central and state governments on "all issues relating to DNA laboratories".
It will also be the authority to make recommendations on ethical and human rights, including privacy, issues related to DNA testing.
DNA Data Bank
A national databank of DNA profiles is proposed to be set up, along with regional databanks in every state
The new draft does not specify the location of the national databank. All regional DNA databanks will be mandated to share their information with the national databank.
Certain DNA Profiling Board-accredited labs would be authorised to carry out DNA testing and analysis. These are the only places to which DNA samples, picked up from a crime scene can be referred for analysis
Data from the analyses will need to be shared with the nearest regional DNA databank which will store it and share it with the national databank.
The databanks will maintain five sets of databases — for DNA samples picked up from crime scenes, for suspects or undertrials, and for offenders, missing persons, and unidentified dead bodies.
Issues
There are chances that a wrong match is generated.
If the DNA result is taken as the ultimate evidence, no recourse will be available to an individual who has been wrongly matched.
Privacy-related objections-main concerns are whose DNA can be collected and under what circumstances, who can access the database etc.
Information like ancestry or susceptibility to a disease, or other genetic traits, is liable to be misused.
DNA tests have not led to an improvement in conviction rates in countries where it is already being followed.
Context:
More than 15 whistle-blowers have been murdered in India in the past three years.
The new amendments to Whistleblowers Protection Act, 2014. would fundamentally dilute the law
Whistleblowers Protection Act, 2014.
It protects people who bring to the notice of the authorities concerned allegations of corruption, wilful misuse of power or commission of a criminal offence against a public servant.
The WBP law has provisions for concealing the identity of a whistle-blower
The law affords protection against victimisation of the complainant or anyone who renders assistance in an inquiry.
This is critical as whistle-blowers are routinely subjected to various forms of victimisation, suspensions, withholding of promotions, threats of violence and attacks.
The law empowers the competent authorities to accord them protection, which includes police protection and penalising those who victimise them
The Whistle Blowers Protection (Amendment) Bill, 2015
Issues
It seeks to remove immunity provided to whistle-blowers from prosecution under the draconian Official Secrets Act (OSA) for disclosures made under the WBP law. Issues involved
Offences under the OSA are punishable by imprisonment of up to 14 years.
Threat of such stringent penalties would deter even genuine whistle-blowers.
If whistle-blowers are prosecuted for disclosing information as part of their complaints and not granted immunity from the OSA, the very purpose of the law would be defeated.
Amendment Bill says that complaints by whistle-blowers containing information which would prejudicially affect the sovereignty, integrity, security or economic interests of the state shall not be inquired into.
Certain categories of information cannot form part of the disclosure made by a whistle-blower, unless the information has been obtained under the RTI Act.
These exemptions have been modelled on Section 8(1) of the RTI law which lists information which cannot be disclosed to citizens.
RTI Act v/s WBP Act
The RTI Act seeks to provide information to people.
While the WBP Act provides a mechanism for disclosures to be made to competent authorities within the government to enable inquiry into allegations of corruption and provide protection to whistle-blowers.
Conflating the two laws is inappropriate and would preclude genuine whistle-blowing in several scenarios.
If the intention was to ensure that sensitive information pertaining to national security and integrity is not compromised, instead of carving out blanket exemptions, the government could have proposed additional safeguards for such disclosures such as requiring complaints to be filed using sealed envelopes to the competent authorities.
1. Somalia signs pact on convicts
In news:
India and Somalia signed an agreement for transfer of sentenced convicts.
The new agreement bids to open a new front for collaboration in anti-piracy operation in Eastern Africa.
Significance:
The collaboration between two sides will be significant due to the incidents of piracy that have affected Indian interests in the Indian Ocean region near the Horn of Africa.
India has in recent years extended development assistance to Somalia which has included mini buses to the war-battered country.
C. GS3 Related
---
1. Niti Aayog's Appraisal of the Twelfth Five Year Plan: Low manufacturing growth holds back job creation
Issues with Manufacturing sector
According to NITI Aayog's report, the sector's growth rate has remained constant for the past 25 years
Whereas countries such as Taiwan and China recorded more than double the rate of expansion in India
Around the world:
In Taiwan and South Korea in the 1960s and 1970s and in China in the 1980s, 1990s and 2000s, manufacturing grew at rates approaching or exceeding 15 per cent
It lead to transformation of these economies from primarily agrarian and rural character to modern urban ones in around three decades
Scenario in India:
The fast-growing sectors in India have been automobile and its parts, two-wheelers, machinery, chemicals, petroleum refining, telecommunications, software and pharmaceuticals
None of these sectors employs low-skilled workers in large numbers
As a result, the vast majority of Indian workers remain concentrated in agriculture, unorganised industry or low-paying services
Challenges in front of India
To achieve rapid growth in manufacturing sector
Ensuring healthy growth in labour-intensive sectors such as clothing, leather manufactures, food processing and electronic assembly
Growth in these sectors would help create good jobs for workers with limited skills
Suggestions by the Niti Aayog in its three-year action plan
Suggestions
Easing entry barriers and reducing duties on synthetic fibres to make India's apparel industry competitive in global market
Reducing custom duty on gold
Increasing investment in skill training
Expediting creation of integrated mega food parks and lower duties on key inputs of final electronics products
1. Farmer suicides in India may be linked to climate change, says study
Context:
The increase in temperature during the cropping season reduces crop yields, thus resulting in increased suicides, says a study published in the journal Proceedings of the National Academy of Sciences.
Key Findings:
Climate change has led to over 59,000 farmer suicides over the last 30 years in India.
For every 1 degree C increase in temperature above 20 degrees C during the crop growing season in India, there are about 70 suicides on average.
The increase in temperature during the cropping season reduces crop yields, thus resulting in increased suicides.
Additional deaths reported when a single day's temperature increased by 1 degree C above 20 degree C was seen only during the crop-growing season. Similar increase in temperature during seasons when crops were not grown did not result in increased suicides among farmers.
An increase in rainfall by 1 cm during the crop growing season leads to a decrease of about 0.8 deaths per 100,000, thus lowering the suicide rate by 7% on average, she writes.
The effect of climate variation reveals that past growing season temperature strongly influences suicide rates in the following years up to about five years. For instance, when there is abundant rainfall during one growing season, the suicide rates dip for the next 2-3 years. Drought apparently does not seem to have any effect on suicide rates, she found.
South India which is generally hotter has higher farmer suicide rates.
States where the yields are more affected by high temperatures are also the States which report higher suicide rates. Maharashtra, Karnataka, Tamil Nadu, and Andhra Pradesh not only show severe suicide responses to temperature but also the crop yield is more negatively affected by higher temperature.
Cautious approach:
India's average temperature is expected to increase by 3 degree C by 2050. Without investments in adaptations, India might face increased number of lives lost due to suicides.
1. Washed out: On the floods in eastern and western India
Context
The recent floods in eastern and western India and some suggestions for better disaster management
Capacity-building programme:
At least 600 people are dead and thousands of people are displaced due to recent floods in eastern and western India
To deal with such frequent, destructive weather events we need a massive capacity-building programme
There are many actions people need on the ground

short-term housing
food and safe water
access to health care and protection for women, children and the elderly
Problem in using disaster relief funds
Some States have not been able to use disaster relief funds as intended
And the Centre has asked them to set off the unutilised portion when making fresh claims
Mitigate Damage
A review of the deployment of National Disaster Response Force teams near waterbodies is needed
The experience NDRF together with data compiled by the Central Water Commission can reveal the hotspots where better management can mitigate damage
The way forward
Governments cannot expect that people with good incomes will take calamitous losses, with neither social support nor financial instruments available to rebuild lives
A vigorous monsoon is vital for the economy, but governments should be prepared to deal with the consequences of excess rainfall
Category: Environmental Science and Ecology
1. 5 chemicals banned in firecrackers
Prohibition of toxic chemicals
The Supreme Court has prohibited the use of five chemicals, in the manufacture of firecrackers
These chemicals are labelled as toxic by the Central Pollution Control Board (CPCB)
Prohibited Chemicals: antimony, lithium, mercury, arsenic and lead
D. GS4 Related
---
---
Nothing here for Today!!!
E. Concepts-in-News: Related Concepts to Revise/Learn
---
Nothing here for Today!!!
F. Bills/Acts/Schemes/Orgs in News
---
Nothing here for Today!!!
G. Practice Questions for UPSC Prelims Exam
Question 1. Dasht-e Margo, also known as "Desert of Death", is located in which country?
Kazakhstan
Saudi Arabia
Afghanistan
China
See
Question 2. India's first bullet train project "MAHSR" will be built with the
 help of which country?
China
Japan
Germany
France
See
Question 3. Which Article of Indian Constitution incorporates the Common 
law doctrine of pleasure?
Article 123
Article 213
Article 310
Article 368
See
Question 4. Which state government has launched its flagship health
 scheme "Care Companion Programme (CCP)"?
Punjab
Uttar Pradesh
Kerala
Manipur
See
Question 5. The Emergency Provisions of Indian Constitution have been borrowed from:
See
G. UPSC Mains Practice Questions
---
GS PAPER II

"Proposed amendments to the Whistle Blowers Act defeat the very purpose of the legislation". Discuss?
GS PAPER III
"Protocols followed by State governments to deal with floods need an urgent review." Comment.
GS PAPER IV
What is meant by 'environmental ethics'? Why is it important to study? Discuss any one environmental issue from the viewpoint of environmental ethics.
You are recently posted as district development officer of a district. Shortly thereafter you found that there is considerable tension in the rural areas of your district on the issue of sending girls to schools.

The elders of the village feel that many problems have come up because girls are being educated and they are stepping out of the safe environment of the household. They are of the view that the girls should be quickly married off with minimum education. The girls are also competing for jobs after education, which have traditionally remained in boys' exclusive domain, adding to unemployment amongst male population. The younger generation feels that in the present era, girls should have equal opportunities for education and employment, and other means of livelihood. The entire locality is divided between the elders and the younger lot and further sub-divided between sexes in both generations. You come to know that in Panchayat or in other local bodies or even in busy crossroads, the issue is being acrimoniously debated. One day you are informed that an unpleasant incident has taken place. Some girls were molested, when they were en route to schools. The incident led to clashes between several groups and a law and order problem has arisen. The elders after heated discussion have taken a joint decision not to allow girls to go to school and to socially boycott all such families, which do not follow their dictate.

What steps would you take to ensure girls' safety without disrupting their education?
How would you manage and mould matriarchic attitude of the village elders to ensure harmony in the inter-generational relations? (250 words) (25 Marks)
Also, check previous Daily News Analysis 
"Proper Current Affairs preparation is the key to success in the UPSC- Civil Services Examination. We have now launched a comprehensive 'Current Affairs Webinar'. Limited seats available. Click here to Know More."
Enroll for India's Largest All-India Test Series