TABLE OF CONTENTS
A.

 GS1 Related




B.

 GS2 Related


Polity
1. Instant talaq: Unlawful, Unlawful, Unlawful  
2. United against triple talaq, divided on legal points
3. It's good and bad, says AIMPLB
4. Centre will issue advisory on talaq order compliance
5. Follow NEET for medical admission, SC tells Tamil Nadu
6. Salary hike for college, varsity teachers
International Relations
1. Rebooting India-Nepal ties  
2. Trump offers India a role in Afghanistan
3. India to raise visa issue in trade policy meet


C.

 GS3 Related


Economics
1. 'Uranium sale talks at advanced stage' 
2. Pfizer gets Indian pneumonia vaccine patent in blow to aid group, Panacea
3. FDI jumps 37% to $10.4 billion during April-June 2017
4. Govt puts urad, moong dal imports under restricted category
Science and Technology
1. N. Bhupathi, a frog with the face of a pig 
Environment and Ecology
1. Huge haul of painting brushes made of mongoose hair


D. 

GS4 Related


E. UPSC Prelims Practice Questions
F. UPSC Mains Practice Questions 
Nothing here for Today!!!
1. Instant talaq: Unlawful, Unlawful, Unlawful
Context:
Supreme Court verdict regrading validity of triple talaq.
In news:
Supreme Court verdict (Main observations):

Struck down the controversial Islamic practice of instant talaq.
Talaq is arbitrary and whimsical mode of ending marriage violated Muslim women's fundamental right to equality.
Talaq should be erased from the 1,400-year-old Sharia-dictated divorce manual. 

3:2 majority:

The verdict was delivered by a 3:2 majority.
All the five judges agreed on the broad issue of the undesirability of instant talaq, or divorce pronounced in one sitting simply by uttering talaq thrice.

Main Observations:

In view of the different opinions recorded, by a majority of 3:2, the practice of 'talaq-e-biddat' — triple talaq — is set aside.
Triple talaq was part of Islamic religious practice for 1,400 years and hence got the protection of the Constitution under Article 25. But at the same time, since most Islamic countries, including Pakistan and Bangladesh, had abolished triple talaq, it was time the legislature brought a bill to correct the anomaly in personal law.
2. United against triple talaq, divided on legal points
CONTEXT:
Supreme Court Verdict set the practice of triple talaq as 'manifestly arbitrary'.
Observations:
The Court said that triple talaq is not in the Quran. But the Sharia is not what the entire Quran is. It is a mixture of Quran, Hadees and Ijma. This is where they have faulted.
Chief Justice of India J.S. Khehar used the Supreme Court's rare and extraordinary jurisdiction under Article 142 to injunct Muslim husbands from divorcing their wives for the next six months through the same instant talaq.
Supreme Court issued the direction after observing that even theocratic Islamic States had corrected their Shariat to banish instant talaq.
Supreme Court ordered the government to frame a ruling to address the issue of Muslim women under the yoke of triple talaq.
Verdict compared triple talaq to social evils such as sati, infanticide and devadasi system, which were cast out by way of legislation and not by judicial orders.
However, the direction under Article 142 in the minority verdict failed to come alive as the majority of the judges on the Bench set aside instant talaq with immediate effect. This is the clear mandate of Article 14 (equality before law) of the Constitution. India is also committed to eradicate discrimination on the ground of sex.
Basic Information
Article 142: Enforcement of decrees and orders of Supreme Court and unless as to discovery, etc
(1) The Supreme Court in the exercise of its jurisdiction may pass such decree or make such order as is necessary for doing complete justice in any cause or matter pending before it, and any decree so passed or orders so made shall be enforceable throughout the territory of India in such manner as may be prescribed by or under any law made by Parliament and, until provision in that behalf is so made, in such manner as the President may by order prescribe
(2) Subject to the provisions of any law made in this behalf by Parliament, the Supreme Court shall, as respects the whole of the territory of India, have all and every power to make any order for the purpose of securing the attendance of any person, the discovery or production of any documents, or the investigation or punishment of any contempt of itself.
3. It's good and bad, says AIMPLB
In news:
The All India Muslim Personal Law Board (AIMPLB) has interpreted the judgment as "vindication" of its stand that personal laws needed to be protected even as it disagreed with the court's decision to hold triple talaq as unconstitutional.
The AIMPLB has decided to hold internal discussions before responding in detail to the judgment, as it had affected the religious rights of minority groups.AIMPLB accused that personal laws cannot be tested by courts on the grounds of violation of fundamental rights.
4. Centre will issue advisory on talaq order compliance
Context:
SC striking down triple talaq.
In news:
The home ministry will soon send an advisory to all 29 states and seven Union Territories asking them to monitor the situation and ensure compliance of the Supreme Court's order declaring triple talaq as void, illegal and unconstitutional.
What next?
As soon as the home ministry issues an advisory, state governments are likely to sensitise the police and other authorities on the triple talaq issue on how to deal with a Muslim woman's complaint in case there is a violation.
The cops can book the violator under domestic violence charges for now, until a proper law is brought by the government in Parliament.
5. Follow NEET for medical admission, SC tells Tamil Nadu
In news:
Supreme Court directive to T.N:
Complete the counselling process for medical admissions in the State on the basis of the NEET merit list by September 4.
Previously, T.N state government had passed an ordinance freezing the implementation of NEET in the State for this year.
Centre rejected the ordinance: on the ground that it would give one particular State undue advantage over the others.
6. Salary hike for college, varsity teachers
In news:
Centre proposal:
Hike salary of teachers in higher educational institutions.
Benefit to about eight to nine lakh teachers in higher educational institutions.
The hike would range from 20-25%.
The lower level — that of assistant professors — is expected to get a hike of 20%, which will go up at the levels of associate professor and professor.
The revision will benefit employees of the central universities, State universities and government-funded technical universities.
VS Chauhan Committee:
The UGC had set up the pay committee under VS Chauhan.
It had recommended that these be at par with the salaries offered to the government employees by the Seventh Pay Commission.
Category: INTERNATIONAL RELATIONS
Context
Indian interventionism in Nepal having backfired, the Nepal PM's visit is an opportunity to raise the level of bilateral ties
India's interest to secure its own neighbourhood, and that can only be through letting national politics and governance of the smaller neighbours evolve without interference.
India's Nepal policy
India played a valued role in ending the Maoist insurgency in 2006, but the period thereafter was marked by escalating micro-meddling in Nepal's internal affairs.
In Constitution-writing, there were attempts to define the new provincial boundaries according to Indian dictates
The presence of India's heavy hand contributed to the distortion of consensual governance needed in transitional times.
India 'noted' rather than welcomed the Constitution.
A society trying to emerge from the April 2015 Great Earthquake was slapped with the punitive Great Blockade
While keeping silent for years on Nepal's post-conflict transitional justice process, in 2015 India's representative in Geneva cynically utilised the forum of the Human Rights Council to influence government change in Kathmandu.
Indian interlocutors pushed the Nepali Congress to renege on its promise to continue in coalition with the mainstream left Communist Party of Nepal (Unified Marxist-Leninist)
Indian strategists are seeking ways to get Kathmandu to allow the construction of high dams and deep reservoirs on Nepal's rivers — for flood control, navigation, urban use and irrigation in Bihar and Uttar Pradesh.
New Delhi made deep inroads into Nepal's political class, but none did it use more than the Madhesbaadi parties
The Great Blockade, forced the Kathmandu to reach out to Beijing and sign a slew of trade, transit and infrastructural agreements with it.
Nepal is today better connected by air to Chinese cities than to India.
Matters pending:
Nepal and India have to concentrate on the numerous matters that need concentration and resolution
Open border -While it is Nepal's Left that has traditionally demanded restrictions on the border, the call now rises from the Indian security establishment.
Massive floods in Nepal plains have also affected downstream areas across the border. A permanent bilateral mechanism is required to save the plains population of Nepal from suffering

The Kosi Barrage and attendant embankments have the possibility of wreaking havoc because siltation of six decades has raised the riverbed within the levees far above the outlying tracts
The easy answer for the Indian politician is to demand a high dam in the hills of Nepal even as alternatives are not studied, such as redistribution of waters into various older channels of the Kosi in Bihar.

The rights of migrant Indian labour in Nepal and Nepali labour in India is a topic that rarely comes up
Border disputes pending between the two countries — at Susta, Kalapani and the 'tri-junction' of Lipulekh
Nepal has planned to sell electricity to India once it has a hydropower surplus.
But Indian government directive that it will not allow import of electricity other than from power companies with more than 51% Indian equity.
Neglect by the Kathmandu intelligentsia, such as regarding the impact of demonetisation and the application of Goods and Services Tax on Nepal's economy and citizenry.
The arbitrary blockages and go-slow at Indian Customs at border points, the selective use of quarantine for the export of Nepali agricultural produce, the increasing high-handedness of the Sashastra Seema Bal in dealing with Nepalis crossing over.
2. Trump offers India a role in Afghanistan
New U.S. strategy for South Asia: 
unveiled by President Donald Trump
S. commits troops in Afghanistan for an open-ended period of time.
Policy sets stage for a new wave of U.S. offensive against Islamist forces in Afghanistan and Pakistan.
India's role:
Trump urged India to play a larger role in providing economic and development assistance to the war-torn Afghanistan.
Put forward a proposal for India playing a bigger role in the war-torn country to its trade surplus with the United States.
Key support:

America would no longer tolerate Pakistan's policy of harbouring terrorists.
India is the ninth biggest trading partner of the U.S. and India had a trade surplus of around $26 billion with the U.S. in goods trade alone last year.
3. India to raise visa issue in trade policy meet
Concerns from Indian Side
The Centre will raise Indian industry's concerns over the U.S. visa 'curbs', during the India-U.S. Trade Policy Forum (TPF) meeting likely in October
TFP is the premier forum to resolve bilateral trade and investment issues between India and the US
Possible topics of discussion during TFP
From the US side: the U.S. is expected raise its worries over India's 'restrictions' on e-commerce
And the 'challenges' faced by American innovative industries due to India's 'weak' Intellectual Property Rights regime
From Indian Side: Indian government is likely to raise the issue of the 'non-tariff barriers' by the U.S. that are hurting Indian agriculture, pharmaceuticals and other industrial exports
1. 'Uranium sale talks at advanced stage'
In news:
Australian government body's top official report:
Discussions are at a 'well-advanced' stage for Australia's uranium sale to India, to fuel nuclear power plants in the energy-starved developing nation.
Coal exports will not slow down any time soon from Australia for use in India's thermal power stations.
2. Pfizer gets Indian pneumonia vaccine patent in blow to aid group, Panacea
In news:
India has granted Pfizer Inc. a patent for its powerful pneumonia vaccine Prevenar 13.
Consequence of the decision:

Blow to some health groups that said this would put the treatment out of reach of thousands in poorer nations.
The decision by India's patent office bars other companies from making cheaper copies of the vaccine and allows Pfizer to exclusively sell it in India until 2026.
The patent grant means Indian companies won't be able to make the vaccine for domestic use, or exports.
The decision also has international implications, as several poorer nations rely on India's robust drugs industry to supply cheaper copies of medicines and vaccines.

Key Fact:

Pfizer's vaccine protects children and adults from 13 types of pneumococcal bacteria, and a full vaccination course costs about $170 on India's private market.
India started giving out the vaccine for free under its national immunisation program earlier this year, but the rollout like that of most vaccines in the program, is in phases, so only about 2.1 million of the 25 million eligible people in the country will get it this year.
India has the world's largest number of pneumonia cases, a lung disease that kills nearly a million children a year globally.
3. FDI jumps 37% to $10.4 billion during April-June 2017
In news:
Foreign direct investment (FDI) into the country grew by 37 per cent to USD 10.4 billion during the first quarter of the current fiscal
Since the launch of 'Make in India' initiative (October 2014 – June this year), foreign inflows jumped 64 per cent to USD 110.12 billion from USD 67.26 billion in the same period last year.
Sectors which attracted the highest foreign inflows include services, telecom, trading, computer hardware and software and automobile.
Bulk of the FDI came in from Singapore, Mauritius, the Netherlands and Japan.
The government has announced several steps to attract foreign inflows.The measures include liberalisation of FDI policy and improvement in business climate.
Importance of FDI in India:
India needs around USD 1 trillion for overhauling its infrastructure sector such as ports, airports and highways to boost growth.
A strong inflow of foreign investments will help improve the country s balance of payments situation
It will strengthen the rupee value against other global currencies, especially the US dollar.
4. Govt puts urad, moong dal imports under restricted category
In news:
The government on Monday put imports of urad and moong dal under the restricted category and fixed a cap for its in-bound shipments up to three lakh tonnes.
India is the world's largest pulse producer and importer.
Earlier this month, the government had also put imports of pigeon peas and toor dal under the restricted category.
This restriction will not apply to the government's import commitments under any bilateral and regional agreement.
How this restriction will help?
The move will help in stabilising domestic prices that have fallen below the minimum support level and are hurting farmers.
Category: SCIENCE AND TECHNOLOGY
1. N. Bhupathi, a frog with the face of a pig
In news:
Nasikabatrachus bhupathi, a frog with the face of a pig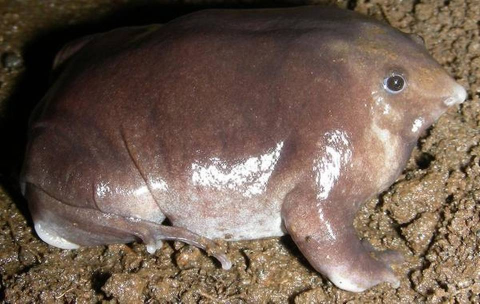 Indian scientists have discovered a new species of frog that has a snout-shaped nose, just like a pig's.
The soiled-dwelling species, discovered by scientists from the Centre for Cellular and Molecular Biology (CCMB) in Hyderabad, has been named after the Indian herpetologist Bhupathy.
Location: Bhupathy's purple frog inhabits the eastern slopes of the Western Ghats, near the Srivilliputhur Grizzled Giant Squirrel Wildlife Sanctuary in Tamil Nadu.
Evidence in favor of continental drift theory :
The discovery is significant as it constitutes additional evidence in favour of the theory of continental drift.
The Purple frog is an inhabitant of Seychelles, and the discovery of Bhupathy's purple frog in India suggests that the Indian subcontinent was part of the ancient landmass of Gondwana before splitting from Seychelles 65 million years ago.
Category: ENVIRONMENT AND ECOLOGY
1. Huge haul of painting brushes made of mongoose hair
In news:
Wildlife Crime Control Bureau (WCCB) and West Bengal Forest Department have seized 32,985 mongoose-hair painting brushes from Kolkata's Burrabazar area.
These brushes are primarily used for water colour.
Across the globe using animal hair for making brushes is considered a crime and there are laws to deal to with it.
Protected species
Mongoose is a protected species under Schedule II and part II of the Wildlife Protection Act,1972
Any trade of Mongoose body parts involves similar punishment as is laid down for tigers and rhinoceros.
Those convicted face a minimum three years in jail.
Basic Information
Wildlife Crime Control Bureau:
The Government of India constituted a statutory body, the Wildlife Crime Control Bureau (WCCB) on 6 June 2007, by amending the Wildlife (Protection) Act, 1972, a special Act to protect the wildlife in the country.
WCCB would complement the efforts of the state governments, primary enforcers of the Wildlife (Protection) Act, 1972 and other enforcement agencies of the country.
Wildlife Crime Control Bureau is a statutory multi-disciplinary body established by the Government of India under the Ministry of Environment and Forests, to combat organized wildlife crime in the country.
The Bureau has its headquarter in New Delhi and five regional offices at Delhi, Kolkata, Mumbai, Chennai and Jabalpur; three sub-regional offices at Guwahati, Amritsar and Cochin; and five border units at Ramanathapuram, Gorakhpur, Motihari, Nathula and Moreh.
Main areas of operation:

Under Section 38 (Z) of the Wild Life (Protection) Act, 1972, it is mandated to collect and collate intelligence related to organized wildlife crime activities and to disseminate the same to State and other enforcement agencies for immediate action so as to apprehend the criminals; to establish a centralized wildlife crime data bank; co-ordinate actions by various agencies in connection with the enforcement of the provisions of the Act; assist foreign authorities and international organization concerned to facilitate co-ordination and universal action for wildlife crime control; capacity building of the wildlife crime enforcement agencies for scientific and professional investigation into wildlife crimes and assist State Governments to ensure success in prosecutions related to wildlife crimes; and advise the Government of India on issues relating to wildlife crimes having national and international ramifications, relevant policy and laws. It also assists and advises the Customs authorities in inspection of the consignments of flora & fauna as per the provisions of Wild Life Protection Act, CITES and EXIM Policy governing such an item.
Nothing here for Today!!!
E. Practice Questions for UPSC Prelims Exam
Question 1. Consider the following statement with reference to a device Genexpert which was
 in news recently:
Genexpert can run molecular test
It can diagnose TB and HIV infections
The device size is equivalent to that of a microwave oven
Choose the correct statement
1 only
1 and 2only
1 and 3 only
All are correct
See
Question 2. Consider the following statement with reference to Global Entry Programme 
which was in news recently:
India recently signed to join this programme.
This scheme will allow expedited entry into the US to all travellers from India
Choose the correct statement.
1 only
2only
1 and 2 only
Neither 1 nor 2
See
Question 3. Consider the following statement with reference to CERT-In which was in 
news recently:

The Indian Computer Emergency Response Team (CERT-In) is an office within the Ministry of defense.
It is the nodal agency to deal with cyber security threats like hacking and phishing.
Choose the correct statement
1 only
2only
1 and 2 only
Neither 1 nor 2
See
Question 4. Consider the following statement with reference to Global Entrepreneurship 
Summit (GES) which was in news recently:

The GES is a personal initiative of US President Barack Obama to bring entrepreneurs from across the globe on one platform.
The 2017 Global Entrepreneurship Summit (GES) will be hosted by China
Choose the correct statement
1 only
2only
1 and 2 only
Neither 1 nor 2
See
Question 5. Wildlife Crime Control Bureau comes under which ministry?

Ministry of Environment and Forests
Ministry of Home Affairs
Ministry of Defense
None of the Above
See
F. UPSC Mains Practice Questions
GS Paper II
Social evils were cast out by way of legislation and not by judicial orders, Justify?
Was it right on the part of Supreme Court to ban Triple talaq, Critically analyze the issue?
GS Paper II
Pradhan Mantri Jan-Dhan Yojana (PMJDY) is necessary for bringing unbanked to the institutional finance fold. Do you agree with this for financial inclusion of the poorer section of the Indian society? Give arguments to justify your opinion.
Also, check previous Daily News Analysis
"Proper Current Affairs preparation is the key to success in the UPSC- Civil Services Examination. We have now launched a comprehensive 'Current Affairs Webinar'. Limited seats available. Click here to Know More."
Enroll for India's Largest All-India Test Series