TABLE OF CONTENTS
A.

 GS1 Related




B.

 GS2 Related


Polity
1. Privacy is a fundamental right, declares SC  
2. New Rs 200 note to be issued from today: Here is everything you need to know
3. Govt tweaks RCS to attract more bidders 
International Relations
1. Foreign Policy Watch: India-Nepal  
2. Foreign Policy Watch: India-China


C.

 GS3 Related


Science and Technology
1. The geopolitical prowess of science and technology 
Environment and Ecology
1. The return of the Irrawaddy dolphin 


D. 

GS4 Related




E. 

Prelims Fact


F. UPSC Prelims Practice Questions
G. UPSC Mains Practice Questions 
Nothing here for Today!!!
1. Privacy is a fundamental right, declares SC
Context:
Life and liberty are intrinsic to human life and it is not an absolute right says Court in a nine-judge Constitution Bench verdict.
It will have effectson matters ranging from collection and sharing of personal data in Aadhar cards to the cases of homosexuality (possibly)
The SC has overruled its earlier verdictswhich held that right to privacy was not protected by the Constitution
Natural rights like privacy exist equally in all individuals, irrespective of class, strata, gender or orientation.
Central executive claimed against the acknowledgment of privacy as a fundamental right but assured the court that it would be safeguarded through parliamentary statutes.
Nevertheless, the court held that privacy is not an absolute right. The government can introduce a law, which "intrudes" into privacy for public and legitimate state reasons.
A person can challenge this law in any of the constitutional courts of the land for violation of his fundamental right to privacy.
Judgment's implication on Aadhar
The judgment was regulated to the issue of right to privacy
The five-judge bench hearing the petitions since 2015 will deal with whether Aadhaar violates the right to privacy
2. New Rs 200 note to be issued from today: Here is everything you need to know
Context:
RBI will issue new Rs 200 denomination banknotes from hand-picked RBI offices.
New Rs 200 note may not be accessible through ATMs.
The induction of Rs.200 note is with respect to various factors like ease of transactions for the common man, replacement of soiled banknotes, inflation and the need for combating counterfeiting
The notes will be in the Mahatma Gandhi (new) Series, bearing the signature of RBI Governor Urjit R Patel.
3. Govt tweaks RCS to attract more bidders
Context:
Center takes steps towards Regional Connectivity Scheme (RCS) to make it more feasible for airlines.
The Ministry of Civil Aviation (MoCA) to make some changes for the bidding in commercially viable existing routes under the scheme.
The viability gap funding (VGF) for helicopter operators is also provided under the scheme by MoCA.
Steps to increase the connectivity in priority areas, which include: J&K, Uttarakhand, Himachal Pradesh, the North-East, and Andaman, Nicobar and Lakshadweep Island through major rebuilding work.
Category: INTERNATIONAL RELATIONS
1. Foreign Policy Watch: India-Nepal
Context:
Nepalese Prime Minister Sher Bahadur Deuba guaranteed Prime Minister Narendra Modi that Nepal would not permit any activity against its "friendly neighbour"
India-Nepal cooperation
India talks on warmer cooperation between the security and defense forces of the two countries as this could prevent misuse of the open border.
Deuba promised of "every support, every help and cooperationon the "defence and security" aspect.
Deuba also acknowledged that the Constitution "encompassing" the opinions of the people from all sections and ethnicities would be a certain.
India and Nepal together launched the Kataiya- Kusaha and Raxaul-Parwanipur cross border power transmission lines. Modi said this would give an additional 100 MW of power to Nepal, apart from the current 350 MW.
Mutual plans to develop the Ramayana and Buddhist tourism circuits through better connectivity.
Flood management and irrigation projects was also the focal point in the meeting.
The two sides endorsed eight pacts, including on cooperation in countering drug trafficking and post-earthquake reconstruction in the Himalayan nation.
2. Foreign Policy Watch: India-China
Context:
High-level official team from China is visiting India to address the issue of growing trade imbalance with India.
This move can be seen as a breakthrough for India, which is facing goods trade deficit with China.
Decision came while Military tension between the two countries.
China has a goods exports to India in 2016-17 valued at an enormous $61.3 billion.
Whereas India's shipments worth just $10.2 billion to China.
Category: SCIENCE AND TECHNOLOGY
1. The geopolitical prowess of science and technology
Context:
Science and technology acts as a portion of geopolitics where technological developments boost Geo-political domination of the country.
This dominion can act as a decisive instrument to pursue a geopolitical outline and build strategic relations in international affairs.
It can also be a potential tool in national security and opening new market opportunities
Possession of high-class technology fetches greater power and control in International arena.
Intermediate powers like Canada and Switzerland are best examples in the international arena because of their S&T capabilities.
Israel
Being a small country it embraces a great geo-political importance because of its high-tech ecosystem.
One of the cause for India's latest tilt regarding Israel is the latter's strength in S&T, especially in agriculture.
Israel serves the triple purpose of boosting economic growth, ensuring national security, and offering international leverage.
U.S.
Country has been the world's superpower for the past 50 years, because of their headship in S&T.
The beginning of World War I with the establishment of the Council of National Defense and the National Research Council established the Science and technological leadership.
World War II led to the development of the atomic weapon and Foundations of Silicon Valley.
The diplomatically important US space program was the seed of cold war.
China
Chinese innovation policy is a geopolitical apparatus to advance economic and military hegemony.
China's New Industry Policy 2025 aims to make itself an "innovative country".
Chinese moves in clean energy and space have made technology a prime pawn in the international power play.
China aims to become a superpower in Artificial Intelligence, leading to a technology race with the US.
The Chinese government also invests strategically in the US, particularly in Silicon Valley
India
India's fresh works to focus on its domestic defense manufacturing industry, develop a regional satellite for South Asia, an independent GPS, as well as establish 20 world-class universities, are all seen as foot works in the S&T advancement to reach the power.
As per the 2015 report by the OECD, the US spent 2.7% of its GDP on research and development in 2013. South Korea and Israel each spent 4% of their GDP while China is targeting 2.5% by 2020.
India currently spends only 0.9% of GDP on R&D.
Way forward
India needs to diagnose the geopolitical reality of S&T.
India needs to build the infrastructure to generate new technologies and to invest in human capital, maintain a cadre of top scientists and professionals, and develop industry-lab links.
Category: ENVIRONMENT AND ECOLOGY
1. The return of the Irrawaddy dolphin
Context:
After 30 years of removal of illegal prawn enclosures, endangered dolphins spotted back in the Chilka.
This move by the Chilika Development Authority's (CDA) has resulted to unhindered movement of the dolphins.
CDA cleared almost 4,000 hectare of encroachment from a portion of the lake.
Satellite imageries found 14,590 hectare of the lagoon under manmade gheries (enclosures) for illegal prawn cultivation.
Statistics
The total population of these dolphins in the world is estimated to be less than 7,500. Bangladesh reports the highest count with 6400.
The population in Chilka is considered to be the highest single lagoonal.
Nothing here for Today!!!
NATIONAL PARKS/SANCTURIES/BIOSPHERE RESERVES:
National parks in Himachal Pradesh
1. Great Himalayan National Park
Location: The Great Himalayan National Park (GHNP), is located in Kullu region in the state of Himachal Pradesh.
The park is at an altitude of between 1500 and 6000 m.
Key Fact: In June 2014, the Great Himalayan National Park was added to the UNESCO list of World Heritage Sites. The Unesco World Heritage Site Committee granted the status to the park under the criteria of "outstanding significance for biodiversity conservation"
2. Pin Valley National Park
Location: Pin Valley National Park is a National park of India located within the Lahaul and Spiti district, in the state of Himachal Pradesh, in far Northern India.
The park is located in the desert habitat of the Spiti Valley, within the Cold Desert Biosphere Reserve, in the Himalayas region.
Key Fact: the Park forms a natural habitat for a number of endangered animals including the snow leopard and Siberian ibex.
---
IUCN Red List:
I. Asiatic cheetah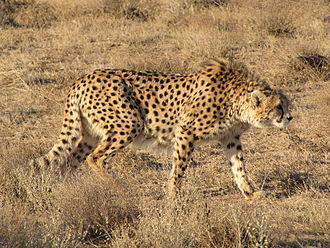 Scientific name: Acinonyx jubatus venaticus
Habitat:

Only in Iran now
It once occurred from the Arabian Peninsula and the Near East to the Kyzylkum Desert, Caspian region, Pakistan and India, but has been extirpated there during the 20th century

IUCN classification: Critically Endangered
Threats: Reduced gazelle numbers, persecution, land-use change, habitat degradation and fragmentation, and desertification contributed to the decline of the cheetah population
II. Gharial:
Scientific name: Gavialis gangeticus.
Habitat: native to the northern part of the Indian Subcontinent.
The gharial once thrived in all the major river systems of the Indian Subcontinent, spanning the rivers of its northern part from the Indus River in Pakistan across the Gangetic floodplain to the Irrawaddy River in Myanmar. Today, it is extinct in the Indus River, in the Brahmaputra of Bhutan and Bangladesh, and in the Irrawaddy River. Its distribution is now limited to only 2% of its former range.
IUCN Classification: critically endangered.
Threats: loss of riverine habitat, depletion of fish resources, and entanglement in fishing nets.
Fact: Gharials are bred in captivity in the National Chambal Sanctuary in Uttar Pradesh, and in the Gharial Breeding Centre in Nepal's Chitwan National Park.
F. Practice Questions for UPSC Prelims Exam
Question 1. Which of the following National Parks are located in the state of Jammu and Kashmir?
Pin valley National Park.
Salim Ali National park
Dachingham National Park
Kishtwar National Park
Select the correct option/s
1 only
1, 2 and 3
2 and 4
2, 3 and 4
See
Question 2. Which of the following statements are incorrect with respect to the UDAN Scheme?
UDAN is an innovative scheme to develop the regional aviation market. It is a market-based mechanism in which airlines bid for seat subsidies.
Government will provide subsidy to airlines for first five years of operations when they will have exclusive flying rights on the selected routes.
Select the correct options.
1 only
2 only
Both 1 and 2
None of the above
See
G. UPSC Mains Practice Questions
GS Paper II
Right to privacy which is the core intrinsic human value that can be a potential tool to address the issues ranging from Aadhar to sexual identity. Explain.
GS Paper III
Can technological prowess be a weapon for India to attain global supremacy and hegemony? Discuss
What is Artificial Intelligence? How can it contribute to a civilizational revolution?
GS Paper IV
Topic: CASE STUDY ANALYSIS
Question 1. You are a district development officer, Panchayat has appointed part time teachers who are not of better quality and are accompanied on not working according to working hours. What steps would you take to resolve the issue?
Answer
The aim of education is to identify the potential in a student and helping him/her to achieve success in life. A capable teacher can better execute this. If teacher himself is incapable then it results in disastrous consequence.
Ethical issues involved
Violation of Right to Education
Violation of promise and professional ethics
Steps to be taken
Analyze the situation in reality.
Document the possible facts and consider the school management/ panchayat level considerations of the issue, taken as a move earlier.
If not taken, then instruct them to take initial move.
Look if alternate teachers are available to address the urgent needs.
Take all the decisions based on the available and disposable resources.
Immediate action to be taken
Bring changes in the schedule.
Recruit or replace teachers based on their location of residence and availability of transport.
Introduce Quality development programs.
Initiate move to reach the targets through motivational programs for both children and teachers.
Also, check previous Daily News Analysis 
"Proper Current Affairs preparation is the key to success in the UPSC- Civil Services Examination. We have now launched a comprehensive 'Current Affairs Webinar'. Limited seats available. Click here to Know More."
Enroll for India's Largest All-India Test Series