TABLE OF CONTENTS
A.

 GS1 Related


Geography
1. Storm Pakhar hits Hong Kong and Macau days after deadly Typhoon Hato


B.

 GS2 Related


Polity
1. The lowdown on Article 35A  
2. Rajiv Kumar appointed as the second Vice-Chairman of the NITI Aayog
International Relations
1. 3.8 million displaced by DR Congo violence: UN 
2. India, Qatar discuss citizens' welfare  


C.

 GS3 Related


Economics - Agriculture
1. Using satellite imagery, Internet to arrive at farm insurance solution
Science and Technology
1. Researchers from NIT-Karnataka and US develop cheaper plastics 
Internal Security
1. Jaish-e-Mohammed carries out a deadly attack in J&K
2. Defence Minister dedicates upgraded jet trainer Hawk-i to the nation
Environment and Ecology
1. A new score in waste management 


D. 

GS4 Related




E. 

Prelims Fact


F. UPSC Prelims Practice Questions
G. UPSC Mains Practice Questions 
1. Storm Pakhar hits Hong Kong and Macau days after deadly Typhoon Hato
Key Points
Tropical storm Pakhar has brought high intensity winds and very heavy rain to Hong Kong and Macau; merely four days after one of the strongest typhoons on record, Hato, caused severe flooding and damage.
Pakhar's arrival comes as the cities are still reeling from Hato. 
Basic Information
Understanding Tropical Cyclones and its different names
A tropical cyclone is a generic term used by meteorologists to describe a rotating, organized system of clouds and thunderstorms that originates over tropical or subtropical waters and has a closed, low-level circulation.
Once a tropical cyclone reaches maximum sustained wind speeds of 74 miles per hour or higher, it is then classified as a hurricane, typhoon, or cyclonedepending upon the location where the storm originates in the world.
Hurricanes, cyclones, and typhoons are all the same weather phenomenon; we just use different names for these storms in different locations.
In the Atlantic and Northeast Pacific, it is called as "hurricane". A similar disturbance in the Northwest Pacific is known as a "typhoon" and in the South Pacific and Indian Ocean it is referred to as "cyclones".
The pre-requisites for these storms include a pre-existing weather disturbance, warm tropical oceans, moisture, and relatively light winds.
If the right conditions persist long enough, then they can combine to produce violent winds, incredible waves, torrential rains, and floods which are usually associated with this phenomenon.
Key Points
Article 35A in the Indian Constitution is a provision which gives the J&K Legislature a carte blanche to decide who all are 'permanent residents' of the State and confer on them special rights and privileges in public sector employment, purchase of property in the State, scholarships and other government aid and welfare. It mandates that no act of the legislature coming under it can be challenged for violation of the Constitution or any other law of the land.
Article 35A was added into the Constitution in 1954 by an order of the then President Rajendra Prasad on the advice of the Union Cabinet led by Jawaharlal Nehru. The controversial Constitution (Application to Jammu and Kashmir) Order of 1954 followed the 1952 Delhi Agreement, which provided Indian citizenship to the citizens of J&K.
The Presidential Order was issued under Article 370 (1) (d) of the Constitution. This feature allows the President to make certain "exceptions and modifications" to the Constitution for the benefit of citizens of J&K.
So Article 35A was included in the Constitution as a mark of the special consideration the Indian government extended to the 'permanent residents' of J&K.
The President incorporated Article 35A into the Constitution by bypassing the parliamentary route. Article 368 (i) of the Constitution mandates that only the Parliament can amend the Constitution. So the question is did the President act outside his jurisdiction? Is Article 35A null and void because the government did not carry out a Parliamentary discussion?
A five-judge Bench of the Supreme Court in its 1961 judgment discussed the powers of the President under Article 370 to 'amend' the Constitution, during the Puranlal Lakhanpal vs. The President of India case. The court observed that the President can modify an existing article in the Constitution under Article 370 but the SC ruling is silent over the President's power to introduce a new Article without the Parliament's knowledge. This question remains unanswered.
Critics argue that Article 35A goes against the principles of equality and as well as the unity and integrity of India. They argue that it restricts citizens from other States from getting jobs or acquiring property in J&K and is a violation of fundamental rights enshrined under Articles 14, 19 and 21 of the Constitution.
Article 35A has also been challenged for protecting certain provisions of the J&K Constitution, which limits the basic right to property if a native woman marries a man who does not possess a certificate of permanent residence.
Recently, a Supreme Court Bench has indicated that the validity of Articles 35A and 370 may ultimately be decided by a Constitution Bench.
2. Rajiv Kumar appointed as the second Vice-Chairman of the NITI Aayog
Key Points
Rajiv Kumar has been picked as the 2nd Vice-Chairman of the NITI Aayog, the think tank which replaced the Planning Commission. 
He is an Oxford-educated economist with extensive experience – both in and outside the government – in shaping the contours of public policy.
The Vice-Chairman of NITI Aayog reports directly to the Prime Minister and wields a powerful influence on the management of the economy and the Centre's policy priorities.
Reviving the formal economy, spurring private investment and creating jobs is likely to be the focus of Mr. Kumar and he feels all other economic priorities must make way for employment creation.
Mr. Kumar believes higher employment will automatically push the Indian economy close to double digit growth. He holds strong views about India's foreign trade policy and could prioritise the overhaul of the export incentives system.
He could bring some relief for citizens as he believes the government could lower the high taxes on petroleum products to encourage consumption and investment demand.
He is also a firm supporter for a voluntary two-year social service scheme for the youth to ensure unemployment doesn't lead them astray. This programme would have to be run by the armed forces and national integration has to be its principal objective.
Category: INTERNATIONAL RELATIONS
1. 3.8 million displaced by DR Congo violence: UN
Key Points
The number of people displaced by conflict in the Democratic Republic of Congo, mainly in the volatile Kasai region, has nearly doubled in the last six months to 3.8 million
UNHCR has said that food and clothing was required for the 1.4 million refugees in Kasai who have fled their homes due to violence that has killed more than 3,000 people.
In the south eastern province of Tanganyika, clashes between Bantus and Pygmies have also forced thousands to seek refuge, as has the long-running conflict in the Kivu region
In Kasai, clashes began last September after the killing of a tribal chieftain, known as the Kamwina Nsapu, who rebelled against the authority of President Joseph Kabila's regime in Kinshasa and its local authorities.
The murder sparked large scale violence that has escalated and has led to alleged human rights violations such as extrajudicial killings, rapes, torture and the use of child soldiers, all of which constitute violation of international law.
At the same time, the country is also coping with the arrival of about 500,000 refugees fleeing conflict in neighbouring Burundi, Rwanda, South Sudan and the Central African Republic where about 60,000 people have fled to DRC this year.
Basic Information
United Nations High Commissioner for Refugees (UNHCR)
The UNHCR, also known as the UN Refugee Agency, is a UN programme mandated to protect and support refugees at the request of a government or the UN itself and assists in their voluntary repatriation, local integration or resettlement to a third country.
Its headquarters is located in Geneva, Switzerland, and it is a member of the United Nations Development Group.
The UNHCR has won two Nobel Peace Prizes (in 1954 and again in 1981).
The 1951 Convention relating to the Status of Refugees and the 1967 Protocol Relating to the Status of Refugees, provide the mandate to UNHCR.
2. India, Qatar discuss citizens' welfare
Key Points
India and Qatar discussed the welfare of Indian citizens in Qatar in the wake of its lingering disputes with other Aran nations – Saudi Arabia, Egypt, the UAE and Bahrain.
The two sides also discussed ways to expand co-operation in energy, trade and investment including the welfare of the more than six lakh Indian workers.
In June this year the four Arab countries had announced breaking off diplomatic ties and shutting all connectivity links with Qatar over allegations that it supported terrorism and Qatar had rejected these charges.
India had impressed upon the countries in the region to resolve the crisis via constructive dialogue and well-established international principles of mutual respect.
India's ties with Qatar have intensified in the last few years and India has expressed keen interest in investing in Qatar's hydrocarbon projects.
PM Modi during the recent visit of his Qatari counterpart had also discussed enhancing cooperation in defence and security and both agreed on joint action to combat money laundering and terrorist financing.
1. Using satellite imagery, Internet to arrive at farm insurance solution
Key Points
Space entrepreneurs plan to improve the livelihood of farmers without directly working with them by deploying a combination of satellite imagery, artificial intelligence, Internet of Things (IoT), and big data analytics.

This technology can help farmers to acquire bank loans, timely and correct insurance claims and may be even ensure a good MSP (minimum support price) for their crop.
This can be done by syncing satellite imagery-based information with ground level data and this in turn can be used to improve the livelihood of farmers
By reducing the risks associated with India's weather dependent, subsistence farming; this idea should make it easier for the farmer to increase his income; and get agricultural loans and insurance and its timely settlement. In return the government can spend less on insurance premium subsidies and agriculture insurance companies will have less pay-out to make and it can also serve as a scientific basis for fixing MSPs.
Researchers are pulling data from Indian and European satellites and old imageries from the U.S. Landsat and keyed in latitudes and longitudes of remote places across the country to match them up with local socio-economic data. To this the 'mandi'-level commodity prices, potential prices, and historical rates have been synced.
They began their pilot project in Andhra Pradesh's Srikakulam district. They randomly chose different crops with different mixes of fertilizer and water. At the end of the 2016 cropping seasons — the summer Kharif and the winter Rabi — they could predict crop yields that were 85-90% accurate and this has been now fine-tuned to 95%. Conventional or manual estimate methods are said to be less than 80% accurate.
Forecasting crop yields
An accurate forecast of crop yields are crucial and will help the farmer and as well as all the stakeholders: the bank that lends him credit; the government that pays premiums on crop insurance and fixes MSPs; and the insurance agency that must compensate the farmer if crops fail.
In July, the CAG identified gaps in the implementation of agricultural insurance scheme during the 2011–16 period and pointed out delays in settling claims. The CAG report also said that the farmers did not get the full benefit of the ₹36,000 crore-plus subsidies that the Union and State governments had declared towards crop insurance premium.
The tool being developed has a Google Earth-like navigable online dashboard and will be customised to be offered to end users such as district collectors, decision makers, crop insurance companies, banks, and large single farmers.
The new Pradhan Mantri Fasal Bima Yojana mandates all stakeholders to deploy technologies such as satellite remote sensing, ICT, and mobile phones to identify risks and settle farmers' claims quickly.
Category: SCIENCE AND TECHNOLOGY
1. Researchers from NIT-Karnataka and US develop cheaper plastics
Key Points
A team of researchers from the National Institute of Technology, Karnataka, and the New York University, U.S., have developed composite plastics that are up to 36% lighter than those currently being used.
The team focussed on embedding hollow microspheres into high density polyethylene, which is the most commonly moulded plastic product.
Through a method of trial and error spanning two years, researchers have managed to shed plastic usage by nearly 20%. They have replaced it with glass microballoons and fly ash cenospheres.
The challenge with composite materials is that it is developed in controlled conditions in the lab which cannot be replicated in the industry. But with the new technique that has been developed, low-cost, light-weight composites can be manufactured at any industry using the regular compression moulding machines
While hollow microspheres and composites are lighter and cheaper, the challenge facing the team was to ensure the microspheres remained intact despite the processes of industrial moulding.
By successfully imbibing hollow spheres into otherwise solid plastic base, the density of the material has been brought down by nearly 50%. The end material was found to have a significantly greater ability to absorb energy.
The researchers believe that this could help in the production of more light-weight material and the reduced usage of plastics. For instance, the reduction in weight will significantly improve fuel efficiency in cars and planes.
1. Jaish-e-Mohammed carries out a deadly attack in J&K
Key Points:
8 security personnel and 3 militants were killed when militants of the Pakistan-based Jaish-e-Mohammad (JeM) stormed the highly secure District Police Lines premises in Pulwama.
The terrorists stormed the Special Operation Group building which houses the police arm that handles counter-insurgency operations.
Basic Information
Jaish-e-Mohammed is viewed by Indian security agencies as the "deadliest" and "the principal terrorist group operating in Jammu and Kashmir"
Pakistan's Inter-Services Intelligence(ISI) is said to have created Jaish-e-Mohammed by working with several Deobandi terrorists and it is known to have long-standing ties with the Taliban and Al Qaeda.
JeM was founded by Maulana Masood Azhar, who was in Indian custody prior to 1999 and had to be released as part of the negotiations to end the hostage crisis when an Indian Airlines flight IC-814 was hijacked by terrorists.
JeM became a part of the ISI-sponsored United Jihad Council, an umbrella organisation of around 13–16 militant organisations that carry out attacks in Indian-administered Kashmir.
India is pushing the UNSC to designate Masood Azhar as a global terrorist but the efforts are being blocked by China.
Major attacks attributed to JeM
Attack on the Indian Parliament in 2001.
Murder of Daniel Pearl, an American journalist in Karachi.
Pathankot Air base attack in 2016.
Uri Attack in 2016 which prompted India to retaliate with surgical strikes on terror camps operating beyond the LoC.
2. Defence Minister dedicates upgraded jet trainer Hawk-i to the nation
Key Points
Defence Minister Arun Jaitley launched several new schemes and infrastructure projects across three of the country's biggest defence public sector undertakings
At HAL, he launched the production of the twin-engine light combat helicopter (LCH) and also dedicated the weaponised and upgraded Hawk-i (India), jet trainer aircraft, to the nation.
The Hawk-I has been upgraded indigenously with newly designed avionics and other features to make it a combat-ready platform and it marks a departure for HAL from the traditional process of developing platforms based on the needs of the Indian armed forces. The Hawk-i has been developed without any confirmed buyers. It will now be put on offer to the Armed Forces.
Hawk-i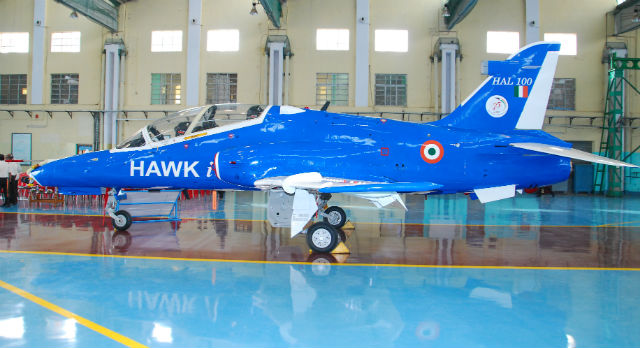 The Hawk is an advanced jet trainer aircraft developed by BAE Systems of UK. It was imported by India under a technology transfer agreement to replace the ageing fleet of IAF trainers with modern trainer jets.
The aircraft has been upgraded indigenously with newly designed avionics hardware, software and system architecture which enhances its operational role from being just a trainer aircraft into a Combat-ready platform with enhanced quality and depth of training via Large Force Engagement (LFE) tactics through the Electronic Virtual Training System (EVTS).
Hawk-i is capable of delivering precision munitions including Air to Ground and close combat weapons, self-defence capabilities through Electronic Warfare (EW) systems, digital map generator and operational reliability through new Dual Hot stand-by Mission Computer Avionics architecture supported by indigenous high accuracy and high Altitude Radio Altimeter, Data Transfer system.
HAL Light Combat Helicopter (LCH)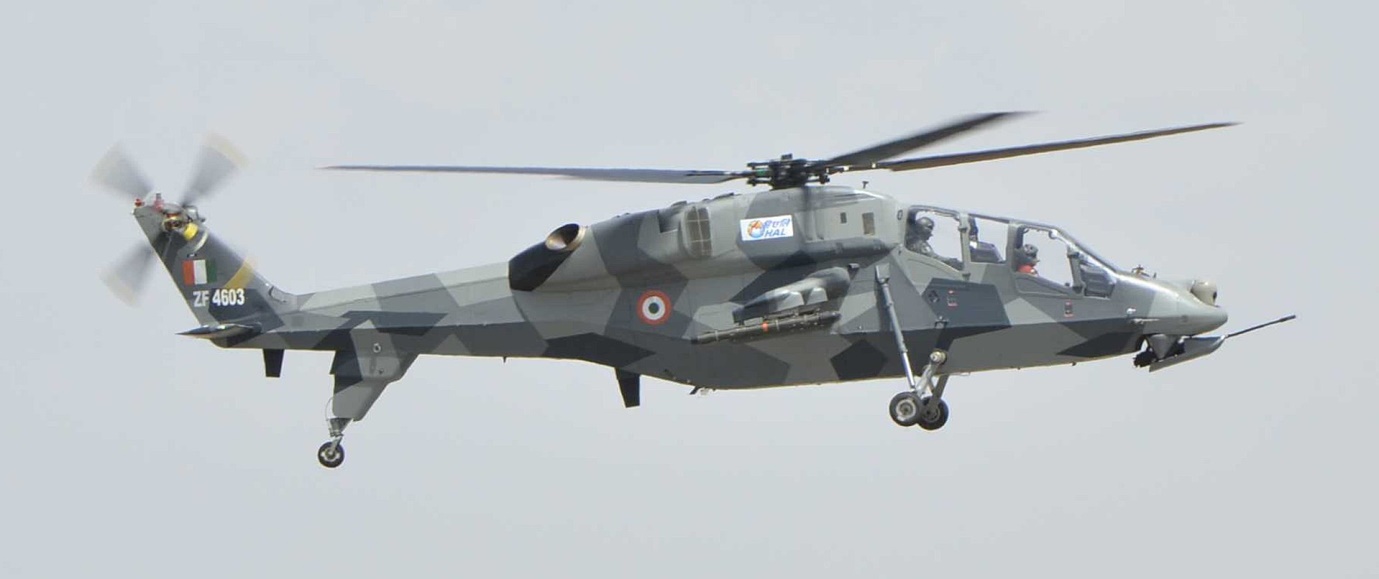 The LCH is a multirole combat helicopter being developed indigenously by HAL for the Indian Air Force and the Indian Army.
It's mainly being developed to meet the demands of the IAF and the Army to have an indigenously developed combat helicopter for high-altitude operations in the Himalayas.
The LCH is being designed to take on anti-infantry and anti-armour roles and will be capable of high-altitude operations.
Its design features a narrow fuselage with stealth profiling, armour protection, and it will be equipped to carry out day-and-night combat operations. The LCH also features a digital camouflage system and it has a two-crew cockpit.
LCH will have a glass cockpit with multifunction displays, a target acquisition and designation system with FLIR, Laser rangefinder and laser designator. Weapons will be aimed with a helmet mounted sight and it has an electronic warfare suite with radar warning receiver, laser warning receiver and a missile approach warning system.
LCH is intended for use primarily in air defence against slow moving aerial targets (like aircraft and UAVs), Counter Surface Force Operation (CSFO), destruction of enemy air defence operations, escort to special Heli borne operations (SHBO), Counter-insurgency operations (COIN), offensive Employment in Urban Warfare, support of combat search and rescue operations (SAR) operations, anti-tank role and scout duties.
Category: ENVIRONMENT AND ECOLOGY
1. A new score in waste management
Key Points
Scientists from CSIR have been able to produce ethanol from discarded cotton-stalks by a combination of chemical and biological techniques. India has about 9.4 million hectares under cotton cultivation and each hectare generates around 2 million tonnes of cotton stalk wastes. 
The cotton stalks were first treated with an acid, alkali and different enzymes to help breakdown the complex organic polymers. Agro-residues are generally tough in nature and it requires chemical pre-treatment to help break down the complex structure of the stalk.
The acid aids in removal of hemicellulose which a polymer of the cell wall and the alkali extracts lignin which is a binding matrix in the cell wall made up of complex phenolic. These treatments expose cellulose to the action of enzymes. By using enzymes, the cellulose was further treated to convert it into glucose.
Fermentation
To convert the glucose into ethanol, fermentation using a novel yeast strain was carried out. Researchers isolated the yeast-Saccharomycescerevisiae-RRP-03N, from a rotting wild fruit found in the Silent Valley National Park in Palakkad, Kerala.
The yeast displayed a glucose conversion efficiency of 76% and the entire glucose was consumed by the yeast in just 24 hours and was converted into alcohol. This performance is superior to any other organism reported for fermentation of cotton stalk.
The final alcohol thus obtained can be converted to fuel grade bioethanol (>99% purity) after distillation and dehydration using molecular sieves.
Bioethanol
Bioethanol has many advantages over conventional fuels as it comes from a renewable source. It is now mandatory to blend 10% ethanol with petrol.
Bioethanol that is presently in use is obtained via fermentation of molasses which is a by-product of sugar production and it has food value.
Most of this first generation ethanol finds its way into consumer applications, primarily as liquor/alcohol. By converting such agro-residues to ethanol we can reduce the food vs fuel competition.
Nothing here for Today!!!
Nothing here for Today!!!
F. Practice Questions for UPSC Prelims Exam
Question 1. Consider the following statements:
The Gulf Co-operation Council consists of Bahrain, Kuwait, Oman, Qatar, Saudi Arabia, United Arab Emirates and Iran as its member states.
The GCC is headquartered in Doha, Qatar.
Which of the above statements is/are true?
i only
ii only
Both i and ii
Neither i nor ii
See
Question 2. Internet of Things, which is frequently in news, refers to _____.
A UN mission to inter-connect the world and reach out to remote unconnected corners of the world.
It is the inter-networking of physical devices, vehicles, buildings, and other items embedded with electronics, software, sensors, actuators, and network connectivity which enable these objects to collect and exchange data.
A proposal of the United States government to democratise internet governance.
None of the above
See
Question 3. Indian agriculture is termed to be an Intensive Subsistence Farming type. 
What are the characteristics that have made Indian agriculture to be categorized into 
that type?

Very high population density
Labour intensive farming
Lower yield of production in terms of per capita labour force
Very small and fragmented land holdings
Usage of farm machinery
Choose the correct code from the following.
1, 2, 3 only
1, 2, 3, 4 only
2, 3, 4 only
All the above
See
Question 4. India has frequently voted against Sri Lanka at which of the following 
international organisations?

United Nations Human Rights Commission
United Nations Security Council
United Nations High Commission for Refugees
None of the above
See
Question 5. Consider the following statements:

The NITI Aayog has the Prime Minister as its chairperson and four ex-officio members of the Union Council of Ministers.
The Governing Council is composed ofChief Ministers of all States (and Delhi and Puducherry) and Lieutenant Governors of remaining Union Territories.
Which of the above statements is/are true?
i only
ii only
Both i and ii
Neither i nor ii
See
Question 6. Which of the following satellites is used by ISRO for monitoring crop 
acreage?

IRNSS
RISAT
Resourcesat-2A
Megha-Tropiques
See
Question 7. India has imported the Hawk advanced jet trainer from which of the 
following countries?

France
Britain
USA
Russia
See
Question 8. Which of the following articles in the Indian Constitution deal specifically with 
Jammu & Kashmir?

Article 368
Article 370
Article 352
Article 35A
Choose the right option from the below given codes.
i only
ii and iii only
ii and iv only
All the above
See
G. UPSC Mains Practice Questions
GS Paper I
Discuss the phenomena of tropical cyclones in the Indian Ocean by drawing a comparison between the frequency of cyclones in the Arabian Sea and Bay of Bengal.
GS Paper III
Indian agriculture is plagued by subsistence practice of farming with poor inputs and lack of institutional support from the government, banks and insurance companies in providing a safety net for crop failures. Critically Evaluate.
Solid waste management has emerged as a major challenge in urban governance in India. But if implemented well, it can bring in not just environmental benefits but also financial benefits. Discuss.
Also, check previous Daily News Analysis 
"Proper Current Affairs preparation is the key to success in the UPSC- Civil Services Examination. We have now launched a comprehensive 'Current Affairs Webinar'. Limited seats available. Click here to Know More."
Enroll for India's Largest All-India Test Series