TABLE OF CONTENTS
A.

 GS1 Related


Urbanization
1. Mysuru's public transport system smart, people-friendly: World Bank
Geography
1. Two killed as Hurricane Harvey wreaks havoc in Texas


B.

 GS2 Related


Polity
1. Haryana on alert as Dera chief is set to be sentenced
International Relations
1. Issues related to H-1B a challenge: Jayapal


C.

 GS3 Related


Economics
1. India facing problem of severe under-employment, says Niti Aayog
2. 'Centre ready to provide capital support for PSU banks' merger'
3. New tax regime to give manufacturing a boost
4. 'JAM' will end exclusion: Jaitley
Environment
1. Cloud seeding project hits hurdle
2. 'Bonnet monkey may soon be endangered'
3. Lantana removal under MNREGA from next week
4. Greater flamingos paint a pretty picture in Ballari
5. Ocean forecasting system unveiled


D. 

GS4 Related




E. 

Prelims Fact


F. UPSC Prelims Practice Questions
G. UPSC Mains Practice Questions 
1. Mysuru's public transport system smart, people-friendly: World Bank
The country's first technology-driven Mysuru public transport system has become "smart, safe, efficient" and beneficial to lakhs of people across the city, the World Bank has said in its latest newsletter.
What World Bank report said?
Mysuru has become the first Indian city to transform its bus services into a safe, efficient and smart system across its entire territory, benefiting both the people and the city.
Project:
The World bank-aided project (Rs. 19 crore) launched in 2012 helped the Karnataka State Road Transport Corporation (KSRTC) to install GPS enabled mini-computers above the driver's seat in each of the city's 430 buses.
In addition, each bus and bus stop was geo-mapped and tagged, and the details fed into an IT-enabled intelligent system.
How it works:
Now, at the central control room in the heart of the city, a giant screen displays the speed and location of each bus – blinking green, yellow or orange depending on whether a bus is on time, late or early. Moreover, lights splash whenever a driver speeds, accelerates sharply, slams the brakes, or stalls for more than 20 minutes.
The intelligent transport system has not only resulted in a more people-friendly bus service but has also led to smoother operations and considerable savings for the operator
With drivers being more careful, incidents of rash and dangerous driving have also dropped considerably. Besides, women now feel safer using public transport system, even after dark, the World Bank claimed.
KSRTC now saves Rs. 1 crore a year on its city bus operations. Now, the Centre has proposed these projects under the Smart City concept.
Now, the project is worth being emulated in other cities across the country.
1. Two killed as Hurricane Harvey wreaks havoc in Texas
In news
:
Hurricane Harvey, the most powerful to hit the United States in 13 years, left a trail of destruction as it swept across Texas on Sunday, pummelling the region with heavy rains and claiming at least two lives since making landfall on the US' Gulf Coast.
Harvey continued to batter Texas as rescuers grappled with heavy rains to reach out to people stranded due to the hurricane.
With winds topping 130 mph, Harvey is the first Category 4 storm to make landfall in the US since Hurricane Charley struck Florida in 2004, and the first to hit Texas since Hurricane Carla in 1961.
Harvey bombarded the stretch of the Gulf Coast in Texas with home-ripping winds and torrential rains.
1. Haryana on alert as Dera chief is set to be sentenced
In news
:
Curfew has been imposed in Sirsa, where the headquarters of the Dera Sacha Sauda sect is located as a CBI court is set to pronounce on Monday the quantum of sentence against godman Gurmeet Ram Rahim Singh convicted on August 25 for raping two women.
Internet lease lines on the premises of Dera Sacha Sauda, Sirsa had been suspended till August 29. Any person found guilty of violation of these orders would be liable for legal action.
Besides, the government has extended the suspension of mobile internet, SMS and data services till August 29.
Since the environment is tense, rumours of different kinds may be spread through broadband and Internet lease lines on the premises of the Dera Sacha Sauda.
The administration in Fatehabad has imposed Section 144 in the district, prohibiting assembly of five or more persons and carrying of firearms and other weapons, till September 18, 2017. It has also warned the people not to gather in Dera Sacha Sauda and 'naam charcha ghar' established in the district.
Central Government Act
Section 144 in The Indian Penal Code
144. Joining unlawful assembly armed with deadly weapon.—Whoever, being armed with any deadly weapon, or with anything which, used as a weapon of offence, is likely to cause death, is a member of an unlawful assembly, shall be punished with imprison­ment of either description for a term which may extend to two years, or with fine, or with both.
Category: INTERNATIONAL RELATIONS
1. Issues related to H-1B a challenge: Jayapal
In news
:
Indian-American Congresswoman Pramila Jayapal said though India-U.S. relations had improved, there were many challenges ahead, including issues related to immigration, the H-1B visa programme and foreign policy.
Excerpts of her interview:
Just reacting against H-1Bs and shutting down the programme or restricting the programme would do tremendous harm to the U.S. economy.
As do most Americans, believed immigration was a good thing for the U.S. Unfortunately, the current administration had been putting out a lot of anti-immigration messages, which make it difficult to move a good policy forward.
There was a need to have a system that caters to different needs of the economy but also makes sense to American workers.
India is a big trading partner to the U.S. and is a big potential market. The world's largest democracy and the world's oldest democracy are good partners to have together.
Commenting on the democratic processes in the U.S. and France, which faced cyberattacks and where fake news was propagated on social media to impact elections, Ms. Jayapal said that countries such as India should be concerned about cybersecurity and fake news.
1. India facing problem of severe under-employment, says Niti Aayog
Context:
Making a case for promoting highly productive and well paid jobs, Niti Aayog has said that not unemployment but a "severe under-employment" is the main problem facing the country.
In news:
The government think-tank in its three-year action plan, released last week, has said that a focus on the domestic market through an import-substitution strategy would give rise to a group of relatively small firms behind a high wall of protection.
Contrary to some assertions that India's growth has been 'jobless', the Employment Unemployment Surveys (EUS) of the National Sample Survey Office (NSSO) has consistently reported low and stable rates of unemployment over more than three decades.
Indeed, unemployment is the lesser of India's problems. The more serious problem, instead, is severe underemployment.
Need of the hour:
What is needed is the creation of high-productivity, high-wage jobs.
Citing examples of top manufacturing countries like South Korea, Taiwan, Singapore and China, it said, "The 'Make in India' campaign needs to succeed by manufacturing for global markets.
Noting that with Chinese wages rising due to an ageing workforce and many large-scale firms in labour-intensive sectors currently manufacturing in that country are looking for lower-wage locations, the Aayog said, "with its large workforce and competitive wages, India would be a natural home for these firms.
Therefore, the time for adopting a manufactures- and exports-based strategy could not be more opportune.
Solutions:
The Aayog in its 'Three Year Action Agenda' also recommended for the creation of a handful of Coastal Employment Zones (CEZ), which may attract multinational firms in labour-intensive sectors from China to India.
The presence of these firms will give rise to an ecosystem in which local small and medium firms will also be induced to become highly productive thereby multiplying the number of well-paid jobs.
Making a case for reforming labour laws, the Niti Aayog also noted that recently fixed-term employment has been introduced in the textiles and apparel industry.
This option may be extended to all sectors. The change will encourage employers to rely on regular fixed-term employment instead of contract workers, especially when hiring workers for specific projects or for meeting seasonal demand.
Besides, the Aayog pointed out that unifying the existing large number of labour laws into four codes without reform of the laws themselves will serve little purpose.
Unless we bring about substantive change either by amending the existing laws or rewriting them afresh, we cannot expect to change the current situation where low-productivity and low-wage jobs dominate the landscape.
2. 'Centre ready to provide capital support for PSU banks' merger'
In news:
The Finance Ministry is open to providing capital support for facilitating consolidation among state—owned banks, which are reeling under mounting bad loans.
The Union Cabinet has approved the setting up of an alternative mechanism, or a panel of ministers, to decide on consolidation proposals for state-run banks.
The government is keen that at least one merger proposal reaches a logical conclusion by the end of the current fiscal.
There are now 20 public sector banks (PSBs) other than SBI. These state-owned banks are grappling with Rs.6 lakh crore worth of non-performing assets (NPAs) or bad loans, which is about 75% of the total distress.
3. New tax regime to give manufacturing a boost
Advantages of GST:
GST will free the common man from tax terrorism and inspector raj. Besides being a transparent and fair system that will end generation of black money and corruption, GST will promote a new governance culture that will end harassment at the hand of tax officials.
By replacing the old regime of 17-odd indirect levies fragmented at state lines by a single tax; the Indian economy stands to benefit tremendously with a simplified, transparent tax structure that will help reduce discretion, lower litigation and improve ease of doing business thus helping attract foreign direct investment and improving industry competitiveness.
It is estimated that GST may contribute an 80 basis point rise in GDP growth over 3-5 years.
Automobiles
For automobiles, the shift to GST has largely been to the benefit of the industry and the consumer except for certain issues.
The higher GST rate for hybrid vehicles will make them unviable for consumers and will result in petrol and diesel variants being sold instead.
This is not be desirable as hybrids are much more fuel-efficient and environment-friendly vehicles.
Also, levy of tax on used cars at the same rate as for new cars is likely to push this business in the informal sector.
This would negate the Centre's aim of bringing the unregulated part of this business under the regulated mainstream and also lead to the state losing tax revenue in the process.
As we are still in the early phase of the regime, it is hoped that these and other important issues will be addressed soon.
Destination based tax:
Another important change in the indirect tax system is the shift in the taxable event from the sale, manufacture, provision of service or import in the past, to the supply of goods and/or services under GST.
Further, as the GSTN system matches the details of tax paid by a supplier to the details of credit claimed by the recipient, excess credit claim by the recipient will be disallowed automatically till the time the return is rectified. Thus, the new system motivates recipients to keep a check on suppliers.
Also, the GST-compliance rating system for suppliers has shifted part of the burden of ensuring compliance to the recipient. This, along with technology enablement, will surely improve compliance significantly.
The GST structure has been criticised owing to multiple slabs and high effective peak rate of GST. It has been argued by many that the true spirit of GST has been lost and that a high GST rate will fuel inflation. However, the Government has done well to be pragmatic, remain in touch with ground realities and not get carried away by ambitious expectations. In the present socio-economic context, it is unrealistic to expect a single or a two-tax slab structure.
4. 'JAM' will end exclusion: Jaitley
In news:
Finance Minister Arun Jaitley on Sunday wrote an article highlighting the benefits of the Pradhan Mantri Jan Dhan Yojana, which has completed three years, saying the combination of the scheme with Aadhaar and the mobile revolution would bring all Indians into the mainstream and would end economic and social exclusion.
JAM, a term coined, and a vision conceptualized, by our Chief Economic Adviser, is nothing short of a social revolution because it has brought together financial inclusion (PMJDY), biometric identification (Aadhaar) and mobile telecommunications.
Today, about 52.4 crore unique Aadhaar numbers are linked to 73.62 crore accounts in India.
The poor will have access to financial services and be cushioned against life's major shocks. Government finances will be improved because of the reduced subsidy burden; at the same time, government will also be strengthened because it can transfer resources to citizens faster and more reliably and with less leakage.
1. Cloud seeding project hits hurdle
In news
:
Running a few weeks behind schedule, cloud seeding has hit an unexpected hurdle: Permissions from numerous Air Traffic Control (ATC) towers that dot the Bengaluru city.
Basic Information:
Cloud Seeding: Cloud seeding is a form of weather modification, a way of changing the amount or type of precipitation that falls from clouds, by dispersing substances into the air that serve as cloud condensation or ice nuclei, which alter the microphysical processes within the cloud. The most common chemicals used for cloud seeding include silver iodide, potassium iodide and dry ice (solid carbon dioxide). Liquid propane, which expands into a gas, has also been used.
2. 'Bonnet monkey may soon be endangered'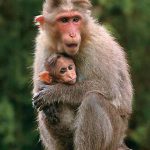 Researchers have found that the common bonnet monkey of South India may soon become an 'endangered' species.
They say the distributional range of this monkey is shrinking in eastern Maharashtra, northern parts of Karnataka, and western Telangana because of the slow incursion of the larger, more aggressive rhesus monkey from the northern region.
3. Lantana removal under MNREGA from next week
 In news:
A project envisaging the conversion of the invasive weed, lantana camara, in the BRT wildlife sanctuary into fuel briquette and generating employment and profit for local community is poised for launch early next week in Chamarajanagar.
The project aims to generate jobs under Mahatma Gandhi National Rural Employment Guarantee Act (MNREGA).
4. Greater flamingos paint a pretty picture in Ballari
 In news:
The ancient Kamalapur tank built by the Vijayanagar kings near Hampi and also at Hallikere, a tank adjacent to Kannada University, is a visual treat for passers-by.
They have been lucky to get a glimpse of the greater flamingos, which have flocked, albeit in small numbers, from a close vicinity.
Ballari district and the surrounding areas, particularly the backwaters of Tungabhadra dam, are a haven for quite a few migratory birds.
The greater flamingos: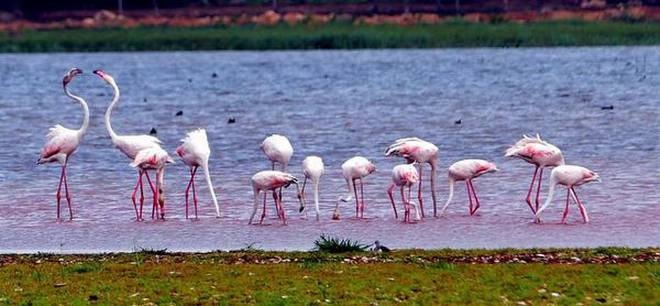 The greater flamingos, known for their majestic looks, migrate from Rann of Kutch in Gujarat during winter.
They are known to congregate at Pulicat lake in Tamil Nadu and migrate back to Gujarat after winter. Since Ballari district has many waterbodies, it has become a transit point for the birds.
5. Ocean forecasting system unveiled
The Indian National Centre for Ocean Information Services (INCOIS) of the Ministry of Earth Sciences inaugurated the Ocean Forecasting System for Comoros, Madagascar, and Mozambique at the third Ministerial Meeting of Regional Integrated Multi-Hazard Early Warning System for Asia and Africa (RIMES), held at Port Moresby, Papua New Guinea, on Friday.
The ocean forecast and early warming information on high wave, currents, winds, tides, sub-surface ocean conditions cater to users like fishermen, coastal population, tourism sector, coastal defence officials, marine police, port authorities, research institutions and offshore industries of these countries.
Applications:
These ocean services are aimed towards safety at the sea.
The system would offer oil spill advisory services, high wave alerts, port warnings, forecast along the ship routes in addition to tsunami and storm surge warnings and help in search and rescue operations.
The INCOIS has already been providing these operational services to the Maldives, Sri Lanka and Seychelles.
The ocean forecast and early warning services were most essential for safe navigation and operations at sea and the blue economic growth of many of these Indian Ocean rim countries and island nations.
Nothing here for Today!!!
Nothing here for Today!!!
F. Practice Questions for UPSC Prelims Exam
Question 1. Hurricane Harvey, the most powerful to hit the United States in 13 years, 
has been classified as:
Category 1 storm
Category 2 storm
Category 3 storm
Category 4 storm
See
Question 2. Which city public transport system has been recognized as the country's first 
technology-driven public transport system which has become "smart, safe, efficient" and
beneficial to lakhs of people across the city according to the recent World Bank report?
Bengaluru
Mumbai
Hyderabad
Mysuru
See
Question 3. Which of the following is/are used in cloud seeding?
silver iodide
potassium iodide
dry ice (solid carbon dioxide)
All of the above
See
Question 4. Natural habitat of the common bonnet monkey is:
North India
North East India
Western India
South India
See
Question 5. BRT wildlife sanctuary is located in which of the following states?
Maharashtra
Karnataka
Kerala
Andhra Pradesh
See
G. UPSC Mains Practice Questions
GS Paper I
"Smart, Safe, Efficient" public transport system is at the core of Smart City concept. Discuss.
GS Paper III

It is not unemployment but a "severe under-employment" is the main problem facing the country. Critically examine the statement.

GST will free the common man from tax terrorism and inspector raj. Critically comment.
Also, check previous Daily News Analysis 
"Proper Current Affairs preparation is the key to success in the UPSC- Civil Services Examination. We have now launched a comprehensive 'Current Affairs Webinar'. Limited seats available. Click here to Know More."
Enroll for India's Largest All-India Test Series