TABLE OF CONTENTS
A.

 GS1 Related


Social Issues
1. Marital rape a crime in many countries, an exception in many more 


B.

 GS2 Related


Polity
1. Consumer is king if new law gets nod
2. Religion At State Expense
3. All seven parliamentary secretaries of Mizoram resign in deference to SC ruling which 
held their appointment unconstitutional  
4. Delhi HC no to order granting SCs, STs quota in promotion 
International Relations
1. Switzerland President on 3-day visit  
2. Giving Bhutan its due


C.

 GS3 Related


Economics
1. 99% of demonetised notes returned, says RBI report 
2. First GST data in: 65 per cent pay Rs 92,000 crore 
Internal Security
1. Govt. approves plan to deploy more troops on the frontline 
2. When it pours
Science and Technology
1. IRNSS-1H set to launch on Thursday 
2. U.S. approves first gene therapy for cancer 


D. 

GS4 Related




E. 

Prelims Fact


F. UPSC Prelims Practice Questions
G. UPSC Mains Practice Questions 
1. Marital rape a crime in many countries, an exception in many more
Context:

Section 375 of the Indian Penal Code, which defines rapes, makes an exception for marital rape by stating, "Sexual intercourse by a man with his own wife, the wife not being under fifteen years of age, is not rape."
Central government had filed an affidavit in Delhi High Court, arguing against the decriminalization of marital rape on the ground that it may "destabilise the institution of marriage".
The grounds for "marital immunity" for rape prosecution were laid by Chief Justice Sir Matthew Hale in The History of the Pleas of the Crown, published in 1736, which is called as 'Implied Consent Theory of Sir Hale'.
This theory found its way into the legal system of all former British colonies.
Australia in 1970's, was the first common law country to pass reforms criminalizing rape in marriage.
In 1950's, several Scandinavian countries and countries in the Communist bloc passed laws criminalizing spousal rape including Sweden, Norway, Denmark, and the former Soviet Union and Czechoslovakia. (Poland in 1932 was the first)
Since the 1980s, many common law countries (include South Africa, Ireland, Canada, the United States, New Zealand, Malaysia, Ghana, and Israel) have legislatively abolished the marital rape immunity.
In the US all 50 states made marital rape a crime.
UK repealed its common law code that a marriage contract implied a woman's consent to all sexual activity.
In 2002, Nepal got rid of the marital rape exception after its Supreme Court held that it went against the constitutional right of equal protection and the right to privacy.
According to the UN Women's 2011 report, out of 179 countries for which data was available, 52 had amended their legislation to explicitly make marital rape a criminal offence.
1. Consumer is king if new law gets nod
In news:
The new Consumer Protection Bill 2016:
It seeks to replace a 31-year-old archaic law, the Consumer Protection Act, 1986.
Highlights of the Bill
It provides a mechanism for redressal of complaints regarding defect in goods and deficiency in services.
Consumer Dispute Redressal Commissions will be set up at the district, state and national levels for adjudicating consumer complaints.
The Bill establishes a Consumer Protection Authority to investigate into consumer complaints, issue safety notices for goods and services, and pass orders for recall of goods and against misleading advertisements.
If a consumer suffers an injury from a defect in a good, he may file a claim of product liability against the manufacturer.
The Bill classifies six contract terms as 'unfair'. These cover terms such as (i) payment of excessive security deposits; (ii) disproportionate penalty for a breach ; (iii) unilateral termination without cause; (iv) one which puts the consumer at a disadvantage.
Product liability: If defects in the manufacture, construction, design, testing, service marketing etc. of a product results in any personal injury or property damage to a consumer, the manufacturer is liable in a product liability action.
Rights of consumers: The rights of consumers include the right to: (i) be protected against marketing of goods and services which are hazardous to life and property, (ii) be informed of the quality, quantity, potency, purity, standard and price of goods or services, (iii) be assured of access to a variety of goods or services at competitive prices, and (iv) to seek redressal against unfair or restrictive trade practices.
Consumer Mediation Cell: The Bill introduces mediation as a mode of consumer dispute resolution. Consumer Mediation Cells will be established and attached to the redressal commissions at the district, state and national levels.
Penalties: Any person who fails to comply with an order of either of the Commissions would be liable for imprisonment from one month to three years, or with a fine from 10,000 rupees to 50,000 rupees.
Context:
SC judgment in the Gujarat shrines compensation case raises important questions.
Article 32 is the "soul of the Constitution" as it guarantees the citizens of their fundamental rights under it.
The questions at the wake of the judgement are:
Should the court give relief in writ jurisdiction only when one's right to life or personal liberty under Article 21 is violated?
Or can the state be held liable even with respect to violation of other fundamental rights such as the freedom of religion?
Will an order for the payment of compensation for the repair of religious places be contrary to Article 27 of the Constitution?
Article 27 prohibits the state from imposing any religious tax and the imposition of any tax whose proceeds are used for the maintenance of any particular religion.
Keypoints:
In the 2002 communal riots in Gujarat, as many as 567 religious places were either desecrated, damaged or destroyed.
On February 8, 2012, the Gujarat High Court ordered the state government to get these religious places repaired and reimburse their owners/managers if they had already got them repaired.
The Gujarat government appealed to the Supreme Court stating that for any loss of property, the remedy is in civil law and in its writ jurisdiction under Article 226, cannot pass such an order as the right to property after the 44th Amendment is not a fundamental right but simply a constitutional right.
The state government admitted that for the violation of the right to life and personal liberty, writ jurisdiction of high courts could be invoked. But it argued that since India is a secular state it couldn't spend government money for any religious purpose due to Article 27.
But the writ jurisdiction of high courts is wider than the apex court's powers as while the SC can issue writs just for the violation of fundamental rights, the HCs can do it additionally for the violation of other rights.
The respondents claimed that the right to equality and right to personal liberty was at stake during the riots.
The maintenance of law and order is the primary duty of the state government and the compensation is not being sought for the maintenance of any particular religion but for the failure of the government in fulfilling its basic duty.
3. All seven parliamentary secretaries of Mizoram resign in deference to SC ruling which held their appointment unconstitutional
Context:
Supreme Court observations:

Struck down the practice of appointing parliamentary secretaries.
State assemblies do not have the power to enact a law that enables them to appoint parliamentary secretaries

All seven parliamentary secretaries of Mizoram resigned from their posts.
Mizoram became the first state in the Northeast to implement the SC ruling.
Basic Information
Parliamentary secretaries:
Secretaries is ultra vires the 91st Amendment of the Indian Constitution which introduced Article 164 (1A) to the Constitution.
Article 164 (1A) provides for limiting the number of ministers in the state cabinets. The total number of ministers including the Chief Minister, has to be within 15 per cent of the total number of members of the legislative assembly of the state.
Article 164 (1A) was inserted in the Constitution on the recommendation of the National Commission for Review of the Working of the Constitution headed by former Chief Justice of India, M.N. Venkatachaliah on misuse and drainage of public money to put a ban on over-sized cabinet.
4. Delhi HC no to order granting SCs, STs quota in promotion
In news:
The Delhi High Court has quashed a Central notification granting reservation in promotion for SCs and STs beyond the five-year period
It was stipulated in the Indira Sawhney case, by the Supreme Court
Court's observation:
Court said such a move made under Article 16 (4A) was not permissible without adequate data to prove inadequacy of representation and backwardness
It made the observation while quashing Department of Personnel and Training's Office Memorandum dated August 13, 1997
Indra Sawhney Case 1992
The opinion of the Supreme Court in the Indra Sawhney case is summarized as:
(1) Backward Classes of the Citizens of in Article 16(4) can be identified on the basis of caste and not only on the economic basis.
(2) Article 16(4) is not an exception to Article 16(1)
(3) The backward classes in Article 16(4) are not similar to as socially backward classes in Article 15(4) i.e. SC and ST
(3) Creamy layer can be and must be eliminated from the Backward Classes
(4) Article 16(4) permits the classification of backwards classes into more backward classes.
(5) Reservation shall not exceed 50%. The court said that this rule should be applied every year. However, it may be relaxed in favour of people from far flung and remote areas because of their peculiar conditions. However, extreme caution should be exercised in doing so
(6) Carry forward rule is valid but it is subject to 50%
(7) There should be NO reservation in the Promotions
Category: INTERNATIONAL RELATIONS
1. Switzerland President on 3-day visit
In news:
Swiss President Doris Leuthard began his three-day visit to India.
Why the visit is significant?: Switzerland is the chair of the Nuclear Suppliers Group where India has been seeking membership. The visit is likely to help closer consultation on NSG membership. 
Basic Information
Nuclear Suppliers Group:
Nuclear Suppliers Group (NSG) is a group of nuclear supplier countries that seek to prevent nuclear proliferation by controlling the export of materials, equipment and technology that can be used to manufacture nuclear weapons.
As of 2017 the NSG has 48 participating government.
The NSG Chair for 2017-2018 is Switzerland.
Context:
Bhutan rescues India's interests at its own cost in the Doklam stand-off.
In the Doklam stand-off, it was India's security that was at stake, its "chicken neck" on the line.
Keypoints:
China came up with a "package deal" in 1990's, where in return for the smaller disputed Doklam area, it was willing to give bigger territorial concessions in disputed territories in central Bhutan.
It was an occasion for Bhutan to resolve its border dispute with China and also benefit Chinese "goodwill".
Importance of Doklam, from the Bhutanese point of geography, is neither strategically important nor does it hold any economic value, as the stand-off area is frozen for most of the year and nothing can grow up there.
Bhutan in 1996 turned down the package deal offer mainly on the basis of Indian security concerns over Doklam.
As a result China was building six roads towards Bhutan with four roads already intruding well into Bhutanese territory. Bhutan protested against this move and it resulted in agreement to freeze the construction of roads.
China, over the decades, has applied pressure on Bhutan, using various tactics so that Bhutan lets go of the Doklam area.
India never raised its voice in the past, about numerous Chinese incursions into the Bhutanese side, including the more serious road-building activities. This is because they did not affect Indian security, unlike Doklam.
1. 99% of demonetised notes returned, says RBI report
Context: Demonetization of high-value Currency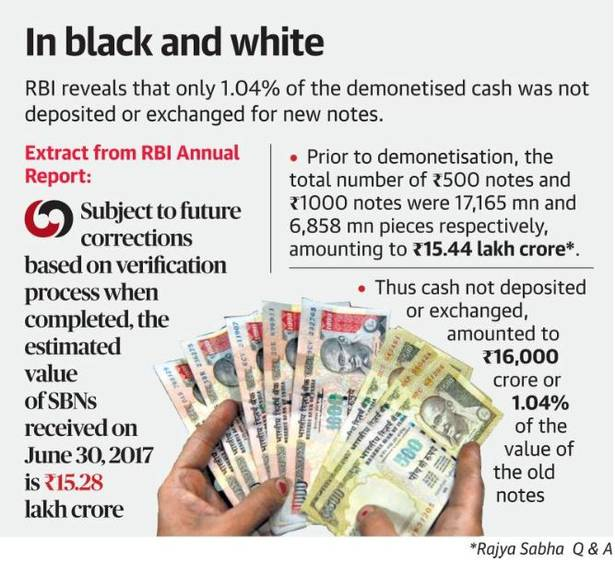 In News:
RBI's revelation in its final annual report: approximately, ₹28 lakh crore of the high-value currency that was demonetised in November returned to the central bank.
Stats: 98.96% of the withdrawn currency — at the time of demonetization, the value of old ₹500 and ₹1,000 notes in circulation was ₹44 lakh crore — was deposited with the banks.
Key fact: Demonetization which involved withdrawal of high-value banknotes was a means to combat counterfeiting, black money and the financing of terrorist activities.
2. First GST data in: 65 per cent pay Rs 92,000 crore
Context
The Centre and states have collected Rs 92,283 crore as Goods and Services Tax (GST) in July, the first month of the implementation of the indirect tax regime.
The amount is marginally higher than the projected target
42 per cent of the total registered taxpayers, excluding composition dealers and registrants in August, filed GST returns for July.
The tax collection number would "somewhat increase" with more compliance
For those who haven't yet paid the GST, a late filing penalty of Rs 100 per day for CGST and SGST each will be levied
1. Govt. approves plan to deploy more troops on the frontline
In news:
B. Shekatkar committee: appointed by then Defence Minister Manohar Parrikar in May last year and the report was submitted to the Defence Ministry in December 2016.
Recommendations:

Increase teeth-to-tail ratio for enhancing combat capability and rebalancing defence expenditure of the Armed Forces.
Areas of reform: optimisation of signal establishments, restructuring of repair echelons including base workshops, redeployment of ordnance depots, better utilisation of supply and transport echelons and animal transport units, closure of military farms and Army postal establishments in peace locations, and improving efficiency of the National Cadet Corps (NCC).

Impact: if recommendations are implemented over the next five years, the recommendations can result in savings of up to ₹25,000 crore in defence expenditure.
Governments move: increased soldiers available for active combat in the Indian Army by over 57,000. This restructure by the Indian Army is aimed at enhancing combat capability in a manner that personnel will be used for improving operational preparedness and civilians will be redeployed in different wings of the Armed Forces for improving efficiency.
Context:
The total rainfall (2017) in the country, is beyond the IMD's forecast of a "normal" monsoon.
The flood governance in India is still about ad hoc relief measures. It's time to change.
Key Points:
Parts of Assam, Bihar and Gujarat are submerged in historic levels of floodwater.
Urban areas like Mumbai and Bengaluru were lashed with heavy rainfall.
Mount Abu, got over 50% of its annual rainfall in two days.
Bengaluru got about 30 per cent of its monsoon rainfall on one day.
Chandigarh received nearly 15 per cent of its annual rainfall in a few hours.
The weather patterns during this rainy season where days of severe downpour sandwiched between spells of dry weather, raise questions about our understanding of the monsoon, as well as about the ways in which we prepare for and deal with floods.
Study and Warnings:
A 2013 Intergovernmental Panel on Climate Change report warned that Mumbai remains vulnerable to rainfall of the kind that led to the 2005 floods.
The indiscriminate destruction of wetlands has bargained the city's capacity to deal with floods which holds true for Bengaluru, Guwahati, and several other cities of the country.
Governance efforts
Steps taken for the restoration of wetlands at the center of flood control programs remains minimal.
Flood governance in the country has not gone beyond ad hoc relief measures and building embankments.
Thus it's the need of the hour that we require fresh thinking on how to prepare for the monsoons and deal with floods.
Category: SCIENCE AND TECHNOLOGY
1. IRNSS-1H set to launch on Thursday
In news:
Background Information:

2013 – 2016: ISRO put up seven IRNSS satellites to form the Indian Regional Navigation Satellite System, since called NavIC or Navigation with Indian Constellation.
NavIC is the Indian regional version similar to the US Global Positioning System GPS. It will drive all position-based activities on ground, sea and air by giving near-accurate location details of persons or objects. It will be put to military, commercial and common everyday uses.
Mid-2016: all three rubidium atomic clocks on IRNSS-1A failed.

Now, ISRO is all set to launch country's eighth regional navigation satellite-IRNSS-1H.
IRNSS-1H is being sent to space to back-up — and mostly replace — the functions of India's first navigation satellite IRNSS-1A.
2. U.S. approves first gene therapy for cancer
In news:
The United States approved the first gene therapy in the nation— a treatment that uses a patient's own immune cells to fight childhood leukaemia.
The treatment is made by Novartis and is called Kymriah (tisagenlecleucel).
This type of immunotherapy, known as a CAR-T cell therapy.
It was approved by the U.S. Food and Drug Administration for children and young adult patients up to age 25 with a form of acute lymphoblastic leukaemia.
How the treatment works?
It uses a patient's own immune cells, called T-cells, along with white blood cells.
These cells are removed from a patient, sent to a lab, and encoded with a viral vector, reprogrammed, and returned to the patient.
Basic Information
What is Gene Therapy?
Gene therapy is an experimental technique that uses genes to treat or prevent disease.
In the future, this technique may allow doctors to treat a disorder by inserting a gene into a patient's cells instead of using drugs or surgery.
Researchers are testing several approaches to gene therapy, including:

Replacing a mutated gene that causes disease with a healthy copy of the gene.
Inactivating, or "knocking out," a mutated gene that is functioning improperly.
Introducing a new gene into the body to help fight a disease.

Although gene therapy is a promising treatment option for a number of diseases (including inherited disorders, some types of cancer, and certain viral infections), the technique remains risky and is still under study to make sure that it will be safe and effective.
Gene therapy is currently only being tested for the treatment of diseases that have no other cures.
Nothing here for Today!!!
NATIONAL PARKS/SANCTURIES/BIOSPHERE RESERVES:
1. Valley of Flowers National Park
Location: Located in West Himalaya, in the state of Uttarakhand
Key Features: Known for its meadows of endemic alpine flowers and the variety of flora. This richly diverse area is also home to rare and endangered animals, including the Asiatic black bear, snow leopard, musk deer, brown bear, red fox and blue sheep.
This Reserve is in the UNESCO World Network of Biosphere Reserves since 2004
2. Gangotri National Park
Location: Located in Uttarkashi District Uttarakhand, India.
Key Features: It was third largest National park of India. The park provides majestic beauty of coniferous forests and grandeur of glacial world combined with lush green meadows.
---
IUCN Red List:
1. Dhole/ Asiatic wild dog or Indian wild dog (Cuon alpinus)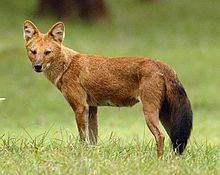 Distribution: They occur in most of India south of the Ganges, particularly in the Central Indian Highlands and the Western and Eastern Ghats of the southern states.
In north-east India, they inhabit Arunachal Pradesh, Assam, Meghalaya, and West Bengal.
Threats: Habitat loss, depletion of its prey base, competition from other predators, persecution and possibly diseases from domestic and feral dogs.
2. Eld's deer/ thamin or brow-antlered deer (Panolia eldii)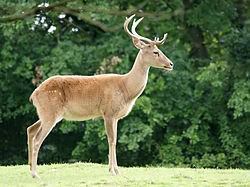 Distribution: Keibul Lamjao National Park (KLNP), Manipur.
Threats: Overgrazing, loss of grassland habitat.
F. Practice Questions for UPSC Prelims Exam
Question 1. Consider the following statements with respect to YUVA initiative:
YUVA is a skill development program and an initiative by Delhi Police under Pradhan Mantri Kaushal Vikas Yojana
'YUVA' initiative by Delhi Police aims to connect with youth by upgrading their skill as per their competencies.
Select the correct option
1 only
2 only
Both 1 and 2
None of the above
See
Question 2. Identify the correct statements with respect to Pradhan Mantri Kaushal 
Vikas Yojna' (PMKVY).
Pradhan Mantri Kaushal Vikas Yojana (PMKVY) is the flagship outcome-based skill training scheme of the Ministry of Skill Development & Entrepreneurship (MSDE).
Its objective is to enable and mobilize a large number of Indian youth to take up outcome based skill training and become employable and earn their livelihood.
Both are correct
Both are incorrect
See
Question 3. Identify the correct statements.
Global Retirement Index is created by French asset management company Natixis Global.
Index ranks countries on the basis of four factors — the material means to live comfortably in retirement; access to quality financial services to help preserve savings value and maximize income; access to quality health services; and a clean and safe environment.
Select the correct option.
1 only
2 only
Both 1 and 2
None of the above
See
Question 4. Consider the following statements:
Article 164, provided for limiting the number of ministers in the state cabinet.
Article 164 was inserted in the Constitution based on the recommendation of the National Commission for Review of the Working of the Constitution headed by former Chief Justice of India, M.N. Venkatachaliah
Choose the correct statements.
1 only
2 only
Both 1 and 2
Neither 1 nor 2
See
Question 5. Consider the following statements:
Bromeliads can be found at altitudes from sea level to 4200 meters, from rainforests to deserts.
Pineapple is a bromeliads
Choose the correct statements.
1 only
2 only
Both 1 and 2
Neither 1 nor 2
See
Question 6. Temperate grasslands in Argentina is popularly known as ______.
Pamaps
Prairie
Veld
Steppe
See
Question 7. The Murlen National Park (MNP) is located in which state?
Odisha
Karnataka
Mizoram
Punjab
See
Question 8. Consider the following statements:
Thorium is thrice as abundant as Uranium in Earth's crust
Thorium is difficult to weaponries
Choose the correct statements.
1 only
2 only
Both 1 and 2
Neither 1 nor 2
See
G. UPSC Mains Practice Questions
GS Paper I
Section 375 is a hindrance to women empowerment. Discuss.
GS Paper II
Should the court give relief in writ jurisdiction only when one's right to life or personal liberty under Article 21 is violated?
Is Doklam solution a burden on Indo-Bhutan relations? Critically analyze.
GS Paper III
Considering the threats cyberspace poses for the country, India needs a "Digital Armed Force" to prevent crimes. Critically evaluate the National Cyber Security Policy, 2013 outlining the challenges perceived in its effective implementation.
Are urban floods a cause of concern? What are the measures taken in pre and post disaster management as per the NDMA,2005 guidelines with respect to the urban floods?
Despite many guidelines the ease of doing business lies abysmal in the country as per the recent NITI aayog survey. What are the hurdles inhibiting the growth in this area despite a significant progress post the economic reforms?What measures can be taken to address the issue?
GS Paper IV
Topic: CASE STUDY ANALYSIS
Question 1.
What is a gene therapy? What are the ethical issues surrounding gene therapy?
Question 2.
Recently a peon was appointed in your office (DM office). He is illiterate and mentally not sound. Ever since his appointment he has been more of a 'burden' than any help in the office. He doesn't know any work. Staff in your office feel that their work is disturbed by his behaviour. The peon is always found to be talking either alone or with anyone he encounters. He is not obeying your staff's orders in the office.
He was appointed on sympathy grounds after his father's untimely death. His mother is ill and always bedridden. His income is the only source for his family now. He got the job after lobbying by a group representing his caste. He was appointed by your predecessor after he was pressurized by local MP. Some moves to remove him by your predecessor were met with public protests by a group representing his caste.
You are very strict and disciplined in your office. You are being respected in your district for your integrity and honesty. You come to know about the peon few days after you assume power. You have observed his behavior and found him to be unfit to continue in his job. The peon has no other relatives except his mother.
Identify your moral and professional responsibilities in this case study and explain how will you deal with the peon.
Answer
Since the peon is unfit for the job, the option of continuing him is ruled out. So protection to his family should remain the priority of DM.
Responsibilities of DM:
social security and health care to peon and his mother
removing the peon peacefully after pacifying all parties involved
Course of action to be followed:
Certain actions of peon in the office should be video-recorded such as not heeding to the officers, disturbing others in office etc.
On priority, DM should make an arrangement for social security benefits along with health insurance to peon and his mother. A request for pension should also be made to higher authorities on exceptional grounds.
There after a meeting should be arranged with his caste members to explain the real problem being faced in the office and why he should be removed from the office by showing them video-clips.
At the same time DM should take own responsibility for peon's pension and other benefits before the members.
Once they agree, his removal would be done in a smooth manner without any controversy.
In case they do not agree immediately, steps should be taken to constantly persuade the key members of his caste group one-by-one through constant consultations and that would surely resolve the problem.
In doing the above, work culture and discipline in the organisation will be protected but at the same time solved the problems of most vulnerable people i.e. peon and his mother empathetically.
Also, check previous Daily News Analysis
"Proper Current Affairs preparation is the key to success in the UPSC- Civil Services Examination. We have now launched a comprehensive 'Current Affairs Webinar'. Limited seats available. Click here to Know More."
Enroll for India's Largest All-India Test Series