TABLE OF CONTENT
A.

 GS1 Related




B.

 GS2 Related


Polity
1. Supreme Court stays Election Commission's order on MP minister Narottam Mishra   
International Relations
1. US lawmakers seek increased role for India in Afghanistan
2. Nawaz Sharif's disqualification will not affect CPEC: China 
Health Issues
1. Expert panel to review dengue clinical norms


C.

 GS3 Related


Economics
1. NPCI gets RBI nod to operate Bharat Bill Payment System 
2. 'Scheme for banks not applied as envisaged'
3. India among top nations with potential for digital payments': Digital Evolution Index 
Internal Security
1. Muntra, country's first unmanned tank, rolls out from the Chennai lab 
Science and Technology
1. Glow-in-the-dark shark discovered in the Pacific
2. China produces gas from 'flammable ice' under South China Sea  


D. 

GS4 Related




E. 

Concepts-in-News: Related Concepts to Revise/Learn




F. 

Bills/Acts/Schemes/Orgs in News
G. UPSC Prelims Practice Questions
H. UPSC Mains Practice Questions 
Nothing here for Today!!!
1. Supreme Court stays Election Commission's order on MP minister Narottam Mishra
In news
The Supreme Court stayed the Election Commission's order disqualifying Madhya Pradesh minister Narottam Mishra for three years for filing wrong account of his poll expenditure in 2008 elections by not disclosing the amount spent on paid news.
As per Section 7(b) of the Representation of the People Act, Mishra, a senior minister in the Shivraj Singh Chouhan government, stands debarred from being a member of the state legislature and also from contesting polls for three years from the date of the issuance of the disqualification order.
Category: INTERNATIONAL RELATIONS
1. US lawmakers seek increased role for India in Afghanistan
In news
American senators have sought enhanced cooperation with India in Afghanistan, including increasing New Delhi's role in helping the Afghan security forces
This move could annoy Pakistan as it opposes any Indian role in neighbouring Afghanistan.
India is one of the biggest providers of developmental assistance to war-torn Afghanistan.
National Defence Authorisation Act (NDAA) – 2018
The lawmakers have introduced a legislative amendment to the National Defence Authorisation Act (NDAA) – 2018 in the Senate to support their demand.
The amendment seeks increasing India's role in assisting the Afghan security forces through logistics support, threat analysis, intelligence, materiel, and maintenance support.
Amendment seeks for:
The Pentagon and the State Department to find ways in which India can support "targeted infrastructure development" and economic investment in Afghanistan.
Improve the provision by India of humanitarian and disaster relief assistance to Afghanistan, including through the provision of logistics support by India, joint training between Afghanistan and India, and combined military planning by Afghanistan and India for humanitarian assistance and disaster relief missions in Afghanistan.
A tri-lateral security and civilian co-operation between India, Afghanistan and the US,
Establishment of priorities for investments to promote security and stability in Afghanistan that align with the "mutual interests" of Afghanistan, India, and the US.
2. Nawaz Sharif's disqualification will not affect CPEC: China
In news
China has said that Nawaz Sharif's disqualification from Pakistan's premiership will not affect its $50 billion China-Pakistan Economic Corridor.
China's Foreign Ministry spokesman Lu Kang comments:
The all-weather friendship between China and Pakistan has withstood the test of time.
As a friendly neighbour, China hopes that all parties and sections in Pakistan can prioritise state and national interests, properly deal with their domestic affairs, maintain unity and stability, and keep focusing on the economic and social development.
CPEC
CPEC passes through Pakistan-occupied Kashmir (PoK).
India has strongly protested CPEC.
Its protests have taken a concrete shape after Sharif came to power in 2013, the year Chinese President Xi Jinping also took over office, promising implementation of his grand multi-billion Belt and Road Initiative (BRI) which included the CPEC.
The CPEC, which involves huge investments by China to gain access to the strategic Gwadar port in Balochistan through rail and road connectivity, has taken shape under the Sharif-Xi leadership with firm backing from the Pakistan military.
1. Expert panel to review dengue clinical norms
In news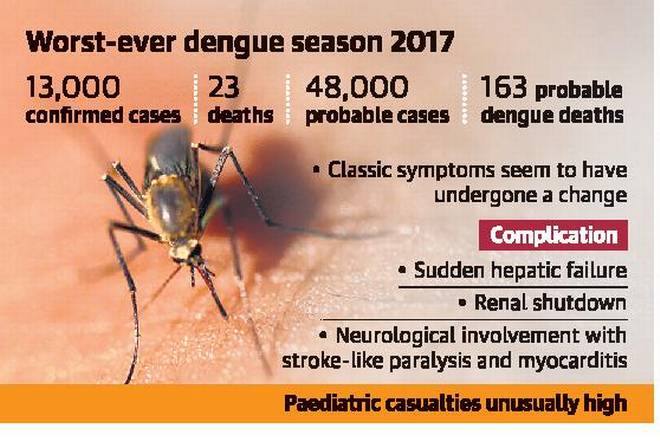 Kerala: The Health Department has set up an expert committee to review the clinical management guidelines of dengue fever, after doctors from all government medical college hospitals in the State reported unusual symptomatic manifestations of dengue, rapid deterioration and death in many cases.
Drastic change in Symptom
The classic symptoms of dengue seem to have undergone a change, with doctors now reporting sudden hepatic failure, renal shut down, neurological involvement (encephalopathy) with stroke-like paralysis and myocarditis.
Paediatric casualties too seemed unusually high this season.
Senior virologists have ruled out any mutations in the dengue viruses which may have contributed to the aggravation in symptoms and complications.
Key figures
The State has been going through one of the worst dengue epidemics ever, chalking up over 13,000 confirmed dengue cases and 23 deaths.
An additional 48,000 cases have been reported as "probable dengue" cases and 163 deaths as "probable dengue deaths".
1. NPCI gets RBI nod to operate Bharat Bill Payment System
In news:
National Payments Corporation of India (NPCI), the umbrella organisation for all retail payment systems, has said it has received a final nod from the Reserve Bank of India to function as the Bharat Bill Payment Central Unit (BBPCU) and operate the Bharat Bill Payment System (BBPS).
The final clearance from RBI comes almost a year after NPCI launched the BBPS pilot project to make payment of utility bills easier.
Basic information

BBPS
The Bharat Bill Payment System (BBPS) is an RBI conceptualised system driven by National Payments Corporation of India (NPCI). It is a one-stop payment platform for all bills, providing an interoperable and accessible "Anytime Anywhere" bill payment service to customers across the country with certainty, reliability and safety of transactions.
Payments through BBPS may be made using cash, transfer cheques and electronic modes. Bill aggregators and banks, who will function as operating units, will carry out these transactions for the customers.
NPCI

National Payments Corporation of India (NPCI) is an umbrella organization for all retail payments system in India. It was set up with the guidance and support of the Reserve Bank of India (RBI) and Indian Banks' Association (IBA). NPCI has ten promoter banks.
2. 'Scheme for banks not applied as envisaged'
Context
According to a report by the CAG, the Centre's 'Indradhanush' scheme to recapitalise public sector banks (PSBs) based on their performance was not implemented in a manner envisaged.
Highlights of the report
As per the scheme, a portion of the recapitalisation was to be based on the bank' performance. However, this was not followed during disbursal of funds.
The parameters used to determine whether banks required capital changed from year to year and in some years the rationale for capitalising banks was not even recorded. Hence, the scheme's target of raising Rs. 1.1 lakh crore from the markets by 2018-19 was not likely to be met.
Also, some banks that did not qualify for additional capital as per the decided norms, were infused with capital, and in some cases, banks were infused with more capital than required.
Background
Gross NPAs with PSBs had risen sharply in recent years, from Rs. 2.27 lakh crore as of March 31, 2014 to about Rs. 5.4 lakh crore at the end of March 2016.
Mission Indradhanush
In 2015, under the Indradhanush plan, the government had announced capital infusion of ₹70,000 crore in public sector banks for four years, starting from 2015-16. In the first two financial years, ₹25,000 crore had been earmarked per year with ₹10,000 crore to be disbursed in each of the remaining two years. However, credit rating agencies had pointed out that the sum was insufficient as banks needed to meet Basel-III norms as well as make provisions for rising bad loans.
The mission includes the seven key reforms of appointments, board of bureau, capitalisation, de-stressing, empowerment, framework of accountability and governance reforms.
2. India among top nations with potential for digital payments': Digital Evolution Index
Context
India has emerged strong, exhibiting a high potential in terms of digital payments and has been categorised under the "break out" segment among 60 countries, according to the Digital Evolution Index 2017.
Digital Evolution Index
The Fletcher School at Tufts University in partnership with Mastercard, unveiled the Digital Evolution Index 2017.
The Index is a comprehensive research that tracks the progress countries have made in developing their digital economies and integrating connectivity into the lives of billions.
The Index measures four key drivers – supply, consumer demand, institutional environment, and innovation.
With nearly half of the world's population online, the research maps the development of 60 countries, demonstrating their competitiveness and market potential for further digital economic growth.
What is break out segment?
The 'break out' segment refers to countries that have relatively lower absolute levels of digital advancement, yet remain poised for growth and are attractive to investors by virtue of their potential.
Performance of India
India has been experiencing rapid strides of progress with an evolving payments landscape, catalysed by the government's demonetisation decision.
The government's endeavour to boost the acceptance infrastructure coupled with a host of other economic reforms have further hastened the momentum for the country's journey towards a cashless society.
Adoption of digital payments has also witnessed a massive growth with a shift in behaviour change as more people adopt digital payments in daily life.
With new players foraying into the market and an entire gamut of solutions for alternate payments, the India payment ecosystem is growing each day.
1. Muntra, country's first unmanned tank, rolls out from the Chennai lab
In news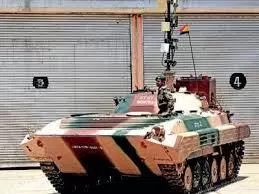 India's first unmanned tank developed by the Defence Research and Development Organisation (DRDO) has been rolled out of the Chennai lab.
Key facts
Muntra, the unmanned tank, has three variants – surveillance, mine detection and reconnaissance in areas with nuclear and bio threats. It is likely to be used in Naxal-hit areas.
Muntra-S has been developed for unmanned surveillance missions, whereas Muntra-M is built for detecting mines. Muntra-N, on the other hand, will be deployed in areas where nuclear radiation or bio weapon risk is high.
The vehicle has been tested. It's surveillance radar, which has an integrated camera can be used to spy on ground target 15km away.
Category: SCIENCE AND TECHNOLOGY
1. Glow-in-the-dark shark discovered in the Pacific
In news 

Scientists have identified a new species of glow-in-the-dark shark that has an unusually large nose, weighs a little less than a kilo and measures less than a foot.
The new species, a member of the lanternshark family, has been named Etmopterus lailae. They are not easily visible or accessible like so many other sharks
It lives 1,000 feet below the Pacific Ocean off the coast of the northwestern Hawaiian islands.
Unique features
Strange head shape and an unusually large and bulgy snout where its nostrils and olfactory organs are located.
These creatures are living in a deep sea environment with almost no light so they need to have a big sniffer to find food
Flank markings goes forward and backward on their bellies and a naked patch without scales on the underside of its snout.
Like other lanternsharks, the Etmopterus lailae is bio-luminescent and the flanks on the bottom of its belly glow in the dark.
2. China produces gas from 'flammable ice' under South China Sea
In news
China has successfully produced natural gas from methane hydrate, also known as "flammable ice", in an experimental project in the South China Sea. The government has promised to "actively develop" natural gas hydrate over the 2016-2020 five-year plan period.
Flammable ice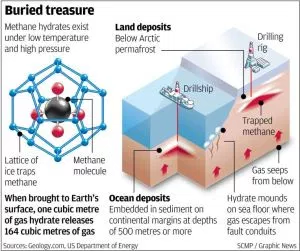 Flammable ice consists of methane trapped within water crystals, and has been identified as a potential new gas source for China, with the South China Sea thought to contain some of the world's most promising deposits.
Officially known as methane clathrates or hydrates, they are formed at very low temperatures and under high pressure. They can be found in sediments under the ocean floor as well as underneath permafrost on land. Despite the low temperature, these hydrates are flammable.
By lowering the pressure or raising the temperature, the hydrates break down into water and methane – a lot of methane. One cubic metre of the compound releases about 160 cubic metres of gas, making it a highly energy-intensive fuel.
Many countries including the US and Japan are working on how to tap those reserves, but mining and extracting are extremely difficult.
Importance
Methane hydrates are thought to have the potential to be a revolutionary energy source that could be key to future energy needs – likely the world's last great source of carbon-based fuel. Vast deposits exist basically underneath all oceans around the the globe, especially on the edge of continental shelves. Countries are scrambling for a way to make the extraction safe and profitable.
Accessing the power of this flammable ice has been difficult, for two reasons
First, these reserves are often distributed over a large area rather than concentrated in one spot as oil or natural gas reserves often are.
The bigger problem, however, is that, true to their moniker as flammable ice, methane hydrates are unstable and potentially explosive. Drilling into the seafloor could destabilize the methane ice crystals and cause explosions, spewing vast troves of methane into the atmosphere, where it is a more potent greenhouse gas than carbon dioxide (CO2).
Future prospects
Any exploitation of the reserves must be done with the utmost care because of environmental concerns. The potential threat is that methane can escape, which would have serious consequences for global warming. It is a gas that has a much higher potential to impact climate change than carbon dioxide.
Nothing here for Today!!!
E. Concepts-in-News: Related Concepts to Revise/Learn
---
Nothing here for Today!!!
F. Bills/Acts/Schemes/Orgs in News
---
Nothing here for Today!!!
G. Practice Questions for UPSC Prelims Exam
Question 1. Flammable ice consists of _________.
Methane hydrate
Methane hydrite
Ethane hydrate
Ethane hydrite
See
Question 2. Consider the following statements:
Flammable ice are formed at very low temperatures and under high pressure
By lowering the pressure or raising the temperature, the hydrates in flammable ice, break down into water and methane.
Choose the correct statement.
1 only
2 only
Both 1 and 2
Neither 1 nor 2
See
Question 3. Muntra, which was in news recently is an ______.
Unmanned aerial vehicle
Unmanned submarine
Unmanned tank
Unmanned helicopter
See
Question 4. Who wrote the book Pancha Siddhantika?
Varahamihira
Aryabhatta
Brahmagupta
Kalidas
See
Question 5. Which of the following is the largest brackish water lagoon in Asia?
Chilika Lake
Loktak Lake
Wular Lake
Nal Sarovar
See
G. UPSC Mains Practice Questions
---
GS Paper I
India is fighting war on many fronts. Analyze the basic causes of terrorism and insurgency and the effectiveness of state response in dealing with these threats.
Examine the implications of the disqualification of Nawaz Sharif as the Prime Minister by the Supreme Court of Pakistan on India – Pakistan relations.
GS Paper IV

"Human beings should always be treated as 'ends' in themselves and never as merely `means'." Explain the meaning and significance of this statement, giving its implications in the modern techno-economic society.
In our country, the migration of rural people to towns and cities is increasing drastically. This is causing serious problems both in the rural as well as in the urban areas. In fact, things are becoming really unmanageable. Can you analyze this problem in detail and indicate not only the socio-economic but also the emotional and attitudinal factors responsible for this problem? Also, distinctly bring out why—

Educated rural youth are trying to shift to urban areas;
Landless poor people are migrating to urban slums;
Even some farmers are selling off their land and trying to settle in urban areas taking up petty jobs.
What feasible steps can you suggest which will be effective in controlling this serious problem of our country?
---
Also, check previous Daily News Analysis.
"Proper Current Affairs preparation is the key to success in the UPSC- Civil Services Examination. We have now launched a comprehensive 'Current Affairs Webinar'. Limited seats available. Click here to Know More."
Enroll for India's Largest All-India Test Series