TABLE OF CONTENTS
A.

 GS1 Related




B.

 GS2 Related


POLITY
1. Penal law soon on triple talaq
2. No need for privacy in court: Supreme Court
INTERNATIONAL AFFAIRS/BILATERAL RELATIONS
1. India pulls off a diplomatic coup, wins prized ICJ seat
2. 'Rakhine State Is a Crime Scene.' Amnesty International Accuses Myanmar of Apartheid
3. China draws 3-stage path for Myanmar, Bangladesh to resolve Rohingya crisis


C.

 GS3 Related


SCIENCE AND TECHNOLOGY
1. India calls for stronger treaties to protect space assets
2. Govt. unveils draft of law to regulate space sector
3. Oldest stars in our galaxy discovered
ENVIRONMENTAL SCIENCE AND ECOLOGY
1. An app to get tiger numbers right


D. 

GS4 Related




E. 

Prelims Fact


F. UPSC Prelims Practice Questions
G. UPSC Mains Practice Questions 
Nothing here for Today!!!
1. Penal law soon on triple talaq
In news:
The Union government has set up a ministerial committee to frame a new law that would attract penal provisions in the case of use of triple talaq or talaq-e-biddat for divorce between Muslim couples, and will be bringing the new Bill in the winter session of Parliament.
Talaq-e-biddat:
The Supreme Court had, in August this year, in a majority judgement set aside the practice of talaq-e-biddat, an arbitrary and unilateral decision by a Muslim husband to end the marriage by utterance of the word talaq three times.
Key Point: As the law stands today, the victims have no option even after approaching the police as there exists no provision in law to take action against the husband.
2. No need for privacy in court: Supreme Court
Context:
The possibilities of having audio and video recordings of proceedings in the constitutional courts — the Supreme Court and the high courts.
In news:
Judges have no need for privacy inside the courtrooms they preside in, Supreme Court judge, Justice A.K. Goel, said, giving the thumbs-up for audio and video recording of court proceedings.
Unlike the legislature, proceedings inside courtrooms have been a zealously guarded affair.
The to and fro between lawyers and judges, submissions made by the advocates and questions asked from the Bench have hitherto been beyond the eye of the camera or the ear of a recorder.
Category: INTERNATIONAL AFFAIRS/BILATERAL RELATIONS
1. India pulls off a diplomatic coup, wins prized ICJ seat
In news:
India's nominee to the International Court of Justice (ICJ), Dalveer Bhandari, was re-elected after the United Kingdom withdrew its candidate, Christopher Greenwood.
The U.K. chose to withdraw after it became clear that it would not win the contest in the General Assembly (GA) and it did not have adequate support in the United Nations Security Council (UNSC) for its attempts to derail the voting process itself.
Notable incident:
This is the first time in the 70-year history of the United Nations that the U.K. will not be on the ICJ; and this is the first time that one of the five permanent members of the UNSC lost out to an ordinary member in a race.
This is also the first time that one sitting member of the ICJ lost to another sitting member.
Basic Information:
International Court of Justice:
The International Court of Justice is the primary judicial branch of the United Nations (UN). Seated in the Peace Palace in The Hague, Netherlands, the court settles legal disputes submitted to it by states and provides advisory opinions on legal questions submitted to it by duly authorized international branches, agencies, and the UN General Assembly.
The ICJ is composed of fifteen judges elected to nine-year terms by the UN General Assembly and the UN Security Council from a list of people nominated by the national groups in the Permanent Court of Arbitration.
The election process is set out in Articles 4–19 of the ICJ statute. Elections are staggered, with five judges elected every three years to ensure continuity within the court. Should a judge die in office, the practice has generally been to elect a judge in a special election to complete the term.
2. 'Rakhine State Is a Crime Scene.' Amnesty International Accuses Myanmar of Apartheid
In news:
Amnesty International said that Myanmar's persecution of Rohingya Muslims fits the legal definition of apartheid, a crime against humanity.
In a report based on a two-year investigation, the group said that Rohingya, a mostly stateless minority from Myanmar's western state of Rakhine, are "trapped in a vicious system of state-sponsored, institutionalized discrimination."
Amnesty traces the roots of the crisis to systemic discrimination and segregation that has intensified dramatically since 2012, when deadly riots erupted between Buddhists and Muslims in several parts of the state. Buddhists make up the majority in both Rakhine state and in the country at large.
Key Fact: The Rohingya are widely considered one of the world's most persecuted minorities.
Basic Information:
Apartheid
Apartheid was a system of institutionalised racial segregation and discrimination in South Africa between 1948 and 1991.Broadly speaking, apartheid was delineated into petty apartheid, which entailed the segregation of public facilities and social events, and grand apartheid, which dictated housing and employment opportunities by race
3. China draws 3-stage path for Myanmar, Bangladesh to resolve Rohingya crisis
Context:
China has proposed a three-phase plan for resolving the Rohingya crisis, starting with a ceasefire in Myanmar's Rakhine State so that refugees can return from Bangladesh, China's Foreign Ministry said ahead of meeting of European and Asian officials in Myanmar.
Rohingya crisis
The refugee crisis erupted after the military launched a brutal counter-insurgency operations against the militants after attacks on an army base and dozens of police security posts in Rakhine on Aug. 25.
Consequently, more than 600,000 Muslim Rohingya fled to Bangladesh .
Myanmar's military has said that all fighting against the Rohingya Islamist militants died out on Sept.5, but it remains on guard against incursions by fighters who had fled to Bangladesh with the refugees.
The group behind those attacks, Arakan Rohingya Salvation Army (ARSA), had declared a one-month ceasefire on Sept.10, which was rejected by the government. But there have been no serious clashes since.
The refugees' suffering has caused an international outcry.
Asia-Europe Meeting (ASEM)
The foreign ministers Asia-Europe Meeting, or ASEM, opening in the Myanmar is an important multilateral diplomatic gathering which happens once every two years and is designed to discuss issues between Asia and Europe.
China's 3 stage solution :
The first stage is to effect a ceasefire on the ground, to return to stability and order, so the people can enjoy peace and no longer be forced to flee.
According to Chinese official the first phase's aim has already basically been achieved, and the key is to prevent a flare-up.
Second stage is bilateral dialogue to find a workable solution.
The third phase should be to work toward a long-term solution based on poverty alleviation as poverty was the root cause of the conflict.
Myanmar's Increased Engagement with the World
The United States and other Western countries have become more engaged with Myanmar since it began a transition to civilian government after nearly 50 years of military rule.
China has close relations with both Myanmar and Bangladesh, and has long been a key player in lawless borderlands where rebel ethnic groups have fought Myanmar's government for decades.
The conflict in those border regions have occasionally pushed thousands of refugees to seek shelter in China.
Since the Rohingya crisis, China has repeatedly expressed support for what it calls the Myanmar government's efforts to protect stability.
The international community and the United Nations Security Council are expected to give encouragement and support to Myanmar and Bangladesh to create the necessary conditions and a good environment.
Category: SCIENCE AND TECHNOLOGY
1. India calls for stronger treaties to protect space assets
In news:
Stressing international cooperation in space as in all domains of global commons, India called for strengthening global treaties to protect space-based assets and prevent militarization of outer space
Over 200 treaties
India had more than 200 international cooperation agreements with more than 40 countries and international organizations
The maiden moon mission, Chandrayaan-I, is a "successful example of international cooperation with international payloads"
In May, ISRO launched the communications satellite GSAT-9, also called SAARC satellite, meant to provide connectivity and disaster support to countries in South Asia
India is party to all the legally binding instruments on outer space
2. Govt. unveils draft of law to regulate space sector
Context:
Space Activities Bill, 2017.
In News:
The draft of the country's first Space Law, stipulates licences for all space-related players and activities.
The draft also sets out penalties of ₹1 crore and above and jail terms for violations.
The proposed bill, also seeks to keep the government out of any liability arising out of harm that these commercial activities may cause — to people, environment, other countries or outer space.
The draft Bill defines objects, people and geography that will come under the future law.
The Centre will keep a registry of all space objects.
New body proposed
All persons or entities engaged in space will now need a licence
The government will form a new authorised body for the purpose of issuing license.
So far, the national space agency Indian Space Research Organisation's major works have related to satellites, launchers and applications. These were governed by the Satellite Communication Policy, 2000; the Remote Sensing Data Policy, 2011; and international treaty obligations on outer space activities as mandated by the UN Committee on Peaceful Uses of Outer Space or UNCOPUOS.
Why such a law is needed?
Increasing applications of Space-based solutions have meant an increased participation of private sector industry and startups.
Commercial opportunities in space activities and services, nationally and internationally, demand a higher order of participation by private sector agencies. This situation demands a necessary legal environment for orderly performance and growth of space sector.
3. Oldest stars in our galaxy discovered
In news:
Astronomers have discovered some of the oldest stars in our Milky Way galaxy by determining their locations and velocities.
Just like humans, stars have a life span: birth, youth, adulthood, senior and death.
Scientists at Georgia State University in the U.S. focussed on old or "senior citizen" stars, also known as cool subdwarfs, that are much older and cooler in temperature than the Sun.
In a study, astronomers conducted a census of our solar neighbourhood to identify how many young, adult and old stars are present.
They targeted stars out to a distance of 200 light years, which is relatively nearby considering the galaxy is more than 1,00,000 light years across.
A light year is how far light can travel in one year.
Category: ENVIRONMENTAL SCIENCE AND ECOLOGY
1. An app to get tiger numbers right
In news:
In order to reduce human error and provide more reliable estimates, field data collection for tiger enumeration in the country is set to go digital
In the forthcoming All-India Tiger Estimation, to be taken up in December-January, the authorities plan to eliminate the process of manual recording of signs of the carnivore and other habitat details
M-STRiPES:
An app named M-STRiPES (Monitoring System For Tigers-Intensive Protection and Ecological Status) developed by the Wildlife Institute of India, Dehradun will be used for the first time
Though the app has already been in place in some national parks, its usage and application has been made mandatory only now, for the fourth All-India Tiger Estimation
With the availability of M-STRiPES, human error will be eliminated and the use of the app would ensure a more robust estimate
About the app
It is a free app that will be made available to staff participating in the tiger census exercise, and they will feed in their observation during the carnivore sign survey and transect marking
Details such as pellet density, vegetation status, and human disturbance, if any, will also be recorded
About National Tiger estimates
The national tiger estimates are conducted once in four years, with the first conducted in 2006
The last nationwide assessment, held in 2014, pegged the tiger figures across the country at 2,226
Karnataka alone was home to 400 tigers, a bulk of them in Bandipur and Nagarahole
Nothing here for Today!!!
Kangri or Kanger: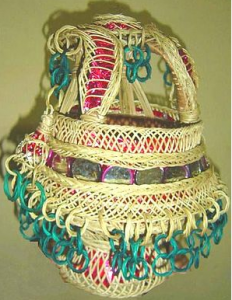 A kanger is an earthen pot woven around with wicker filled with hot embers used by Kashmiris and Himachalis beneath their traditional clothing to keep the chill at bay, which is also regarded as a work of art. In Kashmir, it is normally kept inside the Phiran, the Kashmiri cloak, or inside a blanket. If a person is wearing a jacket, it may be used as a hand warmer.
It is generally believed that Kashmiris learnt the use of the kangri from the Italians who were in the retinue of the Mughal emperors, and usually visited the Valley during summer. In Italy (where a similar device was known as a scaldino) and Spain, braziers were made in a great variety of shapes and were profusely ornamented. Historical data, however, contradicts the claim that kangri came to Kashmir from Italy, but it is known that it was used in the time of the Mughal Empire. Those visiting Kashmir for the first time during the winter season are surprised to find people carrying firepots in their hands or in their laps but every Kashmiri know how to handle the apparatus with care. It is a part of Kashmiri tradition and even in modern times it sees a huge demand, and is even used in public or private offices during winters.
F. Practice Questions for UPSC Prelims Exam
Question 1. Which of the following is not part of money supply in the economy?
Money lying with the government
Deposits of commercial banks with other commercial banks
Money lying with the Central bank
Deposits of pubic with commercial banks
Select the correct answer using the code given below:
1 only
2 only
1 & 2 only
1, 2 & 3 only
See
Question 2. Consider the following statements
Payment Portal – MSME Samadhaan was lanched for empowering micro and small entrepreneurs across the country.
MSME Samadhaan directly register their cases relating to delayed payments by Central Ministries/Departments/CPSEs/State Governments.
Select the correct statements
1 only
2only
Both 1 and 2
None of the above
See
Question 3. Consider the following statements
Global Wildlife Conference to be held in Manila, Philippines in October 2017
India will host next Convention on the Conservation of Migratory Species of Wild Species of Wild Animals (CMS) Conference of Parties 13 (CMS COP13) in year 2020(also known as Global Wildlife conference).

Select the correct statements

1 only
2only
Both 1 and 2
None of the above
See
Question 4. Consider the following statements
"An incentive cum penalty" framework scheme initiated by GOI is to transform Indian Railways truly into a world class, safe and modern transporter.
Main objective is to bring green power project developers and other stakeholders on a common platform for making Indian Railways (IR) an efficient and Greener mode of transport.

Select the correct statements

1 only
2only
Both 1 and 2
None of the above
See
Question 5. A Turtle sanctuary in Allahabad along with a River Biodiversity 
Park at Sangam have been approved under the:


Namami Gange programme
Ganga Rejuvenation programme
Wild Life Protection Act
Star Turtle Conservation and Protection Act
See
G. UPSC Mains Practice Questions
GS Paper III
'Climate Change' is a global problem. How India will be affected by climate change? How Himalayan and coastal states of India will be affected by climate change? (Mains – 2017)
GS Paper IV
You are a Public Information Officer (PIO) in a government department. You are aware that the RTI Act 2005 envisages transparency and accountability in administration. The act has functioned as a check on the supposedly arbitrarily administrative behaviour and actions. However, as a PIO you have observed that there are citizens who filed RTI applications not for themselves but on behalf of such stakeholders who purportedly want to have access to information to further their own interests. At the same time there are these RTI activists who routinely file RTI applications and attempt to extort money from the decision makers. This type of RTI activism has affected the functioning of the administration adversely and also possibly jeopardises the genuineness of the applications which are essentially aimed at getting justice.

What measures would you suggest to separate genuine and non-genuine applications? Give merits and demerits of your suggestions. (Mains- 2017)
Also, check previous Daily News Analysis
"Proper Current Affairs preparation is the key to success in the UPSC- Civil Services Examination. We have now launched a comprehensive 'Current Affairs Webinar'. Limited seats available. Click here to Know More."
Enroll for India's Largest All-India Test Series