TABLE OF CONTENTS
A.

 GS1 Related




B.

 GS2 Related


POLITY
1. Gram panchayat certificate no proof of citizenship: SC
2. 'Safe city' plan for women to kick off in eight cities
INTERNATIONAL AFFAIRS/BILATERAL RELATIONS
1. Pak. court frees Hafiz Saeed
2. 'Rakhine operation was ethnic cleansing'


C.

 GS3 Related


ECONOMY
1. Bankruptcy code to be amended
2. Cabinet approves new finance panel
3. New direct tax law coming
4. The potential of smart contracts in banking
ENVIRONMENTAL SCIENCE AND ECOLOGY
1. Migratory birds start arriving in Chilika
INTERNAL SECURITY AND DEFENSE RELATED DEVELOPMENTS
1. In a first, air-launched Brahmos missile test-fired


D. 

GS4 Related




E. 

Prelims Fact


F. UPSC Prelims Practice Questions
G. UPSC Mains Practice Questions 
Nothing here for Today!!!
1. Gram panchayat certificate no proof of citizenship: SC
In news:
Supreme Court: A certificate of residency issued by a gram panchayat is not a document of citizenship and is "meaningless" unless supported by some other valid record to make a claim for inclusion in the National Register of Citizenship (NRC).
Batch of pleas
The apex court was hearing a batch of pleas challenging the Gauhati High Court order holding that a certificate of residency issued by a gram panchayat (village council) secretary was not a legal and valid document for claim to citizenship.
About 48 lakh claims have been made using certificates issued by gram panchayat secretaries, out of a total of 3.29 crore claims made so far for inclusion in the NRC which is being prepared in Assam to identify illegal migrants.
Government's stance:
The Assam government said the High Court was justified in invalidating the document as it cannot be claim to citizenship.
2. 'Safe city' plan for women to kick off in eight cities
In news:
Home Ministry is all set for a comprehensive 'safe city' plan for women, which will soon be kicked off in eight cities where a robust emergency response system and police-verified public transport will come into place.
The safe city plans will be implemented in Delhi, Mumbai, Kolkata, Chennai, Ahmedabad, Bengaluru, Lucknow and Hyderabad.
The plan of action to be submitted by these cities within a month will be assessed by the Steering Committee headed by the Union Home Secretary, which will make suitable recommendations.
Issues discussed:
33% reservation for women in police, installation of CCTV cameras, deployment of women in police stations, prevention of cybercrime, infrastructure issues, mapping of dark spots and crime-prone areas and involvement of educational institutions, among others.
Various initiatives:
'Himmat' app, all women patrol van, 'shishtachar' programme of the Delhi police; 'Hawkeye' mobile app and 'Bharosa' programme of the Hyderabad police; 'Suraksha' app of the Bengaluru police and Power Angels of Uttar Pradesh police.
Category: INTERNATIONAL AFFAIRS/BILATERAL RELATIONS
1. Pak. court frees Hafiz Saeed
In news:
A Pakistani court ordered the release of Hafiz Saeed, the chief of Jamaat-ud-Dawa (JuD) and one of the alleged masterminds of the 2008 Mumbai terror attacks that killed more than 160 people.
A review Board of the Lahore High Court overruled the government's request to extend the detention citing that Saeed's release may trigger international sanctions against Pakistan.
The review board looking into the case has refused to extend his house arrest as the government failed to provide any evidence against the charges.
Background information:

Saeed, who carries a bounty of $10 million announced by the U.S. for his role in terror activities, has been under house arrest since January this year.
Last month, authorities had withdrawn terrorism charges against Saeed and the JuD, a front of the terror organisation Lashkar-e-Taiba, and kept him in detention under the Maintenance of Public Order Act, paving the way for his release.
Saeed's detention was extended four times since January when the government cracked down on the JuD and its charity arm Falah-e-Insaniat Foundation.
2. 'Rakhine operation was ethnic cleansing'
In news:
The United States labelled the Myanmar military operation against the Rohingya population "ethnic cleansing" and said it would consider targeted sanctions against those responsible.
Secretary of State Rex Tillerson said in a statement, "After a careful and thorough analysis of available facts, it is clear that the situation in northern Rakhine State constitutes ethnic cleansing against the Rohingya.
The United States supports an independent investigation into what happened in Rakhine State and will pursue actions including possible targeted sanctions.
Human rights organizations observation:
Human rights monitors have accused Myanmar's military of atrocities, including mass rape, against the stateless Rohingya during so-called clearance operations following Rohingya militants attacks on 30 police posts and an army base.
1. Bankruptcy code to be amended
In news:
The Union Cabinet approved a proposal to promulgate an Ordinance to amend the Insolvency and Bankruptcy Code (IBC).
The move is to strengthen the IBC by explicitly preventing certain persons — including wilful defaulters, disqualified directors, those who have indulged in fraudulent transactions as well as promoters whose account is classified as non-performing assets (NPA) beyond a prescribed duration — from regaining control of the defaulting company through the backdoor in the garb of a resolution applicant.
About IBC:
The IBC provides for an effective and robust legal framework for "time-bound insolvency resolution to release assets locked up in NPA and promote maximisation of value of assets, failing which, under-utilised resources of unviable business are released through liquidation."
2. Cabinet approves new finance panel
In news:
The Cabinet has set the ball rolling for the constitution of the Fifteenth Finance Commission, which will decide the devolution formula for revenue-sharing between the Centre and States from the year 2020 till 2025
Cabinet has given an in-principle nod to constitute the Commission and finalize its terms of reference
14th Finance Commission:
The Fourteenth Finance Commission, whose recommendations were accepted by the government and are effective till March 31, 2020, had mooted a ten percentage points jump in States' share of the central pool of taxes from 32% earlier to 42%
Tasks assigned to 15th FC
The Fifteenth Finance Commission's recommendations have to be in place before April 1, 2020
Both the Centre and States' expenditure patterns need to be retained and the impact of the new distribution of taxes system on States and the Centre has to be considered by the Commission
The Commission will have to grapple with the significant changes in the taxation framework, such as the Goods and Services Tax, which has replaced the earlier indirect taxation system
In news:
Direct tax regime: The government has constituted a new task force to review the country's 56-year old Income Tax law and suggest a new law to replace it.
The task force is led by Central Board of Direct Taxes Member Arbind Modi to review the Income Tax Act, 1961 and draft a new direct tax law in consonance with economic needs of the country.
Terms of reference
Draft an appropriate direct tax legislation keeping in view the direct tax system prevalent in various countries, international best practices, the economic needs of the country and any other matter connected thereto.
The task force had been given six months to submit its report to the Centre.
4. The potential of smart contracts in banking
Context:
Bankchain is a consortium of 27 banks (22 of them are Indian) of which the State Bank of India (SBI) was the first Indian member
It is working to devise blockchain-based solutions for banking and, along with the SBI, planning to launch a beta program to use smart contracts next month
About Blockchain and bitcoin
In late 2008, an unknown person (or group) named Satoshi Nakamoto created a crypto-currency, bitcoin
Its novelty consists in the fact that its operations are authorized without any trusted third-party carrying out administrative or security tasks
This minimizes the transaction fees eventually weighing on users and considerably reducing the time for processing the operations
Centralized networks rely on one or more trusted bodies (for example, banks) to keep a detailed record of transactions and update users' balance
Bitcoin, on the other hand, decentralizes the administrative activity and lets "miners" process the transactions carried out in the system
The transparency, accessibility and stability of the transactions' record are ensured by the public broadcasting of the operations throughout the nodes of the network (the computers running the software)
And their subsequent addition to a shared database containing the complete transaction history for any given bitcoin
This shared ledger is called the "blockchain", i.e the sequence of all the verified "blocks" of transactions, recorded chronologically—timestamped—one after the other
Usability:
Just as bitcoin uses the blockchain to maintain a ledger of a crypto-currency, the blockchain can be used to keep track of the ownership of any asset or data that can be digitized and represented by computer code
Once the asset is on blockchain, users can compose smart contracts that contain the terms of the agreement, and automatically execute them once certain predetermined conditions are satisfied
They roughly follow the scheme of an "if-then" function

For example, if the smart contract relates to the acquisition of an intellectual property right licence, Party A creates a smart contract to which the licence X is permanently attached, programming that X is to be released upon certain conditions Y, and launches it into a blockchain
Whenever Party B wishes to obtain the information/licence, they transfer consideration Y to the protocol
Automatically, the smart contract algorithm releases X to party B and delivers Y to Party A, eliminating delays and room for non-compliance
Once the obligation is fulfilled on the one side (Y), the computer protocol autonomously performs the other side of the agreement (X)
Disadvantages of traditional contracts:
Traditional contracts are always subject to a degree of uncertainty with respect to their final outcome
Smart contracts leave no room for voluntary breaches of the agreement
By entrusting the network with the performance of the agreed terms, they reduce the likelihood of expensive and time-consuming disputes
Why are banks reluctant to Blockchain?
Smart contracts on a decentralized, "permission-less" blockchain like bitcoin don't allow any meddling by third parties
This is because in a permission-less system, any computer can join as a node to run the code and amending the leger will require access to all the nodes
Banks are uncomfortable with losing control of the system and they prefer "permissioned" blockchains like Bankchain
Bankchain restricts the access to nodes to other banks, while individual customers can join as users after complying with know your customer (KYC) norms
Pre-selected nodes allow banks to intervene between transactions, providing the 'emergency entry' into the system whenever interventions are deemed appropriate
Benefits:
Currently each bank carries out its own KYC process.
This can be done by one bank and securely uploaded on the blockchain, thereafter shared with the other banks once the trigger is generated by the customer
Smart contracts can automatically release insurance payments for verifiable claims like delayed flights, motor accidents or death
This would involve bringing authorized third parties like hospitals and garages to join a single platform with insurers and the insured, and bring process efficiencies
Most securities have settlement delays of two days or longer that can be brought down to minutes, which will also reduce working capital requirements for collateral
Other applications include crowdfunding for small businesses, enabling the trading of tokenized equity shares and settlement of syndicated loans between banks
Threats:
While permissioned blockchains bring many benefits of a decentralized network, they compromise on the promise of immutability by limiting the nodes in the system
The unlimited nodes in bitcoin make it tamperproof while pre-selected nodes in a permissioned blockchain allow authorities to intervene between transactions and expose the points of vulnerability
It is quite unsure that banks can provide the same level of data integrity that is guaranteed by permission-less blockchains like bitcoin
Category: ENVIRONMENTAL SCIENCE AND ECOLOGY
1. Migratory birds start arriving in Chilika
In news:
Lakhs of migratory birds arrived at the Chilika Lake, Asia's largest brackish water lagoon.
Major bird congregations have been spotted in the wetlands of the Nalabana Bird Sanctuary inside Chilika and Mangalajodi, a major village on the banks of the lake.
Key Facts:
Nalabana with a 15.59-sq.-km area is hosting the highest number of migratory birds this time round. Similarly, the wetlands of Mangalajodi have begun to fill up with lakhs of ruffs, godwits, plovers, sandpipers and migratory ducks. With 11.59 sq km of mudflats, Mangalajodi receives about 3 lakh birds during winter.
Migratory birds fly across continents from Caspian Sea, Baikal Lake and remote parts of Russia, Mongolia and Siberia and flock to the marshy lands of the Nalabana Bird Sanctuary inside the Chilika Lake, which is spread across over 1000 sq. km.
The Odisha government has announced a bird festival for the first time in January, showcasing the diversity of migratory birds and their numbers.
Category: INTERNAL SECURITY AND DEFENSE RELATED DEVELOPMENTS
1. In a first, air-launched Brahmos missile test-fired
In news:
In a milestone, a BrahMos supersonic cruise missile was fired succesfully for the first time from a Sukhoi-30MKI fighter aircraft of the Indian Air Force.
Effectiveness: The successful maiden test-firing of Brahmos Air Launched Cruise Missile (ALCM) from Su-30MKI will significantly bolster the IAF's air combat operations capability from stand-off ranges.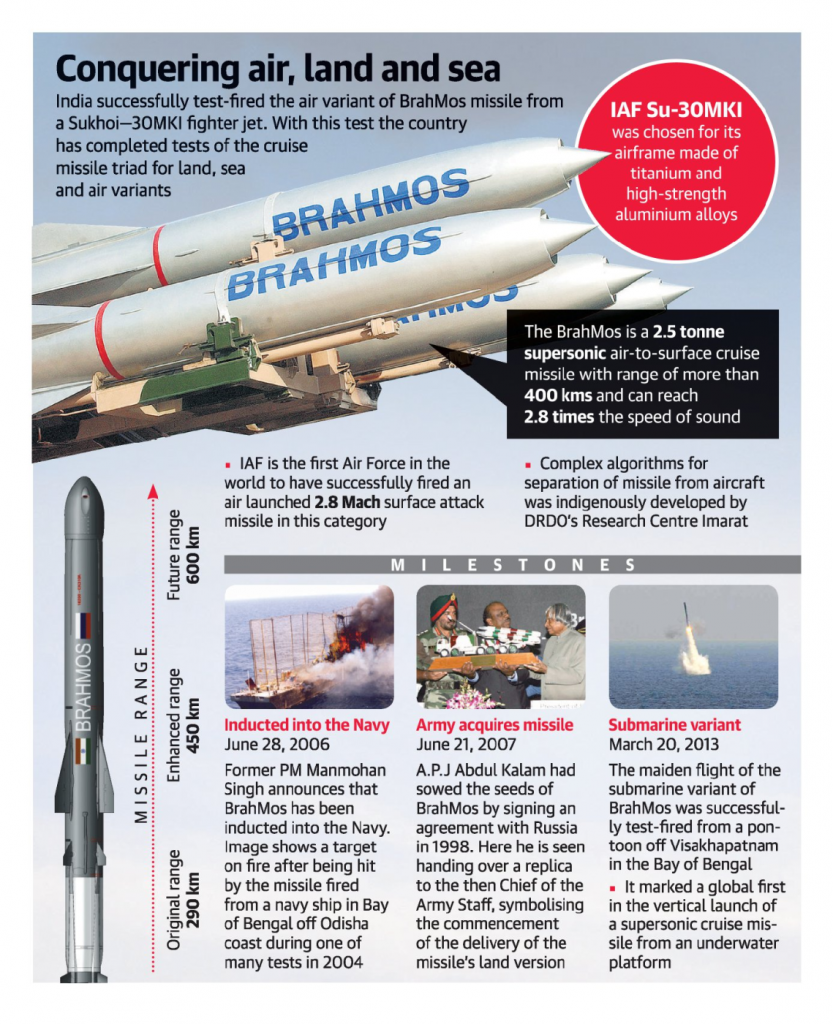 Key Fact: Brahmos ALCM, which weighs 2.5 tonnes, is the heaviest weapon to be deployed on India's Su-30 fighter aircraft. It has a range of 290 km.
Completes tactical cruise missile triad
Brahmos, the world class weapon with multi-platform, multi-mission role is now capable of being launched from land, sea and air, completing the tactical cruise missile triad for India.
The land and sea variants of Brahmos are already operational with the Army and the Navy. Recently, the range variants were upgraded from 290 km to 450 km after India joined the Missile Technology Control Regime (MTCR).
Key Fact: BrahMos is a joint venture between India and Russia and named after the Brahmaputra and Moscowa rivers.
Nothing here for Today!!!
Nothing here for Today!!!
F. Practice Questions for UPSC Prelims Exam
Question 1. Consider the following statements:
Energy Efficiency Services Limited (EESL) is a joint venture of NTPC Limited, Power Finance Corporation, Rural Electrification Corporation and POWERGRID.
Recently, EESL has decided to procure 10,000 electric vehicles from Tata motors.
Which of the following statements are correct?
1 only
2 only
Both 1 and 2
Neither 1 nor 2
See
Question 2. Consider the following statements
Article 35 A is an original feature of Indian Constitution.
It enables J&K State legislature to decide the permanent residents of the state.
Which of the above statements are true?
1 only
2 only
Both 1 and 2
Neither 1 nor 2
See
Question 3. Consider the following statements about Public Finance Management Scheme:
PFMS has been made mandatory for all central sector schemes.
PFMS is an electronic fund that gives real time information on all government schemes.
Which of the above statements are true?
1 only
2 only
Both 1 and 2
Neither 1 nor 2
See
Question 4. Consider the following statements about Bharat Net:
It is a rural internet connectivity programme.
It uses Optical Fibre technology and is being funded by Universal Service Obligation Fund (USOF).
Which of the above statements are true?
1 only
2 only
Both 1 and 2
Neither 1 nor 2
See
Question 5.  Consider the following statements about MSME Samadhaan:
MSME Samadhaan was launched for empowering micro and small entrepreneurs across the country to directly register their cases relating to delayed payments by Central Ministries
The portal will greatly facilitate the monitoring of the delayed payment in a more effective manner.
Which of the above statements are true?
1 only
2 only
Both 1 and 2
None of the above
See
G. UPSC Mains Practice Questions
GS Paper I
Account for variations in oceanic salinity and discuss its multi-dimensional effects.
GS Paper IV
A building permitted for three floors, while being extended illegally to 6 floors by a builder, collapses. As a consequence, a number of innocent labourers including women and children died. These labourers are migrants of different places. The government immediately announced cash relief to the aggrieved families and arrested the builder.
Give reasons for such incidents taking place across the country. Suggest measures to prevent their occurrence.
Also, check previous Daily News Analysis
"Proper Current Affairs preparation is the key to success in the UPSC- Civil Services Examination. We have now launched a comprehensive 'Current Affairs Webinar'. Limited seats available. Click here to Know More."
Enroll for India's Largest All-India Test Series