TABLE OF CONTENTS
A.

 GS1 Related




B.

 GS2 Related


POLITY
1. Centre to distribute solar lamps to youth in Maoist-hit districts
2. 'Judiciary not representative: President Kovind
3. Rajnath seeks cooperation of States on Central forces
4. Chandigarh's new draft parking policy seeking 50% road tax invites criticism from all


C.

 GS3 Related


ECONOMY
1. Centre to seek 20,000 MW of solar bids
SCIENCE AND TECHNOLOGY
1. Here comes the sun watcher, India's Aditya-L1
ENVIRONMENT AND ECOLOGY
1. New identity for an Eastern Ghats resident
2. Rajasthan seeks nod to bring tigers from other States


D. 

GS4 Related




E. 

Prelims Fact


F. UPSC Prelims Practice Questions
G. UPSC Mains Practice Questions 
Nothing here for Today!!!
1. Centre to distribute solar lamps to youth in Maoist-hit districts
In news:
The home ministry has asked Left Wing Extremism (LWE)-affected states to distribute 15 lakh solar lamps to students in the 35 worst affected districts until all villages are electrified.
Home Minister Rajnath Singh is learnt to have instructed states to expedite the process of distributing the solar lamps so that students don't suffer for want of electricity.
The official said though the recruitment by Maoists has seen a declining trend, the government wanted to reach out to the youth in villages.
Home ministry has also decided to link telecom towers with optical fibres as the mobile towers were unable to bear the load of many calls at one time.
Key Fact:
The 35 worst LWE-hit districts:
Telangana (1): Khammam
Bihar (6): Jamui, Gaya, Aurangabad, Rohtas, Jehanabad, Arwal.
Chhattisgarh (8): Dantewada, Bastar, Kanker, Surguja, Rajnandgaon, Bijapur,Narayanpur, Sukma      .
Jharkhand (10): Chatra, West Singhbhum, Palamau, Garhwa, East Singhbhum, Bokaro, Lohardaga, Gumla, Latehar, Hazaribagh.
Madhya Pradesh (1): Balaghat.
Maharashtra (2): Gadchiroli , Gondia.
Orissa (5): Gajapati, Malkangiri, Rayagada, Deogarh, Sambalpur.
Uttar Pradesh (1): Sonebhadra.
West Bengal (1): Paschim Midnapur.
2. Judiciary not representative: President Kovind
In news:
Key Points:
President Ram Nath Kovind expressed concern over the "unacceptably low" representation of women, Scheduled Castes and Scheduled Tribes and Other Backward Classes in the higher judiciary. He called for long-term measures to remedy this situation.
He said that only 4,700 of the 17,000 judges — roughly one in four — in India were women.
Kovind said all the three organs of the State — the judiciary, the executive and the legislature — needed to be careful not to cross into one another's finely defined spaces. "Public life is today a glasshouse. There is a relentless demand for transparency and scrutiny. Our legal fraternity needs to be mindful of these legitimate urges of the people — the ultimate masters in a democracy. All three organs of the State are obligated to be models of good conduct,"
The President said there was a need to look at alternative dispute resolution
Kovind said lawyer fees needed to be brought down and India's reputation of having an expensive legal system must be changed.
3. Rajnath seeks cooperation of States on Central forces
In news:
Context:
12th Inter-State Council meeting.
Union Home Minister highlights the following issues during the meeting:
The Centre and the State governments should engage in greater cooperation so that differences on issues such as deployment of Central forces are resolved quickly.
He said a number of steps had been taken in recent years by the Centre to promote cooperative federalism.
It is important for everyone to promote the spirit of cooperation with greater zeal and expressed satisfaction over the deliberations held in a "harmonious and congenial" atmosphere for arriving at consensus on complex issues.
He said the standing committee is being convened to lend speed to the process of harmonising Centre-State relations.
The subjects discussed at the standing committee meeting included financial transfers from the Centre to the States, Goods and Services Tax, structure and devolution of functions to local bodies and district planning.
4. Chandigarh's new draft parking policy seeking 50% road tax invites criticism from all
In news:
Context:
Chandigarh's new draft parking policy.
Decongesting of city roads.
In news:
According to the new policy, residents who buy cars costing Rs 10 lakh and above will have to pay 50% of its price as road tax.
If you buy a second car, irrespective of the price, you will have to pay 50% of its price.
The existing policy charges 6% as road tax for vehicles costing up to Rs 20 lakh and 8% for vehicles above Rs 20 lakh.
The city has the highest density of vehicles in the country, the average number for each family being more than two.
The new draft policy also seeks to clamp down on the number of vehicles sold in one quarter. Moving on, residents will have to purchase certificate of ownership/entitlement and certificate of parking availability during vehcile registration will be a necessity.
The administration has also planned to hike the rates of public parking.
1. Centre to seek 20,000 MW of solar bids
In news:
The government is planning bids for a total of 20,000 MW of solar energy plants projects in this financial year
Of these projects, 3,600 MW have already been completed
The Ministry of New and Renewable Energy is planning bids for 30,000 MW of solar projects in 2018-19 and 2019-20, each
In wind energy, the Centre has announced the third wind power auction of 2,000 MW, the largest of its kind in India so far
Make in India link:
The government is planning a 20 GW auction, but only for those who are willing to manufacture in India
Plans ahead:
As per the Ministry's plan, Solar Energy Corporation of India (SECI) will invite two separate bids for 3,000 MW of solar projects in December 2017 and January 2018 each
NTPC is to invite a bid for 5,000 MW of solar projects in February 2018
And another 6,000 MW will be bid out in March 2018 by SECI and other Central PSUs
Encouraging results from Wind Energy projects
In wind energy, the Ministry said it had already received bids for 32 GW of projects, which is more than 50% of the 60 GW target set for 2022
The government is expecting bids for a total of 8-9 GW this year, and 10 GW each in 2018-19 and 2019-20
Category: SCIENCE AND TECHNOLOGY
1. Here comes the sun watcher, India's Aditya-L1
In news:
Sometime in 2019 or 2020 India will send ISRO's solar mission Aditya-L1 to a vantage point in space, known as the L1 Lagrange point, to do imaging and study of the sun.
This launch will happen in the early part of the next solar cycle – an occurrence in which sunspots form on the face of the sun, growing in size and number and eventually diminishing, all over a period of eleven years.
It will be the first 100% Indian mission which will not only negotiate a challenging orbit, but will also benefit the global scientific community in understanding the sun.
Aditya L1 has two in situ particle-detection payloads – Aditya Solar wind Particle EXperiment (ASPEX) and Plasma Analyser Package for Aditya (PAPA) will study aspects that affect space weather. the origin of solar wind ions, their reaction to coronal mass ejections, the distribution of these in the heliosphere – the space around the sun that extends up to Pluto – and so on. The various payloads in Aditya-L1 will also study space weather.
L1 point:
The so-called L1 point is 1.5 million kilometres away. Here, due to the delicate balance of gravitational forces, the satellite will require very little energy to maintain its orbit. Also it will not be eclipsed from the sun. The 1,500-kg class satellite will be programmed to orbit this point and image the sun's magnetic field from space for the very first time in the world.
Scientists hope to capture the close-ups of the sun from here, uninterrupted by eclipses for years.
Solar Cycle:
Like seasonal changes on the earth, the sun experiences approximately eleven-year-long cycles during which sunspots, caused by the sun's magnetic field, start forming, increase in the ascending phase and decrease in the descending phase towards the end of the cycle.
Category: ENVIRONMENT AND ECOLOGY
1. New identity for an Eastern Ghats resident
In news: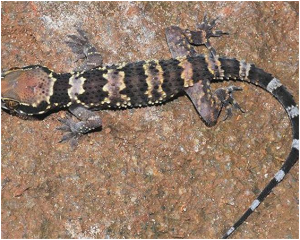 For the last 70 years, Mahendragiri gecko did not get its rightful place in the classification scheme.
Now Mahendragiri gecko has been added to the species list of the Eastern Ghats.
Discovered from Andhra Pradesh's Mahendragiri hills, it is the second gecko to be found endemic to the area. The discovery highlights the biodiversity importance of the region, say scientists.
Genetics help
Genetic analysis, which involves scrutiny of an organism's DNA, helped scientists to discover that the Dutta's Mahendragiri geckos were not a population of Spotted rock geckos (found in the northern Western Ghats in Maharashtra) as it was believed.
DNA sequence data showed that these two geographically-separated populations are different and a careful examination of their characteristics showed that the new species has many unique, diagnostic characters.
Dutta's Mahendragiri gecko has golden eyes and pale, black-bordered horizontal bands.
The lizard is the 32nd species of Hemidactylus gecko found in India.
2. Rajasthan seeks nod to bring tigers from other States
In news:
After seeking the Centre's nod for shifting of tigers from Ranthambhore to Mukundara Hills Tiger Reserve, the Rajasthan government has asked for permission to bring tigers from other States for their rehabilitation and cross-mating in order to develop strong breeds of the big cat.
The Sariska Tiger Reserve in Alwar district, where the tiger population had vanished a few years ago, had brought back a significant number of big cats.
Shifting tigers to Rajasthan would help resolve the problem of hereditary diseases among them and improve their breeds through cross-mating.
The Mukundara Hills is the third notified tiger habitat in the State, after Ranthambhore and Sariska. Though it was established to cater to the spillover tiger population from Ranthambhore, the majestic cat is still missing from its wildlife population.
Nothing here for Today!!!
Nothing here for Today!!!
F. Practice Questions for UPSC Prelims Exam
Question 1. Consider the following statements about Global Passport Power Rank 2017:
India's passport was ranked 75th among 94 countries
The Global Passport Power Rank is released by Canada
Which of the statement/s given above is/are CORRECT?
1 only
2 only
Both 1 and 2
Neither 1 nor 2
See
Question 2. Consider the following statements about Sagar Mala project:
Sagar Mala project is an initiative of the Government of India to modernize India's Ports
Coastal Berth Scheme is a part of SagarMala project
Which of the statement/s given above is/are CORRECT?
1 only
2 only
Both 1 and 2
Neither 1 nor 2
See
Question 3. Consider the following statements:
Indian Railway's First set of Solar Power Plant was launched on roof tops of New Delhi Railway station.
It was part of National Solar Mission
Which of the statement/s given above is/are CORRECT?
1 only
2 only
Both 1 and 2
Neither 1 nor 2
See
Question 4. Consider the following statements about  Integrity Index: 
It is being developed by CVC
The Integrity Index will bring out annual scores and rankings of Public Sector Undertakings (PSUs)
Which of the statement/s given above is/are CORRECT?
1 only
2 only
Both 1 and 2
Neither 1 nor 2
See

.
Question 5. Consider the following statements about Intensified Mission Indradhanush (IMI)
Every child under two years of age and all those pregnant women who have been left uncovered under the routine immunization programme
To ensure full immunization to more than 90% by December 2018
Which of the statement/s given above is/are CORRECT?
1 only
2 only
Both 1 and 2
Neither 1 nor 2
See
G. UPSC Mains Practice Questions
GS Paper II
Critically evaluate the focus and performance of Centre's Swachh Bharat Mission.
GS Paper III
Discuss the practical solutions that can plug loopholes in Public Distribution System.
Also, check previous Daily News Analysis
"Proper Current Affairs preparation is the key to success in the UPSC- Civil Services Examination. We have now launched a comprehensive 'Current Affairs Webinar'. Limited seats available. Click here to Know More."
Enroll for India's Largest All-India Test Series