TABLE OF CONTENTS
A.

 GS1 Related


CULTURE
1. Supreme Court refuses to stay release of film 'Padmavati'
HISTORY
1. Karnataka govt celebrates Tipu Sultan Jayanti amid heavy security, Opposition launches statewide protests


B.

 GS2 Related


EDUCATION
1. Centre approves creation of National Testing Agency
INTERNATIONAL RELATIONS
1. India caught in U.S.-Russia tussle
2. India to face U.K. in ICJ election


C.

 GS3 Related


ECONOMY
1. GST Council slashes tax rates on 177 items from 28% to 18%
ENVIRONMENT
1. Govt. offers free bus rides during odd-even scheme
2. Delhi pollution: NGT says no odd-even unless Delhi govt justifies its necessity


D. 

GS4 Related




E. 

Prelims Fact


F. UPSC Prelims Practice Questions
G. UPSC Mains Practice Questions 

1. Supreme Court refuses to stay release of film 'Padmavati'
The Supreme Court refused to entertain a plea seeking a stay on the release of Bollywood movie 'Padmavati', saying the Central Board of Film Certification (CBFC) considers all aspects before granting certificate to any film.
Central Board of Film Certification (Censor Board)
It is a statutorycensorship and classification body under the Ministry of Information and Broadcasting.
It is tasked with "regulating the public exhibition of films under the provisions of the Cinematograph Act 1952".
The government at the centre appoints the non-official members and a Chairman who constitute the Board which is headquartered at Mumbai.
There are a total of nine regional offices for the CBFC which includes Mumbai, Kolkata, Chennai, Bangalore, Thiruvananthapuram, Hyderabad, New Delhi, Cuttack and Guwahati.
The body's primary function is to assign each film to one of the four categories –

U – Unrestricted public exhibition
A- Restricted to adults
UA –Unrestricted public exhibition (with a word of caution that Parental discretion required for children below 12 years)
S – Restricted to any special class of persons (for example: doctors)

It assigns certifications to films, television shows, television ads, and publications for exhibition, sale or hire in India. Films can be publicly exhibited in India only after they are certified by the Board, including films shown on television.
The Board is considered to be one of the strictest Censor Boards in the world. One of the most notable guidelines of the Board include: "any scenes which intend to degrade or disintegrate woman in any manner are not presented".
The Board consists of 25 other non-official members and a Chairperson (all of whom are appointed by Central Government).
1. Karnataka govt celebrates Tipu Sultan Jayanti amid heavy security, Opposition launches statewide protests
Bringing the state under a thick security blanket, "Tipu Jayanti" celebrations were held amid protests across Karnataka on Friday to mark the birth anniversary of the controversial 18th-century ruler of the erstwhile Mysore kingdom, Tipu Sultan
Background
Tipu was a ruler of the erstwhile kingdom of Mysore and considered an implacable enemy of the British East India Company.
He was killed in May, 1799 while defending his fort at Srirangapatna against the British forces.
1. Centre approves creation of National Testing Agency
The Union Cabinet approved the creation of a National Testing Agency (NTA) to conduct entrance examinations for higher educational institutions.
Structure
NTA will be created as a Society registered under the Indian Society Registration Act, 1860, and as an autonomous and self-sustained premier testing organization to conduct entrance examinations for higher educational institutions
The entrance examinations will be conducted in online mode at least twice a year, thereby giving adequate opportunity to candidates to bring out their best
The NTA will be chaired by an eminent educationist appointed by the Ministry of Human Resource Development. There will be a Board of Governors comprising members from user institutions.
Significance
Its creation will relieve the Central Board of Secondary Education (CBSE) – which conducts exams like the National Eligibilty-cum-Entrance Test – and the All India Council for Technical Education of the burden of conducting entrance tests.
Finance
The Centre will give an initial grant of Rs. 25-crore to the NTA to start its operations in the first year. Thereafter, it will be self-sustaining
Category: INTERNATIONAL RELATIONS
1. India caught in U.S.-Russia tussle
India appears to have been caught in a tussle between Russia and the US
Russia's news agencies and major newspaper Kommersant carried a story alleging that the Indian navy gave a U.S. naval delegation access to Russian-purchased aircraft carrier INS Vikramaditya and on-lease nuclear attack submarine INS Chakra, calling it an "unfriendly act" by India.
According to Kommersant , sources said India committed several "unfriendly acts" towards Russia and they threatened to seriously complicate negotiations, both on the lease of the second nuclear submarine and other projects.
2. India to face U.K. in ICJ election
The government is putting "all efforts in" to ensure the election of its nominee Judge Dalveer Bhandari for the International Court of Justice
Officials said on Friday that India failed to secure enough support in the first few rounds of voting for the court where the Kulbhushan Jadhav case is being heard.
What is the process of election?
To be elected, any candidate must obtain a majority of 97 votes or more in the UN General Assembly
They must also have a majority of eight votes in the Security Council.

During the last unsuccessful round, India won 115 to U.K.'s 74 votes in the UNGA, but won only six out of 15 U.N. Security Council members, while U.K. won nine.
India's task is made more difficult, given the U.K. is a permanent member and has a vote in both the UNSC and the UNGA.
Why is it important for India?
India has a particular interest in the ICJ spot, given the trial of Jadhav, the man convicted of spying in Pakistan, which is now in the international court at The Hague.
In October, Pakistan had nominated an ad-hoc judge Tassaduq Hussain Jillani according to ICJ rules to sit on the Bench.
1. GST Council slashes tax rates on 177 items from 28% to 18%
The Goods and Services Tax (GST) Council slashed rates across the board, including for a range of daily items of consumption, relaxed penalties and tweaked rules to make it easier for businesses, especially small and medium enterprises, to comply.
The biggest rationalization was the decision to cut the tax rate on 178 items from 28% to 18%, leaving only 50 items in the highest tax slab and offering major relief to consumers and businesses.
It comes into effect from 15 November, is likely to boost consumer demand, reduce disquiet over compliance costs and also lend fresh momentum to the tax reform initiative.
The tax reductions will, however, result in a revenue loss of about Rs20,000 crore a year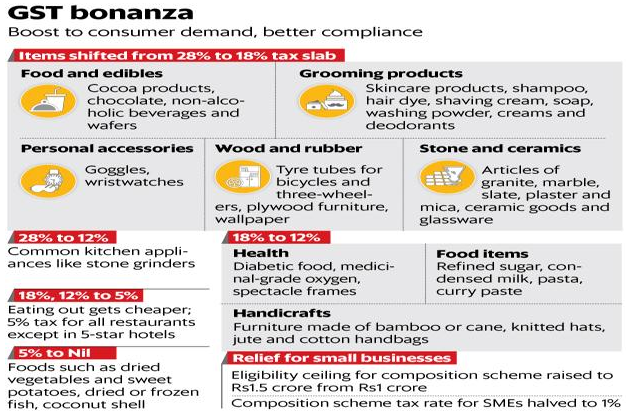 1. Govt. offers free bus rides during odd-even scheme
The Aam Aadmi Party government on Friday announced free bus rides aboard its Delhi Transport Corporation fleet from November 13 to 17, the proposed dates of odd-even car rationing scheme, even as the National Green Tribunal questioned the rationale
According to sources, the free rides are expected to cause a loss of around Rs. 9.5 crore to the cash-strapped public transporter.
The government's decision of free bus rides is subject to the NGT's final call on the odd-even scheme.
Meanwhile, the DTC will operate 500 additional buses under its 'Paryavaran Seva', with half their seats reserved for women.
2. Delhi pollution: NGT says no odd-even unless Delhi govt justifies its necessity
The NGT chairperson noted that the Central Pollution Control Board (CPCB) and Delhi Pollution Control Committee (DPCC) had indicated that no real benefits in reducing air pollution accrued from the odd-even scheme when it was implemented in the past.
Nothing here for Today!!!
Nothing here for Today!!!
F. Practice Questions for UPSC Prelims Exam
Question 1. Consider the following statements.
Payment Portal – MSME Samadhaan was lanched for empowering micro and small entrepreneurs across the country.
MSME Samadhaan directly register their cases relating to delayed payments by Central Ministries/Departments/CPSEs/State Governments.
Select the correct statements
1 only
2 only
Both 1 and 2
None of the above
See
Question 2. If India is experiencing economic growth, then which of the 
following statements must hold true.
Real GDP is increasing
Nominal GDP is increasing
Rate of growth of real GDP is 
increasing
Rate of growth of nominal GDP 
is increasing 

Select the correct answer using the code given below:
1 only
1 and 2 only
1 and 3 only
1 and 4 only
See
Question 3. Consider the following about Convention on the Conservation
of Migratory Species of Wild Animals (CMS).
CMS is an international treaty concluded under aegis of United Nations Environment Programme (UNEP).
Its headquarters are in Bonn, Germany.
It is for second time that the summit is being hosted in India.
Which of the statement/s given above is/are INCORRECT?
1 only
3 only
1 and 3
2 and 3
See
Question 4. INS Chakra
is an indigenously constructed ballistic missile submarine.
is a nuclear propelled, hunter-killer submarine.
is an Akula class Submarine and is to provide escort to INS Arihant.
is a Russian made ballistic missile submarine.
Which of the statement/s given above is/are INCORRECT?
1 only
4 only
1 and 3 only
3 and 4 only
See
Question 5. Look at the following statements about Sukanya Samridhi Yojana
It is subpart of Beti Bachao campaign
Account will remain operative until she reaches 18 age.
For initial account opening, minimum deposit Rs.1000 required
Which of the statements given above is/are correct?
Only 1 and 2
Only 2 and 3
Only 1 and 3
All of the above
See
G. UPSC Mains Practice Questions
GS Paper I
What is Glasnost and perestroika? Did it help the Russian Transformation? Why did USSR collapse?
GS Paper II


India-Russia-China Strategic Co-Operation: Myth or Reality? Critically Comment.
Also, check previous Daily News Analysis
"Proper Current Affairs preparation is the key to success in the UPSC- Civil Services Examination. We have now launched a comprehensive 'Current Affairs Webinar'. Limited seats available. Click here to Know More."
Enroll for India's Largest All-India Test Series