TABLE OF CONTENTS
A.

 GS1 Related




B.

 GS2 Related


POLITY
1. Centre to aid start-ups in cybersecurity push
INTERNATIONAL AFFAIRS
1. Zimbabwe Army seizes power, President Robert Mugabe 'confined to his home'
2. France wants to work with India in Indo-Pacific
3. Australians say 'yes' to same-sex marriage


C.

 GS3 Related


ECONOMY
1. More banks may sign MoUs with govt.
INFRASTRUCTURE
1. Highways to be rated on safety features
ENVIRONMENTAL SCIENCE AND ECOLOGY
1. Delhi to get BS-VI fuel two years early to tackle pollution
INTERNAL SECURITY AND DEFENSE
1. Futuristic combat vehicle plan a game changer: Army


D. 

GS4 Related




E. 

Miscellaneous news


1. All Bihar jails to have videoconferencing: Nitish


F. 

Prelims Fact


G. UPSC Prelims Practice Questions
H. UPSC Mains Practice Questions 
Nothing here for Today!!!
1. Centre to aid start-ups in cybersecurity push
In news:
To encourage development of new technologies in the field of cybersecurity, the Ministry of Electronics and Information Technology will offer challenge grants of up to Rs.5 crore to start-ups to spur research and development.
The government is also in process of setting up a centre of excellence for blockchain technology.
Category: INTERNATIONAL AFFAIRS
1. Zimbabwe Army seizes power, President Robert Mugabe 'confined to his home'
In news:
Zimbabwe's military said it had seized power in a targeted assault on "criminals" around President Robert Mugabe, who were causing social and economic suffering, but came out with an assurance that the 93-year-old leader and his family were "safe and sound".
The army said today it has the President and his wife in custody and was securing government offices and patrolling the capital's streets following a night of unrest.
Turmoil in Zimbabwe:
Mugabe has led Zimbabwe for the last 37 years.
In contrast to his elevated status on the continent, Mr. Mugabe is reviled in the West as a despot whose disastrous handling of the economy and willingness to resort to violence to maintain power destroyed one of Africa's most promising states.
In the last year, a chronic absence of dollars has led to long queues outside banks and an economic and financial collapse that many fear will rival the meltdown of 2007-2008, when inflation topped out at 500,000,000,000%.
Imported goods are running out and economists say that, by some measures, inflation is now at 50% a month.
2. France wants to work with India in Indo-Pacific
In news:
France will like to deepen cooperation with India in the Indo-Pacific bilaterally and not as a part of a multilateral arrangement like the recently convened "quadrilateral" between India, U.S., Japan and Australia.
France's Ambassador Alexandre Ziegler announcement:

"We have a growing cooperation in the Indian Ocean, where both India and France have focal positions, and we are in the process of forming a defence and security partnership in the Indo-Pacific,"
This new cooperation would be discussed as part of the strategic partnership along with cooperation in counter-terrorism, defence hardware, nuclear energy, and space cooperation during the upcoming visit of Foreign Minister Jean-Yves Le Drian to India.
Large territory:
France is the only western country with large territory in the Indian Ocean Region (IOR) including the Reunion Islands, that spans about two million square kilometres of an Exclusive Economic Zone (EEZ), and it has a population of one million French Citizens in the region, including about 30% of Indian origin.
The French navy maintains bases in the UAE, Djibouti as well as in Reunion, with a total of 20,000 forces permanently based in the IOR.
France is India's oldest strategic partner, and has conducted India's first international 'Varuna' joint naval exercises since 1983.
3. Australians say 'yes' to same-sex marriage
In news:
Celebrations swept across Australia as voters emphatically endorsed same-sex marriage after more than a decade of divisive debate, and political leaders immediately began moves to enshrine the historic shift in law by Christmas.
Almost 62% of the 12.7 million people who participated voted "yes" to the question: "Should the law be changed to allow same-sex couples to marry?" Just 38.4% voted "no", according to the Australian Bureau of Statistics, which carried out the poll.
Nearly 80% of eligible voters took part in the poll, with the "yes" vote winning a majority in all of Australia's States and territories.
1. More banks may sign MoUs with govt.
In news:
The government is planning to ask more public sector banks to enter into an agreement with it if they want more capital, provided banks improve their performance.
Earlier, the government had entered into an agreement with 11 banks, and had asked them to submit a turnaround plan and had linked capital infusion with the pace of turnaround.
In the earlier round of MoUs, banks were asked to achieve several parameters such as reduction in gross non-performing assets, increase in recovery, restriction of slippages, among others. In other words, capital infusion in these laggard banks were to be linked to their performance.
Recently, the government had announced a capital infusion of Rs.11 lakh crore in public sector banks over two financial years, starting from the current fiscal.
Of the amount, the government plans to issue recapitalisation bonds worth Rs.35 lakh crore and the remaining would come from budgetary provisions and fund raising by banks from the market.
1. Highways to be rated on safety features
In news:
In a bid to make Indian roads safer and curb fatalities, a global charity unveiled an India Road Assessment Programme (IndiaRAP) that will rate highways' safety levels, and seek to eliminate the most unsafe roads.
The ratings are assigned on the basis of the level of safety which is 'built-in' to a road for vehicle occupants, motorcyclists, bicyclists and pedestrians.
Five-star roads are the safest while one-star roads are the least safe.
The IndiaRAP programme is being supported by FedEx Express and will be hosted by the Asian Institute of Transport Development, and will work with government agencies as well as investors, researchers and NGOs to assess existing highways and promote the use of better design to make roads safer.
Category: ENVIRONMENTAL SCIENCE AND ECOLOGY
1. Delhi to get BS-VI fuel two years early to tackle pollution
In news: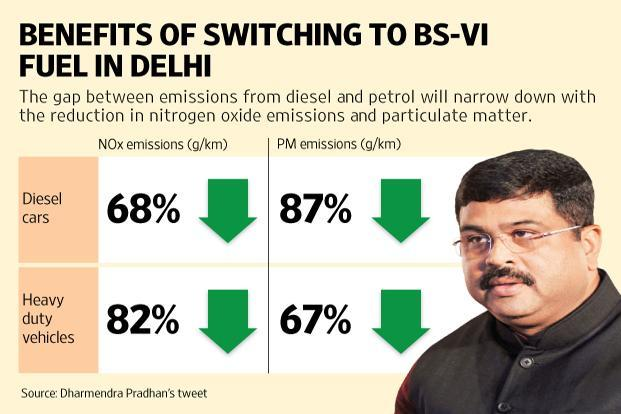 The world's cleanest fuel will be introduced in the national capital two years earlier than planned, the Union government said on Wednesday as it seeks to reduce vehicular pollution.
Bharat Stage VI (BS-VI) fuel will now be available with effect from 1 April 2018 in Delhi, the petroleum ministry said, and added that it is examining the possibility of introducing BS-VI fuel across the national capital region by 1 April 2019.
Positive impact: This measure is expected to help mitigate the problem of air pollution in NCT of Delhi and surrounding areas.
Key Fact: In January last year, the Bharatiya Janata Party-led National Democratic Alliance decided to move the country up to BS-VI from the current BS-IV standards by 2020, skipping an intermediate level.
Key Stats:
A 2016 report by Indian Institute of Technology, Kanpur, showed that cars and jeeps emit less than 10% of particulate matter, while trucks are the bigger culprits.
A big contributor to Delhi's air pollution is road dust, which accounts for about 35% of tiny particles known as PM 2.5 in the air, followed by vehicles at 25%.
Other contributors are domestic cooking, power plants and industries.
PM 2.5 are tiny particles in the air that reduce visibility and cause the air to appear hazy when levels are elevated.
Seattle-based Global Burden of Disease Study estimates that 586,787 premature deaths in India were attributable to fine particulate matter pollution in 2013.
NOx, or oxides of nitrogen, are also major pollutants. They are a family of poisonous, highly reactive gases that form when fuel is burned at high temperatures.
Category: INTERNAL SECURITY AND DEFENSE
1. Futuristic combat vehicle plan a game changer: Army
Key points:
The two ambitious projects- Futuristic Infantry Combat vehicle (FICV) and Future Ready Combat Vehicle (FRCV) programmes, to equip the Army with futuristic combat vehicles are a game changer for the Indian industry.
The FICV is an ambitious effort to indigenously design and manufacture a futuristic infantry vehicle by the private industry by roping in foreign Original Equipment Manufacturers.
The Army has a requirement for more than 2,600 vehicles.
On the other hand, the FRCV is a tender for the procurement of futuristic tanks through the Strategic Partnership model.
Nothing here for Today!!!
1. All Bihar jails to have videoconferencing: Nitish
In news:
Bihar Chief Minister Nitish Kumar announced that all jails in the State would have videoconferencing facility from next year.
He also inaugurated 56 telephone exchanges at 30 jails, canteen facility for prisoners in 11 jails and laid foundation stones for multipurpose auditoriums at eight Central jails of the State.
Advantages: All jails in the State will have videoconferencing facility, which would do away with the need for taking undertrials to the court for hearing of their cases. This will also ensure speedy dispensation of justice
Nothing here for Today!!!
G. Practice Questions for UPSC Prelims Exam
Question 1. India has: [CDS 1992]
Socialistic economy
Gandhian economy
Mixed economy
Free economy
See
Question 2. The salaries of the Judges of the Supreme Court of India:
Can never be reduced under any circumstances
Can be reduced during their term of office
Cannot be reduced during the term of their office except during a financial emergency
Are fixed by President of India
See
Question 3. During the Mughal rule the finance minister was known as
Vakil
Diwan
Kotwal
Amin
See
Question 4. The latitude of a place expresses its angular position relative to the plane of
Axis of the Earth
Equator
North pole
South pole
See
Question 5. The constitution of India is republican because it 
provides for an elected Parliament
provides for adult franchise
contains a bill of rights
has no hereditary elements
See
H. UPSC Mains Practice Questions
GS Paper II
Does the Rights of Persons with Disabilities Act, 2016 ensure effective mechanism for empowerment and inclusion of the intended beneficiaries in the society? Discuss.
GS Paper III
India has achieved remarkable successes in unmanned space missions including the Chandrayaan and Mars Orbitter Mission, but has not ventured into manned space mission, both in terms of technology and logistics? Explain critically.
Also, check previous Daily News Analysis
"Proper Current Affairs preparation is the key to success in the UPSC- Civil Services Examination. We have now launched a comprehensive 'Current Affairs Webinar'. Limited seats available. Click here to Know More."
Enroll for India's Largest All-India Test Series