TABLE OF CONTENTS
A.

 GS1 Related




B.

 GS2 Related


POLITY
1. SC for nationwide ban on furnace oil, pet coke
2. Aadhaar relief for NRIs, PIOs & OCIs; UIDAI says identity be sought only from those eligible
INTERNATIONAL AFFAIRS/BILATERAL RELATIONS
1. India, France to enhance counter-terror ties


C.

 GS3 Related


ECONOMY
1. Economy gets Moody's thumbs up
2. After Moody's, all eyes on S&P, Fitch Ratings
SCIENCE AND TECHNOLOGY
1. 'PSLV built by domestic industry by 2020'
ENVIRONMENTAL SCIENCE AND ECOLOGY
1. Delhi smog: Gulf dust storm had a bigger role than stubble burning
2. Bonn climate change conference nears end amidst calls to phase out coal


D. 

GS4 Related




E. 

Prelims Fact


F. UPSC Prelims Practice Questions
G. UPSC Mains Practice Questions 
Nothing here for Today!!!
1. SC for nationwide ban on furnace oil, pet coke
In news:
The Supreme Court requested all States and Union Territories to move forward towards a nationwide ban on the use of pet coke and furnace oil to power up industries, in a bid to fight pollution.
The Environment Bench of the Supreme Court had already ordered a ban on the industrial use of pet coke and furnace oil in the States of Uttar Pradesh, Haryana and Rajasthan on October 24.
Why ban?
This ban specifically came after an Environment Pollution Control Authority Report recommended the ban on sale, distribution and use of furnace oil and pet coke in the National Capital Region (NCR). Their use is already prohibited in Delhi.
On October 24, the apex court also imposed a fine of ₹2 lakh on the Ministry of Environment for not fixing any emission standards for industries using pet coke and furnace oil in the NCR.
2. Aadhaar relief for NRIs, PIOs & OCIs; UIDAI says identity be sought only from those eligible
In news:
Bringing relief to millions of Non Resident Indians (NRIs), Persons of Indian Origin (PIOs) and Overseas Citizens of India (OCIs), the Unique Identification Authority of India (UIDAI) has said that Aadhaar as an identity document should be sought only from those who are eligible for the unique ID as per the Aadhaar (Targeted Delivery of Financial and Other Subsidies, Benefits and Services) Act, 2016.
This means that government agencies can now exempt those belonging to these categories from furnishing Aadhaar identity for availing services as they are not eligible for enrolling for the unique ID.
The circular stated that the Prevention of Money Laundering (Maintenance of Records) Rules, 2017 and the Income Tax Act, 1961 clearly stipulate that the linking of Bank Accounts and PAN respectively is for those persons who are eligible to enrol for Aadhaar as per the Aadhaar Act, 2016.
And individuals who were not assigned Aadhaar numbers shall be offered alternate and viable means of delivery of subsidy, benefit or service.
Need:
What made the situation tricky for NRIs, PIOs and OCIs is that the Act as it stands today, allows only "residents" of India to enroll for the unique identity.
The circular said the UIDAI had received several representations from these sections, informing about difficulties faced by them as various authorities demanded Aadhaar from them in respect of various services/benefits etc like maintaining existing NRE and NRO bank accounts and appearance by students in different exams in India.
The Aadhar Act, 2016
The Act says every resident shall be entitled to obtain an Aadhaar number by submitting his demographic information and biometric information by undergoing the process of enrolment.
Who is a resident is further defined as an individual who has resided in India for a period or periods amounting in all to one hundred and eighty-two days or more in the twelve months immediately preceding the date of application for enrolment.
Category: INTERNATIONAL AFFAIRS/BILATERAL RELATIONS
1. India, France to enhance counter-terror ties
In news:
India and France decided to enhance counter- terror cooperation, and asked the international community to oppose those financing, sheltering and providing safe havens to terrorists.
On maritime security, the two sides discussed growing cooperation in the Indian Ocean Region.
Press statement:
"We expressed grave concern on growing terrorism and decided that we need to fight the evil together. We appealed to all countries to oppose those financing, sheltering and providing safe havens to terrorists,"
1. Economy gets Moody's thumbs up
Context:
Moody's upgrades sovereign rating, expects high growth to continue as a result of ongoing reforms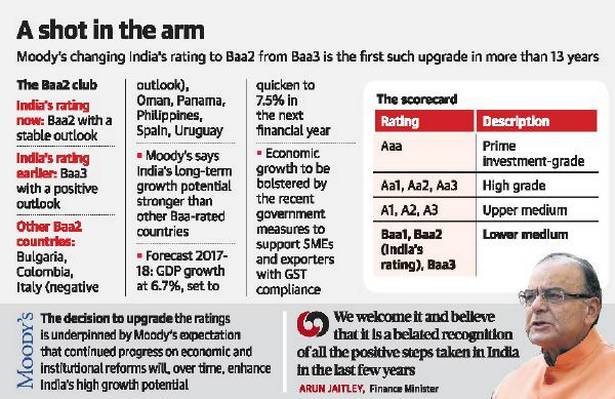 In news:
Global credit rating agency Moody's Investors Services raised India's sovereign rating for the first time in 13 years, citing the country's high growth potential in the years to come, thanks to economic and institutional reforms.
Main inference: The continued progress on economic and institutional reforms will, over time, enhance India's high growth potential and its large and stable financing base for government debt, and will likely contribute to a gradual decline in the general government debt burden over the medium term.
Upgrade:
The Indian government's rating as a local and foreign currency issuer from Baa3 with a positive outlook to Baa2 with a stable outlook.
Borrowing obligations rated Baa2 are subject to moderate credit risk. They are considered medium grade and as such may possess certain speculative characteristics.
Baa3, by contrast, was the lowest investment grade rating.
On debt-to-GDP ratio
Moody's expects India's debt-to-GDP ratio to rise by about one percentage point this fiscal year to 69% of GDP
Other comments by the rating agency
The rating agency agreed that a lot remains to be done such as fixing the GST's implementation challenges, weak private sector investment and the slow resolution of banking bad loans
Moody's said it expects at least some of these issues to be addressed over time and will help further improve the Indian government's effectiveness and overall institutional framework
Basic Information:
Moody's Investors Service
Moody's Investors Service, often referred to as Moody's, is the bond credit rating business of Moody's Corporation, representing the company's traditional line of business and its historical name
Moody's Investors Service provides international financial research on bonds issued by commercial and government entities
Moody's, along with Standard & Poor's and Fitch Group, is considered one of the Big Three credit rating agencies
The company ranks the creditworthiness of borrowers using a standardized ratings scale which measures expected investor loss in the event of default. Moody's Investors Service rates debt securities in several bond market segments
These include government, municipal and corporate bonds; managed investments such as money market funds and fixed-income funds; financial institutions including banks and non-bank finance companies; and asset classes in structured finance
In Moody's Investors Service's ratings system, securities are assigned a rating from Aaa to C, with Aaa being the highest quality and C the lowest quality
2. After Moody's, all eyes on S&P, Fitch Ratings
In news:
Rating agency Moody's upgraded India's sovereign rating after a gap of almost 14 years
The attention is now on the other two global rating agencies, Standard & Poor's and Fitch Ratings
Chief Economic Advisor's views
Chief Economic Adviser Arvind Subramanian hopes that rating agencies might not be inconsistent amongst each other
Subramanian had earlier observed that ratings agencies followed inconsistent policies while rating India as opposed to awarding ratings to China
S&P's view about the upgrade
In October, S&P had said the country needed to improve its fiscal position for a rating upgrade
For an upgrade, India would have to address its weak fiscal balance sheet and weak fiscal performance
India has one of the highest general government debt-to-GDP levels (68%) among emerging market sovereigns
A potential rating upgrade is likely to come from improved fiscal performance
Government's limitations
Year after year, the fiscal deficit remains relatively large with the interest burden and subsidies taking a big chunk of government spending
So there's not a lot of room for the government to maneuver, despite pressing infrastructure needs
Category: SCIENCE AND TECHNOLOGY
1. 'PSLV built by domestic industry by 2020'
In news:
ISRO is preparing to hand over the entire gamut of launch vehicle manufacture to domestic industry by 2020
Efforts are on to set up a consortium of companies for the purpose
Contributions of Private Industry in ISRO's missions
Until now, public and private industries have only supplied devices, components and sub-systems for ISRO's launch vehicles, including the PSLV and the GSLV
ISRO already has a partnership with private industry to produce satellites
The IRNSS-1H communication satellite aboard the ill-fated PSLV C-39 was the first to be produced by a consortium of six companies
ISRO had a partnership with about 500 domestic industries for the supply of various components and devices
Expectations
ISRO stressed on the need for industry to reduce the manufacturing and material cost without compromising on quality to bring down the launch cost
ISRO had tightened tolerance to error following the failure of the PSLV- C39 mission
Category: ENVIRONMENTAL SCIENCE AND ECOLOGY
1. Delhi smog: Gulf dust storm had a bigger role than stubble burning
Reason for Delhi Smog apart from Stubble Burning:
Besides stubble burning, a "multi-day dust storm" in Iraq, Kuwait and Saudi Arabia was the main cause of Delhi's smog between November 6 and 14.
According to a study by the System of Air Quality And Weather Forecasting And Research (under the Ministry of Earth Sciences) and India Meteorological Department (IMD).
Key Points:
There was a large multi-day dust storm that emerged in Iraq, Kuwait and Saudi Arabia in the last week of October 2017 and continued up to November 3 and 4. This dust storm was carried by relatively cool winds.
Winds at a height and low wind speed close to the surface meant that the pollutants were carried towards Delhi.
Also, stubble burning in Punjab, Uttar Pradesh and Haryana was very high on November 6 and upper-air winds became North Westerly (towards Delhi) with high speed and started pumping pollution in Delhi.
The study says that the dust storm was responsible for 40 percent of the pollution on November 8, when the average air quality index was 478, indicating "severe" levels of pollution.
While stubble burning was responsible for 25 percent of the pollution, "local sources" also played a role.
Multiday Storm:
According to the study, if external sources had not affected air quality, the average concentration of PM 2.5 would have been about 200micrograms per cubic meter instead of 640 micrograms per cubic meter
Weather Conditions in Delhi
The weather conditions that persisted locally between November 8 and 14 were calm winds, cool temperature, inversion layer trapped pollution within Delhi territory.
Impact of measures taken under Graded Action Plan
According to the SAFAR and IMD report, the imposition of emergency measures such as a ban on construction and entry of trucks in Delhi made a positive difference of around 15 percent
2. Bonn climate change conference nears end amidst calls to phase out coal
In news:
The New Initiative- The Global Alliance To Power Past Coal
A new initiative, led by the United Kingdom and Canada, to phase-out the use of coal for electricity generation was launched at the COP-23 at Bonn
It seeks to bring together countries, regions, and cities to commit themselves to phase-out of coal within their jurisdictions within their chosen timelines
A declaration by the newly-launched alliance said that coal phase-out needed to be carried out no later than by 2030 in the OECD and EU countries
And no later than by 2050 in the rest of the world to meet the temperature goals set in the Paris Agreement.
According to the declaration phasing out traditional coal power is one of the most important steps to tackle climate change and meet commitment to keep global temperature increase well below 2 degree Celsius (compared to pre-industrial times), and to pursue efforts to limit it to 1.5 degree Celsius
Eighteen countries and a few states from the United States and Canada joined the alliance at the time of its launch
The alliance says it hopes to have at least 50 partners by next year's climate change conference.
The global alliance launched is a fantastic example of the leadership needed to win the race against climate change
Financing:
The French President promised to compensate for the loss of American funding to the Intergovernmental Panel on Climate Change (IPCC) which carries out periodic assessments of climate change science and whose recommendations provide the scientific foundation to the international climate negotiations
Other Announcements:
An important agreement on 'pre-2020 actions' was announced.
And also four European countries agreed to ratify the Doha amendments to the Kyoto Protocol.
A new 'border tax' to protect the economy of Europe from imports from countries that do not respect these (climate) goals and are not supporting the environmental transition was also proposed by French President.
Countries agreed to organize a series of workshops to explore ways to climate-proof agriculture
Nothing here for Today!!!
Black Rod
It is a senior officer in the House of Lords. He is responsible for controlling access to and maintaining order within the House and its precincts.

The Clerk of the Parliaments, to whom Black Rod reports, is in overall charge of the administration of the House, which provides all other services for Members of the Lords.

The post is most visible at the annual state opening of parliament, when Black Rod is sent from the Lords to the House of Commons to summon MPs to hear the Queen's speech.

The ceremony involves the door to the Commons being slammed in Black Rod's face. He – as it has been until now – uses his staff to knock three times on the door and gain admittance.

Black Rod is also officially responsible for royal sections of parliament, such as the robing room and the royal gallery. They report to the clerk of the parliaments, who is in overall charge of the administration of the houses.
Context

Sarah Clarke becomes first female Black Rod after 669 years.
F. Practice Questions for UPSC Prelims Exam
Question 1. The Vindhyan system of rocks is important for the production of
precious stones and building materials
iron ore and manganese
bauxite and mica
copper and uranium
See
Question 2. The primary purpose of constructing the Farakka barrage is to: [CDS 1999]
preserve and maintain navigation
supply drinking water
meet the chronic power shortage
bring additional areas into irrigation
See
Question 3. Which of the following is called a 'banker's cheque'?
Demand draft
Debit card
Pay order
Fixed deposit
See
Question 4. Who was the author of Kitab-ul-Hind?
Abu Said
Abul Fazl
Firadausi
Al-Beruni
See
Question 5. Sunderbans delta is facing potential threats due to
Global warming induced sea level rise leading to coastal erosion
Freshwater flows from Brahmaputra and Meghna
Which of the above is/are correct?
1 only
2 only
Both 1 and 2
None
See
G. UPSC Mains Practice Questions
GS Paper II
Hunger and Poverty are the biggest challenges for good governance in India still today. Evaluate how far successive governments have progressed in dealing with these humongous problems. Suggest measures for improvement.
GS Paper III
Stem cell therapy is gaining popularity in India to treat a wide variety of medical conditions including leukaemia, Thallessemia, damaged sornea and several burns. Describe briefly what stem cell therapy is and what advantages it has over other treatments?
Also, check previous Daily News Analysis
"Proper Current Affairs preparation is the key to success in the UPSC- Civil Services Examination. We have now launched a comprehensive 'Current Affairs Webinar'. Limited seats available. Click here to Know More."
Enroll for India's Largest All-India Test Series