TABLE OF CONTENTS
A.

 GS1 Related




B.

 GS2 Related


POLITY
1. Carry oxygen cylinders on all trains: SC to Railways
INTERNATIONAL AFFAIRS/BILATERAL RELATIONS
1. In bluntest ever remarks, US talks up India to counter China
2. India seeks flexible LNG deals, IEA says it's happening
3. India, European Union restart talks on civil nuclear agreement
HEALTH ISSUES
1. 7 deadly pesticides world has banned used in India


C.

 GS3 Related


ECONOMY
1. Outstanding credit grows 14.6% in 1 year; non-food loans fall to 13.6%
ENVIRONMENTAL SCIENCE AND ECOLOGY
1. 'Govts slept over alert on illegal cotton seeds'
2. Fiji to sell world's first climate-change 'green' bonds


D. 

GS4 Related




E. 

Prelims Fact


F. UPSC Prelims Practice Questions
G. UPSC Mains Practice Questions 
Nothing here for Today!!!
1. Carry oxygen cylinders on all trains: SC to Railways
In news:
The Supreme Court has made it mandatory for the railways to keep oxygen cylinders in all trains to ensure that the life-saving gas could be provided to travellers suffering from respiratory problems in case of emergency.
The Supreme Court also directed the railways to take assistance of doctors from AIIMS to explore ways to put in place a system in moving trains to provide medical treatment to travellers if they take ill.
The court passed the order on an appeal filed by the Centre challenging the Rajasthan high court's order directing the railways to provide a team of one medical officer, one nurse and one attendant in all long-distance trains to cater to the medical needs of passengers.
Category: INTERNATIONAL AFFAIRS/BILATERAL RELATIONS
1. In bluntest ever remarks, US talks up India to counter China
Highlights of Secretary of State Rex Tillerson address to the Washington think-tank: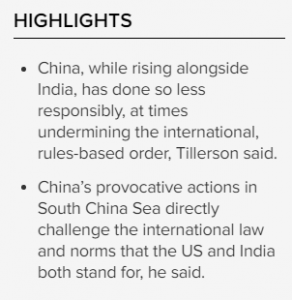 United States and India are "two bookends of stability on either side of the globe,"
Trump administration bluntly proposed that Washington and New Delhi work together in the Indo-Pacific region to counter the disruptive force that China has become.
Trump's America sought to woo New Delhi to counter Beijing's growing assertiveness in the region and beyond.
"The United States seeks constructive relations with China. But we won't shrink from China's challenges to the rules-based order, or where China subverts the sovereignty of neighboring countries, and disadvantages the US and our friends".
In this period of uncertainty and angst, India needs a reliable partner on the world stage. U.S wants to make clear: with our shared values and vision for global stability, peace and prosperity, the United States is that partner."
China's provocative actions in the South China Sea directly challenge the international law and norms that the United States and India both stand for.
Beacons of the Indo-Pacific:
The world's center of gravity is shifting to the heart of the Indo-Pacific. The United States and India – with our shared goals of peace, security, freedom of navigation, and a free and open architecture – must serve as the eastern and western beacons of the Indo-Pacific.
We need to collaborate with India to ensure that the Indo-Pacific is increasingly a place of peace, stability, and growing prosperity – so that it does not become a region of disorder, conflict and predatory economics.
Warning to China's client:
Tillerson also issued a blunt warning to China's client state Pakistan, saying "states that use terror as an instrument of policy will only see their international reputation and standing diminish" and "it is the obligation, not choice, of every civilized nation to combat the scourge of terrorism" and the United States and India are leading that regional effort together.
2. India seeks flexible LNG deals, IEA says it's happening
In news:
International Energy Agency notes: Liquid gas contracts are shedding their rigidity and becoming more flexible as regional systems gradually merge into an interlinked global market in an oversupplied situation.
Key points:
Flexible contract regime will help optimise cost of supplies and allow countries such as India to rapidly develop a gas-driven economy as part of strategy to reduce carbon footprint.
Till now liquid gas trade has been confined to regional contracts with rigid terms, often biased in favour of the seller and offering little legroom for buyers. This is changing in the wake of fall in gas prices in tune with drop in oil prices and rise of the US fracking industry.
The renegotiations have made gas more affordable for India and will result in huge savings to the economy.
Basic Information:
International Energy Agency
The International Energy Agency (IEA) is a Paris-based autonomous intergovernmental organization established in the framework of the Organisation for Economic Co-operation and Development (OECD) in 1974 in the wake of the 1973 oil crisis.
The IEA was initially dedicated to responding to physical disruptions in the supply of oil, as well as serving as an information source on statistics about the international oil market and other energy sectors.
The IEA acts as a policy adviser to its member states, but also works with non-member countries, especially China, India, and Russia.
The Agency's mandate has broadened to focus on the "3Es" of effectual energy policy: energy security, economic development, and environmental protection. The latter has focused on mitigating climate change. The IEA has a broad role in promoting alternate energy sources (including renewable energy), rational energy policies, and multinational energy technology co-operation.
What is 'Fracking'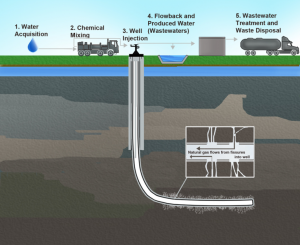 Fracking is a term used for hydraulic fracturing, which is the process of creating fractures in rocks and rock formations by injecting specialized fluid into cracks to force them to open further. The larger fissures allow more oil and gas to flow out of the formations and into the wellbore, from where they can be easily extracted.
Fracking has resulted in many oil and gas wells attaining a state of economic viability due to the level of extraction that can be reached, and has allowed drilling firms access to previously difficult-to-reach sources of oil and gas.
3. India, European Union restart talks on civil nuclear agreement
In news:
India and European Union have restarted negotiations on a civil nuclear agreement that was virtually stalled after being signed way back in 2009.
European Union experts from Brussels held discussions with officials from department of atomic energy last week in Mumbai.
Moving beyond their stalled free trade agreement: With Europol beginning a working relationship with India's NIA to tackle terrorism and track terror groups that might target either side, there is a greater emphasis on security, counter-terrorism and foreign policy between India and EU, indicating the two are moving beyond their stalled free trade agreement.
India-EU civil nuclear agreement: focuses on nuclear safety and "non-power technologies in the areas of water, health care and medicine, environment, etc."
New interest in cooperating on maritime security: EU has asked India to escort World Food Program (WFP) ships through the Indian Ocean as they travel to African states with food aid, recognising India's capacities and intentions of being a security provider in the Indian Ocean.
1. 7 deadly pesticides world has banned used in India
Context:
Recent deaths of farmers due to pesticide poisoning in Yavatmal and other districts of Maharashtra have opened up a debate over the rationale of using all such pesticides in India which are either banned or restricted elsewhere in the world due to their high toxicity
In News: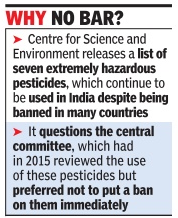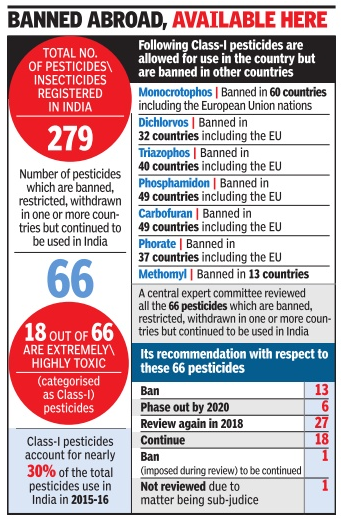 The Delhi-based Centre for Science and Environment has come out with a list of seven extremely or highly hazardous pesticides which continue to be used in India despite these being banned in many countries.
The think tank questioned the central committee, headed by IARI scientist Anupam Verma, which had in 2015 reviewed the use of these pesticides but preferred not to ban them immediately.
Seven hazardous pesticides are on the list of 18 Class-I (classified as extremely/highly hazardous), which accounted for nearly 30% of the total pesticide use in India in 2015-16.
Though the central committee had reviewed use of 66 pesticides and recommended ban on 13 of them from 2018 and phasing out of six others by 2020, allowing the use of others in the list till the next review is something which bothers researchers and farm experts.
Referring to international code of conduct on pesticide management, the CSE flagged a provision which says all pesticides whose handling and application require the use of personal protective equipment that is uncomfortable, expensive or not readily available should be avoided, especially in the case of small-scale users and farm workers in hot climates.
The think-tank said that the pesticides such as Monocrotophos, Oxydemetonmethyl, Acephate and Profenophos were believed to be responsible for the deaths and illness in Maharashtra.
Pesticides like Monocrotophos and Oxydemeton-methyl are considered Class-I pesticides by the World Health Organisation (WHO). Class-I pesticides can be are banned in several countries.
1. Outstanding credit grows 14.6% in 1 year; non-food loans fall to 13.6%
Context:
Outstanding credit loans, bonds and commercial papers (CPs) grew 14.6 per cent year-on-year (y-o-y) between September 30, 2016 and September 30, 2017.
But in the same period last year the growth had been lower at 13.8 per cent.
The growth in other areas:
The growth in non-food credit in the fortnight to September 29, 2017, was slightly lower at 13.6 per cent y-o-y.
The net corporate bonds outstanding as at the end of September, was also up by 18 per cent as per latest data released by the Securities and Exchange Board of India (Sebi).
Data from RBI showed that the net outstanding on commercial papers stood has also increased from last year.
Why is there growth in outstanding credit ?
With banks increasingly participating in the bond markets, the share of bonds in total credit is rising.
Higher-rated corporates have in recent days chosen to borrow from the markets rather than from banks as the former route has turned out to be cheaper.
Bankers and sector analysts have in recent days made a case for measuring credit growth in terms of outstandings on loans as well as bonds as better-rated corporates are borrowing increasingly from the money markets.
Between June 2016 and June 2017, around Rs 40,000 crore had moved from the bank's loan book to the markets.
A large portion of it about 70 per cent of it is in the CPs, or commercial papers. These commercial papers swing between the loan book and the markets, depending on the price, availability, etc.
Category: ENVIRONMENTAL SCIENCE AND ECOLOGY
1. 'Govts slept over alert on illegal cotton seeds'
Context:
US giant Monsanto, which sells genetically modified seeds in India, had informed the Centre about the illegal sale and cultivation of herbicide tolerant (HT) variety cotton in 2008.
Centre failed to take any actions to prevent the same.
In news:
In a letter dated 2008, Monsanto had said that HT cotton was being "grown without the statutory approval of GEAC. The farmers were being offered cotton seeds with HT trait at a premium without valid documents and safety assessment which may impact the produce".
Key Fact:
Currently, HT cotton is grown in about 8.5 lakh hectares in four major cotton-growing states of the country – Gujarat, Andhra Pradesh, Madhya Pradesh and Maharashtra. HT cotton packets did a business of Rs 472 crore this season.
Today, desperate farmers, looking for lower input costs, are willing to pay Rs1200-1,500 per packet for HT seeds, when the price for Bt cotton at Rs 800 per packet.
2. Fiji to sell world's first climate-change 'green' bonds
In news:
Fiji will issue a $50 million "green" bond to help combat the effects of global climate change, the first developing country to do so.
Usability of the fund raised:
The bond will be the first to earmark the cash raised to address the issue, according to the World Bank.
The country will also use some of the proceeds to reduce its carbon dioxide emissions.
Key Fact:
The Pacific Island nation is seen as particularly vulnerable to climate change, with some of its 300 low-lying islands susceptible to rising seas.
Poland and France have also issued sovereign green bonds to raise funds for renewable power, subsidize energy-efficient buildings, tree planting and other environmental projects.
The global "green" bond market is expected to reach $134.9 billion in 2017, according to the World Bank.
Nothing here for Today!!!
Nothing here for Today!!!
F. Practice Questions for UPSC Prelims Exam
Question 1. Recently, which particular country issued the "green bond" to combat
the effects of global climate change?
[A] Japan [B] China [C] India [D] Fiji
See
Question 2. Consider the following statements?
International Energy Agency is an organization that comes under U.N. body.
India is a member of International Energy Agency.
Choose the correct options
[A] 1 only [B] 2 only [C] Both 1 and 2 [D] Neither 1 nor 2
See
Question 3. Mundaka Upanishad, the Mandukya Upanishad and the Prashna 
Upanishad are associated with which of the following Vedas?
[A] Atharva-Veda [B] Rig-Veda [C] Sama-Veda [D] Yajur-Veda
See
Question 4. Bank Rate is defined as the rate at which:
[A] RBI lends short term loans to commercial banks [B] A commercial bank can lend to its customers [C] RBI lends long term loans to commercial banks [D] The commercial banks are able to borrow overnight funds from RBI
See
Question 5. Consider the following statements about National Bureau of Animal 
Genetic Resources (NBAGR):
It works for the conservation and utilization of livestock and poultry genetic resources.
It designs methodologies for ex situ and in situ conservation of farm animals.
Which of the above statements is/are correct?
[A] 1 only [B] 2 only [C] Both 1 and 2 [D] Neither 1 nor 2
See
G. UPSC Mains Practice Questions
GS Paper II
Examine the functioning of Judicial Review in the Indian Political system.
GS Paper IV
You are a young, aspiring and sincere employee in a Government office working as an assistant, to the director of your department. Since you've joined recently, you need to learn and progress. Luckily your superior is very kind and ready to train you for your job. He is a very intelligent and well-informed person having knowledge of various departments. In short, you respect your boss and are looking forward to learn a lot from him.
Since you've good tuning with the boss, he started depending on you. One day due to ill health he invited you at his place for finishing some urgent work. You reached his house and you heard shouting noises before you could ring the bell. You waited for a while. After entering, boss greeted you and explained the work. But you were constantly disturbed by the crying of a woman. At last, you inquired with the boss but his answer did not satisfy you. Next day, you were compelled to inquire further in the office and found out that his behavior is very bad at home with his wife. He also beat up his wife.
His wife is not well educated and is a simple woman in comparison to her husband. You see that though your boss is a nice person in the office, he is engaged in domestic violence at home. In such a situation, you are left with the following options. Analyze each option with its consequences.
I. Just ignore thinking about it because it is their personal matter.
II. Report the case to the appropriate authority.
III. Your own innovative approach towards the situation. (250 words)
Also, check previous Daily News Analysis
"Proper Current Affairs preparation is the key to success in the UPSC- Civil Services Examination. We have now launched a comprehensive 'Current Affairs Webinar'. Limited seats available. Click here to Know More."
Enroll for India's Largest All-India Test Series