TABLE OF CONTENTS
A.

 GS1 Related




B.

 GS2 Related


POLITY
1. U.P. plans to digitise medical college records
2. Centre eases norms for sewage plants
3. National anthem in movie halls: SC asks why do people have to wear patriotism on 
sleeve
4. HC orders penal action over manual scavenging
5. Centre tweaks groundwater extraction rules for industry 
6. New policy on the cards to boost medical tourism
7. The gown and the Bench
INTERNATIONAL AFFAIRS/BILATERAL RELATIONS
1. Not just strategic ties with Dhaka: Sushma
HEALTH ISSUES
1. Has hunger increased in India in recent years?


C.

 GS3 Related


INTERNAL SECURITY 
1. Law And Immunity 


D. 

GS4 Related




E. 

Prelims Fact


F. UPSC Prelims Practice Questions
G. UPSC Mains Practice Questions 
Nothing here for Today!!!
1. U.P. plans to digitise medical college records
In news:
The Uttar Pradesh government is planning to start an 'E-hospital' facility at State-run medical colleges.
The six medical colleges of Kanpur, Jhansi, Agra, Meerut and Gorakhpur, and the Laxmipat Singhania Institute of Cardiology in Kanpur, have been picked for the implementation of the new facility under the first phase.
E-hospital facility to include: Case histories of patients, and information related to hospital staff and stocks of medicines.
Apart from E-hospitals, the government has also formed a Medical Education Strategy Cell (MESC), the first of its kind in the State, to create a roadmap for phase-wise improvements in the medical education sector.
2. Centre eases norms for sewage plants
In news:
New Plan: The Central Pollution Control Board (CPCB) has relaxed standards for upcoming sewage treatment plants (STP), including those to come up on extremely polluted stretches of the Ganga.
Earlier standards:
As per 2015-proposal the standard set for STP's was higher: they would have to ensure that the biochemical oxygen demand (Bod) — a marker for organic pollutants — in the treated water had to be no more than 10 mg/litre.
New notification issued:
A notification by the Union Environment Ministry this month has junked the 10 mg/litre target.
It says that STPs coming up after June 2019 — except in major State capitals and metropolitan cities — need only conform to 30 mg/litre of BoD.
These include proposed STPS to treat sewage in stretches of the river downstream of Haridwar, including Kanpur and Allahabad in Uttar Pradesh.
New STPs in State capitals, however, have to cap BoD at 20 mg/litre.
Why such a move to ease the norms?
The 10 mg criteria was impractical and required advanced technology that was too costly for most States.
Basic Information:
Biochemical oxygen demand
Biochemical oxygen demand (BOD), also called biological oxygen demand) is the amount of dissolved oxygen (DO) needed (i.e., demanded) by aerobic biological organisms to break down organic material present in a given water sample at certain temperature over a specific time period.
The BOD value is most commonly expressed in milligrams of oxygen consumed per litre of sample during 5 days of incubation at 20 °C and is often used as a surrogate of the degree of organic pollution of water.
BOD can be used as a gauge of the effectiveness of wastewater treatment plants.
Why is BOD important?
Biochemical Oxygen Demand is an important water quality parameter because it provides an index to assess the effect discharged wastewater will have on the receiving environment.
The higher the BOD value, the greater the amount of organic matter or "food" available for oxygen consuming bacteria.
If the rate of DO consumption by bacteria exceeds the supply of DO from aquatic plants, algae photosynthesis or diffusing from air, unfavourable conditions occur.
Depletion of DO causes stress on aquatic organisms, making the environment unsuitable for life. Further, dramatic depletion can lead to hypoxia or anoxic environments.
BOD is also used extensively for wastewater treatment, as decomposition of organic waste by microorganisms is commonly used for treatment.
3. National anthem in movie halls: SC asks why do people have to wear patriotism on sleeve
Issue: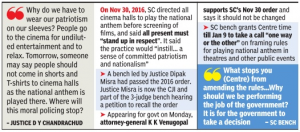 SC Judge Justice D Y Chandrachud was critical of last year's apex court order making it mandatory for movie halls to play the national anthem before the start of a film.
Justice Chandrachud who was part of a three-judge bench which heard a petition filed by a film society seeking recall of its November 30 order making it mandatory for movie halls to play the anthem
Suggestion from the Chief Justice of India
Chief Justice Misra said the court may modify its earlier order and replace the "shall" in it with "may"
Appearing for the Centre, Attorney General too agreed with this
But Venugopal opposed the recall of the entire order saying the singing of the anthem was a "unifying factor" in a country as diverse as India
4. HC orders penal action over manual scavenging
Context:
The Madras High Court took serious note of a photograph published in The Hindu on October 3, of people involved in manual scavenging at Pondy Bazaar, and directed Additional Advocate General to ensure that those responsible were taken to task, and apprise the court of the action taken.
In news:
The High Court Bench directed the State government to file a status report on steps taken by it so far for rehabilitation of people involved in manual scavenging in accordance with the provisions of the Prohibition of Employment as Manual Scavengers and their Rehabilitation Act of 2013.
Basic Information:
Prohibition of Employment as Manual Scavengers and their Rehabilitation Act of 2013
Key Provisions:
The employment of manual scavengers, the manual cleaning of sewers and septic tanks without protective equipment, and the construction of insanitary latrines is prohibited.
It provides for rehabilitation of manual scavengers and their alternative employment.
Each local authority, cantonment board and railway authority is responsible for surveying insanitary latrines within its jurisdiction. They shall also construct a number of sanitary community latrines.
Each occupier of insanitary latrines shall be responsible for converting or demolishing the latrine at his own cost if he fails to do so, the local authority    shall convert the latrine and recover the cost from him.
The implementing authorities shall be District Magistrate and the local authority.
Offences under the act shall be cognizable and non-bailable, and may be tried summarily.
Context:
Uniform regulatory framework on groundwater use across the country.
In news:
New proposal: the Centre has come out with draft guidelines which stipulate existing and new industries, infrastructure and mining projects have to obtain a `no-objection certificate' (NOC) from district and state-level authorities for drawing groundwater.
The draft guidelines exempt farmers from obtaining NOCs. It calls for medium and large farmers to adopt water conservation measures.
Conservation fee:
The draft also proposes to levy a new water conservation fee based on quantum of groundwater extraction in lieu of existing provision of creating recharge mechanism, including construction of artificial recharge structures, by those undertaking projects.
The proposed fee is based on water use quantity and groundwater capacity of particular area zone.
The amount, therefore, varies from Rs 1 to Rs 6 per cubic metre.
The funds raised through this new fee will be used by states for effective ground water management.
Present Scenario:
At present, the Central Ground Water Authority (CGWA) has been granting NOC for withdrawal of water by industries, infrastructure, and mining projects. 
Basic Information:
Central Ground Water Authority has been constituted under Section 3 (3) of the Environment (Protection) Act, 1986 to regulate and control development and management of ground water resources in the country.
6. New policy on the cards to boost medical tourism
Context:
India is considered a preferred destination for cardiology, orthopaedics, transplant and ophthalmology in curative care, it also enjoys high credibility in wellness and prevention and alternative medicine.
In news:
The government plans to bring out a policy to promote India as a key destination for medical tourism.
The proposed policy aims to promote integrated treatment with allopathy, ayurveda, yoga, unani, siddha and homoeopathy (AYUSH) streams.
The Union commerce ministry, along with ministries of tourism and health, has already launched a portal, indiahealthcaretourism.com, in three languages – Arabic, Russian and French— to provide comprehensive information to medical travellers.
Medical tourism in India is projected to be a $9 billion opportunity by 2020. Currently, medical tourism industry is pegged at $3 billion. Globally, the medical tourism market is estimated at around $40-60 billion.
Key Facts:
India is emerging as one of the most credible destinations worldwide for curative treatment.
With the given scale of healthcare infrastructure and projected growth, India can further strengthen its standing among the currently popular medical value tourism destinations such as Thailand, Singapore, Malaysia, and Mexico.
A latest knowledge paper by FICCI and Quintiles IMS shows over 5,00,000 foreign patients seek treatment in India each year.
SAARC countries such as Bangladesh, Afghanistan, and Maldives are the major sources of medical value travel, followed by African countries such as Nigeria, South Africa and Kenya.
Reasons: Proximity, cultural connect and connectivity are the key reasons for inflow of patients to India from these regions.
Measures implemented to promote medical tourism:
The process to issue medical visas has been made much more efficient, thus reducing the time taken in visa procurement.
The scope of e-tourist visa has been expanded to include short- term medical treatment.
Separate immigration counters and facilitation desks have also been set up at major Indian airports to boost the medical travel industry.
Context:
New permanent committee and guidelines for designating lawyers in the SC and HC as senior advocates
Guidelines issued by the Supreme Court:
The SC has laid down guidelines for designating lawyers in the SC and HC as senior advocates
Now, applications will be examined by a permanent committee known as the Committee for Designation of Senior Advocates
The committee will publish the names of candidates on the respective courts' websites to ensure transparency
Current system: Until now, the judges of the SC and HC had the sole discretion of according this status to advocates
Origin of collegium system: Political interference in the selection of judges in the third and fourth decades of independent India resulted in the collegium system where judges select judges
The Constitution (99th Amendment) Act, 2014 and the National Judicial Appointments Commission (NJAC) Act, 2014
The opaque system and unsatisfactory selection, transfer, and elevation of judges to the SC caused disquiet and led to the passing of the acts
The acts sought to give politicians and civil society a final say in the appointment of judges to the highest courts
In 2015, a Constitution Bench of the SC declared these unconstitutional on the ground that the composition of the NJAC did not provide adequate representation to those from the judiciary
It is in this context that one has to welcome the permanent committee
Composition of the permanent committee
It will consist of the:
(1) Chief Justice of India,
(2) Two senior-most judges of the Supreme Court/ High Courts,
(3) The Attorney General of India/ the Advocate General of State, and
(4) A member of the Bar to be nominated by the above four members
The committee will have a permanent secretariat
All applications for designation of senior advocate will be submitted to the secretariat
The secretariat will compile all the relevant information with regard to the reputation, conduct, integrity, participation in pro-bono work, reported judgments in which the advocate has appeared, etc. of the candidates
The committee will examine each candidate's case, interview the candidate, and make its assessment based on a point-based format
Concerns:
There may be some reservation on the aspect of publishing names on the official website of the court and inviting suggestions as in the recent past
There have been reports of motivated complaints and objections
The secretariat should not be dragged into the jumble of investigating frivolous complaints or objections
The way forward
This institutional mechanism and selection criteria seem suited to substitute the existing collegium system
The executive and the legislature could also seriously consider introducing a new version of the NJAC which incorporates the salient features of this institutional mechanism
The sooner the judiciary adopts such a mechanism for judges too, the better it is for the institution
Category: INTERNATIONAL AFFAIRS/BILATERAL RELATIONS
1. Not just strategic ties with Dhaka: Sushma
Context:
External Affairs minister visit to Bangladesh.
India is following a policy of neighbours first, and among the neighbours Bangladesh is foremost
Bilateral relations between India and Bangladesh have gone beyond a strategic partnership
In news:
External Affairs Minister highlights India's willingness to resolve all irritants in ties with Bangladesh with sincerity.
Inaugurated 15 Indian-assisted development projects worth about $8.7 million.
The development projects, worth about $8.7 million, include installation of 11 water treatment plants in the southwestern coastline of Pirozpur, 36 community clinics and reconstruction of Dhaka's historic Ramna Kali Temple destroyed by invading Pakistani troops in the 1971 liberation war.
1. Has hunger increased in India in recent years?
Context:
India's ranking in Hunger Index
In news:
India has ranked at the 100th position among 119 countries in its 2017 Global Hunger Index (GHI) rankings
India has had a higher rank in previous versions of these rankings
GHI is done by the Washington-based International Food Policy Research Institute (IFPRI)
Inference:
These findings have created an impression that the prevalence of hunger has increased in India in recent years
A closer looks at the numbers suggests that such conclusions are unwarranted
To start with, the numbers reflect under-nutrition rather than hunger
And even on that score, India's performance, has been improving over the past decade although its nutritional indicators still appear poor compared to those of its peers
Basis of GHI 2017 rankings
The 2017 GHI rankings are based on the percentage of under-nourished population and three health indicators for children aged less than five years
(1) Wasting (low weight for height)
(2) Stunting (low height for age) and
(3) Mortality
The GHI can take values between zero to hundred
Zero would indicate absence of any of the indicators, while hundred would indicate the worst possible situation
Reduction in India's GHI score
The reduction in the GHI score is not surprising given what the statistics from the Food and Agriculture Organisation (FAO) and the National Family and Health Survey (NFHS)
FAO data shows that prevalence of undernourishment has been decreasing in India over the past decade
Context:
An expert committee submitted an interim report on 'How to police cyberspace' to the Union Home Ministry .
The report recommended amendments to the Indian Penal Code (IPC)
Key Points:
The recommended amendments to the Indian Penal Code (IPC) are noteworthy for two reasons
One, they bring within the ambit of IPC (through amendments to Sections 153 and 505) any visual, audio, video, verbal or written communication, transmitted or retransmitted through any telecommunication service, device or computer
They propose that any speech that is disparaging, offensive, indecent, abusive, hate, gravely threatening — and so interpreted — be criminalised
New avatar of Section 66A
Section 66A of the IT Act may have been struck down in the Shreya Singhal case
But this is its new, more astute avatar with a better-operating legal-ware
It seeks to add yet another speech-control legislation to the plethora of existing penal codes
These are Sections 295A, 124A, 153A, 505 that target acts ranging from malicious, to seditious, to disruptive of public order or morality, to violent, to plain mischievous
Governments' dubious records on free speech
There have been many cases where on one or the other pretext of public order, morality, derogatory speech, slander, and defamation was used to outlaw advocacy, mirth, caricature and the worst of all crimes, dissent
It chooses to turn a deaf ear to posts, threats, and tweets that are deeply offensive, obscene, misogynistic and violently communal
It chooses to remain unmoved by any civic or national imperative when the target of vicious trolling are journalists, film-makers, authors, writers, painters, common people who are just doing their jobs as citizens
It even chooses to use an ordinance, as in Rajasthan, to outlaw the investigation into the conduct of judicial or political power
Freedom of speech
It is nobody's case that the freedom of speech is an absolute freedom
But our constitutional commitment to free speech demands that it cannot be suppressed unless the situations created by allowing the freedom are pressing and the community interest is endangered
This "danger" cannot be remote, hypothetical, or stemming from a poor appetite for mirth and scorn
It should have, as the Supreme Court said in Shreya Singhal case, a proximate and direct nexus with the expression
Controlled speech adds to impunity of political power
The trade-off between free speech and public order/morality has never hurt political dispensations
The more controlled speech is, the greater has been the immunity and impunity of political power
Free speech is signal of healthy democracy
We need to remember that free speech preconditions the realisation of many of our claims and entitlements
Less of it translates into less democracy in general
Nothing here for Today!!!
Nothing here for Today!!!
F. Practice Questions for UPSC Prelims Exam
Question 1. The Ratapani Tiger Reserve (RTS) is located in
[A] Madhya Pradesh [B]Manipur [C] Gujarat [D] Karnataka
See
Question 2. Recently, which of the following commodity exchange has launched India's 
first commodity options in gold?
[A] National Commodity & Derivatives Exchange Limited (NCDEX) [B] Multi-Commodity Exchange of India Ltd (MCX) [C] National Spot Exchange Limited (NSEL) [D] Indian Commodity Exchange Limited (ICEX)
See
Question 3. The first-ever International tri services joint exercise "INDRA – 2017" has 
started between which of the following countries?
[A] India and Japan [B] India and Russia [C] India and U.K [D] India and U.S
See
Question 4. Hemoglobin in humans has the highest affinity for which of the following gases?
[A] Methane [B] Carbon Monoxide [C] Nitrous oxide [D] Carbon dioxide
See
Question 5. Shaphee Lanphee, a traditional textile fabric, is a GI product from which of
the following states?
[A] Meghalaya [B] Manipur [C] Mizoram [D] Tripura
See
G. UPSC Mains Practice Questions
GS Paper I
Discuss the contributions of MaulanaAbulKalam Azad to pre- and post-independent India.
GS Paper II
"Free speech is signal of healthy democracy". Comment
Also, check previous Daily News Analysis
"Proper Current Affairs preparation is the key to success in the UPSC- Civil Services Examination. We have now launched a comprehensive 'Current Affairs Webinar'. Limited seats available. Click here to Know More."
Enroll for India's Largest All-India Test Series