TABLE OF CONTENTS
A.

 GS1 Related


Geography
1. National grid to curb water deficit on Gadkari's agenda


B.

 GS2 Related


Polity
1. SC poser to online giants on offensive content
2. It's lonely on the ground
International Relations
1. BRICS declares Lashkar, Jaish as global terror groups  
2. India pitches for a credit rating agency 


C.

 GS3 Related


Economics
1. Don't know how much black money was wiped out by demonetisation: RBI 
Internal Security
1. Top babus given secure mobiles
Science and Technology
1. Poor sleep? You may be at ADHD risk
Environment and Ecology
1. In fact: Hard to ban, harder to dispose
2. In Nicaragua, a fight to save endangered tapirs


D. 

GS4 Related




E. 

Prelims Fact


F. UPSC Prelims Practice Questions
G. UPSC Mains Practice Questions 
1. National grid to curb water deficit on Gadkari's agenda
In news:
India is planning to have a water grid with the aim of ensuring no area of the country faces any water deficit.
The concept of water grid in India mainly centres around the existing inter-linking of rivers (ILR) plan which was conceived in order to transfer water from surplus zones to deficit zones via inter-connected rivers.
Present focus: linking three ILR projects – Ken-Betwa link (Uttar Pradesh and Madhya Pradesh), Par-Tapi-Narmada and Damanganga-Pinjal links (Gujarat and Maharashtra).
1. SC poser to online giants on offensive content
In news:
The Supreme Court has asked Google, Microsoft, Facebook and WhatsApp to provide the number of complaints received from India of any objectionable material posted online on their sites between the period of January 1, 2016 and August 31, 2017.
Why? The court wanted to know whether the online giants had taken any action on the complaints received from India on materials like videos or pictures of child pornography, rape and gangrape, uploaded on their sites.
Supreme Court further asked the Ministry of Home Affairs to respond to whether any prosecutions were initiated under the Protection of Children from Sexual Offences Act of 2012. The court wanted to know the number of prosecutions initiated under Sections 19 and 21 of the Act between January 1, 2016 to August 31, 2017.
Basic Information
The Protection of Children from Sexual Offenses Act 2012
The Act seeks to protect children from offences such as sexual assault, sexual harassment and pornography. India is a signatory to the UN Convention on the Rights of the Child since 1992. The parties to the Convention are required to take measures to prevent children from being coerced into any unlawful sexual activity.
Any person below the age of 18 years is defined as a "child". The Act seeks to penalise any person who commits offences such as "sexual harassment", "sexual assault", "penetrative sexual assault", and "aggravated penetrative sexual assault".
A person commits "sexual harassment" if he uses words or shows body parts to a child with sexual intent, shows pornography to a child or threatens to depict a child involved in sexual act through the media. The penalty is imprisonment for upto three years and a fine.
A person commits "penetrative sexual assault" if he penetrates his penis into the vagina, mouth, urethra or anus of a child or makes a child do the same or inserts any other object into the child's body or applies his mouth to a child's body parts. If however the child is between 16 and 18 years, it shall be considered whether consent for the act was taken against his will or was taken by drugs, impersonation, fraud, undue influence and when the child was sleeping or unconscious. The penalty is imprisonment between seven years and life and a fine.
The Act penalises "aggravated penetrative sexual assault." Such an offence is committed when a police officer, a member of the armed forces or a public servant commits penetrative sexual assault on a child. It also includes gang penetrative sexual assault and assault using deadly weapons, fire or corrosive substance. The Act also covers assault by staff of private hospital and staff of an educational institution if the child is in that institution.
Penetrative sexual assault shall be considered aggravated if it injures the sexual organs of the child or takes place during communal violence or the child becomes pregnant or gets any other threatening disease or is below 12 years. It also covers cases where the offender is a relative of the child through blood or adoption or marriage or foster care or is living in the same household.
A person commits "sexual assault" if he touches the vagina, penis, anus or breast of a child with sexual intent without penetration. If the child is between 16 and 18 years, it shall be considered whether the consent was taken against the child's will or by threat or deceit. The penalty is imprisonment between three to five years and a fine.
The offence of "aggravated sexual assault" is committed under similar conditions as for "aggravated penetrative sexual assault". The penalty for the offence is
Imprisonment between five to seven years and a fine.
A person shall be guilty of using a child for pornographic purposes if he uses a child in any form of media for the purpose of sexual gratification through representation of sexual organs of a child or using a child in sexual acts or other types of obscene representation. The penalty is rigorous imprisonment for upto five years and a fine. On
subsequent convictions, the term of imprisonment is upto 7 years and fine.
The Act also includes penalties for storage of pornographic material and abetment of an offence.
An offence committed under this Act shall be reported to either the local police or the Special Juvenile Police Unit who has to report the matter to the Special Court within 24 hours. The police also have to make special arrangement for the care of the child. In case a person fails to report acase, he shall be penalised. Also, the Act includes penalties for making false complaints.
Each district shall designate a Sessions Court to be a Special Court. It shall be established by the state government in consultation with the Chief Justice of the High Court. The state government shall appoint a Special Public Prosecutor for every Special Court. The Court shall, as far as possible, complete the trial within one year.
The trial shall be held in camera and in the presence of the child's parents or any person trusted by the child. he guardian of the child has the right to take assistance from a legal counsel of his choice, subject to the provisions of Code of Criminal Procedure, 1973.
If an offence has been committed by a child, it shall be dealt with under the Juvenile Justice (Care and Protection of Children) Act, 2000.
Context:
In April, the government of India proposed amendments to the RTI Act
The most controversial amendment pertained to Rule 12.
Amendment to Rule 12 and controversy:
It would allow the withdrawal of an application in case of the applicant's death, making the job of those who file RTIs even more risky.
The RTI activists are already exposed to violence, all the more so as the Whistle Blowers Protection Act (2011) is not implemented.
69 activists have been killed, according to the National Campaign for People's Right to Information
Violence against RTI Activists
The states which have largest number of casualties are rich states such as Maharashtra, Gujarat and Karnataka
Rich states are the most dangerous ones for RTI activists because they fight against the appropriation of public goods by predatory and vested interests, which are comparatively stronger in affluent provinces.
Problems pertaining to land, illegal construction and property disputes are the root cause of most of the cases.
Then come conflicts due to government schemes (including MGNREGA), either because those who should have benefitted from them have not, or because of embezzlement at the local level.
The third category that is also well represented is made of illegal mining, including the sand mafia's activities.
The RTI activists fight for their rights and/or those of others, but they are hardly protected by the police and judiciary.
 RTI Activists – Importance
RTI applications cover a wide range of issues and even if no action is taken, the media often publicize the cases and give bad publicity to the offending bureaucrats, industrialists or politicians.
The RTI activists not only expose corrupt practices and crimes, but also provide alternative leadership at the local level.
Some of them have become community mobilisers and have been elected sarpanch.
The RTI Act has offered space to young Dalits, Adivasis and members of the minorities who would have been helpless otherwise.
The role of "RTI clinics", often in the form of itinerant vans and helplines, has been key.
Challenges faced by RTI Activists:
Information Commissions are burdened with huge pendencies
The number of applications filed could easily decrease: If the frequently asked questions were identified and proactively disclose information for those questions
But delays and backlogs are also due to the fact that the job of Information Commissioner has become a post-retirement sinecure for former bureaucrats who do not necessarily feel the urge of idealism.
In PMO, the rejection rate is very high. The Commission does not have enough power for getting responses to its questions
It does not have the mechanisms for following up on whether its orders have been complied with.
The Information Officers do not necessarily get the right training
Universities could include the RTI Act in their curriculum and offer not only degrees, but also continuing training for helping this major achievement to remain relevant.
Category: INTERNATIONAL RELATIONS
1. BRICS declares Lashkar, Jaish as global terror groups
Context:
Ninth annual BRICS summit.
Venue: Xiamen, China.
In news:
Jaish-e-Mohammad (JeM) and Lashkar-e-Taiba (LeT) declared as terror organization: The Brazil-Russia-India-China-South Africa (BRICS) grouping unequivocally named Pakistan-based groups — Jaish-e-Mohammad (JeM) and Lashkar-e-Taiba (LeT) — as terror organizations.
Minutes of the joint communiqué released at the BRICS summit:

Expressed concern about the regional security situation.
Listed the Taliban, IS/Daesh, Al-Qaeda and its affiliates, including the Eastern Turkistan Islamic Movement, the Islamic Movement of Uzbekistan, the Haqqani network, Lashkar-e-Taiba, Jaish-e-Mohammad, TTP and Hizb-ut-Tahrir as sources of violence.
Expressed strong condemnation of "all terrorist attacks worldwide,"

Declaration and its impact on India-China ties:

Beijing's earlier position: repeatedly asked for a "technical hold" in designating the head of the Pakistan-based JeM as an international terrorist in the United Nations Security Council 1267 committee.
9th BRICS summit declaration: underscores a shift in China's position, in mending its ties with India.

Meet on radicalization:

India is now planning to hold a global conference on countering radicalization.
India in the context of the Association of South East Asian Nations (Asean) and the BRICS offered to organise a global conference on countering radicalisation.
2. India pitches for a credit rating agency
In news:
Prime Minister Narendra Modi strongly pitched for the setting up of a BRICS credit rating agency to counter western rating institutions and cater to the financial needs of sovereign and corporate entities of developing nations.
Key Fact:  western rating institutions hold over 90% of the sovereign ratings market.
1. Don't know how much black money was wiped out by demonetisation: RBI
In news:
The RBI has told a parliamentary panel that it has "no information" on how much black money has been extinguished as a result of demonetisation of 500/1,000 notes or about unaccounted cash legitimised through exchange of currency post note ban.
Key estimate: about Rs 15,280 crore in junked notes has come back
1. Top babus given secure mobiles
Context:
Concerns over security of handsets.
The Computer Emergency Response System- India (CERT-IN), the cyber security arm of the government, sought details of the security process followed by over 30 handset firms selling mobile phones in the country.
In news: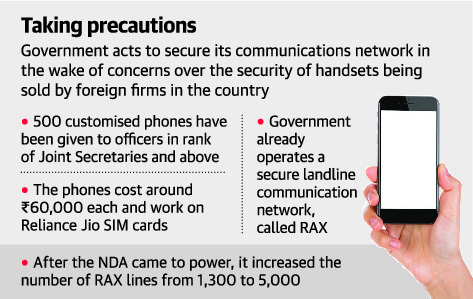 Secure communication: Government has given nearly 500 customised Google Pixel phones with Reliance Jio SIM cards to senior bureaucrats for secure communication.
The phones, which run on Android OS, have a pre-stored directory that contains the number of all officials above the rank of joint secretary.
RAX lines: The government already uses RAX, a fixed landline secure communication network. The numbers of RAX lines were increased from 1,300 to 5,000.
CERT-In recommendations: security measures must be developed and applied to smart phones from security in multiple layers of hardware/ firmware/ software to the dissemination of information to users.
Future move: The Ministry of Electronics and IT is working on a framework to secure email as well, which are used by government officials.
Kryptowire raised the alarm bell:

Kryptowire is a security firm.
It has raised concerns over a Chinese firm transmitting phones, including contacts and text, to servers in China.
Category: SCIENCE AND TECHNOLOGY
1. Poor sleep? You may be at ADHD risk
Attention Deficit Hyperactivity Disorder (ADHD):
Symptoms:

Lack of regular circadian sleep
Struggling to concentrate
Having too much energy and being unable to control behavior.
ADHD sufferers often show greater alertness in the evening, which is the opposite of what is found in the general population.

Fact: 75% of children and adults suffer from ADHD.
Category: ENVIRONMENT AND ECOLOGY
1. In fact: Hard to ban, harder to dispose
Context:
National Green Tribunal called for a complete ban on "plastic carry bags" smaller than 50 microns in Delhi's markets.
Maximum usage of plastic bags was to carry vegetables, fruit, meat and fish because they were convenient, easily available and cost-effective.
Problems associated with plastic bags:
Serious environmental degradation
Harm to public health, animals in the city
Ability to choke up drains and sewer lines, causing floods during the rainy season.
Plastic was inherently not a public health hazard, but the inability to collect plastic waste leads to health hazards
Government Initiative to clean up the menace:
In 2016, the government notified Plastic Waste Management Rules, 2016, which regulate manufacture, sale, distribution and use of plastic carry bags
Disposal problem
Within a fortnight after the NGT ban, authorities in Delhi had seized 9,000 kg of plastic carry bags but have since struggled to find effective ways to dispose of it.
Effective disposal:
Himachal Pradesh, the first state in the country to impose a ban on the use of plastic bags in 2003, effectively managed the seized plastic bags.
The state sought the help of rag pickers to collect the plastic bags and mixed it with other materials and then used it for road construction.
The plastic waste of Shimla and Chandigarh were reportedly processed together and the refuse drive fuel (RDF) is sent to power plants in Patiala and Nakodar in Punjab.
The confiscated bags should be returned to the manufacturers or mixed with other materials and recycled.
Delhi has waste-to-energy plants, it could also be sent there
Way forwards:
With last month's order, the NGT was reiterating an earlier ban on use of disposable plastic in Delhi from January 1, 2017.
Ban driven as a government programme will head nowhere. It must be made as a 'people's movement'.
Best example: In 2016, Kannur district in Kerala launched a campaign with the slogan 'Nalla Nadu, Nalla Mannu' — good village, good soil — which culminated in a complete ban on plastic carry bags five months later
Just imposing a ban is not enough. We have to first give users alternatives to plastic bags, then impose the ban and only after that penalise violators with fines.
There has to be at least six months of aggressive campaigning before such a ban is imposed.
This has also been the strategy in countries like Kenya and Rwanda.
Banning plastic should be targeted towards behaviour change
2. In Nicaragua, a fight to save endangered tapirs
In news: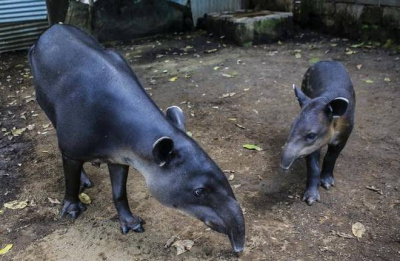 Tapir: The largest land mammals in Central America, the brown, pig-like animals with sloping snouts.
International Union for Conservation of Nature classification: considered at risk of extinction and is the "most threatened" quadruped in Nicaragua.
Threats: Human encroachment and climate change have decimated the woodland habitat of the Baird's tapir, one of five species left in the world, and, along with human and feline predators, have helped wipe out 16 other tapir species.
Nothing here for Today!!!
Nothing here for Today!!!
F. Practice Questions for UPSC Prelims Exam
Question 1. Consider the statements about classification MSME sector:
In manufacturing, investments not exceeding Rs.25.00 Lakhs are considered as small enterprise.
In services, investments not exceeding Rs.10.00 Lakhs are considered as small enterprise.
Which of the above statements is/are correct?
1 only
2 only
Both 1 and 2
None
See
Question 2. Consider the following statement with reference to Rashtriya Sanskriti 
Mahotsava:
Held at Arunachal Pradesh
Main aim is to promote traditional folkdance and music
Choose the correct answer.
Only A
Only B
Both A and B
Neither A nor B
See
Question 3. Which ministry is responsible for implementation of Foreign Contribution 
of Regulation Act?
Ministry of Finance
Ministry of Home affairs
Ministry of Corporate affairs
None of the above.
See
Question 4. Doha Development Round is often in news. It relates to which of the following?
Talks regarding international monetary system
Talks regarding refugee crisis
Talks at WTO regarding world trade
None
See
Question 5. Consider the statements:
Goods and Services Tax Network (GSTN) is a for-profit organisation formed to create a platform for all the concerned parties.
The portal will be accessible to the central government which will track down every transaction on its end.
Which of the following statements is/are correct ?
1 only
2 only
Both 1 and 2
None
See
Question 6. Which among the following are groundwater pollutants?
Fluoride
Arsenic
Chromium
Lead
Choose the correct answer.
1 and 2
1,2 and 4
1,2 and 3
All of the above
See
Question 7. Which among the following is/ are the symptoms of Attention Deficit Hyperactivity 
Disorder?
Lack of regular circadian sleep
Struggling to concentrate
Having too much energy
All the above
See
G. UPSC Mains Practice Questions
GS Paper II
"RTI Act needs to be protected against attempts to dilute it." Discuss it in the backdrop of proposed amendment pertained to Rule 12 of the RTI.
GS Paper III
Women empowerment in India needs gender budgeting. What are the requirements and status of gender budgeting in the Indian context?
Also, check previous Daily News Analysis
"Proper Current Affairs preparation is the key to success in the UPSC- Civil Services Examination. We have now launched a comprehensive 'Current Affairs Webinar'. Limited seats available. Click here to Know More."
Enroll for India's Largest All-India Test Series