TABLE OF CONTENTS
A.

 GS1 Related




B.

 GS2 Related


Polity
1. Unruly fliers now face lifetime ban
2. West Bengal settles for Bangla as new name
3. Social revolution in a JAM
Bilateral Issues
1. No shift in policy on Pakistan: China
2. Debt, project delays worry Bhutan


C.

 GS3 Related


Economics
1. IT & BPO sector: 'Automation may eat away 35% low-skilled jobs by 2022'
2. Current account deficit may widen to 3 per cent in April-June: Nomura
Internal Security and Defense
1. Army to induct 800 women into military police
Science and Technology
1. India could embrace CO2 capture technology
2. Scientists make fuel from oxygen in air


D. 

GS4 Related




E. 

Prelims Fact


F. UPSC Prelims Practice Questions
G. UPSC Mains Practice Questions 
Nothing here for Today!!!
1. Unruly fliers now face lifetime ban
In news: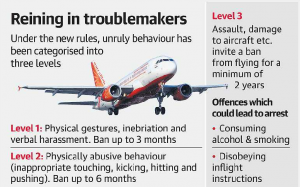 Union Government announcement: Air passengers can now be banned for a lifetime for unruly behaviour on flights by both domestic and foreign airlines.
The unruly passenger will be put on a no-fly list, which will be made public and maintained by the Directorate General of Civil Aviation (DGCA).
Other airlines will not be bound by the no-fly list of an airline
Categories and range of punishment: The ban will range between three months and a lifetime depending upon the gravity of the offence.
For physical gestures, verbal harassment and being unruly while inebriated, there will be a ban on passengers for up to three months.
For physically abusive behavior including pushing, kicking, hitting or sexual harassment, up to six months;
For life-threatening behavior the ban may range from two years to a lifetime.
Repeated offender: the duration of the flying ban will be twice that of his previous ban
Complaint to be enquired by a committee:
Airlines, on receiving complaint of unruly behaviour by the pilot-in-command, will refer the matter to an internal committee chaired by a retired district and sessions judge.
The committee will include a representative each from different airline and passenger associations or consumer forums
The internal committee will decide the quantum of ban based on evidence produced by both airline and passenger, including eye-witnesses, within a period of 30 days, failing which the passenger will be free to fly.
The passenger will not be allowed to fly till the decision of the internal committee. However, there will be no compensation in case the allegations by the airlines are proven wrong.
Aggrieved passengers can appeal within 60 days to an Appellate Committee, constituted by the Ministry of Civil Aviation and chaired by a High Court judge.
2. West Bengal settles for Bangla as new name
In news:
On August 29, 2016, West Bengal Assembly passed a resolution to change the name of West Bengal to Bengal in English, Bangla in Bengali and Bangal in Hindi.
Now the State is compelled to have one name after the Centre rejected the earlier proposal of having three names in three different languages.
Basic Information:
Basic information:
Article 3. Formation of new States and alteration of areas, boundaries or names of existing States: Parliament may by law
(a) form a new State by separation of territory from any State or by uniting two or more States or parts of States or by uniting any territory to a part of any State;
(b) increase the area of any State;
(c) diminish the area of any State;
(d) alter the boundaries of any State;
(e) alter the name of any State;
Provided that no Bill for the purpose shall be introduced in either House of Parliament except on the recommendation of the President and unless, where the proposal contained in the Bill affects the area, boundaries or name of any of the States, the Bill has been referred by the President to the Legislature of that State for expressing its views thereon within such period as may be specified in the reference or within such further period as the President may allow and the period so specified or allowed has expired
Explanation I: In this article, in clauses (a) to (e), State includes a Union territory, but in the proviso, State does not include a Union territory
Explanation II: The power conferred on Parliament by clause (a) includes the power to form a new State or Union territory by uniting a part of any State or Union territory to any other State or Union territory
Context:
PMJDY (Pradhan Mantri Jan-Dhan Yojana) and the JAM revolution can link all Indians into one common financial, economic, and digital space.
The suggestion of equality as a criterion of governance that is conveyed by this is to be welcomed
JAM:
JAM, deriving from Jan Dhan, Aadhaar and Mobile, combines bank accounts for the poor, direct transfer of benefits into these accounts and the facility of making financial payments through mobile phones.
Aadhaar ensure that benefits reach the poor and enabling them to make payments through ordinary mobile phones.
It eliminates the leakage in the transfer of welfare payments and enabling the poor to have bank accounts
For furthering the latter the government has devised the Bharat Interface for Money (BHIM) app.
Beyond bank accounts- What is required?
Nationalised banking sector had done very little to extend banking services to the poor
Having a bank account and access to reliable electronic payments system, is not the same as economic inclusion.
Inclusion would entail equal access to opportunities for earning a livelihood. This in turn implies employment opportunities.
Demand for labour exists only when there is demand for goods and services
Even when the demand for labour exists, potential workers must be endowed with the capabilities to take advantage of the opportunity offered
The potential of the JAM trinity for bringing about either of these conditions for economic inclusion is limited.
Lack of producer services
Economic reforms of 1991 largely focused on liberalisation of the policy regime
It meant to make it easier for firms to produce, exposing them to international competition with a view to increasing efficiency in the economy.
Ecosystem of production requires access that firms have to producer services ranging from water supply to waste management.
Producer services require large capital outlay, often deterring private firms.
Even when producer units employ workers they are poorly capitalised, making it impossible for them to generate producer services themselves.
Thus the public provision of producer services should be an essential part of public policy.
Focus on capabilities
We have equipped all individuals with the essential capabilities.
For this, society must have a minimum, universal health and education infrastructure accessible to all.
Recent weeks witnessed governance failure on a major scale in many parts of the country.
In U.P.'s Gorakhpur district children have died because the hospital is not able to maintain a steady supply of oxygen.
Delhi's suburb of Ghazipur a garbage mountain came crashing down, again causing death and disruption.
Building capabilities require committing resources to building the requisite social and physical infrastructure and investing time to govern its functioning
Private investment
Private investment in India has declined steadily over the past few years.
Overall growth had however been maintained, partly through the demand generating impact of public investment. But now even growth appears to be stalling
Data actually point to a steadily slowing economy with growth having been successively lower in the past five quarters.
There appears to be a mismatch between the government's own assessment of its policies and the private sector's valuation of their worth
1. No shift in policy on Pakistan: China
Context:
9th BRICS summit: China agreed to list Pakistan-based outfits Jaish-e-Mohammad (JeM) and Lashkar-e-Taiba (LeT) as international terror groups.
China has now reassured Pakistan that there was no shift in its policy of recognising Islamabad's role in countering global extremism.
In news:
Chinese Foreign Minister Wang Yi stressed that Beijing saw Islamabad as a close ally that is a key part of the battle against international terrorism.
Post-BRICS balancing act
Chinese foreign minister praised Pakistan as Beijing's "good brother and iron friend".
2. Debt, project delays worry Bhutan
Bhutan concerns on Indian projects
Bhutan wants more focus of India on issues like hydropower project constructions.
According to Bhutanese experts, Hydropower projects are critical for the Bhutanese economy and are at the core of Bhutan's plans for self-reliance ever since the first five-year plans in 1961
Rising Debt of Bhutan:
As of July 2017, Bhutan's debt to India for the three major ongoing projects: Mangdechhu, Punatsangchhu 1 and 2
It is approximately 12,300 crore which accounts for 77% of the country's total debt, and is 87% of its GDP
The cost of the 720 MW Mangdechhu project has nearly doubled in the past two years
Both Punatsangchhu 1 and 2, each of 1200 MW capacity have trebled in cost and been delayed more than five years over the original completion schedule
Indian Government stance:
The Indian government is looking at the proposals of the hydropower committee of Bhutan
But accepted that it would be difficult to meet many of them, given India's own power sector needs to compete in the same area
1. IT & BPO sector: 'Automation may eat away 35% low-skilled jobs by 2022'
In news:
Report by US- based HfS Research: With rising adoption of automation and artificial intelligence, number of low-skilled workers in India's IT & BPO sector are expected to witness a 35 per cent decrease by 2022.
From 2.4 million low-skilled workers in these sectors in 2016, the growing adoption of automation could cause the number of jobs to fall to 1.7 million in 2022.
Nasscom, had earlier said that its members and their employees need to "re-skill or perish" considering the challenges on account of automation.
New skills such as big data analytics, cloud and cyber-security services, internet-of-things, among others as areas that would create job roles going ahead.
HfS Research noted that the number of medium skilled jobs and high-skilled jobs are expected to grow, albeit marginally.
According to the report, Robotic Process Automation (RPA) is merely accelerating the elimination of rote jobs.
2. Current account deficit may widen to 3 per cent in April-June: Nomura
In news:
The country's current account deficit is likely to widen to 3 per cent in the second quarter of 2017 due to sharp deterioration in trade deficit
In first quarter of 2017, current account deficit widened to USD 3.4 billion, or 0.6 per cent of gross domestic product (GDP).
It is estimated that the current account deficit widened to a four-year high of 3 per cent of GDP in the second quarter from a low of 0.6 per cent in first quarter of 2017
Net capital inflows stood at 4-4.5 per cent of GDP in the period, led by portfolio equity and FDI inflows, resulting in a positive balance of payments surplus.
The report said over the last two fiscal years, low commodity prices has driven the current account deficit to narrow to around 1 per cent of GDP.
Basic Information:
Basic Information:
Countries trade with one another to buy goods not produced in domestic economy. With the advent of globalization, investment to and fro have also increased many fold. A country's trade and other economic exchanges with the world are recorded on its external account in the form of balance of payment (BoP) transactions.
There are two components of BoP  
Current Account
Capital Account
Current Account – It deals with current, ongoing, short term transactions like trade in goods, services (invisible) etc. It reflects the nation's net income. For instance, if you a buy a laptop from US, it will be a current account transaction and it will be debit on current account as you have to pay to US. There are 4 components of Current Account-
Goods – trade in goods
Services (invisible) – trade in services eg. tourism
Income – investment income
Current unilateral transfers – donations, gifts, grants, remittances Note that grants might appear as component of capital account but are included in current account as they are unilateral, create no liability. Recipient does not have to give anything back in return.
Capital Account – It deal with capital transactions i.e. those transactions which create assets or liabilities. It reflects the net changes in the ownership of national assets.
For instance, if you buy a stocks or property in US, it will be a capital account transaction and it will be debit on capital account as you have to pay to US to buy the asset.  
Components of Capital Account
Foreign Direct Investment (FDI)
Foreign Portfolio Investment (FPI)
External Borrowings such as ECB
Reserve Account with the Central Bank
Note here that foreign investment is under capital account but dividends and income from investment comes under current account in the category income from abroad as dividend is transferred periodically, does not result in creation of asset or liability.
Balance of Payment (BoP) = Current Account + Capital Account = 0
Why?
Current Account and Capital Account always balance each other because a country always has to pay for its imports. It does so by exports or other two components of current account. If it cannot, it runs deficit on current account and has to pay off by drawing off on its assets i.e. running capital account surplus.
What is Current Account Deficit?
It's simply deficit on all 4 components of current account.
(Export – Import) + Net income from abroad + Net Transfers
(Export – Import) is trade deficit
CAD = Trade Deficit + Net Income From Abroad + Net transfers
Note that Trade Deficit and CAD are not one and the same. Trade deficit is only a component of CAD.
What does deficit on Current Account imply?
If we forget income and transfers for a moment, what it means is that we import more than what we export.
How do we pay for that extra import?
Either we get more foreign investment (FDI & FII) and pay via that or we borrow from foreign banks (ECB) or we will have to dip into our external reserves to pay for that amount and in the process our forex reserves come down. When forex reserves come down below a critical level, country appears on the brink of BoP crisis.
So, is CAD such a bad thing?
Depends on what you do with those extra imports and how you finance the deficit!
CAD is bad because –
If a CAD is financed through borrowing, it is unsustainable because borrowing lead to high interest payments in the future.
Attracting capital flows (hot money, FII) to finance the deficit is risky as when confidence falls, hot money flows dry up, leading to a rapid devaluation and crisis of confidence. Eg. East Asian Crisis.
Run a CAD necessarily means running a surplus on the capital account. This means foreigners have an increasing claim on your assets, which they could redeem any time.
However a current account deficit is not necessarily harmful
CAD during a period of inward investment particularly stable long term FDI may not be a bad things as investment can create jobs. Investments will lead to higher growth will be able to pay debts back.
Developing countries may use CAD to buy Capital goods and later export consumer goods and thus repay the debt.
Moderate current account deficit (2% of GDP) financed mainly by stable foreign investments which creates jobs and infrastructure in the economy can be helpful in the long run as it improves productivity.  
What is this twin deficit?
Current Account Deficit and Fiscal Deficit together are knows as twin deficits and often both reinforce each other i.e. High fiscal deficit leads to higher CAD and vice versa.
Category: INTERNAL SECURITY AND DEFENSE
1. Army to induct 800 women into military police
Context:
In news:
The Army has decided to admit nearly 800 women into the Corps of Military Police in non-officer ranks over the next few years.
Key fact: Army, at present, has women only in the officer ranks, and that too just a few thousand of them.
Category: SCIENCE AND TECHNOLOGY
1. India could embrace CO2 capture technology
Context:
Ongoing international conference on Carbon Capture Utilisation and Storage (CCUS).
Venue: Alabama, U.S.
Organized by: The International Energy Agency's Green House Gas Research and Development
India and CO2 capture:
Coal secretary remarks at the conference: India will explore the possibility of introducing technologies for capturing carbon dioxide emitted while burning coal and other fossil fuels.
Uses of Co2 captured:
CO2 has commercial and industrial uses, particularly for Enhanced Oil Recovery (EOR) in depleting oil fields.
Carbon dioxide has the ability to change the properties of oil and make it easier to extract.
2. Scientists make fuel from oxygen in air
In news:
Scientists have found a way to produce methanol — an important chemical often used as fuel in vehicles — using oxygen in the air.
This new method is an advance that may lead to cleaner, greener industrial processes worldwide.
Current practice: Methanol is currently produced by breaking down natural gas at high temperatures into hydrogen gas and carbon monoxide before reassembling them — expensive and energy-intensive processes known as 'steam reforming' and 'methanol synthesis.'
Advantages: At present global natural gas production is about 2.4 billion tonnes per annum and 4% of this is flared into the atmosphere — roughly 100 million tones. This new approach of using natural gas could use this "waste" gas saving, saving carbon dioxide emissions
Nothing here for Today!!!
Nothing here for Today!!!
F. Practice Questions for UPSC Prelims Exam
Question 1. In India, which one of the following states has the largest inland saline wetland?
Gujarat
Haryana
Madhya Pradesh
Rajasthan
See
Question 2. The river most mentioned in early Vedic literature is:
Sindhu
Sutudri
Sarasvati
Ganga
See
Question 3. The balance of payments of a country is a systematic record of
All import and export transactions of a country during a given period of time, normally a year
Goods exported from a country during a year
Economic transaction between the government of one country to another
Capital movements from one country to another
See
Question 4. Which of the following constitute Capital Account?
Foreign Loans
Foreign Direct Investment
Private Remittances
Portfolio Investment
Select the correct answer using the codes given below.
1, 2 and 3
1, 2 and 4
2, 3 and 4
1, 3 and 4
See
Question 5. Consider the following statement with reference to Cartosat-2 series
satellite, which was launched recently by ISRO
Cartosat-2 is a remote sensing satellite.
Cartosat-2 will be used for Land Information Systems (LIS) and Geographical Information System (GIS) applications.
Cartosat-2 is a weather forecasting satellite.
Identify the correct statement
1 only
2 only
1 and 3
1 and 2
See
G. UPSC Mains Practice Questions
GS Paper II
Discuss impact of globalization on higher education in India.
GS Paper III
Discuss India's achievements in the field of Space Science and Technology. How the application of this technology has helped India in its socio-economic development?
GS Paper IV
You are the Executive Director of an upcoming InfoTech Company which is making a name for itself in the market. Mr. A, who is a star performer, is heading the marketing team. In a short period of one year, he has helped in doubling the revenues as well as creating a high brand equity for the Company so much so that you are thinking of promoting him. However, you have been receiving information from many corners about his attitude towards the female colleagues; particularly his habit of making loose comments on women. In addition, he regularly sends indecent SMS's to all the team members including his female colleagues. One day, late in the evening, Mrs. X, who is one of Mr. A's team members, comes to you visibly disturbed. She complains against the continued misconduct of Mr. A, who has been making undesirable advances towards her and has even tried to touch her inappropriately in his cabin. She tenders her resignation and leaves your office.
               a) What are the options available to you?  
               b) Evaluate each of these options and choose the option you would adopt, giving reasons.
Also, check previous Daily News Analysis
"Proper Current Affairs preparation is the key to success in the UPSC- Civil Services Examination. We have now launched a comprehensive 'Current Affairs Webinar'. Limited seats available. Click here to Know More."
Enroll for India's Largest All-India Test Series