TABLE OF CONTENTS
A.

 GS1 Related




B.

 GS2 Related


Polity
1. SC to lay down law on LG's power


C.

 GS3 Related


Economics
1. 7% extra cess on SUVs; small cars exempt
2. SEBI moots tighter norms for credit rating agencies
3. 'Microfinance sector could treble in 4 years'
Science and Technology
1. NASA successfully launches OSIRIS-REx spacecraft
2. Road clear for Chandrayaan-2
3. Pollution watchdog issues guidelines to manage odour at urban solid waste landfills


D. 

GS4 Related




E. 

Prelims Fact


F. UPSC Prelims Practice Questions
G. UPSC Mains Practice Questions 
Nothing here for Today!!!
1. SC to lay down law on LG's power
Context:
Prolonged Centre-Arvind Kejriwal turf war over who controls Delhi as an "extraordinary matter".
In news:
Supreme Court observations:
The Supreme Court has agreed to lay down the law on whether the Lieutenant Governor (LG) of Delhi can unilaterally administer the National Capital without being bound by the "aid and advice" of the elected government.
The Supreme Court has refused to stay the HC judgment, despite submissions by Delhi government that the verdict "affects all future governments and all future relationships between the Centre and the State"
HC observations: The HC had upheld the LG's power not only over the police, land and public order but also in "services". The judgment had effectively shrunk the Delhi Cabinet's girth.
Background:
The 1996 judgment by the Supreme Court in North Delhi Municipal Corporation versus State of Punjab clearly terms Delhi as a Union Territory in a class by itself.
The judgment observed that "the Union Territory of Delhi is in a class by itself but is certainly not a State". Union territories are in different stages of evolution.
1. 7% extra cess on SUVs; small cars exempt
Context:
GST council meets.
GST Council lowers some rates, extends filing deadlines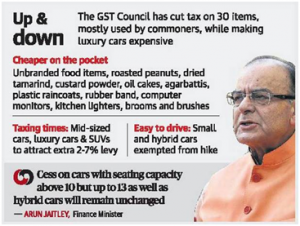 In news:
Deadline has been extended for filing returns.
The Council also decided to set up a ministerial group to assess and fix the IT challenges.
The GST rate on about 30 items of common use including idli and dosa batter, oilcakes, raincoats, rubber bands, roasted peanuts, 'dhoop agarbattis' and dried tamarind has been reduced.
A panel of officers under Revenue Secretary has also been tasked to examine GST-related issues faced by exporters.
2. SEBI moots tighter norms for credit rating agencies
In news:
SEBI proposed 10 per cent cross-shareholding cap in credit rating agencies along with a slew of measures for tightening the financial and operational eligibility of their promoters.
Besides, the regulator has suggested greater disclosure requirements by credit rating agencies (CRAs) as well as by companies getting their services
The proposed norms are likely to have an impact on global rating agencies such as S&P, Moody's and Fitch which have significant holdings in domestic agencies besides their direct presence.
Further, SEBI's prior approval would be needed for acquisition of shares or voting rights in a CRA that results in change in control.
The requirement would not be applicable for holdings by broad-based domestic financial institutions.
Basic Information:
About Credit Rating:
Credit Rating is determined by Credit Rating agencies and is an evaluation of the debt issuers likelihood of default
Evaluates the credit worthiness of an issuer of specific types of debt
3. 'Microfinance sector could treble in 4 years'
In news:
Estimate by ICRA: the country's microfinance sector will grow nearly three-fold to reach up to Rs 4.3 trillion over the next three years on account of expansion into newer segments and enhanced average loan sizes.
The estimate includes micro credit across self-help groups, microfinance institutions and banks.
Important observations made:
If the ticket sizes were to double from the current levels over the next 3-4 years and MFIs were to increase their presence in under-penetrated areas, the microfinance market could reach Rs 3.3-4.3 trillion over the next 3 to 4 years. The assumption on the doubling of ticket sizes is based on improving income levels, inflation, higher eligibility of borrowers moving to higher loan cycles.
The MFI sector, excluding Bandhan Bank and teh SFBs, will need external capital of Rs 16-47 billion over the next three to four years.
While the business opportunity is exciting, there is a need for establishing a credit culture in the new geographies and strengthening the credit appraisal processes.
The two operational credit bureaus have helped the sector maintain its asset quality. But there are a few issues yet to be addressed like limited coverage of SHG bank linkage programme data, issues related to multiple identity cards being used by borrowers for availing loans from more than two MFIs and interlinking of retail credit.
The overall stress of credit which is due for more than a day stood at 0.35% as of March 31, 2016, helped by regulatory decisions like data sharing through credit bureaus, cap of Rs 1 lakh for overall borrowing and the stipulation for not more than two MFIs to lend to a single borrower. However, "communal and political" incidents in Madhya Pradesh, Uttar Pradesh, Bihar, Jharkhand and Karnataka did lead to some pressure on asset quality.
However, the sector remains vulnerable to asset quality shocks owing to the risks associated with unsecured lending business, political risks, and operational risks arising out of cash handling.
Background:
The Indian microfinance institution (MFI) sector grew 40% in 2015-16 to Rs 1.4 trillion as against a 38% growth in the previous fiscal, while the average ticket sizes were Rs 20-25,000.
Category: SCIENCE & TECHNOLOGY
1. NASA successfully launches OSIRIS-REx spacecraft
In News:
NASA has launched OSIRIS-REx spacecraft to collect samples from an asteroid 101955 Bennu and return to Earth.
OSIRIS-Rex stands for Origins, Spectral Interpretation, Resource Identification, and Security-Regolith Explorer.
Mission objective:
OSIRIS-REx is the third mission in NASA's New Frontiers program, which previously sent the New Horizons spacecraft zooming by Pluto and the Juno spacecraft into orbit around Jupiter.
Function of OSRIC-Rex:
OSIRIS-REx will spend two years travelling towards Bennu, arriving at the asteroid in August 2018.
The probe will orbit the asteroid for 3 years, conducting several scientific experiments, before returning to Earth, with the sample capsule expected to land in Utah, USA in September 2023.
Scientific Mission Goals:
During its three year orbit of Bennu, OSIRIS-REx will be conducting a range of scientific experiments in order to better understand the asteroid.
Asteroid will be mapped using instruments on the probe, in order to select a suitable site for samples to be collected from.
The aim of the mission is to collect a sample of regolith- the loose, soil-like material which covers the surface of the asteroid.
Facts about Bennu:

Proximity to Earth: In order for OSIRIS-REx to reach its destination in a reasonable timeframe, NASA needed to find an asteroid which had a similar orbit to Earth. Around 7000 asteroids are 'Near-Earth Objects' (NEOs), meaning they travel within around ~30million miles of the Earth. Out of these, just under 200 have orbits similar to Earth, with Bennu being one of these.
Size: Small asteroids, those less than 200m in diameter, typically spin much faster than larger asteroids, meaning the regolith material can be ejected into space. Bennu is around 500m in diameter, so rotates slowly enough to ensure that the regolith stays on its surface.
Composition: Bennu is a primitive asteroid, meaning it hasn't significantly changed since the beginning of the Solar System (over 4 billion years ago). It is also very carbon-rich, meaning it may contain organic molecules, which could have been precursors to life on Earth.
Additionally, Bennu is of interest as it is a Potentially Hazardous Asteroid (PHA). Every 6 years, Bennu's orbit brings it within 200,000 miles of the Earth, which means it has a high probability of impacting Earth in the late 22nd Century.
2. Road clear for Chandrayaan-2
Context:
ISRO has signalled the country's readiness for Chandrayaan II mission, which will be India's second mission to the moon.
In news:
Chandrayaan II is an advanced version of the previous Chandrayaan-1 mission. It consists of an orbiter, lander and rover configuration.
It is planned to be launched as a composite stack into the earth parking orbit (EPO) of 170 X 18,500 km by GSLV-Mk II.
The wheeled rover will move on the lunar surface and will pick up soil or rock samples for on-site chemical analysis. The data will be relayed to Earth through the Chandrayaan-2 orbiter.
3. Pollution watchdog issues guidelines to manage odour at urban solid waste landfills
Context:
Central Pollution Control Board (CPCB) issues detailed guidelines for proper monitoring and management of odour at urban municipal solid waste landfills
Solid waste management
As per official estimates, at present around 62 million tonnes of solid waste is generated every year and it is expected to reach 165 million tonnes in 2030.
Of the 62 million, only 43 million tonnes is collected and only 12 millions tonnes is treated
The Solid waste Management Rules 2016, identified odour as a public nuisance.
"Odour regulation" is still in nascent stage in India. Odorous compounds may have a direct effect on human health. It generally leads to vomiting, headaches, nausea etc
Guidelines :
It suggested a green belt around landfill sites and advocated for selection of "appropriate plant species for vegetation cover" to assist in reducing odours.
MSW Landfill system be designed for tapping LFG (landfill gases) efficiently to mitigate fugitive odorous emissions
The guidelines also batted for initiating legislative norms for creating baseline data on odour
Need for gradual shift for installation of Continuous Odour Measurement Systems (sensor based) for getting real-time data.
It also outlined challenges to odour monitoring like lack of source-based database on odour levels, low awareness on odour (public nuisance) and lack of legislative obligations
It stated that the selection and number of landfill sites for a city should be based on factors like requirement of land for the disposal site by considering the present population and projected growth over the next 20 years at least.
Other factors include whether the selected site is free from the influence of other odorous sources and the topography of the site (slope, proximity to water sources like river and natural springs).
Selection of landfill site should be integrated with the urban development planning so that even expansions of city in next two or three decades are not encompassing the selected MSW site
Guidelines have been prepared keeping in view the various mandatory and statutory provisions and the climatic conditions that accelerate biodegradation of organic wastes
Nothing here for Today!!!
Nothing here for Today!!!
F. Practice Questions for UPSC Prelims Exam
Question 1. Recently government introduced pneumococcal conjugate vaccine (PCV) under
its Universal immunization programme, PCV is against
Pneumonia and meningitis.
Pneumonia and polio
Pneumonia and TB
None of the above
See
Question 2. "WannaCry" is a
Malware
Part of Cry NGO
Software programme developed by U.S.
None of the above
See
Question 3. What is the style of script in the Indus Valley Civilization?
Boustrophedon
Pictographic
Hieroglyphic
None of the above
See
Question 4. Deficiency of Vitamin A can lead to
Poor vision
Bleeding of gums
Soft bones
None of the above
See
Question 5. "Oilzapping" is a 
New technique used in extraction of oil from wells.
New technique to get rid of oil spills using Chemicals.
New technique to get rid of oil spills using bacteria.
None of the above
See
G. UPSC Mains Practice Questions
GS Paper II
"Traditional bureaucratic structure and culture have hampered the process of socio-economic development in India." Comment.
GS Paper III
Use of Internet and social media by non-state actors for subversive activities is a major concern. How have these have misused in the recent past? Suggest effective guidelines to curb the above threat.
Also, check previous Daily News Analysis
"Proper Current Affairs preparation is the key to success in the UPSC- Civil Services Examination. We have now launched a comprehensive 'Current Affairs Webinar'. Limited seats available. Click here to Know More."
Enroll for India's Largest All-India Test Series