TABLE OF CONTENTS
A.

 GS1 Related


Social Issues
1. A fight against prejudice


B.

 GS2 Related


International Relations
1. Afghan overture
2. Japan keen on friendship with northeast


C.

 GS3 Related


Investment
1. Private players may run rail lines
Science and Technology
1. Tech boost for soil quality scheme
Economy
1. The faltering economy
Security and Economy
1. Govt. plans Made-in-India body armour for soldiers


D. 

GS4 Related




E. 

Prelims Fact


F. UPSC Prelims Practice Questions
G. UPSC Mains Practice Questions 
Context:
Britain to incorporate measures against caste discrimination in equality law
Keypoints:
British government completed a conference on whether measures against caste discrimination should be included in equality law.
This was done to ensure there is "appropriate and proportionate legal protection" against unlawful discrimination because of a person's origins.
World Conference on Untouchability
The first World Conference on Untouchability (June 2009) took place in London.
This conference explored versions of untouchability bringing together experts and activists from across the globe.
Conference concluded with the "Conway Hall Declaration on Untouchability", which urged all states where such practices were prevalent to introduce legislation to outlaw the practice and undertake programs of education.
Facts :
A Moreover a comprehensive study in 2010 by the National Institute of Economic and Social Research identified evidence of caste discrimination in the workplace, in the provision of services and in education.
"Hindu organisations' answer to an international conscription of Dalits rights activism has brought the Indian Hindu nationalist agenda into U.K. politics.
Category: INTERNATIONAL RELATIONS
1. Afghan overture
Context:
India's decision to expand security assistance to Kabul has a nuanced geopolitical message
Keypoints:
India's plans to expand its security assistance to Afghanistan by training police officers in India as part of a UNDP project.
By training police officers and hundreds of army cadets and officers, India is taking an important role in capacity building for Afghan security.
The second message, to Pakistan and other countries in the region that deal with the Taliban, is that India will not be deterred from assisting Afghanistan for its security. This is a clear counter to Pakistan Prime Minister S.K. Abbasi's recent statement that India has "zero political and military role" in Afghanistan.
New Delhi's decision to send Indian engineers to refurbish several non-functional Soviet-era planes and to repair the helicopters India donated to Afghanistan last year also comes in the wake of this commitment.
Third, there is a message to the U.S. and NATO forces, India will play a part in putting Afghanistan back on its feet in India's own way and not necessarily, as the U.S. may prefer, with 'boots on the ground' or by sending large numbers of trainers into Afghanistan, where they would become marked targets.
2. Japan keen on friendship with northeast
Context:
Tokyo will invest in infrastructure, education and people-to-people sectors, apart from inviting 25 youth from region to the country this year
Keypoints:
Decision was taken in the fourth Northeast Connectivity Summit in Kohima.
The next edition of the summit will be held in Tawang, Arunachal Pradesh, which borders China.
Japan had undertaken works on road connectivity, energy projects, water supply and sanitation, forest resources management, Japanese language education and post-war reconciliation, which aimed to build a deeper understanding of the actions of Japanese forces in the region during the Second World War.
Tokyo was committed to undertaking two major road and infrastructure building projects in Mizoram and Meghalaya.
The summit included diplomatic participation from Bhutan, Russia, Bangladesh, Laos and Thailand.
 Reason behind Japanese cooperation in the development of the region:
Northeastern region is located at a strategically and economically important juncture between India and Southeast Asia as well as within the Bimstec (Bay of Bengal) community.
Myanmar's interest
Myanmar's Minister of Cultural Affairs urged people from Arunachal Pradesh, Nagaland, Mizoram and Manipur to forge closer ties with Myanmar as the country shared long borders with all four States.
Indian side urged improved connectivity with Myanmar for unlocking the regional trade potential.
1. Private players may run rail lines
Context: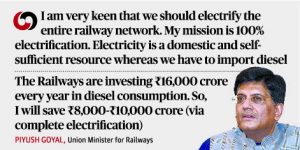 The Union government comes up with an idea of giving operations of railway lines to private players for enhancing competition.
Union government has decided that Railways will move from diesel to electric locomotives.
Benefits:
Generate competition in the process and improve customer satisfaction.
Keypoints:
Railways have decided to discard the 'Swiss Challenge' model of awarding railway stations to private players.
Now it has taken measures to lease out at least 100 stations.
The lease tenure presently is increased from 45 years to 99 years, allowing private players to sub-lease stations for increasing their investment value and mortgaging assets to allow banks to give low-cost funds.
Mission behind the privatization of the railway operations also looks into 100% electrification.
The Railways are investing Rs.16,000 crore every year in diesel consumption. So, This move will save Rs.8,000-10,000 crore
Railways decided to abandon plans to set up a diesel locomotive plant in Marhowrah district of Bihar.
Category: SCIENCE AND TECHNOLOGY
1. Tech boost for soil quality scheme
Context:
Government takes a move to bring in technological boost to analyze the soil quality of farms across the country.
Keypoints:
The Department of Science and Technology (DST) to link the program with a research project at the Indian Institute of Technology Bombay that uses sophisticated imaging techniques and can picture the nutrient balance of a patch of land without necessarily collecting soil sample.
Hyper spectral imaging analyses extremely detailed images of an object frequently to the scale of nanometers and then reconstructing its constituent elements.
To guage the health of the soil this technology utilizes the custom-developed algorithms, satellite-images, or those taken from low flying planes or drones, to calculate the proportion of nitrogen, potassium and phosphorous the three most vital nutrients as well as other minerals in the soil.
Context:
Central government to take measures in the rise of weak and faltering economic numbers.
Keypoints:
Capitalisation on stable macros to push through tough structural reforms is the need of the hour.
Finance ministry to boost the fiscal spending to the tune of ₹50,000 crore or more to make up for lack of private investment.
Facts and Figures:
The gross domestic product slowed to a multi-year low of 5.7% in the first quarter of 2017-18, and industrial output growth dropped to 1.2% in July, compared to 4.5% a year earlier.
The retail price inflation jumped to a five-month high of 3.36% in August from 2.36% in July.
Causes behind the sluggish figures:
The demonetisation of high-value rupee notes in November and
The implementation of the Goods and Services Tax
Situational Analysis:
Increased fiscal spending to provide short-term relief to this problem, as it will not address any of the production bottlenecks in the economy.
Any relaxing of the fiscal deficit target will affect India's standing among global investors.
Reasons to the current slowdown
Investors capital on large-scale projects needed to boost growth was held back due to the rigidities in land and labour.
The unease involved in doing business in the country and the even larger uncertainty looming around the rules that govern the conduct of business have seriously held back growth.
The private investment has failed to make sufficient use of the country's relatively high private savings rate.
Category: SECURITY AND ECONOMY
1. Govt. plans Made-in-India body armour for soldiers
Context:
NITI Aayog to set up an inter-ministerial committee to prepare a road map to encourage domestic manufacturing of lightweight body armour for the Army and paramilitary forces.
Keypoints:
Though India is a major producer and exporter of body armour, its own security forces are often deprived of such equipment, particularly the lightweight ones.
Making lightweight armour in India will ensure low-cost supplies.
Presently there is an requirement of over 50,000 bulletproof kits for the police force in the country.
Indian companies such as the Kanpur-based MKU and Tata Advanced Materials export body armour to armed forces around the world.
Nothing here for Today!!!
Nothing here for Today!!!
F. Practice Questions for UPSC Prelims Exam
Question 1. Consider the following statements about unemployment.
Cyclical unemployment occurs when there is not enough aggregate demand in the economy to provide jobs for everyone who wants to work.
Frictional unemployment occurs when people change from one to another and remain unemployed during this interval period.
Which of the above statements is/are correct?
Only 1
Only 2
Both 1 and 2
Neither 1 nor 2
See
Question 2. Consider the following statements about Index of industrial production.
It measures the growth of industrial production and GDP growth of industries in INDIA.
IIP is released by The Associated Chambers of Commerce and Industry of India (ASSOCHAM).
IIP is released on a monthly basis.
Which of the above statement/s are incorrect?
1 only
1 and 2
2 only
All the above
See
Question 3. Which of the following conditions is/are conducive for the formation
of tropical cyclones?
Large and continuous supply of warm and moist air.
Large value of coriolis force.
Inflow of air at upper level of atmosphere.
Select the correct answer using the codes given below.
1 and 2 only
1 only
1 and 3 only
1, 2 and 3
See
G. UPSC Mains Practice Questions
GS Paper I
Is the recent "Conway Hall Declaration" a panacea to the social issues and new demands in the country? Discuss.
GS Paper II
North East India development and progress is the key to tackle threats from East Asia and also the path to emerge as an Asian leader. Comment.
GS Paper III
Analyse the pros and cons of privatization of the railway operations? Is it a progressive move to shift from the Swiss Model?
Also, check previous Daily News Analysis
"Proper Current Affairs preparation is the key to success in the UPSC- Civil Services Examination. We have now launched a comprehensive 'Current Affairs Webinar'. Limited seats available. Click here to Know More."
Enroll for India's Largest All-India Test Series