TABLE OF CONTENTS
A.

 GS1 Related


Social Issues
1. NHRC notice to TN, AP over Devadasi-like system


B.

 GS2 Related


Polity
1. Government launches Saubhagya scheme for household electrification
International Affairs/Bilateral Relations
1. Mattis may push for Indian troops in Afghanistan
2. Raja Mandala: New foray into the great game


C.

 GS3 Related


Economy
1. Govt's 1st estimate sees kharif food output dropping 2.8% to 134.67 mt
2. Database of savings schemes linked with Aadhaar in offing


D. 

GS4 Related




E. 

Prelims Fact


F. UPSC Prelims Practice Questions
G. UPSC Mains Practice Questions 
1. NHRC notice to TN, AP over Devadasi-like system
In news:
The NHRC has issued notices to the governments and police chiefs of Tamil Nadu and Andhra Pradesh over the alleged inhuman treatment being meted out to girls and women who are forcibly taken to temples as part of an old ritual that resembles the banned Devadasi system.
The girls and women are taken to temples of Goddess Mathamma for "offering" in Thiruvallur district of Tamil Nadu and adjoining places.
Practice:
As a part of the ritual, the girls are dressed up as a bride and once the ceremony is over, their dresses are removed by five boys, virtually leaving them naked.
They are denied to live with their families and have education.
They are forced to live in Mathamma temple deemed to be like a public property and face sexual exploitation
This practice is allegedly "another form of Devadasi system", which is still practiced in some parts of Tamil Nadu and Andhra Pradesh
NHRC observations: The rights panel has observed that if the allegations are true, these amount to violation of human rights, including the right to education, rights to life and dignity besides the childrens rights.
Key Fact:
Devadasi system is a banned religious practice in some parts of India whereby parents marry a daughter to a deity or a temple.
The marriage usually occurs before the girl reaches puberty.
The Union Home Ministry in December 2015 had asked all states to take strong action against those involved in the heinous practice which is against the dignity of women.
1. Government launches Saubhagya scheme for household electrification
In news:
Government has launched a Rs 16,320-crore scheme to supply electricity to all households by December 2018,
This scheme will provide free connections to the poor and at very low cost to others
Scheme: The Pradhan Mantri Sahaj Bijli Har Ghar Yojna, named 'Saubhagya'
Rural Electrification Corp will be the nodal agency for the scheme
While public institutions and panchayats will be authorised to collect applications forms, distribute bills and collect payments
Modalities of the scheme:
It aims to improve the environment, public health, education and connectivity with the help of last-mile power connections across India
It will help reduce the use of kerosene lamps in non-electrified households
States that complete the scheme by December next year would be given an additional 15% grant by the Centre as incentive
The scheme is being funded to the extent of 60% by central grants, 30% by bank loans and 10% by states
Under the scheme, electricity connections will be given free to people identified by the Socio Economic and Caste Census of 2011
The scheme promises on-the-spot registration of applications
Category: INTERNATIONAL AFFAIRS/BILATERAL RELATIONS
1. Mattis may push for Indian troops in Afghanistan
In news:
S. Defence Secretary Jim Mattis landed in India, for his maiden three-day visit
Key fact: the first visit by a Cabinet member of the Trump administration.
Key areas of focus:
Deepening the defence partnership and expand the high technology cooperation under the Defence Technology and Trade Initiative (DTTI)..
Afghanistan situation discussions.
Push for Indian troops in Afghanistan.
The two sides could also discuss the new Chinese posturing in the region and terrorism originating from Pakistan.
The two sides are expected to conclude the formal agreement for holding a bilateral maritime exercise, focused on providing humanitarian assistance and disaster relief.
Indian aid to Afghanistan:
India has already extended a $3-billion aid to Afghanistan and also provides training to its military and other assistance.
2. Raja Mandala: New foray into the great game
Context:
The question of a larger Indian role in securing Afghanistan is expected to figure in the talks between the US Defense Secretary James Mattis and the Indian leadership.
Background
The developments in Afghanistan in the 1970s and 1980s saw the United States deepen its partnership with Pakistan to the dismay of India.
Since the early 2000s, when the US warmed up to India, Afghanistan remained an area of disagreement.
New south Asian policy:
In a major speech on the new administration's policy towards South Asia, Donald Trump demanded that Pakistan end its destabilisation of Afghanistan by providing safe havens to the Taliban and other terror networks.
Trump's emphasis in the speech was indeed on India stepping up its economic and development assistance to Afghanistan.
India and the US are fully aware that without stronger external military support to Kabul, the talk of development could become increasingly futile
The 2011 Strategic Partnership Agreement between Delhi and Kabul explicitly called for security cooperation, including the transfer of military equipment.
Key points:
Delhi did not want deeper security cooperation with Afghanistan that could cast a shadow over its ties with Pakistan.
A second constraint has been geography. The lack of physical access has imposed substantial limitations on Delhi's military role in Afghanistan
US resistance to a larger Indian security footprint in Afghanistan
The US was convinced that any Indian military role in Afghanistan would grate Pakistan's political sensitivities.
But Trump has now actively encouraging India to take greater responsibilities in Afghanistan.
Trump's Indo-Pak inversion may or may not be sustainable over the long-term.
Many in Washington would want to go back to the default option of avoiding confrontation with Pakistan in Afghanistan.
1. Govt's 1st estimate sees kharif food output dropping 2.8% to 134.67 mt
In news: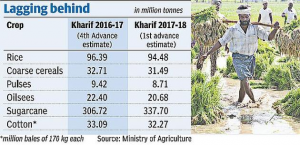 The 2017 kharif foodgrain output may comes down to 134.67 million tonnes (mt) from a record harvest of 138.52 mt during the previous kharif season
Reasons: Floods and erratic rainfall in different parts of the country
The drop in output was seen across all major rain-fed crops except sugarcane
Sugarcane registered a nearly 10 per cent increase in cropping area and a corresponding increase in output
Impacts:
It may have an impact on farm incomes, which will be lower because of lower output
This would mean that the demand for other goods in rural areas will not recover the way the government was hoping it would
In other words, despite having two good monsoon in a row, private consumption expenditure will not go up and thus may have an impact on the overall economy
2. Database of savings schemes linked with Aadhaar in offing
In news:
The Cabinet Secretariat is keen on a central database of government and private sector employees who have subscribed to the general provident fund (GPF), public provident fund (PPF) and employees' provident fund (EPF) with Aadhaar as the primary identifier.
It has directed the various departments monitoring such savings schemes to ensure that 100% Aadhaar seeding of all salaried accounts takes place by December 31.
Key Fact:
EPF is the savings scheme for private sector employees
The GPF is meant for government employees and
PPF can be subscribed to by all workers.
Nothing here for Today!!!
Nothing here for Today!!!
F. Practice Questions for UPSC Prelims Exam
Question 1. Identify the correct statement with reference to Khurki system.
It is an irrigation system adopted in South Asia.
It is a system of land revenue adopted by Mughals.
It is a system used by the British planters to compel the farmers to sow indigo.
None of the above
See
Question 2. Recently Health Ministry of Government of India, introduced new 
vaccine - Pneumococcal conjugate vaccine. This particular vaccine is used to treat
Hib pneumonia
Pneumococcal pneumonia
Diarrhoea
Polio
See
Question 3. Which among the following vaccines come under Penatavalent vaccine?
Diphtheria, Pertussis or whooping cough, tetanus, Hepatitis B and Hib vaccines.
Diphtheria, Pertussis/whooping cough, polio), Hepatitis B and Hib vaccines.
Diphtheria, Pertussis/whooping cough and tetanus), Hepatitis C and Hib vaccines.
Diphtheria, Pertussis/whooping cough and tetanus), Hepatitis A and Hib vaccines.
See
Question 4. Consider the following statement with reference to Egyptian vultures, 
which was in news recently.

It is the largest among all the vultures.
It is an endangered species as per IUCN's Red data book.
It is also called as white scavenger.
Which of the above statements is/are correct?
1 only
1 and 3 only
2 and 3 only
All are correct
See
Question 5. 'UDAN', recently seen in the news, is a scheme launched by the 
Government of India. This scheme is
A scholarship instituted to award meritorious students belonging to Economically Weaker Sections among the upper castes in the state of Gujarat.
The Railway Ministry's efforts to increase the average train speed along the existing tracks.
The Civil Aviation Ministry's Regional Connectivity Scheme.
A collaboration of the Railways Ministry and the Environment Ministry aimed at reducing road transport's share in freight traffic and its concomitant increase in railway's share.
See
G. UPSC Mains Practice Questions
GS Paper I
Major cities of India are becoming vulnerable to flood conditions. Discuss.
GS Paper II
Has the formation of linguistic states strengthened the cause of Indian unity?
GS Paper III
What is water-use efficiency? Describe the role of micro-irrigation in increasing the water-use efficiency.
Also, check previous Daily News Analysis
"Proper Current Affairs preparation is the key to success in the UPSC- Civil Services Examination. We have now launched a comprehensive 'Current Affairs Webinar'. Limited seats available. Click here to Know More."
Enroll for India's Largest All-India Test Series