TABLE OF CONTENTS
A.

 GS1 Related




B.

 GS2 Related


GOVERNANCE
1. PMLA will need more changes
INTERNATIONAL RELATIONS
1. Modi's visit could see pacts on migrants, Ayurveda centre


C.

 GS3 Related


DEFENSE
1. Operation Gaganshakti: Air Force tests its sinews with 1,110 aircraft
ECONOMY
1. India to ally with China on 'Asian premium'
ECOLOGY AND ENVIRONMENT
1. The GM crop debate continues
2. Atlantic's circulation slows down
SCIENCE AND TECHNOLOGY
1. Tess spacecraft set to be launched today


D.

 GS4 Related




E. 

Editorials


GOVERNANCE
1. Aspirational Districts Programme (ADP) Reimagining governance


F. 

Prelims Fact


G. UPSC Prelims Practice Questions
H. UPSC Mains Practice Questions 

A. GS1 Related
Nothing here for today!!!
1. PMLA will need more changes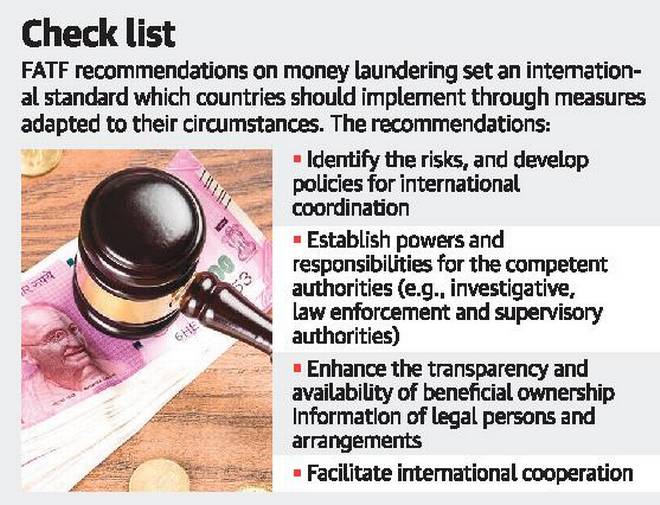 In news
India will have to make money laundering an explicitly standalone offence to upgrade its compliance ahead of the on-site mutual evaluation by the Financial Action Task Force (FATF), which is due in November-December 2020.
Key recommendations suggested by FATF
Among the key recommendations of the FATF, an international body that sets global standards for fighting illicit finance, is that money laundering be made a standalone offence.
What is the need for changes ?
Despite several amendments, the Prevention of Money Laundering Act (PMLA) remains a predicate-offence-oriented law.
This means a case under the Act depends on the fate of cases pursued by primary agencies such as the CBI, the Income Tax Department or the police.
The latest instances are the verdicts in the 2G spectrum and Aircel-Maxis cases by the CBI courts, in which the money laundering angle probed by the Enforcement Directorate fell apart.
Karnataka case
On the issue of attachment of assets, however, the Karnataka High Court, in a 2016 judgment, appreciated the agency's stand that money laundering was a standalone offence in view of Sections 5 and 8 amended in 2013, read with the definition of 'property' in Section 2(1)(v) of the Act.
The Enforcement Directorate is empowered to investigate the financial aspects of those crimes, as defined under the other penal laws, which are listed in the PMLA schedule.
The first FATF mutual evaluation of India was done in 2010 when the body expressed satisfaction with the measures taken by the country. However, in the same breath, the FATF highlighted, in its 256-page report, a number of lacunae in the then extant legislation, for which it suggested changes. Since then, a range of laws have been amended.
After analysing PMLA provisions, the FATF recommended that legal measures are taken to allow for confiscation of the money laundered as subject of the ML [money laundering] offence and which is not contingent on conviction for the predicate offence [stand-alone ML offence].
The report said: "The predicate offence conviction condition creates fundamental difficulties when trying to confiscate the proceeds of crime in the absence of a conviction of a predicate offence, particularly in a standalone ML case, where the laundered assets become corpus delicti [concrete evidence of a crime] and should be forfeitable as such."
Category: INTERNATIONAL RELATIONS
1. Modi's visit could see pacts on migrants, Ayurveda centre
Efforts to give new impetus to the Commonwealth and U.K.-India bilateral relations will get underway, as a Commonwealth business forum kicks off ahead of the Commonwealth Heads of Government Meeting (CHOGM) that Prime Minister Narendra Modi will attend in London.
The Commonwealth Business Forum, which will bring together business leaders and political figures from across the Commonwealth, would explore ways of raising intra-Commonwealth trade from around $525 billion in 2015 to around $700 billion by 2020, alongside looking at some of the contemporary challenges and opportunities around technology, skills, and protectionism.
The CHOGM meet is to take place alongside Mr. Modi's bilateral visit to the U.K., in which a range of issues — including immigration, technology cooperation and education — will be in the frame.
Diaspora event
Ahead of the CHOGM meeting Mr. Modi will arrive in the U.K. for the bilateral visit, during which he will hold meetings with Prime Minister Theresa May, Prince Charles and the Queen, alongside a diaspora event in central London.
The latter will be on a smaller scale compared to the massive event during his last bilateral visit and will involve a speech followed by a question and answer session, with questions taken both from the audience gathered and via live link-ups from across the world.
The two meetings with Mr. Modi held by Ms. May will be seen as part of efforts by Britain to emphasise its eagerness to forge closer ties with India, amid growing scepticism and concern about Britain's ability to secure lucrative post-Brexit trade deals.
Issue of Migrants
A memorandum of understanding on the return of illegal migrants to India, previously agreed and relating to an issue that Britain has repeatedly raised, will be formally signed.
Other agreements set to be reached include one on the setting up of an Ayurveda research centre in the U.K.
However, it remains to be seen whether any moves will be made to respond to Indian concerns about Britain's immigration regime — which India has repeatedly stressed is key to a future relationship.
Johal's detention
Also to be seen is in what format Britain raises issues around the treatment of religious minorities in India and the detention of Jagtar Singh Johal, a British citizen who remains in custody in India after being arrested last year.
British Ministers have said both these issues would be raised during Mr. Modi's visit, though insisting that these would be made privately rather than through megaphone diplomacy.
Number of Rallies
With an Indian diaspora of around 1.4 million, Mr. Modi's visit will attract much attention. A number of rallies — both to protest and support Mr. Modi — are being planned during and ahead of the visit.
They include one by the South Asia Solidarity group, which will be holding a protest outside Downing Street over attacks on religious minorities, Dalits and the media.
The U.K. Sikh Federation will also hold a protest which is likely to revolve around Mr. Johal's detention, while another one is to be organised by Nazir Ahmed, a Member at the House of Lords to raise a question on the peaceful resolution to conflicts in Kashmir, Punjab and other northeastern States.
Another protest will take place by the group 'Action for Elephants', calling on the Indian government to enforce laws on protecting temple elephants. A rally in support of Mr. Modi is also due to take place outside the diaspora event venue.
1. Operation Gaganshakti: Air Force tests its sinews with 1,110 aircraft
In news
The Indian Air Force is trying out a variety of new tactics and operational strategies during its ongoing exercise, Gaganshakti, in which over 1,100 aircraft are taking part. The exercise began on April 8 and will conclude on April 22.
Six C-130J transport aircraft and seven An-32 transport aircraft launched from multiple IAF bases for the operation.AWACS (airborne warning and control system) provided aerial surveillance and a fleet of Su-30 air-superiority fighters gave protection.
Real-time operation
Gaganshakti covers real-time coordination, deployment and employment of air power in a short and intense battle scenario, and joint operations with other services.
For the first time in IAF history, the indigenously made light combat aircraft, Tejas, has been deployed to test its efficacy and integration in the operational matrix of the IAF.Apart from wartime drills, the IAF is carrying out exercises to test its ability to carry out mass casualty evacuation in the northern sector.
For the first time, the IAF formalised the concept of a forward surgical centre. It is set up in a remote forward location to enhance the medical capabilities of a forward base away from a service hospital, thus providing medical facility to IAF and Army personnel in remote areas.
1. India to ally with China on 'Asian premium'
Category: ECOLOGY AND ENVIRONMENT
1. The GM crop debate continues
While part of the scientific community endorses genetically-modified food or GM food as a solution to the world food crisis, farmers, common people and activists have their own concerns.
What is GM food?
As the name suggests, it involves the editing of genes of a crop in such a way that it incorporates beneficial traits from another crop or organism.
This could mean changing the way the plant grows, or making it resistant to a particular disease. Food produced using the edited crop is called GM food. This is done using the tools of genetic engineering.
How is it done?
Let us assume that scientists want to produce wheat with high protein content and they decide to incorporate the high protein quality of beans into wheat.
To make this possible, a specific sequence of DNA with protein-making trait is isolated from the bean (which is called the donor organism) and is inserted into the gene structure of wheat, in a laboratory process.
The new gene or the transgene thus produced is transferred into the recipient cells (wheat cells). The cells are then grown in tissue culture where they develop into plants. The seeds produced by these plants will inherit the new DNA structure.
Traditional cultivation of these seeds will then be undertaken and we will have genetically modified wheat with high protein content.
The trait can be anything. A DNA from a plant that has high resistance to pests can be introduced into another so that the second plant variety will have the pest-resistant trait.
What are the advantages?
GM crops are perceived to offer benefits to both producers and consumers. Some of them are listed below:
Genetic engineering can improve crop protection. Crops with better resistance to pest and diseases can be created.
The use of herbicides and pesticides can be reduced or even eliminated. Farmers can achieve high yield, and thereby get more income.
Nutritional content can be improved. Shelf life of foods can be extended.
Food with better taste and texture can be achieved. Crops can be engineered to withstand extreme weather.
Why is there stiff opposition?
Genetically engineered foods often present unintended side effects. Genetic engineering is a new field, and long-term results are unclear. Very little testing has been done on GM food.
Some crops have been engineered to create their own toxins against pests. This may harm non-targets such as farm animals that ingest them. The toxins can also cause allergy and affect digestion in humans.
Further, GM crops are modified to include antibiotics to kill germs and pests. And when we eat them, these antibiotic markers will persist in our body and will render actual antibiotic medications less effective over a period of time, leading to superbug threats. This means illnesses will become more difficult to cure.
Besides health and environmental concerns, activists have voiced serious concern about multinational agribusiness companies taking over farming from the hands of small farmers.
Dependence on GM seed companies could prove to be a financial burden for farmers. Farmers are reluctant because they will have limited rights to retain and reuse seeds. Their concern also includes finding a market that would accept GM food.
People, in general, are wary of GM crops as they are engineered in a lab and do not occur in Nature.
What are the GM crops grown in India?
The only genetically modified cash crop under commercial cultivation in India is cotton. Bt Cotton: Bt cotton was first used in India in 2002. Cotton yield more than doubled in the first decade since its introduction in 2002. But the success of the crop in the Indian context is debatable.
Bt Brinjal: The Genetic Engineering Appraisal Committee (GEAC) in 2007 recommended the commercial release of Bt Brinjal. But the initiative was blocked in 2010.
GM-Mustard: In 2017, the GEAC declared that GM mustard had passed the stipulated tests and recommended that it should be approved. But the Centre's decision on this is still awaited.
What is the regulatory mechanism like in India?
The GEAC is a committee that functions as a statutory body under the Environment Protection Act 1986 of the Ministry of Environment & Forests (MoEF).
The GEAC is responsible for granting permits to conduct experimental and large-scale open field trials and also grant approval for commercial release of biotech crops.
2. Atlantic's circulation slows down
In news
Global warming is likely slowing the main Atlantic Ocean circulation, which has plunged to its weakest level on record, according to a new study.
The slowdown in the circulation a crucial part of Earth's climate had been predicted by computer models, but researchers said they can now observe it. It could make for more extreme weather across the Northern Hemisphere, especially Europe, and could increase sea level rise along the U.S. East Coast, they said.
The slowdown also raises the prospect of a complete circulation shutdown, which would be a dangerous tipping point.Warmer water lessens the amount of cooling and makes it harder for the water to sink and turn over.
Ice sheets and glaciers in Greenland are melting and the fresh water is pouring into the area where the water turns over, making it less salty, less dense and therefore less likely to sink. There's also more rain and snow in northern areas and more evaporation in southern areas, altering the flow.
Category: SCIENCE AND TECHNOLOGY
1. Tess spacecraft set to be launched today
The Tess spacecraft will prowl for planets around the closest, brightest stars. These new-found worlds eventually will become prime targets for future telescopes looking to tease out any signs of life.
It will be the most extensive survey of its kind from orbit, with Tess, a galactic scout, combing the neighbourhood as never before.
Scientists expect Tess to find thousands of exoplanets the term for planets outside our solar system.
Exoplanet discoveries
The exoplanet count, from all observatories in space and on Earth over the past couple of decades, stands at more than 3,700 confirmed with 4,500 on the strong contender list.
About 50 are believed to potentially habitable. They have the right size and the right orbit of their star to support surface water and, at least theoretically, to support life. Most of the Kepler-identified planets are so far away that it would take monster-size telescopes to examine them more.
So astronomers want to focus on stars that are vastly brighter and closer to home close enough for NASA's upcoming James Webb Space Telescope to scrutinize the atmospheres of planets lurking in their sun's shadows.Powerful ground telescopes also will join in the detailed observations, as well as enormous observatories still on the drawing board.
Red dwarfs are the most common stars around and, as their name implies, relatively small. They're no more than half the size of our sun. They're also comparatively cool in temperature. The celebrated Trappist-1 star, with at least seven Earth-size terrestrial planets, is an ultra-cool red dwarf that's just a little bigger than Jupiter.
Nothing here for today!!!
1. Aspirational Districts Programme (ADP) Reimagining governance
Context:
The 115 Aspirational Districts Programme (ADP) conceived by Prime Minister Narendra Modi is radical not because this is the first time that a government in India has focussed on India's most backward districts but because the exercise envisages a serious re-imagination of government and governance, and deepens cooperative federalism.
The programme is informed by the failures of the past and therefore has a more contemporary vision of how public services are best delivered to those who need them most.
Aspirational districts
How were these chosen?
The 115 districts were chosen by senior officials of the Union government in consultation with State officials on the basis of a composite index of the following: deprivation enumerated under the Socio-Economic Caste Census, key health and education performance indicators and the state of basic infrastructure.
A minimum of one district was chosen from every State. Unsurprisingly, the largest concentration of districts is in the States which have historically under-performed such as Uttar Pradesh and Bihar, or which are afflicted by left-wing extremism such as Jharkhand and Chhattisgarh.
What is the area of focus?
Moving forward, the areas that have been targeted for transformation are: education, health and nutrition, agriculture and water resources, financial inclusion, basic infrastructure and skills.
Deliberately, the districts have been described as aspirational rather than backward so that they are viewed as islands of opportunity and hope rather than areas of distress and hopelessness. Attitudes and narrative matter for outcomes.
How are the Financial resources to be augmented?
There is no financial package or large allocation of funds to this programme. The intent is to leverage the resources of the several government programmes that already exist but are not always used efficiently. The government doesn't always need to spend more to achieve outcomes but instead to spend better.
Coordination of 3-Tier Government
Many schemes of the Centre have flexible spending components which permit autonomy at the level of local governments but these are seldom used in practice due to controlling Central and State machineries.
Achieving success in this programme requires three tiers of government, the Centre, States and district administrations, to work in tandem. There is a structure in place.
Each district is assigned a prabhari (in-charge) officer from the Centre (of additional secretary or joint secretary rank) and a prabhari officer from the State (of the rank of Secretary to State government) who will work in cooperation with the district administration.
It is necessary for the Centre and States to be involved because not all decisions can be taken at the level of district. For example, if there is a shortage of teachers in a local school or a shortage of health personnel in a primary health centre, it needs the State capital to act, possibly through transfers of personnel from over staffed areas.
Role of Banks
On financial inclusion, the full cooperation of banks is necessary and only the Central government has leverage over them. But most crucial is the District Magistrate or Collector who is familiar with the challenges of his or her geography and has considerable power to implement government schemes.
Partnership is not something which comes easily to the upper tiers of government, which are used to dictating terms to lower tiers.
The spirit of cooperation needs to be supplemented by a culture of competition. This programme takes the principle of competitive federalism down to district administrations.
Each district will be ranked on the focus areas which are disaggregated into easily quantifiable target areas. So as not to bias the rankings on historical achievements or lack of them, the rankings will be based on deltas or improvements. The rankings will be publicly available.
India's long history of a dominant state apparatus has led to an entrenched perception that government is the sole actor capable of and responsible for the transformation of India.
The ADP has opened its door to civil society and leveraged the tool of corporate social responsibility to form partnerships which will bring new ideas and fresh energy with boots on the ground from non-government institutions to join the "official" efforts. The force multiplier on outcomes from such participation is potentially massive.
Smart data
One area which is being given serious attention is the collection of quality data on a real-time basis. Too often in India, data collection is delayed or lacking in quality which ends up leading to policymakers shooting in the dark. With continuously updated data dashboards, those running the programme on the ground can alter strategies after accurate feedback.
In a way, the ADP is a big pilot programme from reorienting how government does its business of delivering development. A decisive shift in the paradigm of governance is likely to finally fulfil the many broken promises of the past.
Nothing here for today!!!
G. Practice Questions for UPSC Prelims Exam
Question 1. Consider the following statements with respect to Broadcast Audience Research
Council India (BARC):
Broadcast Audience Research Council India (BARC) measures the television audience preferences in the country.
BARC a joint industry body that was set up in close consultation with all stakeholders, including government representatives and Telecom Regulatory Authority of India (TRAI).
Which of the above statements are correct?
1 only
2 only
Both 1 and 2
Neither 1 nor 2
See
Question 2. Consider the following statements with respect to Directorate of Advertising and 
Visual Publicity (DAVP):
It is the nodal agency to undertake multi-media advertising and publicity for various Ministries and Departments of Government of India.
It has been instrumental in creating awareness amongst masses on socio-economic themes, seeking their participation in developmental activities and for eradication of poverty and social evils.
Which of the above statements are correct?
1 only
2 only
Both 1 and 2
Neither 1 nor 2
See
Question 3. Consider the following statements:
The Prevention of Money Laundering Act (PMLA) is not a predicate-offence-oriented law.
A predicate offence is an offence whose earnings may become the subject of any of the money-laundering offences established under the Convention.
Which of the above statements are correct?
1 only
2 only
Both 1 and 2
Neither 1 nor 2
See
Question 4. Consider the following statements about benefits of GM Crops:
Shelf life of foods can be extended.
Crops can be engineered to withstand extreme weather.
Which of the above statements are correct?
1 only
2 only
Both 1 and 2
Neither 1 nor 2
See
Question 5. Consider the following statements:
The only genetically modified cash crop under commercial cultivation in India is cotton.
The GEAC is responsible for granting permits to conduct experimental and large-scale open field trials and also grant approval for commercial release of biotech crops.
Which of the above statements are correct?
1 only
2 only
Both 1 and 2
Neither 1 nor 2
See
H. UPSC Mains Practice Questions
 General Studies III
Is organic farming a Panacea for growing Agricultural issues? Critically Analyze.
The demonetization with multiple objectives was not a success but tax revenues have increased. Justify your view.
Also, check previous Daily News Analysis
"Proper Current Affairs preparation is the key to success in the UPSC- Civil Services Examination. We have now launched a comprehensive 'Current Affairs Webinar'. Limited seats available. Click here to Know More."
Enroll for India's Largest All-India Test Series