TABLE OF CONTENTS
A.

 GS1 Related




B.

 GS2 Related


POLITY
1. Aadhaar does not record caste or race, says SC judge
2. PIL has become an 'industry of vested interests': SC
INTERNATIONAL RELATIONS
1. Sustainable growth should be a goal
2. India- UK : No deal on illegal migrants


C.

 GS3 Related


ECONOMY
1. GoM moots uniform road tax across States
SECURITY
1. NSA to head new Defence panel
ECOLOGY AND ENVIRONMENT
1. Polymer 'sponge' can clean up oil spills


D.

 GS4 Related




E. 

Editorials


HEALTH AND SANITATION
1. Has there been a sharp rise in construction of toilets?


F. 

Prelims Fact


G. UPSC Prelims Practice Questions
H. UPSC Mains Practice Questions 

A. GS1 Related
Nothing here for today!!!
1. Aadhaar does not record caste or race, says SC judge
The Aadhaar Act does not record the caste, religion, race, etc., of individuals, thus ensuring that these demographics are not used to discriminate among citizens, Justice D.Y. Chandrachud observed during the Constitution Bench hearing in the Aadhaar case on Thursday.
Justice Chandrachud had, in August 2017, authored the historic verdict for the nine-judge Constitution Bench, which declared that privacy was intrinsic to life and liberty and an inherent part of the fundamental rights enshrined in the Constitution.
The judgment had held that privacy is a natural right that inheres in human beings. The state does not bestow natural rights on citizens. Natural rights like privacy exist equally in all individuals, irrespective of class, strata, gender or orientation.
The nine-judge Bench pronounced the verdict on a reference from a five-judge Bench deciding the Aadhaar petitions. The reference was on the question whether privacy was a fundamental right and inviolable.Senior advocate Rakesh Dwivedi argued that citizens have no right to privacy as far as demographic details are concerned. Demographic details are the name of the person, age, etc.
Justice Chandrachud summarised Mr. Dwivedi's submissions, saying the latter meant that there were four levels of identification – demographics, optional demographics, biometrics and core biometrics like fingerprints and iris scans.
Dwivedi said the UIDAI does not share core biometrics at all. However, Justice A.K. Sikri pointed out that the petitioners are still apprehensive about the aggregation of personal data in a central storage facility, and their leak.
2. PIL has become an 'industry of vested interests': SC
Supreme Court says it is a travesty of justice for the resources of the legal system to be consumed by an avalanche of misdirected public interest petitions.
The Supreme Court derided the Loya PIL petitions as a case in point of how public interest litigation has become an "industry of vested interests" rather than a powerful tool to espouse the cause of the marginalised and oppressed.
A Bench of Chief Justice of India Dipak Misra and Justices A.M. Khanwilkar and D.Y. Chandrachud said the essential aspect of a genuine PIL petition was that the person who moves the court has no personal interest in the outcome of the proceedings, apart from a general standing as a citizen before the court.
The PIL was envisioned by the Supreme Court's legendary judges as "a powerful instrument to preserve the rule of law and to ensure the accountability of and transparency within structures of governance".
Observations of the Court
Justice Chandrachud, who authored the verdict, said it was time for the judiciary to do a reality check on the advent of PIL petitions which flooded the courts.
The judgment said PIL had now become a façade for people hungry for publicity or those who wanted to settle personal, business or political scores. The true face of the litigant behind the façade was seldom unravelled.
It is a travesty of justice for the resources of the legal system to be consumed by an avalanche of misdirected petitions purportedly filed in the public interest which, upon due scrutiny, are found to promote a personal, business or political agenda. This has spawned an industry of vested interests in litigation.
This avalanche would cost the judiciary and other democratic institutions dearly. The PIL had already seriously denuded the efficacy of the judicial system by detracting from the ability of the court to devote its time and resources to cases which legitimately require attention.
Business rivalries have to be resolved in a competitive market for goods and services. Political rivalries have to be resolved in the great hall of democracy when the electorate votes its representatives in and out of office. Courts resolve disputes about legal rights and entitlements. Courts protect the rule of law.
Judicial process would be reduced to a charade if nothing is done to close the floodgates of PILs, the court said.
Category: INTERNATIONAL RELATIONS
1. Sustainable growth should be a goal
PM on Common Wealth
Prime Minister Modi says interests of small island states should be on the Commonwealth's agenda.
Prime Minister Narendra Modi urged the Commonwealth to put sustainable development and climate change, particularly of small island states, at the heart of its agenda, as India announced an increased funding for various Commonwealth initiatives and sought to take a leadership role in a renewed group.
During the executive sessions that focussed on democracy and the rule of law, the international trading system, climate change and sustainable development goals, Mr. Modi spoke on the need in particular to give a greater role to the concerns of small island states.
India has said that it would double its contribution to the Commonwealth's small states offices in New York and Geneva to help them deal with multilateral areas of concern.
Ahead of the summit, it was hoped that renewed interest from India will give new impetus and relevance to the organisation. After many years of active engagement with it, there was an eight-year period where no Indian Prime Minister had participated in a CHOGM, so the decision by Mr. Modi to attend the event was seen as a significant moment for the group.
Significance of Common Wealth
From the Indian perspective, the Commonwealth offers opportunities to reach out to small states, that make up around 60% of Commonwealth members.
In some of these states, India has no diplomatic presence, and forging relations with these countries could help India secure crucial votes during UN or multilateral contests it is involved in.
A counter to China
India also views the Commonwealth as a counterpoint to China, and its expanding influence in South Asia and the Indian Ocean, he added.
Opening the summit on Thursday, 91-year-old Queen Elizabeth expressed her sincere wish that the Commonwealth would choose Prince Charles as her successor to lead the 53-nation community.
Ahead of the summit, there had been debate over who should lead the group if and when the Queen chooses to step down from the role, which she had taken over from her father.
Security, counterterrorism, education, climate change and environmental issues were set to feature prominently in discussions, as well as opportunities to grow intra-Commonwealth trade to $700 billion by 2020, challenging rising protectionist sentiment globally.
2. India- UK : No deal on illegal migrants
The failure of Britain and India to sign a key memorandum of understanding on the return of illegal migrants during Prime Minister Narendra Modi's visit has been greeted with surprise, as the agreement was seen as a key element of the visit.
As recently as January, the MoU, which would have updated a previous agreement that expired in 2014, was pegged as one of the central pieces of the bilateral visit, building on an issue repeatedly raised by Britain.
During her visit to India in 2016, British Prime Minister Theresa May said the U.K. would consider an improved visa deal, "if, at the same time, we can step up the speed and volume of returns of Indians with no right to remain in the U.K."
The signing — which would have been seen as a gesture of goodwill from India — would have placed the onus on Britain to deliver on Indian requests around visas for professionals and students, thereby making a crucial breakthrough in issues that have presented challenges to the bilateral relationship.
A national portal enabled the identification of nationality that would enable someone's status to be swiftly verified once someone had been identified as illegal by Britain.
Matter of contention
However, it is understood that a failure to reach an agreement on the numbers of returns and the speed at which they would be required to be returned led to hopes of a swift deal being reached fading.
A source suggested Britain's expectations on these issues were beyond the level India was willing to commit to. Discussions on the issue are expected to continue at Home Secretary level next month.
Last year, the British Home Office was caught up in a controversy after data based on a new system of exit checks at Britain's border found that just over 4,600 international students were overstaying their visa, compared to roughly 1,00,000 that had been suggested by an International Passenger Survey that the government had been relying on to date.
The whole point of the better economic closer relationship between India and the U.K. was predicated on greater visas access which in turn was predicated on the return of illegal migrants, estimates on the numbers of which varies dramatically.
The MoU would also have come at a politically sensitive time for Britain, amid questions about its treatment of the "Windrush generation" — men and women from the Caribbean who came to the U.K. between the late 1940s and early 1970s, many as children, before U.K. legislation no longer gave Commonwealth citizens the automatic right to reside in Britain.
Recent toughening up of immigration requirements has resulted in some being wrongly denied access to public services and threatened with deportation, or even deported, despite being British citizens.
Though this controversy pertains to British citizens rather than illegal migrants, the government has faced wider questions around its treatment of Commonwealth citizens, particularly as it pegs the Commonwealth as a route for post-Brexit trade to flourish.
1. GoM moots uniform road tax across States
In news
A group of ministers (GoM) on transport has recommended a uniform structure of road tax for vehicles across States.
The GoM formed by the ministry is headed by Transport Minister of Rajasthan Yunus Khan, and comprises transport ministers of various States.
National permit
GoM also mooted a national bus and taxi permit on the lines of goods transport.The GoM observed that a uniform tax structure will put a check on people registering their vehicles in low tax States and running them in other States. This would also bring necessary relief to genuine cases requiring transfer of vehicles.
Public transport in the country is growing annually at a rate of just about 2%, as against a 20% annual growth in private transport. A national permit will give the much needed fillip to public transport and help reduce road congestion and its attendant problems.
The GoM also mulled ways to promote alternate fuel for vehicles and suggested liberalising permits for electric vehicles, and raising the tax on diesel vehicles by 2% while lowering the tax on electric vehicles
1. NSA to head new Defence panel
The committee will draft reports on national security strategy, says notification.The new permanent higher defence management committee headed by the National Security Adviser can help improve India's defence planning in the long term, but may end up having no noticeable impact if the present government does not return to power in 2019, several military sources and observers say.
While some of them hailed the move to place the committee under the NSA, Ajit Doval, others said it gave the NSA an unprecedented role in the process of planning India's security strategy.
Plan of action
A government notification said the Defence Planning Committee (DPC) would prepare a draft national security strategy, develop a capability development plan and work on defence diplomacy issues and improving defence manufacturing in India. The DPC will submit its reports to the Defence Minister.
The DPC will have the Chairman of the Chiefs of Staff Committee, three service chiefs, secretaries of the Ministries of Defence, Expenditure and Foreign Affairs as its members. The Chief of the Integrated Staff in the MOD will be the member secretary, and his headquarters will be the secretariat.
The notification listed four sub-committees of the DPC. One will look at policy and strategy; the second will work on plans and capability development; the third on defence diplomacy; and the fourth on defence manufacturing ecosystem. Members of these sub-committees will be decided by the DPC.
Category: ECOLOGY AND ENVIRONMENT
1. Polymer 'sponge' can clean up oil spills
Scientists have developed a polymer sponge, using waste products from the petroleum and refining industries, that can quickly soak up crude oil from marine spills.
The polymer made from waste cooking oil and sulphur (a by-product of the petroleum industry) could make polluted beaches, oily water, dead birds and marine life destruction a thing of the past.
This is an entirely new and environmentally beneficial application for polymers made from sulphur. This application can consume excess waste sulphur that is stockpiled around the globe and may help mitigate the perennial problem of oil spills in aquatic environments.
Nothing here for today!!!
Category: HEALTH AND SANITATION
1. Has there been a sharp rise in construction of toilets?
Context:
A recent large-scale survey on sanitation in India raises more questions than it answers
Key Findings from the survey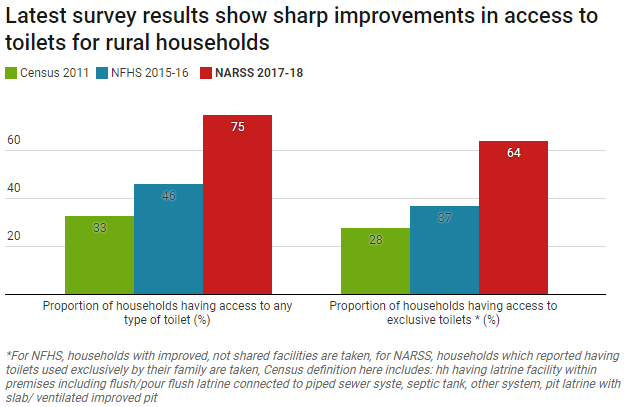 National Family Health Survey (NFHS) and National Annual Rural Sanitation Survey (NARSS)   are government-backed surveys conducted in league with multilateral donor organizations such as United Nations Population Fund (UNPF) and World Bank, respectively.
NARSS interviewed 92,000 households across the country while the NFHS surveyed a much larger sample of 601,509 households.
Although the methodologies of NFHS and NARSS are similar, the former survey is about health while the latter focuses exclusively on sanitation and that may explain part of the jump, according to an official involved with the survey.
Performance assessment by the surveys: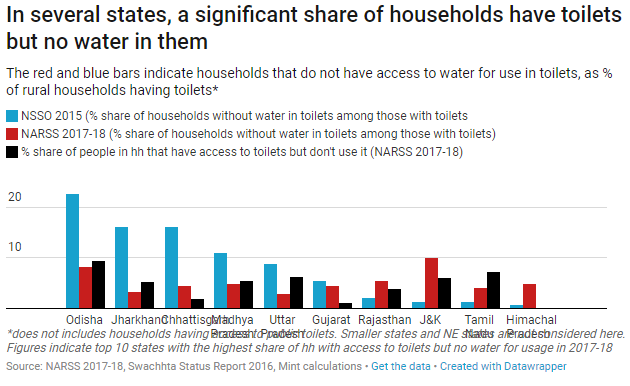 The National Annual Rural Sanitation Survey conducted between November 2017 and March 2018 shows that 75% of rural households in the country have access to toilets.
29 percentage point jump over what the National Family Health Survey (NFHS) 2015-16 reported.
India has built more toilets over the past two years than it did in the previous five years, if the latest official sanitation survey is to be believed.
A comparison of disaggregated NFHS and census 2011 data shows that between 2011 and 2015-16, the share of households with exclusive access to toilets rose 9 percentage points to 37%.
But a comparison of NFHS and NARSS data shows that between 2015-16 and 2017-18, the share of such households rose a whopping 27 percentage points to 64%.
State-wise performance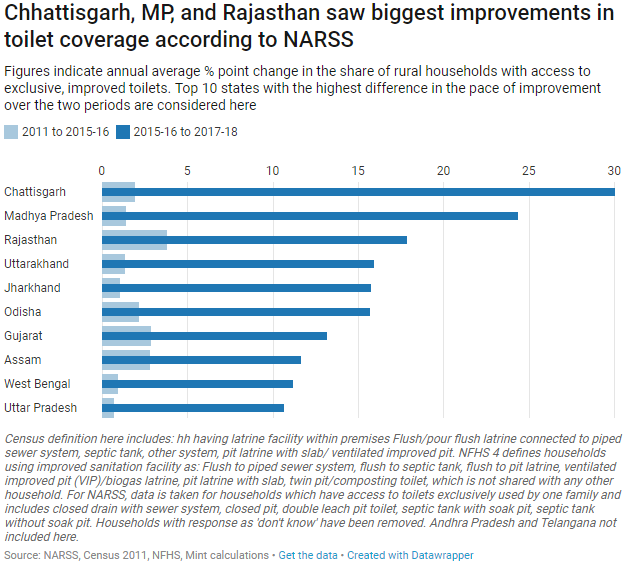 The annual pace of toilet addition went up from 2 percentage points in 2011-2016 to 30 percentage points in 2016-18 in Chhattisgarh.
In Madhya Pradesh, the pace of toilet addition accelerated to 24 percentage points per annum from 1.4 percentage points per annum earlier, according to data from NFHS and NARSS.
"States such as Chhattisgarh have been declared open-defecation free since then. The results of this survey can, however, be confirmed only by surveys which need to be conducted every six months."
Conclusion:
The NARSS data suggests that 93.4% of the people who had access to toilets used them regularly.
Overall though, NARSS paints a picture of phenomenal progress in sanitation across India.
Only after the results of the 2021 census are declared will we know for sure whether this is an accurate reflection of reality.
Nothing here for today!!!
G. Practice Questions for UPSC Prelims Exam
Question 1. Consider the following statements with respect to High Security Registration
Plates (HSRP):
They have a host of in-built security features.
HSRPs will come with a 15-year guarantee.
Which of the above statements are correct?
1 only
2 only
Both 1 and 2
Neither 1 nor 2
See
Question 2. Consider the following statements with respect to Defence Planning 
Committee (DPC):
It will draft reports on national security strategy, international defence engagement strategy.
The committee will have the Chairman of the Chiefs of Staff Committee, three service chiefs, secretaries of the Ministries of Defence, Expenditure and Foreign Affairs as its members.
Which of the above statements are correct?
1 only
2 only
Both 1 and 2
Neither 1 nor 2
See
Question 3. Consider the following statements with respect Tiwa (Lalung):
It is an indigenous tribal community inhabiting the states of Assam and Meghalaya.
They are recognized as a Scheduled tribe within the State of Assam.
Which of the above statements are incorrect?
1 only
2 only
Both 1 and 2
Neither 1 nor 2
See
Question 4. Consider the following statements with respect to Polymer sponge:
Polymer sponge is developed using waste products from the petroleum and refining industries.
This application can consume excess waste sulphur that is stockpiled around the globe.
Which of the above statements are correct?
1 only
2 only
Both 1 and 2
Neither 1 nor 2
See
Question 5. Consider the following statements with respect to London Declaration:
The London Declaration was a declaration issued by the 1949 Commonwealth Prime Ministers' Conference
It was declared on the issue of India's continued membership.
Which of the above statements are correct?
1 only
2 only
Both 1 and 2
Neither 1 nor 2
See
H. UPSC Mains Practice Questions
 General Studies II
Commonwealth is still an important Organisation for India helping to forge diplomatic relationships but it is questioned about its relevance. Critically comment.
Funds appear necessary, but the military first needs to review its organizational philosophy. Critically analyze in relation to Increase of defence budget.
Also, check previous Daily News Analysis
"Proper Current Affairs preparation is the key to success in the UPSC- Civil Services Examination. We have now launched a comprehensive 'Current Affairs Webinar'. Limited seats available. Click here to Know More."
Enroll for India's Largest All-India Test Series