TABLE OF CONTENTS
A.

 GS1 Related




B.

 GS2 Related


GOVERNANCE
1. U.S. tech giants plan to fight India's data localisation plans


C.

 GS3 Related


ENVIRONMENT
1. Ganga stretches in Bengal unfit for bathing
AGRICULTURE
1. NABARD All India Rural Financial Inclusion Survey 2016-17
ECONOMY
1. Falling rupee and its impact on economy


D.

 GS4 Related




E. 

Editorials


INTERNATIONAL RELATIONS
1. India Bhutan Relations: Sovereignty and sensitivity
SOCIAL ISSUES
1. Slum policies


F. 

Tidbits


1. CAD to widen to 2.5% of GDP: Moody's, economists


G. 

Prelims Fact


H. UPSC Prelims Practice Questions
I. UPSC Mains Practice Questions 

Nothing here for today!!!
1. U.S. tech giants plan to fight India's data localisation plans
Context
In a fear that it will inhibit their growth aspirations in India with raising cost, the U.S. technology giants plan to intensify lobbying efforts against stringent Indian data localisation requirements.
Amazon, American Express and Microsoft, have opposed India's push to store data locally.
Issue Area
Data localisation is not just a business concern, it potentially makes government surveillance easier, which is a worry.
It could lead to increased government demands for data access.
Technology firms worry the mandate would hurt their planned investments by raising costs related to setting up new local data centres.
The issue could further undermine already strained economic relations between India and the United States.
1. Ganga stretches in Bengal unfit for bathing
Context
Central Pollution Control Board (CPCB) has revealed that water in nearly a dozen major stretches of the Ganga in West Bengal is so polluted that it is even unfit for bathing.
It has dotted the length of the Ganga with red markers on a map after the National Green Tribunal had asked it to display a prominent map showing where the river water was fit for bathing and drinking.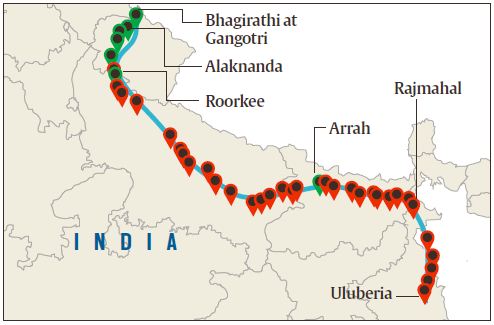 Details
The map further reveals that Uttrakhand remains the only exception with 11 stretches of the Ganga being fit for bathing
The water of the Ganga is also unfit for bathing in States such as Uttar Pradesh and Bihar barring one spot at the border of UP and Bihar.
Why is there so much pollution in WB?
West Bengal is located at the downstream of the Ganga it receives all the pollutants which accumulates in the river from States in the upstream
The sewage treatment plants in Bengal were not being utilised properly as "no proper mechanism" has been developed to bring sewage to the treatment plants.
Sustainability of River Ganga Water
The CPCB guidelines, upon which the map is based, states that water is fit for bathing when the amount of
fecal coliform bacteria, found mainly in human faeces, is not more than 2,500 most probable number (MPN) per 100 ml,

Coliform levels indicate the presence of dangerous bacteria in the water and if it is below 500 then it could be suitable for drinking by boiling. The coliform level showed in the map is 10 times the permissible limit for drinking

dissolved oxygen is not more than 5 mg per litre,
bio chemical oxygen demand is less than 3 mg per litre
pH level-measurement of how acidic the water is, is between 6.5 to 8.5
1. NABARD All India Rural Financial Inclusion Survey 2016-17
Context
More than half the agricultural households in the country have outstanding debt, and their average outstanding debt is almost as high as the average annual income of all agricultural households, according to a recent survey by the National Bank for Agriculture and Rural Development (NABARD).
Details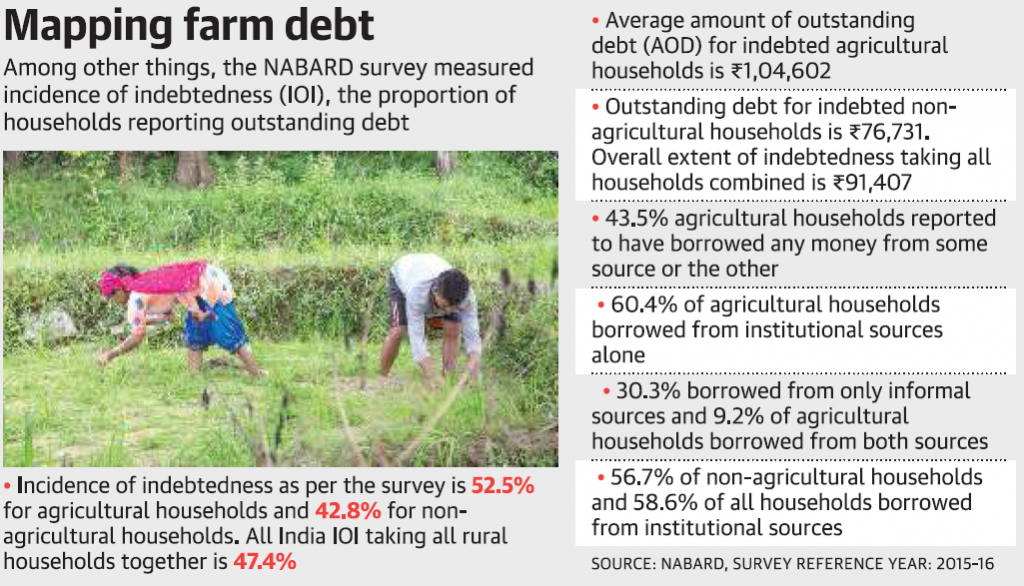 State figures
The southern States of Telangana (79%), Andhra Pradesh (77%), and Karnataka (74%) showed the highest levels of indebtedness among agricultural households, followed by Arunachal Pradesh (69%), Manipur (61%), Tamil Nadu (60%), Kerala (56%), and Odisha (54%).
Source of Loans
Only 46% of the loans were taken from commercial banks. Farm households took less than half their loans from commercial banks
40% were taken from non-institutional sources such as relatives, friends, moneylenders and landlords.

Loans from relatives and friends may be free of interest and reflective of social integration in communities
A sizeable 11.5% households exhibited dependence on local moneylenders and landlords, which exposes them to exploitation by having to pay exorbitant interest. The persons resorting to local moneylenders often include, either the illiterate or extremely poor ones which are not eligible for loans from formal institutions, or the households that do not have social networks that can help them in times of need.

10% from self-help groups
Where was loan amount spent?
The biggest reason for taking loans among agricultural households was capital expenditure for agricultural purposes, with a quarter of all loans taken for this purpose.
19% of loans were taken for meeting running expenses for agricultural purposes,
19% were taken for sundry domestic needs.
Loans for housing and medical expenses stood at 11% and 12%, respectively.
Classes of Debt
The highest incidence of indebtedness came from those owning more than two hectares of land. In that category, 60% of households are in debt.
Among small and marginal farmers owning less than 0.4 hectares, slightly less than 50% of the households were in debt.
Those with more land were more likely to have multiple loans.

This may be attributed to the fact that these economically better-off households are more eligible for taking loans as they have enough assets to serve as security against the loans taken.
1. Falling rupee and its impact on economy
The depreciation is largely owing to the dollar strengthening rather than any inherent weakness in the domestic unit
The rupee compares well against currencies of other emerging markets such as Russia, Brazil, Argentina and Turkey.
Impact
Exports may receive a boost while imports could flag

It takes more rupees to pay for the same quantum of imports and fewer dollars for a buyer to pay for the same quantity of exports.
A strong US economy and a US dollar mean good news for Indian exporters. Companies in the software services and pharmaceutical industry have been looking for a revival in demand for their services and products respectively.

Inflation

More expensive imports are likely to drive inflation upward, especially in India where input products constitute a large part of our imports.
In addition, a depreciating rupee also impacts the oil import bill since it costs more rupees per barrel of oil, which plays its own part in pushing inflation up.

GDP growth

On the one hand, costlier inputs and the subsequent increase in the prices of finished goods should have a positive impact on GDP.
But the consequent decrease in demand due to higher prices could nullify this.

Impact on individuals

A depreciating rupee means higher prices of goods and services, costlier petrol and trips abroad turning more expensive.
On the flip side, the domestic tourism could grow as more tourists visit India since their currency now buys more here.
In the medium term, export-oriented industries may also create more jobs.
Nothing here for today!!!
Category: INTERNATIONAL RELATIONS
1. India Bhutan Relations: Sovereignty and sensitivity
Context
Bhutan is in the election season. October 2018 marks ten years of democracy in Bhutan.
Bhutan Elections
There are five registered political parties- Bhutan Kuen-Nyam Party (BKP), Druk Chirwang Tshogpa (DCT), Druk Nyamrup Tshogpa (DNT), Druk Phuensum Tshogpa (DPT) and People's Democratic Party (PDP).
The People's Democratic Party is led by incumbent Prime Minister Tshering Tobgay
Election Canvassing by Tshering Tobgay
It won 32 of the 47 seats in 2013
He is banking on growth in Construction and tourist boom in Bhutan
He is Credited for stabilising the rupee-ngultrum crisis that he had inherited, as well as for economic reforms including lifting the import ban on cars.
Unable to curb the national debt, owed mostly to India for hydropower loans
Opposition Stance
Tobgay is perceived "pro-India" so the oppostion is working out strategy to capitalize on the backdrop of Doklam crisis
Druk Phuensum Tshogpa (DPT) party said that "sovereignty, security and self-sufficiency" were the DPT's top priorities.
It advocates a Bhutanese foreign policy that is less dependent on India.
Project Dantak
Project DANTAK of the Border Roads Organization was raised in May, 1961.
It is headquartered at Simtokha, near Thimphu under a Chief Engineer.
Project DANTAK has constructed, under GOI funding, over 1500 km of roads through very difficult mountainous terrain in Bhutan.
Likewise, under GOI funding, Project Dantak has built all the major highways such as the East-West highway (548 km) and Thimphu-Phuentsholing highway (181 km), airfields at Paro and Yangphula and airport terminal at Paro, a number of helipads, the Indo- Bhutan microwave link, Bhutan Broadcasting Station, India House Complex, Chhukha Hydroelectric Housing Complex, Power sub-stations, river training works, and several important buildings (including SAARC Convention Centre).
Project DANTAK is also constructing infrastructure works for the Tala Hydro-electric project, besides maintaining some important highways such as Eastern and Western ways and other roads.
Bhutan's sensitivity unaddressed
Roads built under Project Dandak had road signs and markers with Indian Tricolors. This had raised red flags on social media where few citizens felt India was imposing its flag on their countries road signs.
Department of Roads had to remove a board which read "Dantak welcomes you to Bhutan" at the Paro international airport
On the Thimphu-Phuentsholing arterial highway, another board credited the "Government of India" for infrastructural development, this was ultimately painted over by local administration.
In a number of cases, Bhutanese Minister for Public Works stepped in and change few markers into their national colors.
The Manmohan Singh-led United Progressive Alliance government's decision to cut cooking gas subsidy just before the 2013 elections in Bhutan has often been shown as proof of Indian interference, especially by the DPT party that lost that election.
The Narendra Modi government's actions, indicating a preference for one party (for example, Sheikh Hasina's Awami League in Bangladesh) or antipathy for another (such as for Mahinda Rajapaksa's Sri Lanka Freedom Party), have been noted closely in Bhutan.
What should India do?
India should revise India's Bhutan policy and address several issues that have come up in the past few years.
The hydropower projects where delays in constructing and commissioning in Bhutan by Indian companies have led to the country's burgeoning national debt.
India's power-surplus status and the advent of other renewable energies like wind and solar power will make it more difficult for Bhutan to ensure that its hydropower sector becomes profitable.

India should find ways to help, it will be accused of the same sort of "debt-trapping" that China is accused of today.

India also needs to focus on policing cross-border trade better. The goods and services tax still hurts Bhutanese exporters, and demonetisation has left lasting scars on the banking system.
The China question
The biggest issue between India and Bhutan will remain how to deal with China.
Bhutan-China border dispute, could become a point of India-China conflagration, with Bhutan becoming a hapless spectator in the middle
China's actions to build a permanent military presence above the stand-off point, mean that Bhutan has a much-reduced advantage in any forthcoming negotiations on the issue.
After Mr. Modi's Wuhan outreach and several meetings with Chinese President Xi Jinping, Bhutan too has decided that there is little point in avoiding engagement with China.
So it is important to clarify here that the popular narrative of India coming to the rescue of tiny Bhutan is not accurate. In the Doklam stand-off, it was India's security that was at stake, its "chicken neck" on the line.
New Delhi must appreciate the kinds of pressures that Thimphu must have come under from Beijing for taking such a stand.
Conclusion
Bhutan will steer its external relations with China by giving neither provocation nor the impression of getting into a bear hug of dependence with India. Both could jeopardise its autonomy.
At the same time India should reach out more to the people of Bhutan to address issues concerned.
1. Slum policies
Context
India's rapid urbanization has been proceeding apace for decades and there is growth of Slums in the urban areas and for thousands who come to the cities every day, cheap housing in slums is often the springboard to better lives.
How should India address this issue?
First, India must get its numbers right as there are no concrete figures on these temporary and semi-permanent settlements.

Slums have a fluid definition and legal pedanticism leads to exclusion of people.
The 2011 Census estimated 65 million people in slums, a marked shortfall from the UN-HABITAT's 2014 estimation of 104 million.

Current slum policies primarily focus on housing, relocation or in-situ development of multi-storey complexes, which free up swathes of prime real estate. But in doing so we miss out on the brewing socio-economic distress in slums.

Over 70% of families in slums live in debt.
The difference between their monthly earnings and expenses is less than ₹1,000 leaving them vulnerable in case of educational, vocational, social or health emergencies.
Moreover, with no access to formal financial systems, any borrowing comes from private money lenders at high interest rates.
For many, even water and electricity are disproportionately more expensive as they are forced to rely on the grey market rather than on formal, subsidised channels.
What could this lead to?
The cumulative effect is that residents end up staying in the same slums for an average of 21 years
When families did move out of their slums, it was towards "cheaper," worse-off slums.
This is perhaps due to the rapidly changing profile of entry level jobs. Undergraduate or technical certificates can only provide low-paying jobs. Much like their parents, the youth earn less than their more-educated peers who don't live in slums.
Way forward
A nuanced slum policy, rather than a one-size-fits-all approach is the need.
In many established slums, political patronage has produced concrete houses, title deeds, piped water and regularised electricity. Here, economic opportunities and employment are key.
On the other end, slums resembling tented refugee camps need housing and basic amenities.
Until these nuances are considered, ambitious but slow-to-implement housing schemes will do little for the welfare of slum dwellers.
1. CAD to widen to 2.5% of GDP: Moody's, economists
Context
India's current account deficit (CAD) will widen to 2.5% of the GDP in the current fiscal due to the higher oil prices that has been accentuated by rupee depreciation says Moody's
Background
The rupee last week slid to a record low of 70.32 to a U.S. dollar as political turmoil in Turkey and concerns about China's economic health continued to support safe-haven assets and weighed on emerging market currencies.
Details
India's current account deficit is likely to widen to 2.5% in FY 2018-19, up from 1.5% in fiscal 2017 due to higher oil prices and strong non-oil import demand as domestic demand accelerates
A key driver has been gradual U.S. Fed monetary policy tightening, which has resulted in dollar appreciation against many other currencies globally.
A further negative for the rupee is that a number of economic crises in large emerging markets including Argentina, Venezuela and Turkey have made global investors more cautious about emerging markets' currencies and equities.
Nothing here for today!!!
H. Practice Questions for UPSC Prelims Exam
Question 1. Dhangars are present in the state of 
Rajasthan
Nagaland
Maharashtra
Kerala
See
Question 2. Consider the following about Ischemic stroke:
It is a condition caused by a dysfunction in the supply of blood to the brain due to emboli, thrombus or atherosclerosis occurring in cerebral arteries.
CSIR's new patented Clot buster PEGylated Streptokinase the novel recombinant protein is set to assist in the treatment of Strokes.
Only 1
Only 2
Both 1 and 2
Neither 1 nor 2
See
Question 3. Global Findex is released by:
World economic forum
World Bank
IMF
OCED
See
Question 4. Consider the following statements:
Innovate India Platform is a program of Department of science.
Turnitin software is to detect plagiarism.
Which of the above statements is/are incorrect?
Only 1
Only 2
Both 1 and 2
Neither 1 nor 2
See
I. UPSC Mains Practice Questions
The Delhi high court judgement of decriminalizing begging is a welcome move but there are some inherent difficulties. Critically Analyze.
Explain in detail the foreign policy under each of the Prime Ministers.
Pakistan and India should aside their political misunderstanding to bridge the economic functions. Explain the importance of India Pakistan trade with relevant examples.
"Proper Current Affairs preparation is the key to success in the UPSC- Civil Services Examination. We have now launched a comprehensive 'Current Affairs Webinar'. Limited seats available. Click here to Know More."
Enroll for India's Largest All-India Test Series