TABLE OF CONTENTS
A.

 GS1 Related




B.

 GS2 Related


INTERNATIONAL RELATIONS
1. 'China has to resolutely respond to U.S.'


C.

 GS3 Related


DISASTER MANAGEMENT
1. Kerala prepares memo seeking more Central funds
2. Reservoirs not managed using a scientific, decision-support system
3. India Inc. reaches out to help Kerala
INTERNAL SECURITY
1. New copters to enable tech transfer
ECONOMY
1. Tech giants must reinvest in infra, jobs
2. Worst may be over for rupee against dollar
3. Unlisted firms may have to issue shares only in demat form
4. 'Set up high-value textile-making units'
5. Delays plague projects, despite RERA
6. Time for catastrophe bonds?
7. Post-rains, plantation sector tots up losses
SCIENCE AND TECHNOLOGY
1. Even a discarded contact lens can pollute waterways


D.

 GS4 Related




E. 

Editorials


POLITY
1. Council conundrum
2. Article 35A and the basic structure
DISASTER MANAGEMENT
1. Until dams do us part


F. 

Tidbits




G. 

Prelims Fact


H. UPSC Prelims Practice Questions
I. UPSC Mains Practice Questions 

Nothing here for today!!!
Category: INTERNATIONAL RELATIONS
1. 'China has to resolutely respond to U.S.'
China has launched a long campaign to win the trade war with the U.S., which is targeting 's transition to a digitally advanced economy.

A hard hitting commentary in the People's Dailymade it plain that the trade war would be a marathon and not a sprint. "The Trump administration regards China as its 'strategic competitor' which 'threatens' the U.S. in terms of geopolitics, strategic security, economy and trade and technology, as well as ideology.

Its China policy, based on zero-sum mentality, will not change as China hopes it to. Therefore, China has to cast away illusions and resolutely respond to the U.S.," said a post. The article asserted that Washington has adopted a policy to target China's rise as a strategic rival.
Going high-tech
Analysts say that Made-in-China 2025 (MIC 2025) that promises to make Beijing the global engine of advanced manufacturing, is the real target of U.S. President Donald Trump's trade war. In an interview with Bloomberg in March, White House adviser Peter Navarro was unambiguous in saying that U.S. tariffs were targeting the "Made in China 2025" strategy. But observers point out that it may be too late to wreck the strategy.

For starters, China is responding energetically to the heavy domestic demand for white collar jobs in high-end manufacturing, including those of self-driving cars, drones and other areas such as new materials and biomedicine.

China is also expected to dramatically expand funding for semiconductor chips — its area of vulnerability within the MIC-2025 framework.

Further, China is in a good position to import products from other countries as an alternative to the U.S. Whereas one-fifth of U.S. imports are from China, Beijing imports only 9.9% of its requirement from the U.S.

A Chinese official told state-run Xinhua news agency that once Washington exits the Chinese market, it will be hard for it to stage a comeback.
1. Kerala prepares memo seeking more Central funds
According to Chief Minister Pinarayi Vijayan, who held a review of the relief and rehabilitation work on Sunday, 4,62,456 persons are still housed in 1,435 relief camps. Over three lakh houses have been cleaned till date.

Apart from the physical challenge of clearing debris, cleaning flood-ravaged buildings, sanitation and medical care, the fiscal challenges of handling the post-flood reconstruction are growing, despite a massive inflow of aid to the Chief Minister's Distress Relief Fund.

The State has already announced compensation for those affected by the flood. The Public Works Department action plan, presented to the government to restore roads and other damaged infrastructure, puts the cost at Rs. 5,815.25 crore over the next 18 months.

The Centre has already released Rs. 600 crore as advance assistance, with another Rs.562.45 crore given to the State Disaster Response Fund. The State government is preparing a memorandum for further assistance after Prime Minister Narendra Modi's assurance to Governor P. Sathasivam.

Mr. Vijayan also appealed on television to Keralites, both in the country and outside, to contribute a month's salary over 10 months for the rehabilitation efforts.

With educational institutions scheduled to reopen on August 29 after an advanced Onam vacation, cleaning 700-odd schools submerged by the flood waters poses a major challenge. Most of these schools have lost vital infrastructure.

The task is particularly daunting in Alappuzha district, where several schools have become relief camps.

The government has asked district collectors to consider shifting the relief camps to other buildings and if necessary rent out private premises. Relief camps in schools and colleges will be wound up and people, whose homes were waterlogged, would be shifted to marriage halls and convention centres, Finance Minister Thomas said.

Even as the cleaning operations continued on Sunday, local bodies have been asked to identify areas for the collection of non-degradable and inorganic waste.

A special purpose vehicle, Clean Kerala Company (CKC), has been formed by the government to handle this waste.
Drinking water
Soon after the review meeting, the Chief Minister, in a press note, said special attention will be given to setting up kiosks for distribution of drinking water in the flood-affected areas.

The press note also said carcasses of 3,64,000 fowls, 3,285 large animals and 14,274 small animals were disposed off as per a government advisory.

Steps were also being taken to provide food and fodder to surviving animals and over one lakh sacks of cattle feed have been distributed.

With Central assistance likely to fall short given the mammoth task of reconstruction, the Chief Minister and government officials are working to mobilise funds.

While the actual requirement of funds is being worked out, experts involved in the planning process at various periods, say the State would require over Rs. 40,000 crore to restore development levels.
2. Reservoirs not managed using a scientific, decision-support system
As Kerala grapples with the aftermath of unprecedented rains and inundation, Secretary, Ministry of Earth Sciences M. Rajeevan explained to The Hindu the challenges of forecasting floods in the State with relatively small rivers prone to flash floods, inaction at the local level despite weather alerts and dam management.
In terms of weather-modelling, how well did our rain forecast models capture the possibility of such heavy rains in Kerala?
As far as Kerala is concerned, in August we had two spells — on the 4th and the 14th — and both of these were captured by our short range weather prediction system. Each of them were forecast three days in advance. We (The India Meteorological Department) gave a forecast for heavy rains district-wise — in the form of orange and red alerts.
But did these maps give an estimate of the quantum of rains expected—after all rains were on average 50% and some places double the normal?
A 'red alert' means that you must initiate action. It means that the IMD is expecting heavy rains, so State officials shouldn't just be waiting.

Typically our authorities don't strongly react based on a red alert alone…

That's a different issue but from the IMD's side, we've already warned. An 'orange' means 'be on alert' and a 'red' means take action. So for instance, if a dam is full and you've been warned of heavy rains, then that means you should have been careful.

Unfortunately, I've been given to understand that Kerala has no flood warning system. The Central Water Commission (CWC) doesn't have a flood warning station in Kerala. But they do monitor rivers and the water levels in river.

In Kerala, the rivers are relatively small. For instance, if it rains in a hilly region, it can flood within 25 minutes and in an hour the water will come. Rivers like Cauvery and Narmada have huge basins and such inundations are much slower.
Is there any reason there's no flood warning system in Kerala?
Well, it's said that this kind of a calamity hasn't happened in the past anywhere. As I said, the focus [by the CWC] is on large rivers and especially those that traverse multiple States.

The point is that, any river can be flooded and any place can be flooded.

But from the earth sciences perspective, can't these flows be observed via satellites and forecasts prepared? You use them for studying the oceans.

Frankly speaking, we don't have the mandate. This is entrusted to the CWC. We (IMD) have 11 flood warning offices such as in Ahmedabad, Bhubaneshwar etc.

They interact with the CWC everyday during the monsoon. Every river is divided into basins and we give a two to three-day forecast for each basin and we give a quantity — the average rainfall over the basin and how much is likely — and we run them in weather models to generate a forecast. This is given to the CWC and they in turn use it to estimate how much water is likely in a river.Now might be a good time to establish one in Kerala.

Unfortunately the lead time would still be short…a river can flood in half-hour. We can also use radars… during all this time, we have a radar in Thiruvananthapuram and Kochi.

Our local meteorology offices there used to give CWC 'nowcasts' (forecasts valid for two hours). This is based on how convective clouds form and the way they move. All these products are being given. However, they have to be intelligently used by the recipient.

In India, none of our reservoirs are managed using a scientific, decision-support system. It's left to a few individuals to take a decision.
Is it because reservoirs are the property of States and managed entirely by them?
Dams are managed by States and they worry about their own personal requirements such as, hydro-power management.

You [dam managers] should know that (in the case of Kerala this year) it's July, the dams are full, there are two months of monsoon left…I'll stop at that and don't want to interpret further. Decisions should be made by talking to the meteorological office, factoring inputs. I don't think there's such a mechanism in place.
What is the forecast for Kerala? Have we passed the worst of the season for the State?
Over the next four to five days, there's no major rain expected in Kerala. Beyond that we can't be sure. Our extended range forecasts (15 days and ahead) suggest that only north India will be getting more rain.

The southern and interior part won't get much rain. The west coast, however, will still see rain — Karnataka, Maharashtra but not really Kerala.
3. India Inc. reaches out to help Kerala
Corporate India has been making large contributions to the Kerala Chief Minister's Distress Relief Fund (CMDRF), and finding other ways to help too.

The biggest donor so far is the Adani Foundation, with ₹25 crore for immediate relief, and another ₹25 crore committed for rehabilitation and resettlement. AF also has teams in remote areas distributing materials to relief camps, and has started rehabilitation work in collaboration with the group's Vizhinjam port project.

The Reliance Foundation has donated ₹21 crore, and also has relief teams on the ground.

RF has committed to setting up medical camps , supplying medicines to the government for use by district authorities, and providing construction equipment and workers to repair public infrastructure. The parent group has contributed relief material close to ₹50 crore, mostly through Reliance Retail.

Other significant corporate donors to the CMDRF are the Kerala State Electricity Board (₹25cr), ICICI Bank (₹8cr), Ramco Cements (₹2cr), TVS Motors (₹1.5cr), Hero Motors, MRF, Muthoot Finance, Sun TV, and TV Sundaram Iyengar & Sons (₹1cr each). VIT University, Vellore, sent ₹1 crore.

The Mumbai-based Jyothi Laboratories, whose promoters hail from the State, donated ₹1.28 crore. From West Asia, Dubai-based Fathi Health Care Group and Abir Group of Saudi Arabia donated ₹1 crore each. Axis Bank donated ₹2 crore and committed another ₹3 crore for rehabilitation through partner NGOs. Employees of GAIL have contributed a day's salary totalling ₹1.54 crore.

The oil PSUs collectively donated ₹25 crore, and the Seafood Exporters Association sent ₹1.15 crore. CII-Telangana said member companies, including TCS, ITC PSPD, Gati, Shree Malani Group, Ankur Biscuits, Ravi Foods, and a few individual donors had sent over 23 tonnes of relief material.

Kerala-based Josco Jewellers contributed ₹2.5 crore and Kalyan Jewellers ₹1.1 crore.
Tech majors chip in
International majors and domestic players used technology to enhance relief work and help channel donations.

Google's Geo platform is using a mix of news and crowdsourced data, and Google Developers Experts issued warnings of closed roads across the most affected districts.

Google also activated its Person Finder in English and Malayalam and added local updates and official emergency resources to its SOS alert service. It also added a Distress Relief Fund button to Tez, its payment app.

Retailer Amazon India is supporting non-profits Habitat for Humanity India, World Vision India, and Goonj, and encouraging customers to donate relief goods to them through its platform. The company said employees have donated lakhs of rupees through its in-house volunteering portal.

Microsoft is also encouraging donations from its employees from their August salaries, and the company will match that sum. German software-maker SAPis asking its employees to contribute funds, relief material and goods for the ongoing clean-up.

Many companies have used their core offerings to channel public goodwill.

E-commerce major Flipkart and online grocery firms Grofers and Bigbasket are encouraging customers to donate funds and goods to Goonj.
1. New copters to enable tech transfer
The Defence Ministry is shortly expected to release project-specific implementation guidelines for the 111 naval utility helicopters to be procured under the Strategic Partnership (SP) model. However, foreign companies say there is still some clarity required on crucial legal, liability and technology transfer issues.

"There are two important issues that need clarity. One is legal. We can't sell a submarine or fighter jet to a private company. Global regulations do not allow that. It has to be to a government-owned company. So, there has to be a government-to-government component in the end," a top executive of a foreign company said.
Large infrastructure
For the first time, under the SP model, Indian private companies will get to tie up with global original equipment manufacturers (OEMs) and build major defence platforms in India under technology transfer. So far, it was defence public sector undertakings (DPSUs) which played the lead role.

The other issue, he said, was about the liability of the end product. "For us to stand guarantee to the finished product built by a local company is a problem. There has to be a back-end mechanism to enable us," he said.

This liability issue was one of the major reasons the earlier medium multi-role combat aircraft (MMRCA) deal for 126 jets got derailed at the contract negotiation stage, after Dassault Aviation refused to stand guarantee to the aircraft manufactured by Hindustan Aeronautics Ltd. (HAL).

Another senior executive observed that there is large infrastructure already present in the country with DPSUs and this must be utilised for the benefit of both the country as well as form a business sense.

"We hope to try and use that. There is no point reinventing everything. It will be risk mitigating for everyone," he said.

There is need for some clarity from the MoD on production transfer and technology transfer as well, the executive added.

In July-end, the Defence Acquisition Council (DAC) cleared the general as well as project-specific implementation guidelines for the naval helicopters that would lay emphasis on transfer of technology and high absorption of indigenous content. The guidelines and the qualification guidelines are yet to be communicated to the industry.

All procurements under the SP model would be executed by specially constituted empowered project committees (EPC) to ensure timely execution, the Ministry said. Apart from the helicopters, the projects to be processed under the SP model are fighter aircraft, P-75I submarines and armoured vehicles.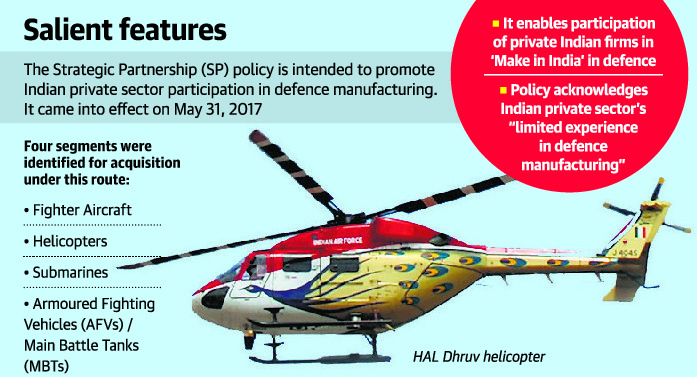 Indian choppers to remain in Male
The two Indian military helicopters, gifted to the Maldives, are likely to stay back along with a 48-member crew and support staff for at least the next few months as talks between the two countries on their continued deployment in the island nation were "positive", diplomatic and military sources said on Sunday.

The lease agreement of the two helicopters, given to Maldives in 2013, has expired and the island nation had conveyed to New Delhi that it would not like to retain them.

After several rounds of talks, however, there has been indication from the Maldives on its willingness to keep the two helicopters along with the crew and support staff, sources said.

They said the preliminary outcome of talks between the two countries on the issue has been positive and there was a possibility of the choppers being stationed there for a longer duration. "The helicopters and the support staff are not being brought back," a highly-placed source said. Sources said the Maldives was extending visas of the Indian staff.
1. Tech giants must reinvest in infra, jobs
Global technology giants should reinvest part of their profits for development of infrastructure and job creation in revenue generating countries such as India, Union Minister of Electronics and IT Ravi Shankar Prasad said.

Speaking at the G20 Digital Economy Ministerial meeting in Argentina, the Minister said the largest and most dynamic markets for digital services are in Asia, Latin America and Africa, with India having one of the largest footprint of several popular social media and other digital platforms.

"It is only fair and just that some of the revenue and profit generated from these platforms be equitably reinvested in the largest markets to create more infrastructure and generate more job opportunities for the people there," an official release quoted him as saying.

During the meeting, the G20 member nations agreed to promote policies that will contribute to bridging all forms of the digital divide, with special attention to the digital gender divide.

The countries agreed to promote digital government and digital infrastructure, strengthen the digital skills of the workforce, deepen the analysis towards digital economy measurement, and to share experiences and lesson learned.
Talking about data privacy, Mr. Prasad said data is needed to improve business but it must be anonymous, objective, and taken with consent.

He also reiterated that India had taken serious note of reported misuse of data from social media platforms. "Such platforms will never be allowed to abuse our election process for extraneous means," he said, adding that the purity of the democratic process should never be compromised and that India will take all required steps to deter and punish those who seek to vitiate this process.

However, he added, privacy cannot prohibit innovation nor can privacy become the "shield for the corrupt or terrorists."

The Minister said that the borderless cyberworld creates almost 'limitless opportunities of trade, commerce and knowledge sharing but to fully reap the benefits of the digital transformation for the global economy, there is a need cyberspace that is safe and secure.'

Stating that 'nefarious' use of the Internet is a reality that needs to be met by concerted action by all, he said the use of the cyber medium to spread radical thought is again a 'challenge that needs to be addressed both domestically by better regulations as well as international cooperation.'
2. Worst may be over for rupee against dollar
The rupee has suffered significant losses this year but the worst seems to be over and the domestic currency is expected to be in the range of 67-68 against the U.S. dollar by December, according to an economist with HDFC Bank.

The rupee ended below the 70-mark against the U.S. dollar for the first time ever on August 16 and has lost 10% so far this year amid global uncertainties and concerns over inflation.

"Barring a few episodes that could still come in due to extreme volatility in the markets, definitely the worst for the INR seems to be over. We think that by September end, the fair value of the rupee would be around 68-69 and that is where it should go and settle," Sakshi Gupta, India Economist, HDFC Bank told PTI.

The dollar rally is likely to fade out as the U.S. mid-term elections take place in November and also as the twin deficit problem in the U.S. resurfaces, the market would start focusing on that, she said.

"By this fiscal year-end the fair value of rupee is expected to be around 67-68. But going into next year with election risks coming in domestically… usually, we see a lot of volatility in the currency markets just before the elections."
3. Unlisted firms may have to issue shares only in demat form
4. 'Set up high-value textile-making units'
The textile industry can tap opportunities emerging globally in high-value manufacturing by converting fibre into fibre assemblies, according to Prasad Potluri, professor of robotics and textile composites and director of research at Northwest Composites Centre, University of Manchester.

Mr. Potluri, who were here recently, told The Hindu that high-value manufacturing sectors include aerospace, automotives, energy, and defence.

Current century is of fibres, including carbon and glass fibres. These will revolutionise the way we make products in the future. There is a huge potential for the textile industry in this segment. Those who are into technical textiles, even the small and medium-scale enterprises, can tap the potential in new fibres and convert those into suitable high value products, he added.

The industry should go beyond high-volume business to high-value business. They need to build on what they already have. They can get into weaving of carbon and glass fibres. The technical textile units can be fibre converters. This sector is know-how driven. For the Indian industries, awareness should improve and they should get the technology.

G. Thilagavathi, professor and head of department, textile technology, PSG College of Technology, said there were a few units in the country that did three-dimensional fibre weaving.

The number is few as functionalities in three-dimensional weaving using these fibres are different and the units need to have the requisite technology and machinery for the purpose.

In normal textiles, the price realised is minimum. In fibre assemblies, which can be converted into high-performance products, the realisation is much higher.
5. Delays plague projects, despite RERA
Property worth $47 billion is locked in delayed projects across India, causing distress among homebuyers. The bulk of this is in the National Capital Region (NCR) and the Mumbai Metropolitan Region (MMR).

As per findings by PropEquity, a real estate analytics company, more than 4.65 lakh units in housing projects across India are running 'significantly behind their delivery deadlines' with 'daunting' construction delays.

"Total value of projects facing construction delays is ₹3.3 lakh crore ($47 billion)," PropEquity said in a report. The National Capital Region accounts for more than 70% of projects that have failed to meet completion deadlines.
Bulk in NCR, MMR
Almost 1.8 lakh units valued at Rs.1.22 lakh crore are facing an uncertain future in the NCR region (Gurugram, Noida, Greater Noida, Ghaziabad, Faridabad). In MMR, which includes Mumbai, Navi Mumbai and Thane, 1.05 lakh units worth Rs. 1.12 lakh crore are pending completion.

These projects are on hold on account of financial constraints, execution challenges, surplus supply due to over-ambitious launches by developers, environmental clearances and slowing sales, among others, PropEquity said.

"Although the markets are facing significant execution delays we do expect reputed developers to perform well," said Samir Jasuja, founder and MD, PropEquity.

"We also anticipate that the resolution to this difficult scenario will occur in the form of consolidation that will be led by the larger and more capable developers who have the construction and execution capability to meet their promises," he said.

Funding is another issue. "Most of the projects are stuck because their developers do not have funds to complete the projects," said Ankur Dhawan, chief investment officer, PropTiger.com

"These developers are currently looking for JV partners who can bring capital to complete the stuck projects as the balance sheet of existing developers do not support further funding from financial institutions."

He said RERA, a law brought in to enforce strict norms on developers, has not helped solve the issue as it had allowed developers to offer new completion dates without facing financial penalties.
Deadline change debate
"One possible solution is for RERA to enforce original completion dates which will force developers to expedite these joint ventures," he said.

In Mumbai, several developers have witnessed project delays. Among them, Nirmal Lifestyle has projects in the Central suburbs. One of its projects was stuck for eight years as the property had been attached by the Forest Department which claimed the land as its own.

"The forest land issue had stalled many projects in Mumbai and Thane including one of our projects in Mulund. The Supreme Court recently lifted the attachment, [and] we have started construction," said Rajeev Jain, director, Nirmal Lifestyle. Under RERA, the developer has given a new completion deadline and is looking forward to hand over the units to those who had booked apartments.

Customers had booked flats at Rs. 2,000 a sq ft and Nirmal Lifestyle is building the stalled project at a construction cost of Rs. 8,000 per sq. ft. Once complete, the apartments will be valued at Rs. 17,000 a sq ft.

With RERA coming in, things will improve. Under RERA, one has to complete the project in time. If the government brings in a law for timely permissions and no surprises come, then all projects will complete in time.

Earlier, developers were disorganised and permissions too were delayed, impacting projects.

On the flip side, RERA has given an opportunity to developers to be transparent and deliver as per a new deadline. This has helped place stalled projects on the fast track. Developers believe the backlog will clear in the next 2-3 years.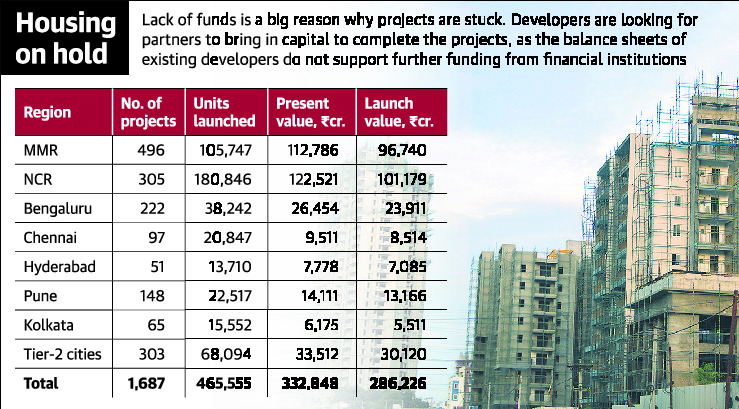 What is share buyback?
With prominent companies such as Infosys, TCS and L&T having gone for a share buyback, here is a low-down on the mechanism and the reasons for firms taking such a step.
What is a buyback?
A buyback is a mechanism through which a listed company buys back shares from the market.

A buyback can be done either through open market purchases or through the tender offer route.

Under the open market mechanism, the company buys back the shares from the secondary market while under tender offer, shareholders can tender their shares during the buyback offer. Historically, most companies had preferred the open market route.
Why does a firm go in for a buyback?
Buybacks are typically done when a company has a significant cash reserve and feels that the shares are not fairly valued at the current market price.

Since the shares that are bought back are extinguished, the stake of the remaining shareholders rise. Promoters also use this mechanism to tighten their grip on the firm.
What are the benefits?
Since the bought back shares are extinguished, the earnings per share (EPS) rise by default. Also, since a buyback is usually done at a price higher than the then prevailing market price, shareholders get an attractive exit option, especially when the shares are thinly traded. It is also more tax-efficient than dividends as a way to reward shareholders.
How can a company execute a buyback?
A company can use a maximum of 25% of the aggregate of its free reserves and paid-up capital for a buyback. A special resolution needs to be passed at a general meeting. However, if the company plans to use less than 10% of its reserves then only a board resolution is required.
Can a firm opt for regular buybacks to boost EPS?
A company cannot do a second buyback offer within one year from the date of the closure of the last buyback. Also, there are time-bound limitations on further share issuances like preferential allotment or bonus issue post a buyback. These checks have been put in place so that companies do not misuse the buyback mechanism.
6. Time for catastrophe bonds?
The recent floods in Kerala have set off a debate about the need for timely aid required to kickstart the relief process.

There is a market mechanism for providing relief to the people in a timely manner. The idea that catastrophe risk could be securitised and that it could be dispersed among a wide number of investors was first mooted in the nineties after hurricane 'Andrew' caused massive damages in the United States.

The market for catastrophe bonds was initially pegged in the range of $1-2 billion dollars in the initial years of 1998-2001. Today, the total size of the catastrophe bond market is more than $30 billion

The outstanding bonds in the first quarter of 2018 amounted to $35 billion. Catastrophe bonds are issued by insurance companies which have exposure to property and calamity insurance. There is also insurance bought by U.S. State governments against calamities.

The cost of issuing and managing catastrophe bonds is cheaper than the cost of reinsuring these risks and does the same function of transferring risk. Hence, insurance companies prefer issuing catastrophe bonds.

The instrument is a bond where the investor loses a part or whole of the capital based on certain pre-agreed conditions being triggered. These could be:

Indemnity on losses faced by the insurer; or modeled losses; or, losses indexed to the total loss faced by the industry.
Helps investors diversify risk
For investors, there are two advantages. One is that of diversifying risk. This is perhaps the only class of bonds that is not tied to economic performance parameters which would be the case in equity.

Second, the investors are compensated by a rate of return which is higher than that of normal government or corporate bonds.

The primary investors in catastrophe bonds are long-term bond investors such as life insurers, and primary pension fund managers.

This helps them get extra returns on investment which in turn helps them to meet liabilities especially in a scenario where low interest rates have made meeting liabilities difficult in the west. Most rating agencies have started to rate these class of bonds. The rating given is normally a notch below the investment grade.

This instrument reduces the stress on the balance sheets of the governments at the State and the Centre.
Drives preparedness
Since investors will always have an eagle eye on the preparedness of dealing with catastrophes, it cuts the slack and bolsters more investments into technology and into people keeping an eye out for such events.

It is high time that such instruments are introduced in India so that relief and reconstruction work in areas affected by natural disasters goes on unimpeded and are no stalled for only want of capital.
7. Post-rains, plantation sector tots up losses
Recent rains in Kerala and the Malnad region of Karnataka have left a trail a destruction in India's major spice-growing regions.

Coupled with landslips, the rains have adversely affected plantation crops such as ginger, black pepper, cardamom coffee, nutmeg, rubber and tea.

Though government agencies are yet to ascertain the quantum of loss in the plantation sector, farming sources said that the loss incurred by the sector is about Rs. 2,100 crore in Karnataka and Rs. 800 crore in Kerala.

Farmers cultivating short-term crop such as ginger were relieved when they received good pre-monsoon showers in April.

But ginger farms in Kerala and Karnataka submerging in floods starting June has dampened their hopes. Ginger rhizomes have since been affected by the soft rot disease.

Heavy rains in ginger growing regions of Mysuru, Coorg, Chikkamagaluru, Hassan and Shimoga districts in Karnataka and Wayanad, Palakkad, Pathanamthitta and Idukki districts in Kerala in June flooded the fields.

The rains wiped out ginger rhizomes on almost 5,000 hectares in Karnataka and 2,500 hectares in Kerala, Navrang Mohanan, president, South Indian Ginger Growers' Association told The Hindu.

Torrential rains have washed off black pepper vines in many parts of the two States. This will adversely affect pepper production in the coming season.

High moisture content owing to the rains has triggered fungal diseases like quick wilt and soft wilt. Pepper production may fall 40-50% next season.
Category: SCIENCE AND TECHNOLOGY
1. Even a discarded contact lens can pollute waterways
It might seem harmless at first: a thread of dental floss tossed in the toilet, a contact lens swirling down the drain of the bathroom sink. But even the tiniest items can contaminate waterways.

The small fragments of plastic contact lenses are believed to be contributing to the growing problem of microplastic pollution. Pharmaceuticals, which are also frequently flushed down the drain, have been found in our drinking water, and the consequences are not fully known.
Products like wipes and tampons are also clogging sewer systems, resulting in billions of dollars in maintenance and repair costs.

Many wipes claim on their packaging to be "flushable," but almost all of them contain rayon or viscose, said Rob Villée, executive director of the Plainfield Area Regional Sewerage Authority in Middlesex, New Jersey.

"Unfortunately, the natural water bodies these get into do not have the heat or micro-organism levels to effectively degrade these," he added. "That is why we see rayon accumulating in the oceans."

While toilet paper will break down in anywhere from a minute to four minutes, wipes take at least six hours to disintegrate, Mr. Villée said. Furthermore, the pumps at collection systems that move waste downstream to treatment plants cannot tear them apart.

Dental floss, which is usually made of nylon or Teflon, should also stay out of the toilet.

When contact lenses are flushed down the toilet or washed down the sink, they do not biodegrade easily. As a result, they may make their way into surface water, causing environmental damage, new research has shown.

The lenses are also impervious to the bacteria that break down biological waste at treatment plants.

When researchers at Arizona State University submerged contacts in chambers with the bacteria, they found that the lenses appeared intact seven days later.

It is often assumed that tampons can be flushed down the toilet, in part because they are small.

But their absorbent materials, including the string, do not break down easily: They cannot be processed by waste water treatment centres, and can damage septic systems.
Nothing here for today!!!
Context:
Odisha is all set to get a Legislative Council like several other States in the country. Odisha's plan calls for a national policy on the utility of a second chamber (the Legislative Council) in the States. Odisha wants to join the group of States that have an Upper House. The State Cabinet has approved a 49-member Legislative Council, accepting the report of a committee set up in 2015 to study the functioning of the second chamber in other States and make recommendations.
Legislative Councils:
The legislative council is permanent body but 1/3rd of its member retire every 2 years. The members of the council elect a chairman which is called "presiding officer". The council also elects the Deputy chairman.
Total Number of the Legislative Council should not exceed the 1/3rd of the total number of members of the Legislative assembly, but it should not be less than 40 (Article 171).
Jammu & Kashmir is an exception to this where the upper house has strength of 36 only. This is because; J & K assembly is created as per the J & K constitution and Part VI is not applicable to Jammu & Kashmir.
Details:
There are only seven such Councils across the country in the states of Andhra Pradesh, Bihar, Jammu and Kashmir, Karnataka, Maharashtra, Telangana, and Uttar Pradesh.
Section 168 of the Indian constitution speaks about the Constitution of Legislatures in States and Article 169 speaks about "Abolition or creation of Legislative Councils in states".
Indian Constitution does not adhere to the principle of bicameralism in case of every legislature. Whether there should be a legislative council in the state or not, is decided by legislative assembly of the state itself.
But it does not mean that legislative assembly can itself create a legislative council. The constitution of India has full provisions about the creation of legislative council and its abolishment.
The power of abolition and creation of the State legislative council is vested in Parliament of India as per article 169. But, to create or to abolish a state legislative council, the state legislative assembly must pass a resolution, which must be supported by majority of the strength of the house and 2/3rd majority of the present and voting (Absolute  + Special Majority).
The resolution to create and abolish a state legislative council is to be assented by the President also.
Though when a legislative council is created or abolished, the Constitution of India is also changed, it is not considered as a Constitution Amendment Bill.
Is there a need for Legislative Council in all the States?
The framers of the constitution as well as members of the Constituent assembly had in mind that it may not be possible for all the states to support two houses, financially as well as for other reasons. For instance, some of the members of the Constituent assembly criticized the idea of bicameral legislature in the states as a superfluous idea and a body which is unrepresentative of the population, a burden on the state budget and causing delays in passing legislation. That is why, it was left for the legislatives of the state assembly to decide whether or not there should be a legislative council in the state.
Arguments in favour of Legislative Councils in every state:
An Upper House provides a forum for academicians and intellectuals, who are arguably not suited for the rough and tumble of electoral politics.
It provides a mechanism for a more sober and considered appraisal of legislation that a State may pass.
Legislative Councils make the governments more accountable.
The members of Legislative Council through their experience can act as the friend, philosopher and guide of the Legislative Assembly.
Arguments against Legislative Councils in every state:
The absence of Legislative council in every state itself suggests the lack of any real advantage, apart from the absence of a broad political consensus on the issue.
The process of creating an Upper House is lengthy. Two Bills introduced in the Rajya Sabha in 2013 for establishing Legislative Councils in Assam and Rajasthan are still pending, indicating the lack of support for such a move.
Rather than fulfilling the lofty objective of getting intellectuals into the legislature, the forum is likely to be used to accommodate party functionaries who fail to get elected.
It is also an unnecessary drain on the exchequer.
Another issue is that graduates are no longer a rare breed; also, with dipping educational standards, a graduate degree is no guarantee of any real intellectual heft.
Way Forward:
There has to be a national policy on having an Upper House in State legislatures to be framed by the Union government, so that a subsequent government doesn't abolish it. There has to be a uniformity and strong policy for its creation, revival and abolishment.
The provision in the law for Councils to have seats for graduates and teachers needs to be reviewed.
A national consensus must be evolved on the establishment of Legislative Councils.
2. Article 35A and the basic structure
Context:
The Supreme Court hearing on the validity of Article 35A of the Constitution has raised questions: Can Article 35A of the Constitution be struck down? If yes, should it be? It also seeks to check if Article 35A infringes the Constitution's basic structure.
Article 35 A
Article 35A lets the J&K Legislature decide the "permanent residents" of the State, prohibits a non-J&K resident from buying property in the State and ensures job reservation for its residents.
Legislature a carte blanche to decide who all are 'permanent residents' of the State and confer on them special rights and privileges in public sector jobs, acquisition of property in the State, scholarships and other public aid and welfare. The provision mandates that no act of the legislature coming under it can be challenged for violating the Constitution or any other law of the land.
How did it come about?
Article 35A was incorporated into the Constitution in 1954 by the order of the then President Rajendra Prasad on the advice of the Jawaharlal Nehru Cabinet.
The controversial Constitution (Application to Jammu and Kashmir) Order of 1954 followed the 1952 Delhi Agreement entered into between Nehru and the then Prime Minister of Jammu and Kashmir Sheikh Abdullah, which extended Indian citizenship to the 'State subjects' of Jammu and Kashmir.
The Presidential Order was issued under Article 370 (1) (d) of the Constitution. This provision allows the President to make certain "exceptions and modifications" to the Constitution for the benefit of 'State subjects' of Jammu and Kashmir. Therefore, Article 35A was added to the Constitution as a testimony of the special consideration the Indian government accorded to the 'permanent residents' of Jammu and Kashmir.
The parliamentary route of law making was bypassed when the President incorporated Article 35A into the Constitution.
Article 368 (i) of the Constitution empowers only the Parliament to amend the Constitution.
A five-judge Bench of the Supreme Court in its March 1961 judgment in Puranlal Lakhanpal vs. The President of India discusses the President's powers under Article 370 to 'modify' the Constitution. Though the court observes that the President may modify an existing provision in the Constitution under Article 370, the judgment is silent as to whether the President can, without the Parliament's knowledge, introduce a new Article. This question remains open.
Issue:
A writ petition filed challenges the validity of both Article 35A and Article 370. It argues that four representatives from Kashmir were part of the Constituent Assembly involved in the drafting of the Constitution and the State of Jammu and Kashmir was never accorded any special status in the Constitution.
Article 370 was only a 'temporary provision' to help bring normality in Jammu and Kashmir and strengthen democracy in that State, it contends. The Constitution-makers did not intend Article 370 to be a tool to bring permanent amendments, like Article 35A, in the Constitution.
The petition said Article 35 A is against the "very spirit of oneness of India" as it creates a "class within a class of Indian citizens". Restricting citizens from other States from getting employment or buying property within Jammu and Kashmir is a violation of fundamental rights under Articles 14, 19 and 21 of the Constitution.
Another petition has challenged Article 35A for protecting certain provisions of the Jammu and Kashmir Constitution, which restrict the basic right to property if a native woman marries a man not holding a permanent resident certificate. "Her children are denied a permanent resident certificate, thereby considering them illegitimate," the petition said.
The National Conference argues that if the law goes, with it all other presidential orders passed since the 1950s will also become redundant and reopen the debate around the issue of accession.
Article 35A, it claims, could not have been introduced through a process outside the ordinary amending procedure prescribed under Article 368. Even assuming that the President possessed this power, the petitioner asserts, Article 35A infringes the Constitution's basic structure.
The Structure:
The argument that Article 35A infringes the Constitution's basic structure suffers from a fundamental flaw.
The canonical rule established in 1973, in Kesavananda Bharati v. State of Kerala, that the powers of amendment under Article 368 are not plenary and that the Constitution's basic features cannot be abrogated, was based expressly on an interpretation of the text of Article 368.
Its logic doesn't extend automatically to amendments made under Article 370, a provision, which in and of itself, is essential to maintaining India's federal structure.
It has been 6 decades since Article 35A was inserted, and by now a large area of properties would have changed hands. In such cases, where constitutional amendments create vested rights in persons, as the Supreme Court held in Waman Rao v. Union of India, an amendment made prior to the decision in Kesavananda cannot be susceptible to a basic structure challenge.
Context:
The tragedy in Kerala has highlighted the dangers of excess water accumulation in dams. More than 20 dams released water that cascaded down the hills, leaving behind a trail of destruction. India's policy on dams has to be urgently reviewed.
Details:
The opening of the gates of the Idukki dam caused the Periyar River to swell rapidly and discharge seven lakh litres of water per second.
There are many debates in favour of dams stating that they provide drinking water and water for agriculture which are being scientifically rejected in the current scenario.
For independent geologists and hydrologists, dams represent a nightmare, a momentary triumph of engineering over common sense and the natural sciences.
Increasingly, it is evident that dam proponents are ignoring crucial decision-making data now available on patterns of rainfall, geology and climate change.
Why are dams built?
Dams have two main functions.
The first is to store water to compensate for fluctuations in river flow or in demand for water and energy.
The second to raise the level of the water upstream to enable water to be diverted into a canal or to increase 'hydraulic head' –– the difference in height between the surface of a reservoir and the river downstream. The creation of storage and head allow dams to generate electricity; to supply water for agriculture, industries and households; to control flooding; and to assist river navigation by providing regular flows and drowning rapids.
Other reasons for building large dams include reservoir fisheries and leisure activities such as boating.
Issue:
Dams are far more hazardous than any other infrastructure project, except nuclear plants. Even as Kerala and Tamil Nadu have battled over the safety of the 116-year-old Mullaperiyar dam, according to the India Water Portal, there are, over 100 dams in India which are over a century old, and more than 500 large dams which are 50-100 years old, many of which have major defects and need urgent repair. It is also accepted today that dams can trigger seismic events.
Why Dams are considered a momentary triumph of engineering over natural sciences in today's world?
Dams store millions of tonnes of fresh water in large reservoirs, submerging prime forests, villages, farms and livelihoods.
The 4,700 large dams built since 1947 have cumulatively displaced 4.4 million people. This makes dams the single largest cause for displacement post-Partition.
Dams take decades to come up and only a fraction of their output is for the household sector and clearly does not do much in solving the drinking water crisis
Over 85% of the dams are used in agriculture for producing cash crops such as sugarcane. Dams have displaced the poorest of India's people in favour of richer farmers and urban residents, often with little or no compensation.
It is also accepted that dams can trigger seismic events. The reservoir-induced seismicity (RIS) from the weight of the reservoir has resulted in earthquakes in various parts of the country: of the 75 cases of RIS reported worldwide, 17 have been reported from India.
Way Forward:
There has never been a greater urgency to review India's policy on dams and to act on decentralised alternatives that involve water recycling and reuse.
The immediate task that has to be taken up is to critically review every dam in the country, decommission those that are at end-of-life.
Sound safety protocols need to be established and building new dams must be stopped.
H. Practice Questions for UPSC Prelims Exam
Statutory body
Constitutional body
Executive body
None of the above
See
Question 2. Consider the following statements about Buyback of shares :
A buyback is a mechanism through which a listed company buys back shares from the market.
A buyback can be done either through open market purchases or through the tender offer route.
Which of the above statements is/are incorrect?
Only 1
Only 2
Both 1 and 2
Neither 1 nor 2
See
Question 3. Consider the following statements about Catastrophe bonds:
Catastrophe bonds are issued by insurance companies which have exposure to property and calamity insurance. There is also insurance bought by U.S. State governments against calamities.

The cost of issuing and managing catastrophe bonds is cheaper than the cost of reinsuring these risks and does the same function of transferring risk. 

Insurance companies do not prefer issuing catastrophe bonds.
Which of the above statements is/are correct?
Only 3
Only 2
Only 1 and 2
Only 2 and 3
See
I. Practice Questions for UPSC Mains Exam
In India, none of the reservoirs are managed using a scientific, decision-support system.Critically Analyse.
The textile industry can tap opportunities emerging globally in high-value manufacturing by converting fibre into fibre assemblies. Discuss.

 
Also, check previous Daily News Analysis
"Proper Current Affairs preparation is the key to success in the UPSC- Civil Services Examination. We have now launched a comprehensive 'Current Affairs Webinar'. Limited seats available. Click here to Know More."
Enroll for India's Largest All-India Test Series