TABLE OF CONTENTS
A.

 GS1 Related


CULTURE
1. NMML: Kharge, Jairam call on Rajnath


B.

 GS2 Related


POLITY
1. SC questions second chance for those left out of NRC
SOCIAL ISSUES
1. SC finds audit of child shelters 'frightening'
2. Punjab House passes Bills to curb sacrilege
3. Kudumbashree members clean Kerala
INTERNATIONAL RELATIONS
1. China's 'Type 002' begins sea trials
2. Rohingya ask UN to deliver justice
GOVERNANCE
1. Leading journalists join call for EU copyright reform
HEALTH ISSUES
1. Millions risk malnutrition as CO2 levels climb: study


C.

 GS3 Related


INTERNAL SECURITY
1. Five arrested for 'Maoist links' in nationwide raids
ENVIRONMENT AND ECOLOGY
1. India's most polluted: 30% have no clean up plan
2. There is no second chance for the Taj, SC warns U.P.
3. EESL to get $300 mn from World Bank
SCIENCE AND TECHNOLOGY
1. Manned space mission before 75th I-Day: ISRO chief
2. Govt. scraps scientific panels, forms council
ECONOMY
1. Settlement in derivatives to attract same STT as equities


D.

 GS4 Related




E. 

Editorials


INTERNATIONAL RELATIONS
1. Pieces of the Asian dream
2. Easing tensions


F. 

Tidbits




G. 

Prelims Fact


H. UPSC Prelims Practice Questions
I. UPSC Mains Practice Questions 

1. NMML: Kharge, Jairam call on Rajnath
Days after former Prime Minister Manmohan Singh wrote to Prime Minister Narendra Modi asking him not to disturb the Teen Murti complex which is dedicated to the memory of Jawaharlal Nehru, senior Congress leaders Mallikarjun Kharge and Jairam Ramesh called on Home Minister Rajnath Singh on Monday, urging the government not to dilute Nehru's legacy.
The government and the Congress are locked in a battle over the Centre's plan to change the nature of the Nehru Memorial and Museum Library (NMML) at Teen Murti — a heritage property spread over 45 acres — and dedicate it to the memory of all the Prime Ministers of India.
The Nehru Memorial Museum & Library (NMML)
The Nehru Memorial Museum & Library (NMML) is a museum and library in New Delhi, India, which aims to preserve and reconstruct the history of the Indian independence movement.
Housed within the Teen Murti House complex, it is an autonomous institution under the Indian Ministry of Culture, and was founded in 1964 after the death of India's first prime minister, Jawaharlal Nehru.
It aims to foster academic research on modern and contemporary history. Today, the Nehru Memorial Library is the world's leading resource centre on India's first prime minister
1. SC questions second chance for those left out of NRC
The Supreme Court asked the Centre whether it was giving people, among the 40 lakh excluded from the draft National Register of Citizens (NRC) in Assam, a "second chance" to gain citizenship by allowing them to produce fresh documents to prove their family roots in India.
The court was referring to the Standard Operating Procedure (SOP) proposed by the government, which allows a claimant for Indian citizenship to "change his legacy" by submitting additional documents at the 'claims and objections' stage.
The court asked whether this would amount to "re-doing the claims" of those left out from the draft NRC published on July 31.
A Bench of Justices Ranjan Gogoi and Rohinton Nariman on Tuesday said allowing a claimant to change his legacy would amount to "tinkering with the family tree" and re-doing the verification process.
For more on NRC
https://byjus.com/free-ias-prep/national-register-citizens
https://byjus.com/free-ias-prep/national-register-of-citizens-nrc-1951-issues-in-news
1. SC finds audit of child shelters 'frightening'
The Supreme Court on Tuesday called the preliminary contents of a social audit conducted by the National Commission for the Protection of Child Rights (NCPCR) as "frightening."
In an affidavit filed before a Bench led by Justice Madan B. Lokur, the NCPCR, represented by advocate Anindita Pujari, submitted that out of a total of 2,874 children's homes surveyed, only 54 institutions could be given positive reviews.
The NCPCR is carrying out an audit of child care institutions and other bodies such as children homes, open shelters, observation homes, special homes, places of safety, specialised adoption agencies and fit facilities under the Juvenile Justice (Care and Protection of Children) Act, 2015, and Model Rules.
The audit is being conducted in compliance with a Supreme Court order on May 5, 2017.
Key findings
Out of 185 shelter homes audited across the country, only 19 had "all the records of a child that they are supposed to maintain."
Of the 203 special adoption agencies, only eight deserved positive reviews.
Similarly, only 16% of the 172 observation homes audited till July 31, 2018, had all the required records of the children, like case histories and who are residing there.
Again, out of 80 special homes/place of safety only 13% have the complete set of records.
The commission urged the court to direct the States to take positive measures to improve the condition of CCIs.
The court said that had the authorities functioned properly, recent incidents like the one in Muzaffarpur in Bihar where several girls were allegedly raped and sexually abused in a shelter home would not have happened.
The National Commission for Protection of Child Rights (NCPCR)
The National Commission for Protection of Child Rights (NCPCR) was set up in March 2007 under the Commissions for Protection of Child Rights (CPCR) Act, 2005, an Act of Parliament (December 2005).
National Commission for Protection of Child Rights (NCPCR) is a statutory body under the Commissions for Protection of Child Rights (CPCR) Act, 2005 under the administrative control of the Ministry of Women & Child Development, Government of India. 
The Commission's Mandate is to ensure that all Laws, Policies, Programmes, and Administrative Mechanisms are in consonance with the Child Rights perspective as enshrined in the Constitution of India and also the UN Convention on the Rights of the Child.
The Child is defined as a person in the 0 to 18 years age group.
2. Punjab House passes Bills to curb sacrilege
The Punjab Assembly on Tuesday unanimously passed Bills for an amendment to the Indian Penal Code and the Code of Criminal Procedure to make desecration of all religious texts punishable with life imprisonment.
The IPC (Punjab Amendment) Bill, 2018, has inserted Section 295AA to provide that "whoever causes injury, damage or sacrilege to Sri Guru Granth Sahib, Srimad Bhagavad Gita, the Holy Quran and the Holy Bible with the intention to hurt the religious feelings of the people shall be punished with imprisonment for life."
It also states, "In the IPC, 1860, in its application to the State of Punjab, in Section 295, for the words "two years," the words "10 years" shall be substituted.
Chief Minister Capt. Amarinder Singh in his statement said, "In the recent past there have been attempts to disturb peace and communal harmony in the State by committing sacrilege of Sri Guru Granth Sahib, Srimad Bhagwad Gita and Holy Quran.
The government is determined not to allow such incidents and ensure deterrent action against all those who commit such sacrilege.
The proposed Indian Penal Code (Punjab Amendment) Bill, 2018, aims to achieve this objective by providing punishment of life imprisonment for such acts of sacrilege."
The other Bill — 'Code of Criminal Procedure (Punjab Amendment) Bill, 2018,' provides to insert section 295AA — "injuring, causing any damage or sacrilege to Sri Guru Granth Sahib, Srimad Bhagwad Gita, Holy Quran and Holy Bible with an intention to hurt the religious feeling of the people."
The amendments would need the assent of the President. Under the existing Section 295A, punishment is for a maximum of three years' imprisonment with or without fine.
Police Bill
The Assembly also passed the Punjab Police (second amendment) Bill, 2018, which provides,
"The State government shall select the Director General of Police from amongst the Indian Police Service (IPS) from a panel of at least three eligible officers borne on the cadre of Punjab or any state cadre, who are in the rank of Director General or are eligible to hold this rank for appointment as DGP, based on their service record and range of experience, having a reasonable period of remainder service left, which shall in no case be less than twelve months as on the date of appointment."
The Shiromani Akali Dal and BJP legislators boycotted the proceedings when the debate on the Justice Ranjit Singh Commission's report began, expressing unhappiness over the "less time" allotted to the party. Akali Dal members later staged a "mock session" outside the House as a mark of protest.
Sacrilege
Sacrilege is the violation or injurious treatment of a sacred object or person. This can take the form of irreverence to sacred persons, places, and things.
When the sacrilegious offence is verbal, it is called blasphemy, and when physical, it is often called desecration.
In a less proper sense, any transgression against what is seen as the virtue of religion would be a sacrilege, and so is coming near a sacred place without permission. 
3. Kudumbashree members clean Kerala
If Kerala's fishermen were at the forefront of saving marooned people from flood-hit areas, workers of the Kudumbashree poverty eradication and women empowerment programme are going the whole hog to restore normal life in the regions scarred by the disaster.
Over 1.13 lakh residential premises across 10 districts have so far been cleaned and made habitable by the workers.
They have also cleaned over 3,100 public spaces while our community counsellors, 320 in all, offered psychological support to over 11,000 affected people .
This is a fine model of community service by the self-help group in post-disaster reconstruction.
Members of the mission also chipped in with their weekly thrift — savings that range between ₹10 and ₹20 — for 'Snehanidhi,' donation to the Chief Minister's Disaster Relief Fund.
Kudumbashree workers had been active from the initial days of the flood, making packaged meals available to affected people. In the first three days from August 15, some 16,000 food packets were distributed at relief camps in Pathanamthitta district alone.
The mission also mobilised workers en masse from non-affected or less-affected areas to carry out cleaning drives in hard-hit regions in Pathanamthitta and Wayanad.
A total of 6,757 women from the Kudumbashree neighbourhood groups were mobilised to clean living premises.
Each cleaning team had about 20 to 25 women equipped with bleaching and cleaning lotions. They were supported by the respective panchayats, Health Department and Accredited Social Health Activists (ASHAs.
Massive mobilisation
Such massive mobilisations are led by the respective district mission coordination teams.
Its State-wide network proved effective in tackling tough situations.
For instance, at Chengannur, the cleaning team suddenly realised that they needed the traditional brooms made of coconut leaf midriff to sweep the mud-laden premises of households.
In no time, some 2,000 brooms were made available by our Kannur team for the purpose. The office staff of the mission in Thiruvananthapuram also joined the field teams in carrying out cleaning activities.
Kudumbashree
Kudumbashree is the women empowerment and poverty eradication program, framed and enforced by the State Poverty Eradication Mission (SPEM) of the Government of Kerala.
The Mission aims to eradicate absolute poverty within a definite time frame of 10 years under the leadership of Local Self Governments formed and empowered by the 73rd and 74th Amendments of the Constitution of India.
The Mission launched by the State Government with the active support of Government of India and NABARD has adopted a different methodology in addressing poverty by organizing the poor in to community-based organizations. The Mission follows a process approach rather than a project approach.
The mission was officially inaugurated by the then Prime Minister Atal Bihari Vajpayee in 1998 as requested by the State Government.
Kudumbashree, a community organization of Self Help Groups (SHG's) of women in Kerala, has been recognized as an effective strategy for the empowerment of women in rural as well as urban areas: bringing women together from all spheres of life to fight for their rights or for empowerment.
The overall empowerment of women is closely linked to economic empowerment. Women through these NHGs work on a range of issues such as health, nutrition, agriculture, etc. besides income generation activities and seeking micro credit.
Kudumbashree was conceived as a joint programme of the Government of Kerala and Nabard implemented through Community Development Societies (CDSs) of Poor Women, serving as the community wing of Local Governments. 
Category: INTERNATIONAL RELATIONS
1. China's 'Type 002' begins sea trials
China's second aircraft carrier, Type 002, being built at Dalian shipyard, has started the second phase of sea trials, state media has reported.
Sea trials are essential to test and fine-tune a brand new ship's complex systems, paving the way for its entry into the Navy.
China Daily quoted an unnamed Chinese Navy researcher that he expected the second sea trial to mainly verify the carrier's communication, navigation and other electronic and mechanical instruments.
But analysts say that China's new warship is unlikely to become a game-changer. For starters, it appears similar to Liaoning — China's only aircraft carrier bought from Ukraine.
The Liaoning underwent 10 sea trials starting in August 2011 before entering service in September 2012. The new warship has an estimated displacement of around 50,000 tonnes, similar to that of Liaoning.
The National Interest — a U.S. publication — points out on its website that Type 002 retains conventional propulsion and a ski-jump for assisted takeoffs, quite like the Liaoning.
There are only minor changes in the superstructure, including new advanced electronically scanned array radars. The new carrier will board 24 to 30 J-15 fighters — slightly more than Liaoning.
Recalibrating posture
The Type 002, however, compares poorly with much larger U.S. aircraft carriers, which usually have a more than 85,000 tonne displacement.
It is likely that the U.S. military power will be further enhanced in the Indo-Pacific under the Donald Trump administration, which is already engaged in a trade war with China.
China is also working on a third aircraft carrier in Shanghai, which will stand in the premier league of similar platforms. The Type 003 is being developed on the same lines as the U.S. Navy's super-carriers, says another National Interest article.
The new ship will be powered by a nuclear engine. It is estimated that by 2020, the Chinese Navy will have 351 warships — a significant advance from the present level, but no match to the heavy arsenal of the U.S.
Indo-Pacific Command spread across a string of military bases in the Indo-Pacific.
2. Rohingya ask UN to deliver justice
Rohingya leaders in Bangladesh on Tuesday challenged the UN to ensure that Myanmar's generals stand trial after investigators called for top military commanders to be prosecuted for genocide against the minority.
A UN fact-finding mission into violations in Myanmar said the country's Army chief and five other senior brass should be investigated over a brutal crackdown last year that drove 7,00,000 Rohingya Muslims into Bangladesh.
Community leaders for the Rohingya in Bangladesh welcomed calls for prosecution, but said they would judge the UN on its ability to deliver justice.
Call for ICC trial
"The commanders must face an ICC trial," said Rohingya leader Abdul Gowffer, referring to the International Criminal Court in The Hague.
The investigators have called on the UN Security Council to refer the case to the ICC or for the creation of an ad hoc tribunal.
Dil Mohammad, another Rohingya leader, urged the UN to take further steps to ensure their safe return to Rakhine State, a process that has stalled with Bangladesh and Myanmar blaming each other for the delay. "Many things need to be done very quickly so we can return to our land in dignity and safety," he said.
The International Criminal Court (ICC ) 
The International Criminal Court (ICC ) is an intergovernmental organization and international tribunal that sits in The Hague in the Netherlands.
The ICC has the jurisdiction to prosecute individuals for the international crimes of genocide, crimes against humanity, and war crimes.
The ICC is intended to complement existing national judicial systems and it may therefore only exercise its jurisdiction when certain conditions are met, such as when national courts are unwilling or unable to prosecute criminals or when the United Nations Security Council or individual states refer situations to the Court.
The ICC began functioning on 1 July 2002, the date that the Rome Statute entered into force. 
1. Leading journalists join call for EU copyright reform
Leading journalists from more than 20 countries joined a call on Tuesday for European MPs to approve a controversial media reform aimed at forcing internet giants to pay for news content.
European Parliament lawmakers return in September to discuss the proposal, a first draft of which was rejected last month after a fierce debate.
The so-called copyright and neighbouring rights law aims to ensure that producers of creative content — whether news, music or movies — are paid fairly in a digital world.
But the plans have been firmly opposed by big U.S. tech firms such as Google and Facebook, as well as advocates of internet freedom.
An open letter signed by more than 100 prominent journalists from major news outlets warned on Tuesday that "this fleecing of the media of their rightful revenue" was "morally and democratically unjustifiable".
Article 11
The editorial urged the European Parliament to "vote massively in favour of neighbouring rights for the survival of democracy and one of its most remarkable symbols: journalism".
Major publishers, including AFP, have pushed for the reform — known as Article 11 — seeing it as an urgently needed solution against a backdrop of free online news that has wiped out earnings for traditional media companies.
But opponents have called it a "link tax" that will stifle discourse on the Internet. Resistance has been especially heated to Article 13: the proposal to make online platforms legally liable for copyrighted material put on the web by users.
Music legend Paul McCartney as well as major music labels and film studios had lobbied politicians urging them to come together and back the changes.
Critics, however, argue the reform will lead to blanket censorship by tech platforms that have become an online hub for creativity, especially YouTube.
1. Millions risk malnutrition as CO2 levels climb: study
Rising levels of carbon dioxide in the air threaten to sap wheat, rice, and other staple grains of valuable nutrients, raising the spectre of mass malnutrition, researchers have warned.
On current trends, higher CO2 concentrations could reduce iron, zinc and protein levels in the crops that feed the world by up to 17% by mid-century, they reported in the journal Nature Climate Change.
"Hundreds of millions of people could become newly deficient in these nutrients, primarily in Africa, Southeast Asia, India and the Middle East," lead author Matthew Smith, a researcher at the Harvard T.H. Chan School of Public Health, said.
"These are in addition to the billions of people already deficient that could see their condition worsen."
Protein, along with the minerals iron and zinc, are essential nutrients for normal human growth and development.
Zinc deficiency affects the immune system and makes children, particularly, more vulnerable to malaria, lung infections and deadly diarrhoeal diseases.
A lack of iron increases the likelihood of mothers dying during childbirth, can lower IQ, and causes anaemia, or a drop in red blood cells.
Wheat, rice and maize together account for roughly 40% of protein, zinc and iron supply in the diet worldwide.
In general, humans get three-fifths of dietary protein, four-fifths of iron, and 70% of zinc requirements from plants.
The global food system is also vulnerable to rising temperatures, prolonged drought, and other forms of extreme weather driven by climate change, earlier research has shown.
Impacts include reduced crop yields, heat-stressed livestock, and shifts in the quantity and location of commercially-fished ocean species.
1. Five arrested for 'Maoist links' in nationwide raids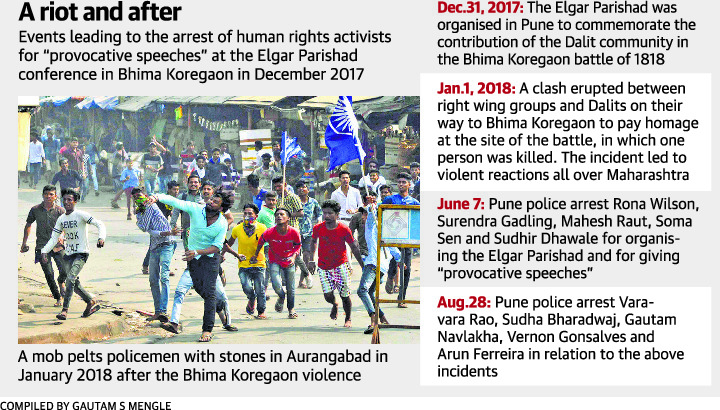 In co-ordinated crackdown across six States, the Pune police on Tuesday raided the homes of several activists and arrested Vernon Gonsalves, Arun Ferreira, civil liberties activist Gautam Navlakha, trade union activist Sudha Bharadwaj and Telugu poet Varavara Rao for alleged links to the Communist Party of India-Maoist.
The simultaneous raids were conducted in Mumbai, Thane, Sankhali in Goa, Delhi, Faridabad in Haryana, Hyderabad and Bagaicha near Ranchi.
The raids and arrests sparked outrage and protests from Opposition leaders as well as human rights and civil liberties activists.
CPI(M) general secretary Sitaram Yechury termed the arrests "a brazen attack on democratic rights and liberties," while Amnesty International India and Oxfam India, in a joint statement, said the crackdown was disturbing and threatened core human rights values.
Author Arundhati Roy said the arrests were "a dangerous sign of a government that fears it is losing its mandate and is falling into panic."
While refusing to share details of the charges against these five activists, the Pune police said they were involved in Maoist activities.
Joint Commissioner of Police (Law and Order) Shivaji Bodkhe neither confirmed nor denied reports about the activists allegedly plotting a 'Rajiv Gandhi style' assassination attempt on Prime Minister Narendra Modi, saying that he could not comment at this stage.
According to the search panchnamas prepared by the Pune Police (who orchestrated the police action), these activists are all being investigated for offences under the Unlawful Activities (Prevention) Act 1967 (UAPA), a draconian anti-terror legislation that was used to arrest five prominent Dalit rights activists in June this year for their alleged role in the Bhima-Koregaon violence, and links to Naxal groups.
Unlawful Activities (Prevention) Act 
Unlawful Activities (Prevention) Act is an Indian law aimed at effective prevention of unlawful activities associations in India.
Its main objective was to make powers available for dealing with activities directed against the integrity and sovereignty of India
The most recent amendment has been done in 2012. According to the statement of objects and reasons, the Bill amends the Unlawful Activities (Prevention) Act, 1967 to make it more effective in preventing unlawful activities, and meet commitments made at the Financial Action Task Force (an intergovernmental organisation to combat money laundering and terrorism financing)
 Bhima-Koregaon violence
Dalit activists and intellectuals organised a programme at the Shaniwarwada fort in Pune – the Elgar Parishad. The venue of the event is considered significant as it was a central power for the Peshwas who headed the military front of the Maratha empire.
Likely, Bhima-Koregaon holds importance to the Dalits as this is where, according to historians, the battle of Bhima-Koregaon was fought on January 1, 1818. 
On December 31, 2017, and January 1, 2018, thousands of Dalit gathered in Bhima-Koregaon to honour the Mahar community – a Dalit community Ambedkar belonged to – who fought alongside British Army to defeat Peshwas.
During that event, reports of stone pelting in Bhima-Koregaon and adjoining villages surfaced. 
Category: ENVIRONMENT AND ECOLOGY
1. India's most polluted: 30% have no clean up plan
India's most polluted cities are not too keen to clean up their act, according to a list maintained by the Central Pollution Control Board (CPCB).
Of the 102 cities singled out by the Centre for their alarming pollution levels, only 73 have submitted a plan of remedial action to the CPCB.
Ahmedabad, Bengaluru, Nagpur and Jaipur are among the prominent cities that are yet to submit their plans.
These so-called 'non-attainment cities' were among those marked out by the CPCB and asked – as part of the National Clean Air Campaign (NCAP) – to implement 42 measures aimed at mitigating air pollution.
These included steps such as implementing control and mitigation measures related to vehicular emissions, re-suspension of road dust and other fugitive emissions, bio-mass, municipal solid waste burning, industrial pollution, and construction and demolition activities.
The directives to take remedial measures were initially issued to Delhi NCR, and subsequently to the State Pollution Control Boards for implementation in other 'non-attainment' cities.
The non-attainment cities are those that have fallen short of the National Ambient Air Quality Standards (NAAQS) for over five years.
Union Environment Minister Harsh Vardhan had said in April that the aim of pollution mitigation measures was to cut overall pollution in these cities by 35% in the next three years.
The NCAP also envisions setting up 1,000 manual air-quality-monitoring stations (a 45% increase from the present number) and 268 automatic stations (from 84 now).
Only 30 of these cities are ready to roll out their plans on the ground.
In May, the World Health Organisation said that Delhi and Varanasi were among 14 Indian cities that figured in a global list of the 20 most polluted cities in terms of PM2.5 levels.
Other Indian cities with very high levels of PM2.5 particulates were Kanpur, Faridabad, Gaya, Patna, Lucknow, Agra, Muzaffarpur, Srinagar, Gurgaon, Jaipur, Patiala and Jodhpur, followed by Ali Subah Al-Salem in Kuwait and some cities in China and Mongolia.
Air Quality
Ambient air quality refers to the condition or quality of air surrounding us in the outdoors.
National Ambient Air Quality Standards are the standards for ambient air quality set by the Central Pollution Control Board (CPCB) that is applicable nationwide.
The CPCB has been conferred this power by the Air (Prevention and Control of Pollution) Act, 1981.
2. There is no second chance for the Taj, SC warns U.P.
Protecting the Taj Mahal means taking care of everything around the mausoleum commissioned by the Mughal emperor Shah Jahan for his wife, Mumtaz Mahal, in 1632, the Supreme Court said.
A three-judge Bench, led by Justice Madan B. Lokur, said the monument is only the "centrepiece." The forest cover, the river Yamuna and the grounds of the Taj Mahal should also be saved from pollution.
The Bench said the Vision Document for the Taj Trapezium Zone (TTZ) should examine and end the proliferation of hazardous industries, foundries, seepage and emissions which are slowly but steadily destroying the Taj Mahal and the protective cover around it.
In its 1996 judgment, the Supreme Court had noted that the Taj Mahal was not threatened by only traditional causes of decay, but also social and economic conditions.
Industrial emissions, brick kilns, vehicular traffic and generator-sets polluted air around the TTZ. The monument itself was slowly turning yellow from the collected grime.
Taj Mahal and Pollution
More recent threats have come from environmental pollution on the banks of the Yamuna River including acid rain due to the Mathura Oil Refinery, which was opposed by Supreme Court of India
The pollution has been turning the Taj Mahal yellow. To help control the pollution, the Indian government has set up the Taj Trapezium Zone (TTZ), a 10,400-square-kilometre (4,000 sq mi) area around the monument where strict emissions standards are in place.
3. EESL to get $300 mn from World Bank
Energy Efficiency Services Limited (EESL), the Centre and the World Bank signed a $220 million loan agreement and an $80 million guarantee agreement for the India Energy Efficiency scale-up programme.
The programme will help scale up the deployment of energy-saving measures in residential and public sectors, strengthen the firm's institutional capacity and enhance its access to commercial financing, EESL said in a statement.
The programme "will help tackle the financing, awareness, technical and capacity barriers faced by new energy efficiency programmes and support the UJALA and SLNP [schemes]," said Sameer Kumar Khare, Joint Secretary, Department of Economic Affairs, Ministry of Finance.
'Avoiding emissions'
The investments are expected to help avoid lifetime greenhouse gas emissions of 170 million tonnes of carbon dioxide and contribute to avoiding an estimated 10 GW of additional generation capacity.
This would be over 50% of the National Mission for Enhanced Energy Efficiency target of 19.6 GW indicated in India's Nationally Determined Contributions under the Paris accord, the statement added.
Under the scheme, EESL will deploy 219 million LED bulbs and tubelights, 5.8 million ceiling fans and 7.2 million street lights which will be supplied by the private sector.
Energy Efficiency Services Limited (EESL) 
It is an energy service company (ESCO) of the Government of India and is the world's largest public ESCO. It is 100% government owned, a joint venture of state-owned NTPC Limited, Power Finance Corporation, Rural Electrification Corporation and POWERGRID.
EESL was formed under India's Ministry of Power to facilitate energy efficiency projects. Innovative business and implementation models can significantly reduce consumption and costs. 
Category: SCIENCE AND TECHNOLOGY
1. Manned space mission before 75th I-Day: ISRO chief
If everything goes according to plan, in 40 months, three Indians will be launched into space by an Indian rocket. This is the aim of India's ambitious manned spaceflight mission, Gaganyaan.
ISRO began work on the manned mission in 2004 and some of these technologies have been demonstrated successfully through various tests — Space Capsule Recovery Experiment, Crew module Atmospheric Re-entry Experiment and Pad Abort Test.
Two unmanned missions will be undertaken prior to sending humans on the first manned flight within 30 months and manned mission in 40 months.
The total programme is expected to cost less than Rs.10,000 crore and will result in significant spin-offs in multiple dimensions, including technology spin-offs in the social sector.
Gaganyaan 
It is an Indian crewed orbital spacecraft intended to be the basis of the Indian Human Spaceflight Programme.
The spacecraft is being designed to carry three people, and a planned upgraded version will be equipped with rendezvous and docking capability.
In its maiden crewed mission, Indian Space Research Organisation's largely autonomous 3.7-tonne capsule will orbit the Earth at 400 km (250 mi) altitude for up to seven days with a three-person crew on board.
The crewed vehicle is planned to be launched on ISRO's GSLV Mk III in 2022.
2. Govt. scraps scientific panels, forms council
The government has scrapped two Scientific Advisory Committees (SAC) for the Prime Minister and the Cabinet, and replaced them with a nine member, Prime Minister's Science, Technology and Innovation Advisory Council (PM-STIAC).
Unlike in the earlier SACs, secretaries of various scientific Ministries such as education, environment and health would be 'special invitees' to the council meetings.
The PM-STIAC will be chaired by the government's Principal Scientific Advisor, Dr K. Vijay Raghavan.
While industry representatives were present in greater numbers in the earlier SACs, a single, industry member, particularly given the government's call to industry to increase jobs via entrepreneurship, is not an anomaly.
There was a separate, dedicated group—involving the Cabinet Secretary and the PSA to focus on driving innovation all the way to commercialisation, he said.
The newly constituted body is expected to act as a high level advisory body to several ministries and execute mission-oriented programmes.
The office of the PSA was earlier led by R. Chidambaram, who played a key role in shaping India's nuclear programme.
Scientific Advisory Committee
The Office of the Principal Scientific Adviser to the Government of India (PSA's Office) was set-up in November, 1999   by the Cabinet Secretariat, primarily, to:
Evolve polices, strategies and missions for the generation of innovations and support systems for multiple applications,
Generate science and technology tasks in critical infrastructure, economic and social sectors in partnership with Government departments, institutions and industry, and
Function as the Secretariat to the Scientific Advisory Committee to the Cabinet, with the Principal Scientific Adviser to the Government of India as its Chairman.
PM-STIAC
The Narendra Modi Government has constituted a high power committee to advise it on policy matters related to science, technology and innovation.
Named as PM-STIAC (Science, Technology, Innovation Advisory Committee), the 21-member committee, including a dozen special invitees, will be chaired by K Vijay Raghavan, Principal Scientific Advisor to the Government.
Among the key 9 permanent members are VK Saraswat, Member NITI Aayog and former DG of DRDO; A S Kiran Kumar, ex Chairman, ISRO; Baba Kalyani, MD of Bharat Forge, Sangamitra Bandopadhyay, Director, Indian Statistical Institute, Manjul Bhargava, Princeton University, US & Field Medal winner in Mathematics; Madhuri Kanitkar of Armed Forces Medical College; Ajay Sood, IISc; and Subhash Kak, Oklahoma University, US.
According to an official notification, secretaries of all science & technology related ministries are part of the special invitees.
These include atomic energy, space, biotechnology, new & renewable energy, environment & forests, agriculture, health & higher education.
The committee will advise the Prime Minister on all matters related to S&T, innovation and monitor the implementation of PM's vision on the same.
It will facilitate the formulation and implementation of policies and decisions, provide action-oriented and future preparedness advise and assist in directing S&T to solve the socio economic problems in the country.
It will also have a large focus on driving innovation in education, research, industry etc.
PM-STIAC will effectively supersede the SAC-Cabinet and SAC-PM (which were in limbo ever since the Modi Government came to power in 2014), which will now stand dissolved, the notification dated today said.
1. Settlement in derivatives to attract same STT as equities
The government has clarified that securities transaction tax (STT) will be levied on physical settlement of derivatives at the rate at which such tax is levied in the equity cash segment.
While replying to an appeal filed by the Association of National Exchanges Members of India (ANMI) at the Bombay High Court, the government, through the Central Board of Direct Taxes (CBDT), clarified that a physically settled derivative contract is similar to a delivery-based contract in the cash segment and hence the same rate of STT would be levied.
CBDT is of the view that where a derivative contract is being settled by physical delivery of shares, the transaction would not be any different from transaction in equity shares where the contract is settled by actual delivery or transfer of shares and the rates of STT as applicable to such delivery-based equity transactions shall also be applicable to such derivative transactions.
Currently, delivery-based trades attract an STT of 0.1% while it is lesser on derivatives contracts.
ANMI had filed an appeal at the Bombay High Court seeking a clarification on the manner in which STT would be levied on derivative contracts that are physically settled.
On Tuesday, the division bench comprising justices B.R Gavai and M.S. Karnik disposed of the petition after the government provided the clarification that was being sought by the broker body.
Securities Transaction Tax (STT)
Securities Transaction Tax (STT) is a tax payable in India on the value of securities (excluding commodities and currency) transacted through a recognized stock exchange. As of 2016, it is 0.1% for delivery based equity trading.
The tax is not applicable on off-market transactions or on commodity or currency transactions. The original tax rate was set at 0.125% for a delivery-based equity transaction and 0.025% on an intra-day transaction. The rate was set at 0.017% on all Futures and Options
The Central Board of Direct Taxes
The Central Board of Direct Taxes is a statutory authority functioning under the Central Board of Revenue Act, 1963.
The officials of the Board in their ex-officio capacity also function as a Division of the Ministry dealing with matters relating to levy and collection of direct taxes.
Nothing here for today!!!
Category: INTERNATIONAL RELATIONS
Context:
Various events in the recent times like the informal Narendra Modi-Xi Jinping summit at Wuhan, Prime Minister's keynote speech at the Shangri-La Dialogue in Singapore, the Shanghai Cooperation Organisation (SCO) Summit in Qingdao have sparked a lot of analysis as to what kind of strategic positioning India is gearing itself; especially at a time when the U.S. and China are caught up in geopolitical rivalry in the Asia-Pacific. The editorial speaks about India's Geopolitics in the Indo-pacific region.
Details:
2018 has so far been the year of the India-China reset (cooperation).
In Singapore, Mr. Modi's speech proclaimed India's ambitions to garner influence in the Indo-Pacific region by
Increasing engagement with the Association of Southeast Asian Nations (ASEAN)
Developing friendship with China
Maintaining cordial ties with Russia
Pursuing interests with Australia and
Engaging more with the U.S.
The question now is, what shape will India's lead take?
The fight for power between India and China:
As India and China pursue their interests in the littoral states spread across the Indo-Pacific region, the sea lanes and coke points continue to be impacted.
India pursues influence through
Heightened diplomatic engagement
Bilateral engagement and
military engagement,
Whereas, China has started to heighten its influence through hard investments in littoral nations suffering from massive infrastructural deficits.
China's heavy investments in ASEAN nations have influenced these nations to the point where despite an international ruling against its activities in the South China Sea (SCS), the ASEAN as a bloc agreed to cooperate with China on a Code of Conduct instead of pursuing the international ruling.
The influence of China on certain ASEAN states like Cambodia has been such that during the 2016 ASEAN ministerial meeting, it refused to endorse the joint communiqué if it included the international court ruling against Beijing with respect to the South China Sea.

China is today Cambodia's largest provider of foreign aid and has invested in dams, oilfields, highways, textile operations and mines.
Philippines has been seeking resumption of harmonious relations with China, especially after 2016, when U.S. legislators blocked the sale of about 26,000 M4 rifles. Beijing provided rifles and police and guns to fight against extremists in the city of Marawi.

ASEAN's trade with China far surpasses that with India, and Chinese foreign direct investment in ASEAN is nine times higher than India's.
Despite India's cordial relations with ASEAN, India must go a step ahead of diplomatic hobnobbing to gather support to contain China's growing military presence and hard cash power in the Indo-Pacific region.
India's influence in its neighbourhood:
So far, India has failed to provide any concrete plans for its immediate neighbourhood in South Asia.
India Nepal relationship has been souring due to the 2015 fuel blockade.
A failed strategic intervention in Sri Lanka has undermined India's regional leadership.
Countries like Nepal and Sri Lanka have been demonstrating interest in partnering with China.

China's multibillion dollar investments in Sri Lankan ports and cities have inched the country much closer to China. Sri Lanka has handed over its Hambantota port to China on a 99-year lease.
Under its Belt and Road Initiative (BRI), China has over the years promised billions to littoral states in the Indian Ocean Region to build a series of ports, something resource-constrained India will find difficult to match.

However, the overt-assertiveness of China has driven many countries in East and Southeast Asia to seek friendship with India. For instance, Indonesia and Singapore are looking to strengthen relations with India.
ASEAN has a cultural affinity with India with its shared religious diversity, ancient ties and a sizeable Indian diaspora in countries like Singapore and Malaysia.
After the U.S., India enjoys global soft power through its art, literature, music, dance and cinema.
India is perceived by many in East Asia as a friendly democracy, making the country a safe ally to have in the long run.
Japan has significantly increased its engagement with India and the two countries enjoy robust military ties.
India and Australia have initiated the '2+2' dialogue signalling Canberra's interest in deepening a maritime security partnership with India.
But India still has to develop a strategy to leverage its soft power and optimise its military power to effectively counter China's cash and hard power.
The big reset between India and China:
With China, India can strike a better strategic bargain compared to the smaller states in the region.
At the SCO Summit, Mr. Xi renewed China's agreement with India on sharing data on the cross-border flow of waters from the Brahmaputra during the flood season.
The two countries signed a protocol that would enable all varieties of rice exports from India to China, something that would help India rectify its adverse balance of payments against China.
Xi has also suggested a trade target of $100 billion by 2020, signalling a gradual reset in relations.
Way Forward:
India should maximise its soft power in South, East and Southeast Asia even as it resets ties with China.
For example, by demonstrating a willingness to join the Belt and Road Initiative, India can positively influence China to re-evaluate the details of the China Pakistan Economic Corridor. It would be difficult for China to take forward the BRI without participation from India.
With a strategic partnership with China, India can better pursue its own regional groupings like the Bay of Bengal Initiative for Multi-Sectoral Technical and Economic Cooperation (BIMSTEC) and Bangladesh, Bhutan, India and Nepal (BBIN) initiative.
Strategic understanding with China can help streamline regional connectivity projects and help India gain influence in the region as India cannot batch China's resource spending.
India is clearly seeking its rightful place in the League of Nations by outlining its geopolitical role, particularly in the Indo-Pacific region. India must, with its limited resources and geo political strategy play out against a resourceful and assertive China.
Context:
US and Mexico have reached a trade deal, paving the way to replace NAFTA. The bilateral deal between the U.S. and Mexico offers hope of winding down global trade wars.
Background:
The North American Free Trade Agreement, known usually as NAFTA, is a free trade agreement among Canada, the United States, and Mexico. NAFTA went into effect on January 1, 1994. NAFTA is also used to refer to the tripartite trading bloc of North American countries.
Details:
The US and Mexico reached a breakthrough bilateral trade agreement NAFTA after Mexico agreed to the concessions demanded by the Donald Trump administration.
The deal comes in the aftermath of President Trump's statement in June that he might enter into separate trade agreements with Canada and Mexico, thus effectively junking the tripartite NAFTA deal.
It has also invited Canada to join talks for a renegotiation of trade terms in favour of U.S. interests.
According to the new agreement,
75% of all automobile content must be made regionally, which is higher than the current level of 62.5%.
40-45% of such content must be manufactured using labour that costs at least $16 an hour. The U.S. hopes that this will discourage manufacturers from moving their facilities to Mexico, where labour is available at rates lower than in the U.S.
Lesson to other countries:
Mexico's decision could set an example for other countries which have resorted to retaliatory tariffs to deal with Mr. Trump's aggressive trade war against them.
The favourable market reaction post the deal was a sign of relief, riding on hopes that tit-for-tat tariff wars between the U.S. and its trade allies could draw to a close.
It is worth noting that Mexico had earlier joined hands with other economies such as Canada, China and the European Union to impose retaliatory tariffs against the U.S.
China has been at the forefront of the tit-for-tat approach, slapping tariffs on several U.S. goods, together worth billions of dollars.
There is no doubt that Mr. Trump's protectionist trade policy, including the current deal which increases restrictions on cross-border trade in order to protect U.S. jobs, is bad for the global economy.
Nevertheless, the best way to win the trade war against the U.S. may simply be to accept "defeat" by refusing to double down on retaliatory tariffs.
Retaliatory tariffs can only cause further harm to the world economy by increasing the burden of taxes on the private sector, which is crucial to spur growth and create jobs.
Further, there is no reason for America's trading partners to deprive the domestic consumers of access to useful foreign goods in a mechanism to protect themselves from US Tariffs.
The right response to Mr. Trump's trade war will be to abstain from any mutually destructive tit-for-tat tariff regimes while simultaneously pushing for peace talks.
Nothing here for today!!!
Nothing here for today!!!
H. Practice Questions for UPSC Prelims Exam
Question 1. Consider the following statements :
The Nehru Memorial Museum & Library (NMML) is a museum and library in New Delhi, India, which aims to preserve and reconstruct the history of the Indian independence movement.
NMML is an autonomous institution under the Indian Ministry of External Affairs
Which of the above statements is/are incorrect?
Only 1
Only 2
Both 1 and 2
Neither 1 nor 2
See
Question 2. Consider the following statements:

National Commission for Protection of Child Rights (NCPCR) is a statutory body under the Commissions for Protection of Child Rights (CPCR) Act, 2005.
It is under the administrative control of the Ministry of Women & Child Development, Government of India.
Which of the above statements is/are correct?
Only 1
Only 2
Both 1 and 2
None of these
See
Question 3.Kudumbashree is the women empowerment and poverty eradication program by the State of 
Karnataka
Kerala
Tamil Nadu
Odissha
See
I. Practice Questions for UPSC Mains Exam
India still has to develop a strategy to leverage its soft power and optimise its military power to effectively counter China's cash and hard power.Comment.

The bilateral deal between the U.S. and Mexico offers hope of winding down global trade wars.Discuss this in the context of NATFA trade deal between U.S and Mexico.
Also, check previous Daily News Analysis
"Proper Current Affairs preparation is the key to success in the UPSC- Civil Services Examination. We have now launched a comprehensive 'Current Affairs Webinar'. Limited seats available. Click here to Know More."
Enroll for India's Largest All-India Test Series