TABLE OF CONTENTS
A.

 GS1 Related


INDIAN SOCIETY
1. After HIV scare, villagers emptying tank


B.

 GS2 Related


POLITY AND GOVERNANCE
1. Odisha CM writes to Modi on women's Bill
2. Devise norms for payment apps, RBI told
3. Extension of NRC deadline sought
SOCIAL JUSTICE
1. Disabilities Act: States going slow on roll-out, says study


C.

 GS3 Related


ECONOMY
1. Fitch retains negative outlook for banks on weak capital
INTERNAL SECURITY
1. Maoists train guns on mobile phone network in Agency areas
ENVIRONMENT
1. Accounting methods of climate fund questioned


D.

 GS4 Related




E. 

Editorials


ENVIRONMENT
1. Shift to low carbon
AGRICULTURE
1. 'Our calorie-oriented approach to agriculture is no longer sustainable'
HEALTH
1. Stunted, wasted (Global Nutrition Report 2018)


F. 

Tidbits


1. Giant tortoise may offer clues to a long life
2. 13 reasons why SNEHA gets more calls


G. 

Prelims Fact


1. Patents granted by India up by 50% in '17
2. WIPO
H. UPSC Prelims Practice Questions
I. UPSC Mains Practice Questions 

1. After HIV scare, villagers emptying tank
Context
In a classic example of how misconceptions about HIV/AIDS remain deep-rooted, a tank is being drained out in Morab village in Navalgund taluk of Dharwad district (Karnataka) because of an HIV scare.
Details of the issue
Trouble began in the village after the body of a woman infected with the AIDS virus was found floating in the tank last week.
Rumour mills went into overdrive and lack of awareness only added to the fear among residents that the disease could spread to the whole village. The residents stopped using water from the tank and elders decided that pumping out the water was the only remedy.
It's been a couple of days now since 20 pumpsets have been installed on the tank bund to drain water into nearby fields and canals.
The village has no other source of drinking water and residents, mainly women, have to trek 2 km to tap other sources.
Efforts by officials, including the tahsildar and Assistant Commissioner, to convince the residents that there is no danger have proved futile.
On Tuesday, work on draining out the water body, spread over 32 acres, was still on. The elderly, among them Amrutgouda Patil of the village, are of the belief that the woman's body had poisoned the tank. Some of the villagers told reporters that they would bring pressure on the authorities to get water from the Malaprabha canal to fill up the tank again.
Some Basics about AIDS
The word AIDS stands for Acquired Immunodeficiency Syndrome. This means deficiency of immune system, acquired during the lifetime of an individual indicating that it is not a congenital disease [disease or abnormality present from birth]. 'Syndrome' means a group of symptoms.
AIDS was first reported in 1981 and in the last twenty-five years or so, it has spread all over the world.
AIDS is caused by the Human Immuno Deficiency Virus (HIV), a member of a group of viruses called Retrovirus, which have an envelope enclosing the RNA genome.
Transmission of HIV-infection generally occurs by sexual contact with infected person, by transfusion of contaminated blood and blood products, by sharing infected needles as in the case of intravenous drug abusers and from infected mother to her child through placenta.
So, people who are at high risk of getting this infection include individuals who have multiple sexual partners, drug addicts who take drugs intravenously, individuals who require repeated blood transfusions and children born to an HIV infected mother.
It is important to note that HIV/AIDS is not spread by mere touch or physical contact; it spreads only through body fluids. It is, hence, imperative, for the physical and psychological well-being, that the HIV/AIDS infected persons are not isolated from family and society.
There is always a time-lag between the infection and appearance of AIDS symptoms. This period may vary from a few months to many years (usually 5-10 years).
Category: POLITY AND GOVERNANCE
1. Odisha CM writes to Modi on women's Bill
Context
Odisha Chief Minister Naveen Patnaik on Tuesday wrote a letter to Prime Minister Narendra Modi urging him to initiate necessary steps for passing the Bill for reservation of one-third seats in Parliament and State Legislatures for women.
Pointing out that the principle of gender equality is enshrined in the Constitution, Mr. Patnaik said: "The country will move forward with much greater momentum only if the other half of our population, our mothers, sisters and daughters have a role in the highest decision-making bodies".
"Mahatma Gandhi always spoke of gender equality and empowerment of women in society. Taking a historic decision to empower women in our country would be the finest tribute to the Father of the Nation on his 150th birth anniversary," Mr. Patnaik wrote.
He informed Mr. Modi that the Odisha Assembly had adopted a resolution to provide reservation of one-third seats for women in Parliament as well as State Legislatures.
Analysis of the issue
B.R. Ambedkar once said that "political power is the key to all social progress". What, then, to make of the fact that India—a country where women suffer substantially greater socio-economic disadvantages than Western democracies like Spain—has a cabinet that is only 22% female and a Lok Sabha that has a meagre 12% female representation?
"Our dream of New India is an India where women are empowered, strengthened, where they become equal partners in the all-round development of the country." Prime Minister Narendra Modi said in his Mann Ki Baat.
Political parties in India tend not to follow provisions in their constitutions reserving seats for women in different committees The second barrier is the lack of education and leadership training.
Since women are not integrated in many local political processes initially, and, unlike men, are not part of the relevant social and power networks, women leaders are prone to inefficiencies.
The Economic survey for 2017-18 tabled in Parliament said factors such as domestic responsibilities, prevailing cultural attitudes regarding roles of women in society and lack of support from family were among main reasons that prevented them from entering politics.
2. Devise norms for payment apps, RBI told
Context
The Ministry of Electronics and Information Technology (MeitY) has proposed that the Reserve Bank of India (RBI) come up with regulations to oversee collection, usage and sharing of data by payment service providers, even as the government is expediting discussions on the draft Personal Data Protection Bill.
Details of the issue
This follows concerns raised by the National Cyber Security Coordinator (NCSC) over collection and storage of "sensitive personal data" by payment service providers via applications such as Google Tez, WhatsApp and Paytm.
The NCSC recommended that there was a need to scrutinise all aspects of a relation – legal, technical and financial, between all the stakeholders in the payments ecosystem. "Payments service providers must comply with legal framework as well as regulations prescribed by the regulator," the NCSC recommended.
"The Ministry of Electronics and IT (MeitY) supports NCSC's recommendation and has suggested that RBI should lay down regulations, that would bind the collection, usage and sharing of data, by participants in the payments arena," the official said.
In April, this year, the RBI directed all payments service providers to ensure that the data relating to payment systems operated by them were stored only in India. This came into effect in October 2018.
The Personal Data Protection Bill, 2018
Up until now, privacy laws in India offer little protection against misuse of your personal information. The transfer of personal data is currently governed by the SPD Rules (Sensitive Personal Data and information, 2011), which has increasingly proved to be inadequate.
The proposed Data Protection Bill 2018 essentially makes individual consent central to data sharing. The report notes that the right to privacy is a fundamental right. Unless you have given your explicit consent, your personal data cannot be shared or processed. Of course, this also means that the onus lies on you to make an informed choice.
Next, the draft bill also states that any person processing your personal data is obligated to do so in a fair and reasonable manner. In other words, your data should be processed only for the purposes it was intended for in the first place.
Failing to meet these provisions can cost companies dear, with the bill laying down penalties that can go up to ₹15 crore or 4 per cent of a company's total worldwide turnover.
3. Extension of NRC deadline sought
Context
More than 40 organisations of southern Assam's Barak Valley have demanded an extension of the ongoing claims submission phase of the updated National Register of Citizens (NRC) in view of the panchayat elections.
Less than 20% of the 40.70 lakh people excluded from the complete draft NRC have filed claims since the window opened on September 25.
National Register of Citizens
It is a register containing the list of bona fide (genuine/real) Indian citizens. Those failing to enlist their names in the register would be deemed, illegal migrants.
The first list was made in 1951, covering the whole of India, as per the census of that year.
Currently, the list has been updated for the first time, and only in Assam
Officially, the NRC process will address the issue of illegal migrants, specifically from Bangladesh.
The National Register of Citizens was first published in 1951 to record citizens, their houses and holdings. Updating the NRC to root out foreigners was a demand during the Assam Agitation (1979-1985).
There have been several waves of migration to Assam from Bangladesh, but the biggest was in March 1971 when the Pakistan army crackdown forced many to flee to India. The Assam Accord of 1985 that ended the six-year anti-foreigners' agitation decided upon the midnight of March 24, 1971 as the cut-off date.
1. Disabilities Act: States going slow on roll-out, says study
Context
A study conducted by the Disability Rights India Foundation (DRIF) on the implementation of the Rights of Persons with Disabilities (RPWD) Act, across 24 States, has revealed that more than half have not notified the State rules, despite a significant lapse of time.
Details of the Study
Ten States, including Bihar, Manipur, Meghalaya, Odisha, Telengana, Tamil Nadu and West Bengal, have notified the State rules, the survey said.
The study, conducted in collaboration with the National Centre for Promotion of Employment for Disabled People (NCPEDP) and National Committee on the Rights of Persons with Disabilities (NCRPD), said the Act, passed in December 2016, should have been notified by all States within six months.
The study, which concentrated on the States' administrative machinery with respect to the Act, found that nearly 80% of the States had not constituted the funds for implementation of the RPWD Act.
Among the five States to have constituted the funds, Tamil Nadu has allocated ₹10 crore, while Himachal Pradesh has allocated ₹5 crore. "Only Tamil Nadu has taken some action with regard to providing an increased quantum of assistance for people with disabilities in social security schemes," the report said.
Though 62% of the States have appointed Commissioners for Persons with Disabilities, "the progress has not been substantial. Only three States have constituted Advisory Committees, comprising of experts, to assist the State Commissioners" the study noted.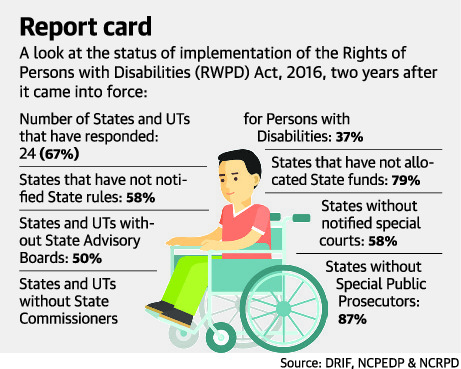 Rights of Persons with Disabilities Act, 2016
It replaced the 1995 Act. It brought the Indian law in line with the United National Convention on the Rights of Persons with Disabilities (UNCRPD), to which India is a signatory.
The types of disabilities have been increased from existing 7 to 21 and the Central Government will have the power to add more types of disabilities.
Speech and Language Disability and Specific Learning Disability have been added for the first time. Acid Attack Victims have been included. Dwarfism, muscular dystrophy has been indicated as separate class of specified disability.
The New categories of disabilities also included three blood disorders, Thalassemia, Haemophilia and Sickle Cell disease. In addition, the Government has been authorized to notify any other category of specified disability.
Responsibility has been cast upon the appropriate governments to take effective measures to ensure that the persons with disabilities enjoy their rights equally with others.
Additional benefits such as reservation in higher education, government jobs, reservation in allocation of land, poverty alleviation schemes etc. have been provided for persons with benchmark disabilities and those with high support needs.
Every child with benchmark disability between the age group of 6 and 18 years shall have the right to free education.
Government funded educational institutions as well as the government recognized institutions will have to provide inclusive education to the children with disabilities.
It provides for penalties for offences committed against persons with disabilities and also violation of the provisions of the new law.
1. Fitch retains negative outlook for banks on weak capital
Context
Rating agency Fitch maintained a negative outlook for Indian banks due to weak capital and said public sector lenders would need more capital than what the Centre had planned to infuse.
Fitch estimated that banks would need $38 billion by FY19 to sufficiently meet minimum Basel III capital standards, and achieve 65% cover for non-performing assets, and to leave some surplus capital for growth.
Basel reforms
Basel series of norms are broad supervisory standards formulated by Basel Committee on Banking Supervision (BCBS) to ensure that financial institutions have enough capital on account to meet obligations and absorb unexpected losses.
Basel III is a global, voluntary regulatory framework. It deals with – Bank capital adequacy, Market liquidity risk and Stress testing.
It was agreed by BCBS members in 2010–11.
It focuses primarily on the risk of a run on the bank, requiring differing levels of reserves for different forms of bank deposits and other borrowings.
It does not, supersedes the guidelines known as Basel I and Basel II for the most part, rather works alongside them.
In March 2014, RBI had extended Basel III deadline up to March 31, 2019, instead of as on March 31, 2018.
1. Maoists train guns on mobile phone network in Agency areas
Context
Cell phone connectivity has become a bone of contention between security forces and the banned CPI (Maoist) in the Visakhapatnam Agency.
While security forces want a strong network as it will give them an edge in vulnerable areas, the Maoists have been targeting the towers, especially during the PLGA Week being observed from December 2 to 8 since 2000.
Details of the issue
Ever since the BSNL made inroads into tribal areas, there has been a significant drop in recruitment, especially at the militia level.
According to a senior police officer, militia members are usually chosen from the villages and they provide logistic support and act as key recruitment agents, information providers and crowd mobilisers for meetings.
But after the advent of mobile phones in the Agency, awareness on various issues, including government schemes, has increased. Today, almost all tribal youth, especially in habitations close to main roads, have smartphones.
Chatting, browsing, and even surfing porn sites consumed a lot of their time, said a police inspector attached to a station in a Maoist-affected area.
They no longer have the time to attend Maoist meetings and there has been a major drop in recruitment.
The Maoists feel that while the cellphone network facilitates easy communication, it may also give away their location.
Who are the Naxals?
The parent term, Naxal entered Indian lexicons in the decade of 1960 and has acquired a certain meaning over the years. The term Naxal comes from a village called Naxalbari in Siliguri district of West Bengal. Naxalism is understood at two levels – as a socio-economic issue and a law and order problem.
The people who launched Naxal operations were frustrated with growing inequality among the various classes of society and government's apathy to address the routine grievances of the poor.
They launched armed rebellion against the system and the government dealt with it as a law and order problem. In 2008, the then Prime Minister Manmohan Singh said, "Naxalism is the greatest threat to our internal security."
The first NaxaI group sprang off as an offshoot of the Communist Party of India (Marxist). A small group of the party decided to break away to launch an armed struggle against big landowners and establishment.
Their objective was to capture additional lands of big zamindars and distribute the same among the tilling farmers and landless labourers. The leadership was provided by Charu Majumdar, Kanu Sanyal and Jangal Santhal. They became the first Naxals or the original Naxals.
Government Approach towards Naxalism
Focusing on infrastructure creation through Additional Central Assistance scheme & Road Requirement Plan scheme.
Universal Service Obligation Fund supported Scheme of Mobile Services to increase mobile connectivity.
Schemes like Roshni for skill development of rural poor youth.
Facilities of residential schools to children.
To improve public perception of state's commitment towards their welfare, states have been asked to effectively implement provisions of PESA, 1996 on priority, which – categorically assigns rights over minor forest produce to Gram Sabhas; funds are provided to security forces under Civil action program for conducting welfare activities in their deployment areas.
Surrender-Cum Rehabilitation policy for Naxalites in affected areas.
1. Accounting methods of climate fund questioned
Context
The Finance Ministry has issued a 'discussion paper' that has criticised the accounting methods used by developed countries to report how much money they have given, so far, to developing countries to address climate change.
Details of the issue
Accounting procedures, regarding the flow of climate finance, is one of the most controversial issues being debated at Katowice, Poland where countries have gathered to agree upon a 'Rule Book' to implement the Paris Agreement of 2015, that commits countries to ensure the earth doesn't warm 2C beyond pre-industrial levels.
In 2019, developed countries are expected to make available $100 billion annually to developing countries, according to a 2010 agreement in Cancun.
It argues that the definition of climate finance in the UNFCCC has remained "imprecise and incomplete." There was no clarity on whether the developed countries' commitment to 'provide funds' meant funds committed or those that made it to their intended recipients.
The total pledges to the Green Climate Fund, the largest multilateral fund, was a "meagre" $10.3 billion. Further, most of the total climate finance has flowed into mitigation (a reference to preventing carbon dioxide from being emitted).
Green Climate Fund
The Green Climate Fund (GCF) was adopted as a financial mechanism of the UN Framework Convention on Climate Change (UNFCCC) at the end of 2011 in CoP 16.
The GCF is intended to support projects, programmes, policies and other activities in developing country for combating climate change.
The GCF finances activities to both enable and support adaptation, mitigation (including REDD+), technology development and transfer (including CCS), capacity-building and the preparation of national reports.
The important distinction of GCF is that it has an independent legal status and personality and nationally designated authorities have a paramount role to play. This has been achieved after many rounds of different negotiations.
The GCF follows a 'country-driven approach', which envisages effective involvement of various stakeholders at all levels and also enables the developing countries to evolve their climate policy keeping in consideration their immediate development priorities like poverty reduction and improving standards of living for a large proportion of their population.
The effectiveness with which a country is able to tap the resources from the GCF and use them effectively is dependent on how well the country's government and its various institutions have prepared themselves to access the Fund.
It is based in South Korea and governed by a Board of 24 members and initially supported by a Secretariat.
The World Bank serves as the interim trustee of the GCF, and the Fund functions under the guidance of and remains accountable to the UNFCCC Conference of Parties.
What is Paris Agreement?
Paris Agreement is an international agreement to combat climate change.
In 2015, the governments of 195 nations gathered in Paris, France, and discussed a possible new global agreement on climate change, aimed at reducing global greenhouse gas emissions and thus reduce the threat of dangerous climate change.
The 32-page Paris agreement with 29 articles is widely recognized as a historic deal to stop global warming.
As countries around the world recognized that climate change is a reality, they came together to sign a historic deal to combat climate change – Paris Agreement.
The aims of Paris Agreement
Keep the global temperature rise this century well below 2 degrees Celsius above the pre-industrial level.
Pursue efforts to limit the temperature increase even further to 1.5 degrees Celsius.
Strengthen the ability of countries to deal with the impacts of climate change.
Nothing here for today!!!
Editorial Analysis:
It is important to note that both rich and poor countries have faced extensive damage from storms and heatwaves this year 2018.
Further, as climate representatives meet in Poland for the Conference of the Parties 24, the crucial question is whether carbon emissions will be reined in to avert further damage due to climate change.
In India for example, rains, floods and landslides in Kerala have killed 373 people since May 30, 2018. Also, Uttar Pradesh, Karnataka and Assam were battered by floods this year, as was Chennai in 2015.

Meanwhile, however, Delhi, Rajasthan, Andhra Pradesh, and Telangana, among other States, experienced heatwaves.
A Perspective on Greenhouse Gas Emissions:
It is important to note that Greenhouse gas emissions, of which carbon dioxide is the biggest component, make the earth warmer and lead to more heatwaves.

Importantly, a study in the journal "Scientific Reports" found that the decadal mean of daily maximum temperature for April and May in the 2010s is 40-42°C over large parts of India.

One should note that

warmer air holds more moisture, which results in more intense rainfall and provides more energy for storms.

Climate scientists attribute the rising trends in flooding and heatwaves to human-induced climate change.

Experts opine that in the absence of a shift to a low carbon economy worldwide, the average temperature could rise by more than 2°C by the end of this century.

Further, hotter, longer summers and excessive rainfall in some areas and droughts in others will damage crops. Warm coastal waters will turn unsuitable for certain species of fish. It is important to note that adapting to a changing climate is one part of the agenda.
What Japan has done: A Case in Point
Japan has invested a lot of money on coastal defences.

It has built the world's largest underground flood water diversion facility.

However, India presents a different Geography. With a coastline of about 7,500 km, most of which is low-lying, India cannot make such colossal investments.

From an Indian Perspective, better early warnings and timely evacuations have had huge pay-offs, the most striking example being the massive relocation of people from the coasts of Andhra Pradesh and Odisha before Cyclone Phailin struck those areas.
Concluding Remarks:
Experts conclude that adaptation will not suffice unless mitigation takes central stage among the world's leading emitters, including India.

It is important to note that India has committed to cuts in carbon emissions consistent with a 2˚C temperature rise. However, plans to build new coal-fired power plants need to be abandoned and replaced with a massive ramp-up of wind and solar power.

Further, India's stakes in a low carbon world economy are among the highest as it is on the front line of climate disasters and is also a leading contributor to greenhouse gas emissions.
In conclusion, apart from taking steps to adapt to climate change, India's voice in decarbonising the world economy is vital.
1. 'Our calorie-oriented approach to agriculture is no longer sustainable'
Editorial Analysis:
In recent days, the government has come under a lot of criticism over its estimates for economic growth during the United Progressive Alliance years and for the slowdown in GDP growth in the second quarter of this financial year.

As a matter of fact, Sanjeev Sanyal, Principal Economic Adviser to the Ministry of Finance, argues that even though the GDP back series lowered growth for previous years, the growth rates were still "decent" if seen in isolation.
In Conversation with the Principal Economic Adviser to the Ministry of Finance :
The following points present the excerpts from an interview with Mr. Sanjeev Sanyal, Principal Economic Adviser to the Ministry of Finance, on the non-performing assets (NPA) situation, the IL&FS crisis, and meeting the fiscal deficit target this year:
The question of the day is to do with the GDP back series data. What are your key takeaways from the new data?
We shifted the calculations to a new 2011-12 base in 2015.

This is done periodically to realign national accounts to the changing structure of the economy.

Further, all new GDP data are done on this basis but we needed to extend it backwards to provide a longer series. This is what was announced last week.
The CSO (Central Statistics Office) is a professional body and the methodology is as per internationally accepted standards.
Some insinuations have been made that these revisions are politically motivated. In fact, when this series was originally introduced in 2015, one of the results was that the growth rates for 2012-13 and 2013-14 were revised up very significantly.

In the case of 2012-13, it was revised up significantly [twice], from 4.7% to 5.1%, and then further to 5.5%. So, the new series increased the growth rates for certain years of the previous government and was welcomed. If the same methodology now lowers the growth rates of earlier years, that is how it is.
Do the new numbers change the way we look at the economy in the recent past? Did we never really hit a high-growth phase of over 9%?
The revised back series growth rates would still count as decent growth rates in isolation. The real issue, I would argue, were the macroeconomic stability numbers. There was a spike in inflation to double digits and a large and irresponsible expansion in credit which later led to banking NPAs.

Current account and fiscal deficits widened sharply. Thus, India was marked out as one of the 'Fragile Five'. So, while the new GDP growth numbers for 2005-06 to 2011-12 are somewhat weaker than previously calculated, the real problem was in macro stability.
What's your outlook going forward on the NPA situation? Do you think we need one more round of recapitalisation, more than what was already promised?
We introduced, in the last few years, much more stringent recognition norms for NPAs and capital requirements for banks. Recognition is now done strictly, and NPAs have been mostly taken into account. We are using the Insolvency and Bankruptcy Code to resolve/liquidate/auction NPAs. In this way, we are making our way through the old problem loans. Meanwhile, as a part of a revival plan, Rs. 2.11 lakh crore was earmarked for recapitalising banks. This is being deployed in a calibrated fashion. More will be made available if necessary.
What's the lesson on regulation in light of the IL&FS crisis in the NBFC (non-banking financial company) sector?
The NBFC sector is now a much more significant part of the economy than it used to be. We need to pay attention to regulating it and, in particular, pay special attention to larger institutions by taking into account their systemic importance, their asset-liability mismatch, and so on.

The other lesson is that the credit market needs to be kept flowing during periods of stress. Otherwise, it freezes up and causes a liquidity contagion of its own.

In India, everybody pays attention only to the stock market whereas it is the credit market that is at the heart of the financial system.
With the rise of the NBFC sector, aren't banks less important? Will there be a problem now with NBFCs slowing?

When we cleaned up the banks and slowed their expansion, the space was taken up by NBFCs. But now NBFCs themselves will go through a period of consolidation.

The immediate credit market roll-over problems have been eased but many of them will now have slower growth.

Parts of the economy, particularly some of the SMEs (small and medium-sized enterprises), have experienced a credit squeeze. So, we need to make sure that adequate credit reaches them.

The good news is that mainstream bank credit has revived and is growing at over 14% year-on-year.

We also have the problem that real interest rates are very high, especially for SMEs. If you are borrowing at 12% (not uncommon for SMEs), when inflation is at 8%, that's one thing.

But it's quite another when inflation is at less than 4%. A real rate of 800bps (basis points) is very high by any standards.

The Monetary Policy Committee (MPC) has brought down structural inflation by some 500 basis points. That's a good thing, but we now need to take step two, which is to structurally lower interest rates in real terms so that it is compatible with the new level of inflation.

Economists often ignore the long-term, second-order effect of high interest rates. High interest rates may lead to low inflation in the short to medium term. In the long term, however, high interest rates have a supply side impact such that capacities are not created, infrastructure is not built, and the economy gets indebted.

The riskiness of the financial system increases, and fiscal burden rises. Thus, higher interest rates in the long run actually lead to higher inflation. This is not a case for arbitrarily bringing down interest rates suddenly. But once we have anchored lower inflation, there is a case for systematically lowering real interest rates.
What is your take on the government meeting its fiscal deficit target this year?
This government is committed to fiscal responsibility. The fact that we are debating a fiscal deficit of 3.3% or 3.5% of GDP is in contrast to when we used to debate 5% or 6%. It is true that disinvestment of Air India is delayed.

Monthly GST (Goods and Services Tax) collections are a bit lower than the target rate, but remember we are getting higher collections in others areas — customs collections will benefit from a weaker rupee; direct tax collections have improved from better compliance.

Even in disinvestment, we have raised much more through recent ETFs (exchange traded funds) than people realise.
In light of the ongoing tussle between the Reserve Bank of India (RBI) and the Finance Ministry, what is your take on central bank autonomy?
Every Finance Ministry and central bank in the world debates these issues.

The question is, what is the institutionalised way of doing it? We value RBI autonomy, but this autonomy is within the framework of the RBI Act. Greater autonomy also means greater accountability. To whom is the RBI accountable? As per the RBI Act, it is accountable to its Board. Just as we institutionalised monetary policy decisions by creating the MPC, in the same way we have institutionalised our relationship with the key regulator through its Board. In fact, as a result of this precedent, we have effectively institutionalised our relationship with every regulator.
Why has GDP growth slowed to 7.1% year-on-year in the July-September quarter?
Part of the decline in the year-on-year growth rate from 8.2% to 7.1% is due to a higher statistical base. This was anticipated. However, part of the decline is due to factors such as the spike in energy prices, disruptions in NBFC credit and the impact of global liquidity tightening.

These factors had an impact from end-August to end-October, but have substantially abated since.

Latest bank credit data suggest that more funds are flowing to the commercial sector, albeit the net impact after the NBFC slowdown is unclear.

Similarly, global oil prices have dropped and the U.S. Fed's tightening cycle is likely to be less steep. Manufacturing PMI readings for November were also strong.
We have seen major reforms like the MPC, GST and the Insolvency and Bankruptcy Code in the last few years. What should we expect next?
The last 25 years of reform were about the withdrawal of the Indian state from things it should not do and creating transparent policy frameworks for the private sector. This is why the words 'reform' and 'liberalisation' are often used interchangeably. This is still unfinished business but we have made substantial progress over several governments.

The next 25 years of reform, however, must focus on getting the state to deliver on the things it should do. This will mean reforming the legal system, streamlining the administrative system, delivery of municipal services, and so on. This will require thinking about reforms in a very different way.
What is the way forward to tackle the various issues facing our agriculture sector and the farmers?
The immediate strategy is to make sure our MSP procurements go through and that reasonable incomes reach farmers.

But there is a longer-term debate to be had about our agricultural policy as a whole. In this context we have to look at the fact that our agricultural policy framework was set up in the 1960s in a period of scarcity, so it is aimed at producing ever more calories.

Our population growth has radically declined and is now growing at less than 1%. In such an environment, our calorie-oriented approach to agriculture is no longer sustainable. We need to rethink farm policy: how to produce more proteins, more cash crops, more investment in cold-chains, preservation of indigenous varieties, and so on.
1. Stunted, wasted (Global Nutrition Report 2018)
Editorial Analysis:
It is important to note that the health, longevity and well-being of Indians has improved since Independence, and the high levels of economic growth over the past two-and-half-decades have made more funds available to spend on the social sector.

However, in spite of this, the reality is that a third of the world's stunted children under five — an estimated 46.6 million who have low height for age — live in India.

Also, a quarter of the children display wasting (that is, low weight for height) as well. As the Global Nutrition Report 2018 points out, this finding masks the wide variation in stunting levels in different parts of the country.
A Look at Important Statistics:
District-level data show high and very high levels of stunting mainly in central and northern India (more than 30% and 40%, respectively), but less than 20% in almost the entire south.

This shows the important role played by political commitment, administrative efficiency, literacy and women's empowerment in ensuring children's health.

It is important to note that food and freedom go together, and the availability of one strongly influences access to the other; social institutions can work to improve nutrition and children's welfare in free societies, and the absence of hunger enables people to develop their capabilities.

Experts point out that governments should acknowledge the linkages and commit themselves to improved nutritional policies. The national framework to improve nutrition already exists.

The Anganwadi Services scheme, which incorporates the Integrated Child Development Services, caters to children up to age six, and to pregnant and lactating women.

Further, if it has not worked well in several States, it must be subjected to a rigorous review and targeted interventions for supplementary nutrition made.
Concluding Remarks:
In conclusion,

it is important to note that among the factors affecting the quantity and quality of nutrition are maternal education, age at marriage, antenatal care, children's diet and household size.

Further, now that mapping of malnutrition at the district level is available, as in the Global Nutrition Report,

it is incumbent on State governments to address these determining factors.

A second issue is that of the quality of nutrition in packaged foods available to children. Going by the report, only 21% of these foods in India were rated as being healthy, based on overall energy, salt, sugar and saturated fat on the negative side, and vegetable, fruit, protein, fibre and calcium as positive factors.
Further, the fact that the global average of processed foods scored only 31% and a peak of 37% in New Zealand indicates that whole foods and cooked meals emerge superior.
Some experts opint that India should invest more of its economic prosperity in its welfare system, without binding itself in restrictive budgetary formulations.
It is also important to note that the Economic Survey 2017-18 put social services spending at 6.6% of GDP, an insignificant rise after a marginal decline from the 6% band during the previous year to 5.8%. The latest report on stunting and wasting should convince the Centre that it needs to understand the problem better and work with the States to give India's children a healthy future.
1. Giant tortoise may offer clues to a long life
Galapagos giant tortoises possess genetic variants linked to DNA repair, immune response and cancer suppression — providing clues into their longevity, according to a study.
A team of researchers sequenced the genomes of two such tortoises, including Lonesome George — the last known member of the subspecies Geochelone nigra abingdoni, who died in 2012.
They detected "lineage-specific variants affecting DNA repair genes, inflammatory mediators and genes related to cancer development," according to the study published in the journal Nature Ecology & Evolution.
The Pacific island chain is famous for its unique flora and fauna studied by Charles Darwin as he developed his theory of evolution. Twelve giant tortoise species still inhabit it.
Galapagos National Park director Jorge Carrion said uncovering the secrets of Lonesome George's longevity will help with efforts to restore giant tortoise populations in the archipelago.
Giant tortoises, which can live for over 100 years in captivity, arrived in the Galapagos region three to four million years ago.
2. 13 reasons why SNEHA gets more calls
Ever since the popular Netflix serial '13 Reasons Why' posted crisis information on its web page, Chennai-based SNEHA suicide prevention centre has been flooded with calls and emails from persons seeking help, not just from Tamil Nadu but from all over the country.
"Mass media outlets carrying content pertaining to suicides are required to mention helplines for those in need of support. Accordingly, the Netflix serial carried a content warning and put up a list of phone numbers," said Lakshmi Vijayakumar, psychiatrist and founder of SNEHA.
"Since then, we have been flooded with calls and emails. Callers have told us that they watched the serial and then got our contact details," she added.
Most callers sought help with problems related to relationships, sexual identity, and academics.
1. Patents granted by India up by 50% in '17
The number of patents granted by India shot up by 50% in 2017, keeping up a trend of steep increases, according to the UN's World Intellectual Property Organisation (WIPO).
The patents granted by India increased from 8,248 in 2016 to 12,387 last year, the WIPO's World Intellectual Property Indicators 2018 report released in Geneva on Monday said.
Of the patents granted last year, 1,712 went to entities and individuals based in India, and 10,675 to foreigners, according to the WIPO report.
The WIPO said that the steep increase in the number was driven by patents granted to foreigners, which accounted for 85% of the total increase.
Globally, 1.4 million patents were granted in 2017. China led the world with 4,20,144 granted patents and was followed by the U.S. with 3,18,829.
2. WIPO
Created in 1967 the World Intellectual Property Organization (WIPO) is one of the 17 specialized agencies of the United Nations.
Aims to encourage creative activity, to promote the protection of intellectual property throughout the world.
HQ: Geneva, Switzerland
India is a member of WIPO and party to several treaties administered by WIPO.
H. Practice Questions for UPSC Prelims Exam
Question 1. Consider the following pairs:

          Craft Heritage of                –       Region
Puthukkuli shawls           –       Tamil Nadu
Sujni embroidery                –        Maharashtra
Uppada Jamdani saris   –        Karnataka
Select the correct answer using the codes below:
1 only
1 and 2
3 only
2 and 3 only
See
Question 2. "Momentum for Change: Climate Neutral Now" is an initiative launched by
The Intergovernmental Panel on Climate Change
The UNEP Secretariat
The UNFCCC Secretariat
The World Meteorological Organization
See
Question 3. The term "Two state Solution" is sometimes mentioned in the new in the context of 
the affairs of
China
Israel
Iraq
Yemen
See
I. Practice Questions for UPSC Mains Exam
Odisha Chief Minister Naveen Patnaik recently wrote a letter to Prime Minister Narendra Modi urging him to initiate necessary steps for passing the Bill for reservation of one-third seats in Parliament and State Legislatures for women. In this context, critically evaluate the need for reservation for women in Parliament and State Legislatures. (250 words; 15 Marks)

A study conducted by the Disability Rights India Foundation (DRIF) on the implementation of the Rights of Persons with Disabilities (RPWD) Act, across 24 States, has revealed that more than half have not notified the State rules, despite a significant lapse of time. In this context, write a note on the Rights of Persons with Disabilities (RPWD) Act 2016 (150 words; 10 Marks)
Also, check previous Daily News Analysis
"Proper Current Affairs preparation is the key to success in the UPSC- Civil Services Examination. We have now launched a comprehensive 'Current Affairs Webinar'. Limited seats available. Click here to Know More."
Enroll for India's Largest All-India Test Series