TABLE OF CONTENTS
A.

 GS1 Related


CULTURE
1. Old synagogue comes alive in Jew Town


B.

 GS2 Related


POLITY
1. BCI mulls ban on practice by lawmakers
2. Triple talaq bill: Activists seek more talks before draft becomes law
3. HC directs man to be released after illegal detention of over 60 days
INTERNATIONAL AFFAIRS/BILATERAL RELATIONS
1. China promises to keep India informed about artificial lakes along Brahmaputra
2. China opens door for Afghanistan's participation in CPEC


C.

 GS3 Related


ECONOMY
1. 'India to become fifth largest economy in 2018'
2. Commerce ministry panel suggests change in SEZ rules
3. 40,000-cr. forest fund in limbo
INFRASTRUCTURE
1. India's first pod taxi on the way, to follow US safety norms
2. World Inequality Report 2018: A Comparison of India and China
3. Working of India's Patent Law
SCIENCE AND TECHNOLOGY
1. Now, a big bubble theory


D. 

GS4 Related




E. 

Prelims Fact


F. UPSC Prelims Practice Questions
G. UPSC Mains Practice Questions 
1. Old synagogue comes alive in Jew Town
 In news:
One of Kochi's oldest monuments, the Paradesi Synagogue, built in 1568, came alive after lying more or less dormant for nearly four decades.
For the first time since the 1970s, it hosted a Tefillin ceremony in preparation for Bar Mitzvah, a religious celebration that marks a Jewish boy's initiation into the rights and obligations of adulthood.
Basic Information:
A synagogue is a Jewish house of prayer.
Synagogues have a large place for prayer (the main sanctuary), and may also have smaller rooms for study and sometimes a social hall and offices
1. BCI mulls ban on practice by lawmakers
 In news:
An expert committee of the Bar Council of India is considering a plea to ban lawmakers — Members of Parliament and Members of the Assemblies — from doubling up as practicing advocates.
These MP's and MLA's are salaried public servants and cannot ride two horses at the same time.
The three-member panel is examining the provisions of the Advocates Act and the Bar Council of India Rules in this respect.
The panel is composed of top BCI — the country's topmost lawyers' body — office bearers and advocates B.C. Thakur, R.G. Shah and D.P. Dhal.
VIOLATION OF RULES AND STATUTE:
The BCI Rule 49 restricts a salaried employee from practicing as an advocate.
Under Section 21 of the Indian Penal Code and Section 2(c) of the Prevention of Corruption Act, MLAs and MPs are public servants. Hence, allowing them to practice, as an advocate and restricting other public servants is arbitrary, irrational and violation of Articles 14-15 of the Constitution
2. Triple talaq bill: Activists seek more talks before draft becomes law
Punish the husband only if the woman files a complaint.
Instant talaq should be an offence but not a cognisable one.
The purpose of this bill is gender justice, and criminalisation in itself cannot serve this objective. Marriage is a civil matter.
As per 494 of the Indian Penal Code bigamy is non-cognisable and bailable offence. Violation of law through triple talaq should invite penalty and punishment accordingly and proportionately
3. HC directs man to be released after illegal detention of over 60 days
 Context:
The Bombay High Court recently directed a man to be released from illegal judicial detention.
He had been arrested by the Economic Offences Wing of the Central Bureau of Investigation (CBI) and kept in custody for over 60 days.
Category: INTERNATIONAL AFFAIRS/BILATERAL RELATIONS
1. China promises to keep India informed about artificial lakes along Brahmaputra
 In news:
China promised to keep India informed about the condition of artificial lakes that have come up along the Brahmaputra or the Yarlung Tsangpo river in Tibet near the Indian border with China.
People in the Indian northeast fears the lakes might burst and the flooding waters will flow downstream into India.
The Assam government has communicated its concern to the Centre about the growing threat of sudden floods.
Creation of Lakes and its devastating effects:
These lakes were created by landslides caused after a 6.4-magnitude earthquake hit Tibet.
But the size of the lakes and the volume of water in them are yet to be ascertained.
Experts fear if these lakes burst there could be large-scale destruction in the lower riparian areas in Arunachal Pradesh and Assam leading to sudden floods.
2. China opens door for Afghanistan's participation in CPEC
 In news:
China hinted at the possible inclusion of Afghanistan in the China Pakistan Economic Corridor (CPEC)
This move is likely to irk India.
India has opposed CPEC, which passes through Pakistan occupied Kashmir (PoK), on grounds that it infringes its sovereignty.
Expert's opinion:
The proposal for landlocked Afghanistan's, access to the port of Gwadar — the starting point of CPEC — may be intended to balance if not undermine the trilateral agreement among India, Iran and Afghanistan, which gives Kabul access to the Iranian port of Chabahar.
China's de facto mediation between Pakistan and Afghanistan is being domestically seen as a test case for similar efforts in other global hotspots
1. 'India to become fifth largest economy in 2018'
 In news:
India is set to overtake the United Kingdom and France to become the world's fifth largest economy next year.
Currently ranked seventh, India will move up to fifth place in 2018 and vault to third spot by 2032.
The Centre for Economics and Business Research, a London-based consultancy, said in its annual rankings.
2. Commerce ministry panel suggests change in SEZ rules
 In news:
A commerce ministry-appointed panel has suggested that the Board of Approval (BoA), the highest decision-making body for SEZs, should be given additional powers to exempt units and developers from certain rules to promote these zones.
Under the existing SEZ (special economic zones) rules, the BoA has no power to relax any rule.
The inter-ministerial board BoA is headed by the commerce secretary.
Other suggestions:
Submission of GST registration certificate instead of sales tax registration.
Setting up of an SEZ Rules Interpretation Committee. The five-member committee would include officers from commerce and finance ministries. This measure will help in ease of operations.
Cut in paper work for setting up of SEZ units. One copy of consolidated application seeking permission for setting up of a unit and other clearances shall be made to the Development Commissioner. Currently, there is requirement of five copies of application for setting up of unit in SEZ to the commissioner.
Special economic zone:
A special economic zone (SEZ) is an area in which business and trade laws are different from rest of the country.
SEZs are located within a country's national borders, and their aims include: increased trade, increased investment, job creation and effective administration.
To encourage businesses to set up in the zone, financial policies are introduced. These policies typically regard investing, taxation, trading, quotas, customs and labour regulations. Additionally, companies may be offered tax holidays, where upon establishing in a zone they are granted a period of lower taxation.
The creation of special economic zones by the host country may be motivated by the desire to attract foreign direct investment (FDI).
The benefits a company gains by being in a special economic zone may mean it can produce and trade goods at a lower price, aimed at being globally competitive.
In some countries the zones have been criticized for being little more than labor camps, with workers denied fundamental labor rights
3. 40,000-cr. forest fund in limbo
 In news:
Centre is still to frame rules to get the money disbursed from nearly Rs.40,000 crore fund for regenerating forest land lost to industry
Union government had brought in CAMPA law to allow the States to access this fund seamlessly
The CAMPA Bill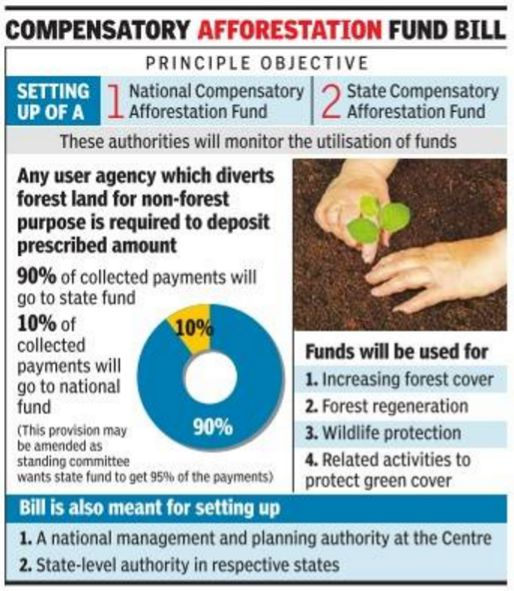 The Supreme Court, in a 2009 order, had directed that an independent authority be charged with disbursing these funds
This paved the way for the Compensatory and Afforestation Fund (CAF) Bill envisaging the creation of a permanent Compensatory Afforestation Fund Management and Planning Authority (CAMPA)
The Bill establishes the National Compensatory Afforestation Fund and a State Compensatory Afforestation Fund under each State
Apprehensions:
The bill vested greater powers in the forest bureaucracy than on resident tribal people
There would be possible violation of tribal rights
Gram panchayats do not have the final say in deciding what kind of forests could be grown
There were doubts whether it would lead to an ecologically sustainable replenishing of forests
Government assurance
Government had promised that all these apprehensions would be addressed within the Rules of the Bill
1. India's first pod taxi on the way, to follow US safety norms
 In news:
India's first pod taxi project moves a step forward
The projected pod taxi scheme — also known as Personal Rapid Transit (PRT) has moved a step closer to reality
PRT is an advanced public transport using automated electric pod cars to provide a taxi-like demand responsive feeder and shuttle services for small groups of travelers and is a green mode of uninterrupted journey
A high-level panel recommended inviting fresh bids for the same conforming to the strictest safety standards on the lines of those prescribed by an American body
About the project
NHAI has been mandated to execute it on Delhi-Gurgaon pilot corridor from Delhi-Haryana border to Rajiv Chowk in Gurgaon on a PPP (public-private partnership) basis
It will be incorporating Automated People Movers (APM) standards and specifications, along with other general safety parameters with Niti Aayog recommendations.
Automated people mover (APM) standards in the US
These are recommended by the committee for the maiden PRT in India and have been prepared by the American Society of Civil Engineers (ASCE)
These constitute the minimum requirements for an acceptable level of safety and performance for the PRT
These include vehicle arrival audio and video visual warning system, platform sloping, evacuation of misaligned vehicles, surveillance/CCTV, audio communication, emergency call points and fire protection, among other advanced systems
2. World Inequality Report 2018: A Comparison of India and China
The release recently of the World Inequality Report 2018 has brought into focus an aspect of economic progress in India.
This is the continuous growth in inequality here since the mid-1980s.
To grasp this, consider the reported finding that the top 1% of income earners received 6% of the total income in the early 1980s, close to 15% of it in 2000, and receives 22% today.
As this is a report on a global scale, we can see the trend in inequality across the world, providing a comparative perspective across countries.
In particular, it enables a comparison of economic progress made in India and China.
Since 1980, while the Chinese economy has grown 800% and India's a far lower 200%, inequality in China today is considerably lower than in India.
The share of the top 1% of the Chinese population is 14% as opposed to the 22% reported for India.
Basket of indicators
The findings in the World Inequality Report serve as grist to the mill that is the study of the progress of nations. But before we proceed to reflect on them we may pause to consider their underlying methodology.
First, the results are based on the share of top incomes. This is not invalid but some of the findings may alter if we adopt measures of inequality that characterize the entire distribution.
To be precise, the inequality ranking of China and India may now reverse. But this need not hold us back as it is evident that China's performance is far superior all round to that of India.
China has grown faster, has far lower poverty and far higher average income, and its income distribution is less unequal at the very top.
The World Development Indicators data released by the World Bank show that per capita income in China was five times that of India in 2016 while the percentage of the population living on less than $1.90 a day was about 10 times less at the beginning of this decade.
India has a forbidding gap to traverse in all directions, but for now let us focus on inequality.
It is the comparative perspective contained in the Report that makes it useful. India-based researchers have for some time now pointed out that the country is becoming less equal since 1991.
Also, we need not turn to the experience of China to recognise that growth need not be unequalising.
We know independently that inequality in India declined for three and a half decades since 1950 even as the economy grew steadily, though maybe not spectacularly.
It is important to comprehend this outcome if we are to understand the source of inequality in India, not to mention why India lags China.
India and China had both been large agrarian economies at similar levels of per capita income when they had started out in the early 1950s.
Moreover, the absence of democracy in a society does not by itself guarantee faster economic growth and greater income equality.
For a populous poor country to lift itself to a higher growth path and stay there requires imaginative public policy and a steady governance. We can see this in the divergent economic histories of North and South Korea
The Chinese clue
If there is to be a meta narrative for China's economic development, it is that its leadership combined the drive for growth with the spreading of human capital. Human capital may be understood as a person's endowment derived from education and robust health.
When a population is more or less equally endowed, as it was in China when it began to draw ahead, the human capital profile of a country may be represented by a rectangle.
Now the returns to labour would be relatively equal compared to the country in which the distribution of human capital is pyramidical, which is the case for India.
To see the latter better, note that the share of the Indian population with secondary schooling is less than 15%.
China had by the early 1970s achieved the level of schooling India did only by the early 21st century.
The spread of health and education in that country enabled the Chinese economy to grow faster than India by exporting manufactures to the rest of the world.
These goods may not have been the byword for quality but they were globally competitive, which made their domestic production viable. The resulting growth lifted vast multitudes out of poverty.
As the human capital endowment was relatively equal, most people could share in this growth, which accounts for the relative equality of outcomes in China when compared to India. An ingredient of this is also the greater participation of women in the workforce of China, an outcome that eludes India.
While concluding this brief account of China's progress, two points may be made. China is no exception to the general history of progress made in East Asia, right down to the authoritarianism, only that China has remained even more authoritarian.
This makes it appropriate to term progress in the country as growth through human capital-accumulation for there can be no human development without democracy, whatever may be the health and educational attainments of a population.
Recent revelations suggest that the massacre of pro-democracy protesters at Tiananmen Square in 1989 was far greater than believed to be.
India has lower per capita income, persistent poverty and by all accounts rising inequality. It may be said in the context that economic progress here has been neither efficient nor equitable. Democracy per se cannot be held responsible for this.
There are States in India with superior social indicators than China. This shows that not only is democracy not a barrier to development but also that similar political institutions across India have not resulted in same development outcomes across its regions.
Nor can we remain complacent that democracy is combined with superior social indicators in some parts of India when income levels are lower here than what China has demonstrated is achievable.
Deepening democracy
Given the growing inequality in India, the direction that public policy should now take is evident. There is need to spread health and education far more widely amidst the population.
India's full panoply of interventions, invariably justified as being pro-poor, have not only not spread human capital, but they have also not been able to prevent a growing income inequality.
A ritualistic focus on the trappings of democracy, from frenetic election campaigns to stylized skirmishes in the legislatures, has not worked to deliver its promise.
We now need to reorient public policy so that the government is more enabling of private entrepreneurship while being directly engaged in the equalization of opportunity through a social policy that raises health and education levels at the bottom of the pyramid.
2. Working of India's Patent Law
In 2005, India made some remarkable amendments to the Indian Patents Act of 1970, to keep medicines affordable in the country.
Since then we have faced a significant blowback not just from the global pharmaceutical industry but also from developed world including from the U.S. and the European Union.
At the heart of the matter are the strong standards for patents which India introduced to promote genuine innovation across all fields of technology, in perfect compliance with the World Trade Organisation (WTO) norms.
In contrast, developed countries have weaker standards as a result of incessant lobbying by corporate behemoths. Twelve years later, we now know what it means: India rejects bad patents in far greater number than developed countries.
The background
The findings of a new study by us which examined all 1,723 pharmaceutical applications rejected by the Indian Patent Office (IPO) between 2009 and 2016 have been an eye-opener.
Section 3(d) of the Indian Patents Act, a provision introduced to restrict the patenting of new forms of known pharmaceutical substances, became the subject of international attention after its use in rejecting a patent application by Novartis for the anti-cancer drug, Gleevec.
We found that exceptions to patentability in Section 3 of the Act, which includes Section 3(d), were responsible for 65% of all rejected pharmaceutical patent applications.
Over its short lifetime, Section 3(d) has survived a challenge to its constitutionality before the Madras High Court, and Novartis's fight against the rejection of its patent that went to the Supreme Court. Both courts ruled decisively to uphold the legality of Section 3(d).
The United States Trade Representative has also repeatedly rebuked India for this provision in its Special 301 Report, despite its perfect compliance with WTO norms.
While the world's attention is still fixed on this legal experiment that the Indian Parliament introduced into law, there has been a dearth of information on how the IPO has applied Section 3(d). We found that it filters the bad from the good, with the lowest possible administrative and financial burden.
Rejected using Section 3(d)
An astonishing 45% of all rejected pharmaceutical patent applications cited Section 3(d) as a reason for rejection: the applications were identified as mere variants of known compounds that lacked a demonstrable increase in therapeutic value.
Between 1995 and 2005, prior to our new law, India provided a temporary measure to receive patent applications for pharmaceutical products at the IPO, called the mailbox system.
Though introduced in 2005, the use of Section 3(d) gradually increased from 2009 when mailbox applications were examined. The spike coincides with the Supreme Court's ruling in the Novartis case, in April 2013.
It would appear that this judgment provided legal certainty to Indian patent law in general, and Section 3(d) in particular, enabling the IPO to weed out trivial innovations.
At the patent office
In the last decade, we found that the IPO rejected about 95% of all pharmaceutical patent applications on its own. Only 5% were through the intervention of a third party, such as a pre-grant opponent.
Our basic patentability criteria, that the invention should be new, involve an inventive step (also known as non-obviousness), and should be capable of industrial application, were the most frequently used grounds for rejection, followed by the exceptions to patentability grounds in Section 3.
Section 3(d) invaluably equips the IPO with a yardstick to evaluate applications that are merely trivial innovations over existing technology. In cases where the invention is a variant of a known substance, the criterion for patentability is proof of a necessary improvement in its performance for its designated use, i.e., increased efficacy.
In the context of pharmaceuticals, as was the case involving Novartis, this translates to evidence of an improvement in therapeutic efficacy. In other words, trivial innovation must result in a far better product in order to qualify for patent protection.
Within the arcane world of patent law, an argument against provisions such as Section 3(d) is that it is no more than an extension of one of the basic requirements of patentability: non-obviousness. Certainly, for an application to be deemed non-obvious, it has to establish a technical advance over what was known before.
But non-obviousness standards are more effectively applied in invalidity proceedings before a court of law than by officials at the IPO. The advantage that a provision such as Section 3(d) provides is the ability to question an application at the IPO itself without having to go through expensive and time-consuming litigation.
The high cost of litigation poses significant barriers. Cases are often settled before reaching a conclusion, in pay-for-delay settlements negotiated by patent owners, where generic manufacturers are essentially paid to stay off the market.
Patent litigation is expensive, but it is the patient who eventually pays a higher price — by being subject to exorbitant medicine prices, driven by the unmerited exclusivity that bad patents create.
As a check
Without Section 3(d), the Indian public would have to bear the burden of invalidating a bad patent through litigation.
India is certainly not alone in facing two connected challenges: constrained government budgets and urgent public health needs. As Section 3(d) has been efficient in separating the bad patents from the good in India, it would be a wise move for other developing countries, grappling with similar challenges, to incorporate similar provisions in their law.
Category: SCIENCE AND TECHNOLOGY
 Context:
Despite the many impressive discoveries humans have made about the universe, scientists are yet to come to a consensus about the birth story of the solar system.
The prevailing theory is that the solar system formed billions of years ago near a supernova.
In news:
Scientists have said that the solar system could have formed in the bubbles produced by a giant, long-dead star, which was 40 to 50 times the size of the sun.
The new scenario, explained in a paper in the Astrophysical Journal, begins with a giant type of star called a Wolf-Rayet star.
They burn the hottest of all stars, producing tonnes of elements which are flung off the surface in an intense stellar wind.
As the Wolf-Rayet star sheds its mass, the stellar wind ploughs through the material around it, forming a bubble structure with a dense shell.
The shell of such a bubble is a good place to produce stars, because dust and gas become trapped inside where they can condense into stars.
The researchers estimate that 1% to 16% of all sun-like stars could be formed in such stellar nurseries.
Meteorites left over from the early solar system suggests there was a lot of aluminium-26. In addition, studies increasingly suggest the solar system had less of the isotope iron-60.

Supernovae produce both isotopes.
Wolf-Rayet stars release lots of aluminium-26, but no iron-60.

As for the fate of the giant Wolf-Rayet star, the researchers believe that its life ended long ago, likely in a supernova explosion or a direct collapse to a black hole.
Nothing here for Today!!!
Nothing here for Today!!!
F. Practice Questions for UPSC Prelims Exam
Question 1. Consider the following statements:
Tefillin ceremony is a religious celebration that marks a Jewish boy's initiation into the rights and obligations of adulthood.
A synagogue is a Jewish house of prayer.
Choose the correct statements from the options given below:
1 only
2 only
Both 1 and 2
Neither 1 nor 2
See
Question 2. What is the current position of India in terms of World's largest economy rankings?
Third
Fifth
Sixth
Seventh
See
Question 3. The Compensatory Afforestation Fund Bill, seeks to
Set up a National Compensatory Afforestation fund and Union Territory Compensatory Afforestation fund
Set up a National Compensatory Afforestation fund, State Compensatory Afforestation fund and Union Territory Compensatory Afforestation fund
Set up a National Compensatory Afforestation fund and North East States Compensatory Afforestation fund
None of the above
See
Question 4. Choose the correct statement/s with reference to Personal Rapid Transit:
PRT is an advanced public transport using automated electric pod cars.
PRT provides a taxi-like demand responsive feeder and shuttle services for small groups of travelers
PRT is a green mode of uninterrupted journey
All of the above are correct
See
Question 5. Which of the statements are correct with respect to Justice Verma Committee 
Report?
The Committee recommended that the exception to marital rape should be removed
The Committee accepted the proposal for chemical castration
It opined that death penalty should not be awarded
Only 1
Only 2 and 3
Only 1 and 3
All of the above
See
G. UPSC Mains Practice Questions
GS Paper II
"The Collapse of education is collapse of the nation". Analyze.
GS Paper III
How do subsidies affect the cropping pattern, crop diversity and economy of farmers? What is the significance of crop insurance, minimum support price and food processing for small and marginal farmers?
Also, check previous Daily News Analysis
"Proper Current Affairs preparation is the key to success in the UPSC- Civil Services Examination. We have now launched a comprehensive 'Current Affairs Webinar'. Limited seats available. Click here to Know More."
Enroll for India's Largest All-India Test Series