TABLE OF CONTENTS
A.

 GS1 Related


CULTURE
1. Medaram's Jatara to get national tag


B.

 GS2 Related


POLITY AND GOVERNANCE
1. Now, Citizenship Bill hangs fire
2. Make a swachh investment, PSU banks told
HEALTH ISSUES
1. Kerala battles a new health risk
SOCIAL ISSUES
1. 10% gender gap in Jan Dhan accounts: study
INTERNATIONAL AFFAIRS AND BILATERAL RELATIONS
1. Centre awaiting Siang report: Kiren Rijiju
2. Sushma Swaraj calls for deeper economic ties with ASEAN


C.

 GS3 Related


ECONOMY
1. Three paradigms of banking regulation
ENVIRONMENTAL SCIENCE AND ECOLOGY
1. 'Green' crackers on the anvil
2. Chemical ban helping ozone hole recover: Nasa
3. Oceans losing oxygen, can damage marine life: study


D. 

GS4 Related




E. 

Prelims Fact


F. UPSC Prelims Practice Questions
G. UPSC Mains Practice Questions 
1. Medaram's Jatara to get national tag
 In news:
Central government is likely to declare Medaram's Sammakka-Sarakka/Saralamma Jatara a national festival.
The massive event is held bi-annually in Jayashankar Bhupalpally district to honour the twin goddesses Sammakka and her daughter Sarakka.
Union government had in 2015 declared Vanaj, a tribal dance and music festival, as national festival.
Sammakka-Sarakka Jatara held by forest dwelling Koya tribe of Telangana and surrounding States, is the biggest Tribal festival in Asia which is attended by one crore people on an average.
Once declared a national festival, Jatara can be considered for 'intangible cultural heritage of humanity' tag of United Nations Educational, Scientific and Cultural Organisation (UNESCO).
UNESCO had given the tag to Kumbh Mela, which is world's biggest festival which sees participation by up to 10 crore persons.
Out of the huge congregation which comes to Medaram, 50 % are non-adivasi making the Jatara the most popular Tribal festival in India.
People from Madhya Pradesh, Odisha, Jharkhand, Chhattisgarh and Andhra Pradesh come for the festival.
Several communities in Telangana society support Jatara as it is also a mythical narrative of two tribal women leaders who fought against the Kakatiya rulers who tried to annex their land and forests.
Category: POLITY AND GOVERNANCE
1. Now, Citizenship Bill hangs fire
 In news:
The Citizenship Bill, 2016:
The Bill amends the Citizenship Act, 1955, to make undocumented Hindu, Sikh, Buddhist, Jain, Parsi and Christian migrants from Afghanistan, Bangladesh and Pakistan eligible for citizenship. However, it bars documentation of Muslims from neighboring countries.
It was referred to a Joint Select Committee of Parliament in August 2016.
2. Make a swachh investment, PSU banks told
 In news:
The Centre has written to PSU banks and insurance companies to build public toilets in and around their branches and also arrange for their proper maintenance through outsourcing agencies under corporate social responsibility funds.
Assessments coming
As per the directive banks have been asked to furnish data on construction of toilets and their maintenance to the Department of Financial Services in the Finance Ministry, so that their cleanliness efforts can be assessed every quarter along with achievements on credit growth, bad loan recoveries and priority sector lending.
Cleanliness may figure as a specific agenda item in all quarterly, periodic review meetings
Banks have also been asked to promote cleanliness in automated teller machine booths, in withdrawal slips, and also to suggest cleanliness to loan customers while inspecting their premises.
1. Kerala battles a new health risk
 In news: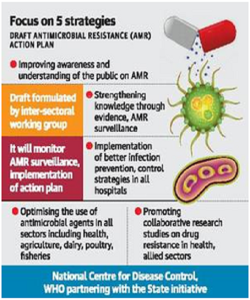 Antimicrobial resistance (AMR):
Antimicrobial resistance (AMR) is emerging as a major concern in the health as well as allied sectors such as veterinary, dairy, fisheries and poultry.
Kerala is all set to launch its strategic action plan for tackling AMR.
Main thrust area: Drastic changes in antibiotic prescription policies and practices will have to be ushered in to tackle AMR, which has already reached dangerous levels in Kerala.
Curbing antibiotic use:
The State intends to set up an AMR surveillance network to have a clear understanding of the drug-resistant pathogens in the community, reducing the irrational consumption of antibiotics, and ensuring that rational antibiotic prescription policies are followed by medical fraternity.
AMR surveillance in the State is currently restricted to the sample studies done in tertiary care hospitals but this hardly reflects the situation in the community.
The AMR surveillance data from seven tertiary care centres, including five government medical colleges in Kerala, have reported that resistance to Colistin, the last-mile antibiotic available to treat pan-drug resistant Klebsiella pneumoniae
'One Health' platform: One Health is a recent global concept that the health of humans is linked to the health of animals and environment.
1. 10% gender gap in Jan Dhan accounts: study
 In news:
The World Bank's policy research working paper 'Making It Easier to Apply for a Bank Account: A Study of the Indian Market' (2017).
The paper explored the costs of opening an account, the efficiency of the account application process, and demographic differences between those who choose to apply and those who do not.
A World Bank paper has noted a 10% gender gap in opening accounts under the country's flagship financial inclusion programme — Jan Dhan Yojana — with 73 % men applying for accounts against 63 % women.
Madhya Pradesh recorded the largest gender gap of 21%.
Key Facts:
It also noted an income gap — 64% being poorer adults and 71 % richer adults — in applying for an account.
The share of wage earners (72%) was higher than the share of adults who are out of the workforce and applied for an account (64%).
Among adults with primary school education, 62% applied as compared with 70% of adults who had completed secondary school education (and 84 % of adults with a graduate degree).
Why account opening is a tedious task in India?
People who wished to apply for an account continued to incur a range of costs, including the cost of travelling to bank branches, the cost of collecting documentation and various other monetary costs.
Some adults declined to get an account as they were unable to afford the fees for maintaining and using an account, or think the fees are not worth it.
Yet 40 % of adults cited lack of trust in financial institutions as reason for not opening an account.
Category: INTERNATIONAL AFFAIRS AND BILATERAL RELATIONS
1. Centre awaiting Siang report: Kiren Rijiju
 In news:
The Union government will wait for the final report of the Central Water Commission on the unusual darkening of the Siang River in Arunachal Pradesh before blaming any man-made activity by China.
The Siang enters India from Tibet, where it flows for about 1,500 km as the Tsangpo and becomes the Brahmaputra after it flows into Assam.
Reports have blamed tunnel construction by China in Tibet for the unusual darkening of the river and a surge in silt downstream.
China stand:
China had clarified that a 6.4 magnitude earthquake in Tibet was responsible for the darkening of the river.
India's stand:
There is an abnormal change in the Brahmaputra during the past one month and poisonous, muddy, turbid water is flowing in the river.
As a result, a lot of wild animals and aquatic life have died. This has also resulted in loss of livelihood for many people.
The main reason for this is China constructing 1,000-km tunnel, connecting South Tibet and Desert Taklimakan in Jhingjiyang Province. This is the longest tunnel in the world.
And, China has constructed a 200-metre-wide, 13-km-high big dam at Yarlung Tsangpo to divert the Brahmaputra.
CWC report:
The color of water in the Siang (Tuting) is attributed to excess silt.
The agency's preliminary reports did not find traces of cement or high alkalinity in the river — or signs of construction.
2. Sushma Swaraj calls for deeper economic ties with ASEAN
 In news:
Fifth Round Table of Association of Southeast Asian Nations (ASEAN) India Network of Think Tanks: Jakarta
Key Points:
India wants to evolve a regional architecture based on the twin principles of shared security and shared prosperity. It emphasized on enhancing maritime security, trade and investment, education and cultural heritage among the grouping.
India called for a deeper economic integration with the "dynamic" ASEAN region.
The 3Cs- commerce, connectivity and culture are the important markers in India's engagement with South East Asia.
SAGAR  [Security and Growth for All in the Region]:
It recognises the central role played by the seas and oceans around India and ASEAN region, in promoting sustainable economic progress in a secure and stable environment.
Key Fact:
ASEAN is India's 4th largest trading partner, accounting for 10.2% of India's total trade.
India is ASEAN's 7th largest trading partner. Trade is back on track and registered an 8 per cent increase in 2016- 17, as compared to the previous year.
ASEAN comprises of Brunei, Cambodia, Indonesia, Laos, Malaysia, Myanmar, the Philippines, Singapore, Thailand and Vietnam.
1. Three paradigms of banking regulation
 In news:
Banking history:
Banks are among the most regulated businesses
Ever since the inception of banking as a business in the medieval period, the state has exercised some form of control
While banks have been regulated since their inception, the approach to regulation has followed an evolutionary path where we can discern different paradigms
The Money paradigm
It views banks essentially as monetary institutions whose primary role is to "create" money
When banks are seen primarily as issuers of money, issuing loans is incidental
The approach to bank regulation focuses on the role they play in the creation and use of money, and on controlling the price of money i.e interest rates
Transformation from money paradigm to intermediation paradigm
Central banks had became more powerful in the 20th century, with a monopoly in issuance of money which transformed note issuance of banks into deposits
Post World War II, under the Bretton Woods system, the gold standard was abandoned and central banks started issuing "fiat" money, making the money role much less important
The intermediation role became more prominent and progressively became the focus of regulation
The Intermediation paradigm
In this, the role of banks is to use loans with deposits as "raw material"
The Banking Regulation Act of 1949, defines banking as an activity of "accepting for the purpose of lending or investing, deposit of money from public", thus indicating the primacy of the Intermediation paradigm
The most prominent example of the Intermediation paradigm is the Basel regime that has at its core capital regulation based on risk-weighted assets
Issues surrounding the above two paradigms:
These two traditional paradigms of bank regulation sit somewhat uncomfortably with each other
The Money paradigm results in some form of administered interest rates, which will invariably result in mispricing of risk a
And, hence, misallocation of capital by banks due to artificially and somewhat arbitrarily determined cost of funds
The Intermediation paradigm, on the other hand, will mostly result in capital regulation with unregulated deposit pricing, which will invariably dampen monetary transmission
As a result, the banking channel is quite poor in transmitting monetary policy, as we witness in India
The Marketplace paradigm
The banking system can be viewed as a marketplace for funds where banks act as market makers
Regulating market making is primarily about regulating the liquidity provided by the market maker
In the more developed financial systems, there is a clear evolution of the regulatory approach from the Money to the Marketplace paradigm, reflecting the underlying evolution in the role and functioning of banks
The Marketplace paradigm in India
As the financial markets develop in India and bank balance sheets have more tradable securities and loans, this paradigm will become more relevant
The way forward
A comprehensive approach should carefully balance these three paradigms. Banks are a collection of several businesses and activities
For specific businesses or activities, one of the three paradigms may be more relevant
Especially for a developing country like India, the regulating banks(through the above discussed paradigms) is an important component of the management of the overall economy
Category: ENVIRONMENTAL SCIENCE AND ECOLOGY
1. 'Green' crackers on the anvil
 In news:
In a bid to fight air pollution, Science and Environment Minister has tasked the Council of Scientific and Industrial Research to come up with a way to make crackers that are "environmentally friendly".
Several CSIR laboratories have come together and are putting together a robust S&T strategy for development of eco-friendly firecrackers and fireworks.
The first phase will cover reduction of pollutants, while future strategies will cover removal of pollutants from the compositions.
Cracker and its harmful effects:
Other than smoke-aggravating partially-burnt paper that sheaths the gunpowder in crackers, metals in fireworks such as strontium and barium are toxic to human and animal health, and the burning process produces other harmful emissions such as polychlorinated hydrocarbons.
A key ingredient in several crackers is perchlorate and replacing them with nitrogen-rich materials or nitrocellulose could make them burn cleaner and produce less smoke, according to a report in the Chemical & Engineering News, of the American Chemical Society.
2. Chemical ban helping ozone hole recover: Nasa
 In news:
NASA
An international ban on chlorine-containing man-made chemicals called chlorofluorocarbons (CFCs), has resulted in about 20% less ozone depletion. 
CFCs and OZONE:
CFCs are long-lived chemical compounds that eventually rise into the stratosphere, where they are broken apart by the sun's ultraviolet radiation, releasing chlorine atoms that go on to destroy ozone molecules.
CFCs have lifetimes from 50 to 100 years, so they linger in the atmosphere for a very long time.
Stratospheric ozone protects life on the planet by absorbing potentially harmful ultraviolet radiation that can cause skin cancer and cataracts, suppress immune systems and damage plant life.
The Antarctic ozone hole forms during September in the southern hemisphere's winter as the returning sun's rays catalyze ozone destruction cycles involving chlorine and bromine that come primarily from CFCs.
When ozone destruction is ongoing, chlorine is found in many molecular forms, most of which are not measured. But after chlorine has destroyed nearly all the available ozone, it reacts instead with methane to form hydrochloric acid.
According to the study published in the journal Geophysical Research Letters, the Antarctic ozone hole should continue to recover gradually as CFCs leave the atmosphere, but complete recovery will take decades.
3. Oceans losing oxygen, can damage marine life: study
 In news:
A latest study published in journal 'Science'
The study said that in the past 50 years, the amount of water in the open ocean with zero oxygen has gone up more than fourfold and in coastal water bodies, including estuaries and seas
And low-oxygen sites have increased more than 10-fold since 1950
Scientists expect oxygen to continue dropping even outside these zones as Earth warms up
Impact on humans:
According to the study, the situation can cause serious damage to marine life, affect livelihoods of millions of people and trigger the release of dangerous greenhouse gases like nitrous oxide
The danger due to low oxygen in oceans is manifold
As per the study, even small oxygen declines can stunt growth in animals, hinder reproduction and lead to disease or even death
Precautionary measure:
To keep low oxygen in check, the scientists said the world needs to take on the issue from three angles—address the causes, nutrient pollution and climate change
Nothing here for Today!!!
Nothing here for Today!!!
F. Practice Questions for UPSC Prelims Exam
Question 1. Consider the following statements
CFCs are Short-lived chemical compounds that eventually rise into the stratosphere; where they are broken apart by the sun's ultraviolet radiation, releasing chlorine atoms that go on to destroy ozone molecules
Tropospheric ozone protects life on the planet by absorbing potentially harmful ultraviolet radiation that can cause skin cancer and cataracts, suppress immune systems and damage plant life.
1 only
2 only
Both 1 and 2
Neither 1 nor 2
See
Question 2. The Kachin Hills make a boundary between India 
and which of the following neighbors?
Identify the correct statements from the codes below
Bhutan
Myanmar
Nepal
China
See
Question 3. Consider the following statements about the Commission for Agricultural Costs & Prices (CACP):
It is mandated to recommend minimum support prices (MSPs)
Union Agriculture Minister is the ex-officio chairperson of the commission
1 only
2 only
Both 1 and 2
Neither 1 nor 2
See
Question 4. Umiam Lake, also known as Barapani Lake, is located in which state?
Identify the correct statements from the codes below
Meghalaya
Assam
Sikkim
Tripura
See
Question 5. Tat Tvam Asi, a sanskrit phrase, originally occurs in which of the following Upanishads?
Select the correct answer using the codes below.
Mundaka Upanishad
Chandogya Upanishad
Brhadaranyaka Upanishad
Mandukya Upanishad
See
Question 6. Constitution of India guarantees which of the following to the states of India?
Select the correct answer using the codes below.
Territorial Integrity
Sovereignty
Right to secede from Union
None of them
See
G. UPSC Mains Practice Questions
GS Paper I
Any young man, who makes dowry a condition to marriage, discredits his education and his country and dishonors womanhood" .Discuss.
GS Paper IV
Do you consider the practice of Dowry as unethical and immoral? Justify your answer.
Also, check previous Daily News Analysis
"Proper Current Affairs preparation is the key to success in the UPSC- Civil Services Examination. We have now launched a comprehensive 'Current Affairs Webinar'. Limited seats available. Click here to Know More."
Enroll for India's Largest All-India Test Series