TABLE OF CONTENTS
A.

 GS1 Related




B.

 GS2 Related


POLITY
1. Larger Bench to decide on Sec. 377
2. SC for larger warnings on cigarette packs
3. Cybercrime victims can complain online
4. Centre to review rules on anthem
5. Mankidia denied habitat in Simlipal


C.

 GS3 Related


ECONOMY
1. Working of Crypto-Currencies
2. 'BharatNet covers 1 lakh panchayats'
SCIENCE AND TECHNOLOGY
1. India unveils Pratyush, its fastest supercomputer yet
2. SpaceX launches secretive Zuma mission
ENVIRONMENTAL SCIENCE AND ECOLOGY
1. Surface Ozone in North India


D. 

GS4 Related




E. 

Prelims Fact


F. UPSC Prelims Practice Questions
G. UPSC Mains Practice Questions 
 Nothing here for today!!!
1. Larger Bench to decide on Sec. 377
 Petition filed before Supreme Court:
It seeks to quash law criminalising homosexuality (Section 377 in the Indian Penal Code of 1860).
The petition was filed by five gay and lesbian members of the LGBT community.
Supreme Court's decision: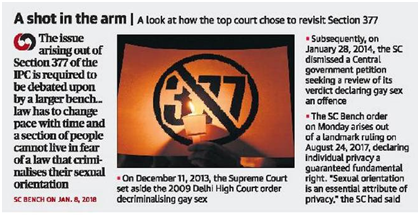 The Supreme Court referred the case to a larger Bench.
Observations:
Section of people cannot live in fear of a law which atrophies their right to follow their natural sexual inclinations.
Section 377 and punishment for carnal intercourse (against the order of nature): The determination of order of nature is not a common phenomenon. Individual autonomy and individual natural inclination cannot be atrophied unless the restrictions are determined as reasonable.
What is natural for one may not be natural for the other, but the confines of law cannot trample on or curtail the inherent rights embedded with an individual under Article 21 (right to life) of the Constitution.
Suresh Kumar Kaushal versus Naz Foundation case verdict:
December 2013 verdict of the Supreme Court had dismissed the LGBT community as a negligible part of the population while virtually denying them the right of choice and sexual orientation.
Decriminalization of Gay sex elsewhere:
Twenty-six nations — Australia, Malta, Germany, Finland, Colombia, Ireland, the U.S., Greenland, Scotland, Luxembourg, England and Wales, Brazil, France, New Zealand, Uruguay, Denmark, Argentina, Portugal, Iceland, Sweden, Norway, South Africa, Spain, Canada, Belgium, and the Netherlands — have decriminalized gay sex.
Basic Information:
Section 377. Unnatural offences: Whoever voluntarily has carnal intercourse against the order of nature with any man, woman or animal shall be punished with imprisonment for life, or with imprisonment of either description for a term which may extend to ten years, and shall also be liable to fine.
Explanation: Penetration is sufficient to constitute the carnal intercourse necessary to the offence described in this section
2. SC for larger warnings on cigarette packs
SC stays Karnataka High Court order reducing pictorial warning size on cigarette packs
The Supreme Court stayed a Karnataka High Court order reducing the size of pictorial warnings on packages of tobacco products to 40% of the package space
The court foregrounded the health of citizens over the concerns of the tobacco industry
SC favored a government regulation requiring packets of tobacco products to sport pictorial warnings covering 85% of their packaging space
Background
The Division Bench of the High Court had struck down the amendment to the Cigarettes and other Tobacco Products (Packaging and Labelling Rules) 2008, as amended in 2014
Government Stand:
In a country where illiteracy is rampant, the more prominent the warning, the better impact it would have on the minds of the people
It is the obligation of the State to make the people aware as regards the injurious nature of these indulgences
Apart from the victim of the habit, the family suffers. The whole society faces peril
View of industry:
The use of such pictures on 85% packaging space is a violation of their fundamental right to do business under Article 19 (1) (g)
Recommendations of parliamentary standing committee:
Pictorial warnings should cover 50% space and this should be adopted till March 31, 2018, when the issue would be re-examined.
3. Cybercrime victims can complain online
 A new portal to lodge cyber-crime complaints:
For Example: If money has been fraudulently withdrawn through someone's credit or debit card, the person can log into the portal and register a complaint.
The bank concerned would receive the complaint and take action immediately.
In case of trans-border crimes the portal will have the provision for the real-time reporting of such crimes.
4. Centre to review rules on anthem
 In news:
Supreme Court Observations: playing of the anthem in cinema halls is an opportunity for the public to express their love for the motherland.
Union Government response:
It has asked the Supreme Court to take back its order making it compulsory for cinema halls to play the National Anthem before screening a film and for patrons to stand up.
An inter-ministerial panel had been formed to frame guidelines on the issue and it would require at least six months to complete the task.
5. Mankidia denied habitat in Simlipal
 In news:
Mankidia, one of the 13 Particularly Vulnerable Tribal Groups (PVTG) in Odisha, were denied habitat rights inside the Similipal Tiger Reserve (STR)
There are provisions related to this in the historic Scheduled Tribes and Other Traditional Forest Dwellers (Recognition of Forest Rights) Act, 2006
Reasons given:
The State Forest Department has objected on grounds that tribals could be attacked by wild animals, especially tigers
Habitat rights would also create barriers for free movement of tigers and other animals
Impact on Mankidia tribe:
Mankidia, a marginalised group that critically depends on making rope with siali fibre that's richly available in Similipal, would now be deprived of the non-timber forest produce
Definition of Habitat
'Habitat' as defined under Section 2(h) of the FRA (Forest Rights Act) includes the area comprising the customary habitat and such other habitats in reserved forests and protected forests of primitive tribal groups and pre-agricultural communities and other forest dwelling Scheduled Tribes
Tribes in Odisha
In Odisha, processes have been initiated for according habitat rights to PVTGs such as Bondas, Didai, Hill Khadia and Paudi Bhuyan
Basic Information:
Particularly Vulnerable Tribal Groups
Particularly vulnerable tribal group (PVTG) (earlier: Primitive tribal group) is a government of India classification created with the purpose of enabling improvement in the conditions of certain communities with particularly low development indices
PVTGs have some basic characteristics -they are mostly homogenous, with a small population, relatively physically isolated, social institutes cast in a simple mould, absence of written language, relatively simple technology and a slower rate of change etc.
In 1973, the Dhebar Commission created Primitive Tribal Groups (PTGs) as a separate category, who are less developed among the tribal groups
PVTGs are scattered in different geographical areas of the country
1. Working of Crypto-Currencies
 In News
The Finance Ministry recently issued a statement warning against investing in bitcoin and other crypto-currencies (CCs).
Likening CCs to 'Ponzi schemes', it linked them to terror-funding, smuggling, drug-trafficking, and money-laundering. The stern advisory came after three other warnings issued by the Reserve Bank of India.
Two aspects of the bit coin phenomenon have attracted great interest: the challenge it poses to states and central banks; and the potential of its underlying technology to unleash a new wave of creative destruction.
World's top central bankers are preparing to join the race for crypto currencies by launching their own Central Bank Digital Currency (CBDCs).
A CBDC is a complex tool whose functionality is still being researched. However,there is a contradiction between the centralising tendency of a CBDC and the decentralising technology that underpins cryptocurrencies.
The global financial crisis of 2008-09 raised questions about the trustworthiness of banks.
Origin of Bitcoins
Satoshi Nakamoto( A Man or a group of people) provided an answer in the form of a peer-to-peer, 'trustless' electronic cash system based on a technology called blockchain.
How it works?
In order to be functional, a virtual currency must solve the problem of double spendin- which means that we should avoid the problem of spending the same currency twice.
Today's cashless economy tackles this through a centralised ledger maintained by a 'trusted' intermediary — often a bank — on its own servers.
Block-chain Technology
But in the case of Crypto currencies, Nakamoto solved the double spending problem by designing a decentralized ledger that bundles data about transactions into blocks, timestamps them, and links each new block of transactions with the previous one in an immutable chain of blocks that are copied, authenticated, and updated continuously, and publicly, on thousands of computers — the block-chain.
The blockchain uses economic incentives (payment in the form of bitcoins or other CCs) to motivate members of the network to do the work of validating every transaction. It does away with the bank's role as an intermediary, and this is what differentiates CCs from the digital version of fiat currencies.
Concerns of Central Banks
Central banks and states are not pleased to have the rug of the cashless economy — with which they've been smothering ordinary citizens — pulled from under their feet by a technology that regards them with disdain.
It has been pointed out that bitcoins, unlike a stock or a bond, are a purely speculative asset untethered to a material basis of value.
Why are Bitcoins popular?
Bitcoins continue to remain attractive as a store of value.
A major reason seasoned speculators find bitcoins irresistible is its deflationary nature, which makes it inflation-proof. Since there can only ever be 21 million bitcoins, unlike a fiat currency, it cannot suffer a loss in value due to inflation.
Impact of Cryptocurrencies
In this regard, cryptocurrencies such as bitcoin may herald the next stage of neo-liberal economics: the privatisation of currency and disciplining of the state -no more quantitative easing, by reducing the fiat currency into one of many competing currencies.
In theory, the state still has a trump card: it decides the currency in which taxes are paid.But that may mean little in a scenario where the political apparatus has been captured by finance capital, which is increasingly the norm in democracies where unknown donors contribute astronomical sums to political parties.
Blockchain World: What are the other Crypto currencies?
Bitcoin is just one version of one application (cryptocurrency) of a new technology (blockchain).Coinmarketcap.com, a website that tracks the market capitalisation of cryptocurrencies, lists 1,379 currencies.
Lesser known cryptocurrencies such as Omisego, TRON, Golem, and Storj are attracting investments that are helping to set up an entire decentralised ecosystem and payments infrastructure on blockchain platforms that could radically transform the way businesses transact with each other.
What is the  impact of Blockchain technology ?
The fundamental value proposition of the blockchain is that it eliminates the need for trust — a commodity without which exchanges of value (transactions) cannot happen.
This means that individuals and businesses can do away with a whole bunch of intermediaries whom they pay for managing trust.For instance, on Ethereum, a blockchain platform that calls itself the android of the cryptocurrency world," you can set up an application that enables people to rent out idle storage space on their laptop.

Someone who needs cloud storage can pay you directly, instead of paying Amazon, a leading cloud storage intermediary. You could thus monetise a resource that you didn't even know you had.
Well, Storj is an application that does precisely that, and it already enjoys a market cap of $298 million. Ethereum, too, is listed on cryptocurrency exchanges, and it is worth $112 billion, not far behind bitcoin's market capitalisation of $259 billion.

Programmable money is another example of a decentralised blockchain-based application. Since digital currencies are software programs, one can program a particular CC such that, say, it cannot be used to buy the product of a company that uses sweat shop labour.
Two domains that would gain immensely from blockchain applications and CCs are Artificial Intelligence and Internet of Things (IoT), since in an IoT world, thousands of devices would need to rapidly and seamlessly transact with each other in real time, without the devices' owners having to dig into their wallets every time.
Does this technology affect the way businesses work?
Given the enormous scope for increased efficiency and cost-saving, it is not inconceivable that in the medium term, the biggest threat to businesses in the finance and digital space will come from the blockchain versions of themselves.
It is true that the technology's peer-to-peer orientation renders it more democratic. Even the World Wide Web was supposed to be a decentralized, democratic space where everyone was equal.
Can Blockchain technology bring in a Social Revolution?
Technological innovations cannot substitute for the hard job of reducing socio-economic disparities through political mobilisation. Blockchain is getting traction because it works with market logic.
Any technology that drives decentralisation also carries some political promise by virtue of challenging the centralising tendency of power.
2. 'BharatNet covers 1 lakh panchayats'
 In news:
The government said it had laid optical fibre in more than 1 lakh gram panchayats, completing the first phase of the BharatNet project that forms the backbone for the Digital India initiative.
Basic Information:
National Optical Fibre Network (NOFN)
National Optical Fibre Network (NOFN) is an ambitious initiative to trigger a broadband revolution in rural areas.
NOFN was envisaged as an information super-highway through the creation of a robust middle-mile infrastructure for reaching broadband connectivity to Gram Panchayats.
The National Optical Fibre Network (NOFN) aims to connect all the 2,50,000 Gram panchayats in the country and provide 100 Mbps connectivity to all gram panchayats (GPs).
To achieve this, the existing fibres of PSUs (BSNL, Railtel and Power Grid) were utilised and incremental fibre was laid to connect to Gram Panchayats wherever necessary.
Dark fibre network thus created was lit by appropriate technology thus creating sufficient bandwidth at the Gram Panchayats.
Based on NOFN experiences, newer, updated and upgraded version – BharatNet was conceived as a nation-wide broadband network.
BharatNetVision
BharatNet is a project of national importance to establish, by 2017, a highly scalable network infrastructure accessible on a non-discriminatory basis, to provide on demand, affordable broadband connectivity of 2 Mbps to 20 Mbps for all households and on demand capacity to all institutions, to realise the vision of Digital India, in partnership with States and the private sector.
The entire project is being funded by Universal Service Obligation Fund (USOF), which was set up for improving telecom services in rural and remote areas of the country. The objective is to facilitate the delivery of e-governance, e-health, e-education, e-banking, Internet and other services to the rural India.
Implementation: The project is a Centre-State collaborative project, with the States contributing free Rights of Way for establishing the Optical Fibre Network.
Category: SCIENCE AND TECHNOLOGY
1. India unveils Pratyush, its fastest supercomputer yet
 In news:
India unveiled Pratyush, an array of computers that can deliver a peak power of 6.8 petaflops.
One petaflop is a million billion floating point operations per second and is a reflection of the computing capacity of a system.
Pratyush is the fourth fastest supercomputer in the world dedicated for weather and climate research, and follows machines in Japan, USA and the United Kingdom.
It will also move an Indian supercomputer from the 300s to the 30s in the Top500 list, a respected international tracker of the world's fastest supercomputers.
Key Functions:
A key function of the machine's computing power would be monsoon forecasting using a dynamical model. This requires simulating the weather for a given month — say March — and letting a custom-built model calculate how the actual weather will play out over June, July, August and September.
With the new system, it would be possible to map regions in India at a resolution of 3 km and the globe at 12 km.
2. SpaceX launches secretive Zuma mission
Mysterious mission:
SpaceX blasted off a secretive U.S. government payload known as Zuma
Mission's nature and agency behind it still remains mystery.
Category: ENVIRONMENTAL SCIENCE AND ECOLOGY
1. Surface Ozone in North India
 In news
A recent study shows that Ozone (O3) levels will continue to rise drastically, particularly in north India.
Matthieu Pommier from the Norwegian Meteorological Institute, Oslo, along with a team of researchers from the Chalmers University of Technology (Sweden), the Energy and Resources Institute (New Delhi), and the Indian Institute of Tropical Meteorology (Pune), analysed the prevalence of O3 in the subcontinent.
Their paper, "Impact of regional climate change and future emission scenarios on surface O3 and PM2.5 over India", was published in the journal Atmospheric Chemistry and Physics on January 4.
What are the causes for rise in Pollutants?
As a blanket of pollutants descends on large parts of north India, it is important to remember that killer pollutants go beyond particulate matter. A much-neglected pollutant in discussions about pollution is surface ozone (O3).
The researchers examined the rise of pollutants due to

anthropogenic pressures and inorganic aerosols and
climate change which affects atmospheric conditions which have diluted or dispersed the pollutants.
What does the Research say?
In terms of climate change-driven variations, by the 2050s, ozone levels will increase by up to 4.4% (or by 2 parts per billion) in large swathes of north India, particularly Uttar Pradesh, while there will be a decrease over forest patches of the Western Ghats in the south of 3.4% (1.4 parts per billion).
Climate change will adversely impact soil moisture, rains, or vegetation density, which will further impact the absorption of ozone.
The scenario is scarier when tabulating man-made sources such as vehicles, power plants, or any machinery that uses fossil fuels, where the O3 component will increase by up to 45% in parts of north India in the absence of a policy effort to curb the pollutant.
The increase will be seen in much of the subcontinent save for a few spots close to the Western Ghats where O3 will actually decrease by 4%.
What are the effects of Surface Ozone?
Surface ozone not only damages health but also destroys crops, as a previous study in 2017 by Shyam Lal from the Physical Research Laboratory in Ahmedabad, and others, showed.
Nothing here for Today!!!
Nothing here for Today!!!
F. Practice Questions for UPSC Prelims Exam
Question 1. Consider the following statements with reference to "Pratyush", which was in 
news recently:
Pratyush is the third fastest supercomputer in the world.
Pratyush is dedicated for weather and climate research.
Pratyush will move Indian supercomputer from the 300s to the 30s in the Top 500 list.
Identify the correct statement from the options given below.
1 and 3
2 and 3
2 only
All are correct
See
Question 2. Consider the following statements:
National Optical Fibre Network (NOFN) is an ambitious initiative to trigger a broadband revolution in urban areas.
The National Optical Fibre Network (NOFN) aims to connect all the Urban local bodies.
Based on NOFN experiences, newer, updated and upgraded version – BharatNet was conceived as a nation-wide broadband network.
Identify the correct statement from the options given below.
1 and 3
2 and 3
3 only
All are correct
See
Question 3. Consider the following statements with reference to Particularly Vulnerable 
Tribal Groups:
PVTGs are scattered in different geographical areas of the country
In 1973, the Dhebar Commission created Primitive Tribal Groups (PTGs) as a separate category, who are less developed among the tribal groups.
Identify the correct statement from the options given below.
1 only
2 only
Both 1 and 2
Neither 1 nor 2
See
Question 4. Which among the following is known as the earliest example of Panchayatana
style of temple?
Dashavatara temple at Deogarh
Temple at Pathari
Shatrughneshwara temple at Bhubaneshwar
Lakshmana temple at Sirpur
See
Question 5. With respect to the President of India, which among the following statements
is / are correct?
A person who has been president of India is eligible for immediate re-election.
A person cannot hold the office of president of India for more than two consecutive terms.
Choose the correct option from the codes given below:
Only 1
Only 2
Both 1 & 2
Neither 1 nor 2
See
Question 6. Which among the following in India are known for substantial coral reef 
formations?
Gulf of Mannar
Gulf of Kachchh
Andaman and Nicobar
Lakshadweep Islands
Choose the correct option from the codes given below:
Only 1 & 2
Only 2 & 3
Only 2, 3 & 4
1, 2, 3 & 4
See
G. UPSC Mains Practice Questions
GS Paper I
"Societal morality changes with time, and the law should change pace with life". Discuss?
GS Paper II
"Section 377 portrays the prominent ways in which the British left their stamp upon India's criminal law, in a manner that is entirely inconsistent with a democratic, constitutional republic." Analyse critically.
Also, check previous Daily News Analysis
"Proper Current Affairs preparation is the key to success in the UPSC- Civil Services Examination. We have now launched a comprehensive 'Current Affairs Webinar'. Limited seats available. Click here to Know More."
Enroll for India's Largest All-India Test Series