TABLE OF CONTENTS
A.

 GS1 Related




B.

 GS2 Related


POLITY
1. EC recommends disqualification of 20 AAP MLAs for holding office of profit: All you need to know about the row
2. Soon, you can make calls while flying
3. Transparent Marking
INTERNATIONAL AFFAIRS/BILATERAL RELATIONS
1. India admitted to Australia Group


C.

 GS3 Related


ECONOMY
1. Bitcoin's rally may be over


D. 

GS4 Related




E. 

Prelims Fact


F. UPSC Prelims Practice Questions
G. UPSC Mains Practice Questions 
Nothing here for today!!!
1. EC recommends disqualification of 20 AAP MLAs for holding office of profit: All you need to know about the row
In news:
The Election Commission has recommended to the president the disqualification of 20 AAP MLAs for allegedly holding an office of profit.
Election Commissions opinion: being parliamentary secretaries, they held an office of profit and were liable to be disqualified as MLAs of the Delhi Assembly.
The president is bound to go by the recommendation of the Commission.
In cases where petitions are made seeking disqualification of lawmakers, the president sends a reference to the EC which decides on the case by sending back its opinion.
What is an office of profit?
An office of profit means a position that brings to the person holding it some financial gain, or advantage, or benefit
It may be an office or place of profit if it carries some remuneration, financial advantage, benefit etc. The amount of such profit is immaterial.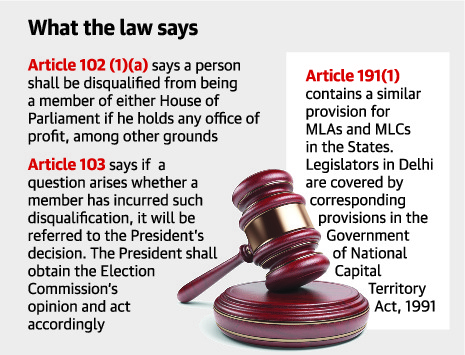 Principles of declaring Office of Profit: Four broad principles have evolved for determining whether an office attracts the constitutional disqualification.
First, whether the government exercises control over appointment, removal and performance of the functions of the office.
Second, whether the office has any remuneration attached to it.
Third, whether the body in which the office is held has government powers (releasing money, allotment of land, granting licences etc.).
Fourth, whether the office enables the holder to influence by way of patronage.
2. Soon, you can make calls while flying
In news:
Telecom Regulatory Authority of India has recommended allowing in-flight connectivity in Indian airspace.
Flyers in India, as well as those flying over the country, may soon be able to make voice calls and remain connected to the Internet even when on board an aircraft
Currently, flyers are not allowed to use mobile phones and Internet within the Indian airspace due to security concerns.
In future flyers will be able to check emails, send and receive WhatsApp messages and post statuses and photos on social networking sites.
3. Transparent Marking
 The Kasturirangan Committee
The committee will release the New Education Policy
The policy will outline the principles, policies and, specific programmes and pilots that will guide education delivery in the country
New approach: era of evidence-based education policy discussions and debates, based on systematic annual assessments
 National Achievement Survey (NAS)
A much-improved National Achievement Survey (NAS) was conducted in November of 2017 and the results will be out in early 2018
However, from now on, instead of being a sporadic assessment, it will be a regular annual assessment
From this year, NAS will collect data at the district-level and not at the state level
The limitation is that NAS assesses only government school students
Formulation under the RTE
The recently amended RTE Rules require each state to formulate grade-level learning outcomes and ensure that they are achieved
States have adopted some variation of the NCERT-suggested learning standards and several states have already started their own assessments
Transparency level increased: Aadhaar
The Aadhaar linkage with students and teachers are giving us more accurate data on student enrolment as well as school staff
Kerala and Haryana have found several lakh "ghost" students and recently the MHRD found about 80,000 "ghost" teachers
Government efforts:
The government is also working on improving the quality and depth of education budget data
In 2018, we will have far more accurate and more nuanced understanding of the various resources devoted to education by all levels of governments
1. India admitted to Australia Group
Australian Grouping:
India finally admitted to the Australian grouping.
Australia group aims to prevent proliferation of biological and chemical weapons, will ensure a more secure world.
India's membership will help to counter the spread of materials, equipment and technologies that could contribute to the development or acquisition of chemical/biological weapons.
It is understood that the membership will also boost India's membership bid for the Nuclear Suppliers Group which is being opposed by China.
Key Facts:
India joined the Missile Technology Control Regime (MTCR) in 2016 and the Wassenaar Arrangement (WA) last year.
The Wassenaar Arrangement on Export Controls for Conventional Arms and Dual-Use Goods and Technologies is a multilateral export control regime.
1. Bitcoin's rally may be over
Context:
Bitcoin has lost almost half its market value in just the last month
The price of bitcoin dropped from its lifetime high of over $19,300 to $9,300
Regaining its value once again:
Some bitcoin enthusiasts still believe that the currency may only be consolidating to regain
But a look at the price chart of bitcoin, suggests that there could be some valid reasons to get worried about the strength of bitcoin's price rally
Each time it has tried to rally upwards, the price has failed to go past its previous high
Cautious time for investors
A good time to buy bitcoin was when its price action showed a clear uptrend in price, which was over most of last year
Now, when its price is showing clear signs of reversal, a prudent speculator is likely to keep away if not go short on the digital currency
But this is not to completely rule out the possibility that bitcoin might stage a surprise comeback, as it has in the past after severe price corrections
Lesson learnt:
Bitcoin's present crash should come as no surprise to its sceptics
First, the digital currency, has had negligible acceptance in the real world of commerce
Second, it has always seemed foolish to think that governments, would be ready to allow private currencies to compete against national currencies (Governments want monopoly power over the issuance of currency)
Nothing here for Today!!!
Nothing here for Today!!!
F. Practice Questions for UPSC Prelims Exam
Question 1. India is a member of which of the following groupings?
Missile technology control regime and Wassenaar Arrangement
Missile technology control regime and Australian grouping
Australian grouping and Wassenaar Arrangement
Missile technology control regime, Australian grouping and Wassenaar Arrangement
See
Question 2. Consider the following statements about the term "Office of Profit" used in Indian 
Constitution: The Constitution provides for disqualification of Member of Parliament, 
If he/she holds "Office of Profit" under any government other than those allowed by the parliament
The final power to decide whether a person holds an office of profit under government of India lies with the Law Ministry of India
Which of the above statements is/are correct?
Only 1
Only 2
Both 1 & 2
Neither 1 nor 2
See
Question 3. The business proceedings of the Parliament are conducted as mentioned in the
Provisional rules under the constitution
Conventions as followed by political parties in India
Procedures prescribed in the rule books of the Parliament
Rules of Business of the Government of India as decided by the Cabinet Secretariat
See
cross-linked three-dimensional polymer chain networks of nanogels
class of extremely small droplets that appear to be transparent or translucent with a bluish colouration
a key pluripotency regulator critically important in the process of self-renewal of
undifferentiated stem cells
smallest known self-replicating bacteria
See
Question 5. According to constitutional provisions, writs can be issued by the
High Courts to enforce a fundamental Right
Supreme Court to enforce a statutory Right
Which of the above is/are correct?
Only 1
Only 2
Both 1 & 2
Neither 1 nor 2
See
G. UPSC Mains Practice Questions
GS Paper IV
Do you think a public servant holding an 'office of profit' is unethical? Critically comment.

You are a no-nonsense, honest officer. You have been transferred to a remote district to head a department that is notorious for its inefficiency and callousness. You find that the main cause of the poor state of affairs is the indiscipline of a section of employees. They do not work themselves and also disrupt the working of others. You first warned the troublemakers to mend their ways or else face disciplinary action. When the warning had little effect, you issued a show cause notice to the ringleaders. As a retaliatory measure, these troublemakers instigated a woman employee amongst them to file a complaint of sexual harassment against you with the Women's Commission. The Commission promptly seeks your explanation. The matter is also publicized in the media to embarrass you further. Some of the options to handle this situation could be as follows :

I. Give your explanation to the Commission and go soft on the disciplinary action.
II. Ignore the Commission and proceed firmly with the disciplinary action.
III. Brief your higher-ups, seek directions from them and act accordingly.

Suggest any other possible option(s). Evaluate all of them and suggest the best course of action, giving your reasons for it.
Also, check previous Daily News Analysis
"Proper Current Affairs preparation is the key to success in the UPSC- Civil Services Examination. We have now launched a comprehensive 'Current Affairs Webinar'. Limited seats available. Click here to Know More."
Enroll for India's Largest All-India Test Series