TABLE OF CONTENTS
A.

 GS1 Related


CULTURE
1. Manuscript of Padmavati in the library of the Jamia Nizamia Islamic seminary 
2. Surajkund fair
SOCIAL ISSUES
1. Nirbhaya fund


B.

 GS2 Related


INTERNATIONAL AFFAIRS/BILATERAL RELATIONS
1. Kabul bombing
2. Anti-Terror talks between India and cambodia
HEALTH ISSUES
1. Pulse Polio Immunisation (PPI) programme 


C.

 GS3 Related


SCIENCE AND TECHNOLOGY
1. Neurodevelopmental disorders
2. Autolykiviridae
SECURITY
1. URL blocking
DISASTER MANAGEMENT
1. Bawana Fire Accident
2. Earthquake monitoring- Sensors to be installed in Andaman and Nicobar


D. 

GS4 Related




E. 

Prelims Fact


F. UPSC Prelims Practice Questions
G. UPSC Mains Practice Questions 
1. Manuscript of Padmavati in the library of the Jamia Nizamia Islamic seminary
In news:
Background
A nearly 200-year-old copy of Malik Muhammad Jayasi's 16th-century epic poem is available in Jamia Nizamia Islamic seminary
The poem, handwritten in delicate nastaliq calligraphy on ageing paper, is contained within fine boundaries in red ink.
What details does it provide?
Sufi Jayasi says
Padmavati was a princess of Sinhaldweep in Sri Lanka, and Ratansen, the King of Chittor.
After hearing of the princess' beauty from Hiraman, a parrot, the king, who is already married to Nagmati, embarks on an arduous journey to Sinhaldweep, and later marries the princess.
However he says Devpal, another king, too, has heard of Padmavati's unmatched beauty and covets her. A battle ensues between the two kings.
Meanwhile, a banished courtier seeking vengeance tells Alauddin Khilji of Padmavati and he marches to Chittor. But upon his arrival, he sees that the princess has committed jauhar.
2. Surajkund fair
In news:
Every year from 1–15 February, a colorful traditional craft festival of India is held in the precincts of Surajkund.
This fair was first started in 1987
Traditional craftsmen (artists, painters, weavers and sculptors) from all parts of the country participate in this annual celebration named as the "Surajkund Crafts Mela" or "Surajkund designer's Village"
The theme, specific to a state of India, is depicted at the entrance to the Mela grounds and provides an ambience of that particular state with characteristic colors, materials, architecture, furniture and decorations.
32nd Surajkund International Crafts Mela
Mela to be held in Faridabad district. It will be a 'child-friendly event' and highlight zero tolerance towards child rights violation
This year, Uttar Pradesh has been chosen as the Theme State for the event.
At least 20 countries and all States of India would participate in the fair.
The fair is being organised by the Surajkund Mela Authority in collaboration with the Union ministries of tourism, textile, culture and external affairs, Haryana tourism department and Haryana Tourism Corporation.
1. Nirbhaya fund
In news:
The Union government has released Rs. 20 crore for the Central Victim Compensation Fund (CVCF) under the Nirbhaya Scheme to various States and Union Territories.
This is only 10% of the total corpus of Rs. 200 crore allocated for the scheme.
Stats
The highest amount of Rs. 28.10 crore was released for Uttar Pradesh, followed by Madhya Pradesh (Rs. 21.80 crore), Maharashtra (Rs. 17.65 crore). West Bengal received Rs. 12.65 crore. Delhi received Rs. 8.8 crore.
Nirbhaya Fund
Nirbhaya Fund was announced by the Finance Minister in his 2013 budget speech, with Government contribution of Rs. 1000 Crores for empowerment, safety and security of women and girl children
This fund is expected to support initiatives by the government and NGOs working towards protecting the dignity and ensuring safety of women in India.
Nirbhaya (fearless) was the pseudonym given to the 2012 Delhi gang rape victim to hide her actual identity.
The Ministry of Women and Child Development, along with several other concerned ministries, will work out details of the structure, scope and the application of this fund.
The Fund is administered by Department of Economic Affairs of the finance ministry
B. GS2 Related
Category: INTERNATIONAL RELATIONS
1. Kabul bombing
In news:
An ambulance packed with explosives blew up in a crowded area of Kabul, killing at least 95 people and wounding 158 others, in an attack claimed by the Taliban.
The assault comes as both the insurgents and the Islamic State have escalated attacks on the Afghan capital.
The explosion comes exactly a week after Taliban militants stormed a luxury hotel in Kabul, killing at least 22 people, the majority foreigners.
The blast occurred in an area where several high-profile organisations, including the European Union, have offices.
The force of the blast shook windows of buildings at least two kilometres (more than a mile) away and shattered windows within hundreds of metres of the site.
Some low-rise structures in the vicinity of the explosion also collapsed
2. Anti-Terror talks between India and cambodia
In news:
India and Cambodia held Talks to boost ties in key areas of defence, security and counter-terrorism.
They called for concerted global efforts to eliminate terrorism, including blocking sources of terror financing and dismantling terrorist bases.
Pacts
Improve cooperation in the prevention and investigation of crimes and legal assistance in criminal matters
Line of credit from India to finance Cambodia's Stung Sva Hab water resources development project for $36.92 million.
Future Programs in Pipeline
Both sides expressed a keen interest in enhancing cooperation in maritime domain, including preservation of marine and coastal environment, anti-piracy cooperation, security of sea lanes of communication to maintain peace and ensure safety and security of navigation in the Indo-Pacific Region, and supported complete freedom of navigation and overflight and pacific resolution of maritime issues based on international law.
1. Pulse Polio Immunisation (PPI) programme
In news:
President Ram Nath Kovind, launched the Pulse Polio Immunisation (PPI) Programme for 2018
The event was organized on the eve of the National Immunisation Day, which is observed on 28 January
Background
India launched the Pulse Polio Immunization (PPI) program in 1995 as a result of World Health Organization's (WHO) Global Polio Eradication Initiative.
Under this Programme, all children under 5 years are given 2 doses of Oral Polio Vaccine (OPV) in December and January every year until polio is eradicated.
PPI was initiated with the objective of achieving hundred percent coverage under OPV. It aims to reach the unreached children through improved social mobilization, plan mop-up operations in areas where poliovirus has almost disappeared and maintain high level of morale among the public.
C. GS3 Related
Category: SCIENCE AND TECHNOLOGOY
1. Neurodevelopmental disorders
In news:
Using mice models, a team of researchers led by Prof. Jonaki Sen from the Indian Institute of Technology (IIT) Kanpur has found that BMP signalling is active in the cerebral cortex during embryonic development as well as during later stages of development after birth, too.
Bone Morphogenetic Proteins (BMP) are secreted signalling molecules which are already known to regulate the production of neurons from neural stem cells.
BMP signaling regulates three processes —
The migration of newborn neurons from stem cell niche to their destined place in the cortex,
Polarity (the axon forming the base and the dendrites forming the apical or top side) of neuronal cells,
Branching of dendrites in the upper layer neurons of the cerebral cortex.
Details
The cerebral cortex has six neuronal layers formed in an inside-out manner. The early-born neurons form the inner cortical layers while the late-born neurons form the outermost layers. So any perturbation or delay in the migration of newborn neurons results in disturbed layer formation and lack of proper connectivity between neurons.
Similarly, when polarity (alignment) or branching of dendrites is affected, the neurons will not be able to form proper electrical connections. Though there are other factors that determine migration and polarity, the role of BMP signalling in these two processes was not known till now.
BMP signalling can be through two pathways —
Phospho-SMAD or LIM kinases.
When BMP signaling was totally inhibited, both the pathways were affected. As a result, all the three processes — migration, polarity and neurons not making enough branches — were affected.
Both pathways have a role in the migration of neurons. When only one of the pathways was blocked, migration was affected but to a lesser extent than when both pathways were inhibited
In the case of polarity, inhibiting the LIM kinase pathway seemed to be less effective than inhibiting the phospho-SMAD pathway.

Using mice models It was determined that the phospho-SMAD pathway was more important than LIM kinase pathway for polarity establishment

But the reverse was true in the case of the branching of dendrites. Inhibiting the LIM kinase pathway had a greater effect on dendrites branching than inhibiting the phospho-SMAD pathway.
Outcome
The researchers found that BMP signalling seems to selectively regulate migration of upper-layer neurons. The migration of neurons to form the lower layers, which are the first to be formed, is not affected even when BMP signalling is blocked.
Even when both the pathways of BMP signalling were blocked, migration was only delayed and not completely stopped. But the delay in migration causes problems.
2. Autolykiviridae
In news:
Researchers at the Massachusetts Institute of Technology and the Albert Einstein College of Medicine have reported a new tailless virus prevalent in the world's oceans.
The virus has been named after a character in Greek mythology, Autolykos, who was a trickster and difficult to catch.
Details
These viruses remained undiscovered till now as they cannot be detected using standard tests.
The new find was made possible by novel genomic studies
These viruses mainly feed on bacteria, and could be helping in regulating the bacterial populations of the ocean.
The researchers also think that these new viruses may be widespread on earth and can even be present in the human body.
1. URL blocking
In news:
The data shows that in the last four years, the number of social media URLs blocked on the recommendation of the government committee under Section 69A of the IT Act were 10 in 2014, 587 in 2015, 964 in 2016 and 1,329 till November 2017.
Additionally, 432 URLs were blocked through court orders in 2014, 632 in 2015, 100 in 2016 and 83 till November 2017.
Why is it done?
Social media sites are a good medium to share and exchange information, some miscreants are also using this platform to spread rumors and posting objectionable content thereby causing disturbance in the society
Misuse of social networking sites for malicious purposes is on the rise. These websites are being used by malicious people to harvest personal information of the targeted users or group of users
Laws
There are provisions in the Information Technology (IT) Act 2000 and Indian Penal Code to deal with "objectionable content" posted online.
Social media sites are required to disable or remove any unlawful information as and when it is brought to their knowledge through a court order or by an appropriate government agency.
Blocking is a sovereign power that is given to the government by virtue of Section 69A of the Information Technology Act. So under certain specified considerations, the power of blocking can be exercised. This power was inserted in the IT Act by virtue of the Information Technology (Amendment) Act, 2008, which came into effect from October 2009.
Various law enforcement agencies notify social media sites for removal of content or disabling of content under Section 79(3)(b) of the IT Act 2000.
Issue Area
Blocking as a phenomenon is an outdated paradigm. In today's context of the Internet and its architecture, it is almost impossible to block any content
A number of these blocking events happen for political reasons.
There is a lack of transparency in terms of having in place adequate parameters on what kind of instances the power of blocking can be exercised because parameters like sovereignty and integrity of India are vast. And a large number of things can be brought under it as per the subjective interpretation of the concerned authority
Way forward
Merely saying that blocking of a website or URL is in the interest of the sovereignty and integrity of India, would not suffice. Clear illustration of how the same would impact the sovereignty and integrity will be far more helpful.
1. Bawana Fire Accident
In news:
The three-storey building in Delhi's Bawana industrial area was registered as a plastic factory but was used illegally as a unit to package and store firecrackers
Seventeen people were killed, including seven women
Around 50 workers were trapped inside the three-floor unit, and Delhi Fire Services said a majority of the deaths were caused by burns while a few died after inhaling toxic fumes.
Reasons for accident:
firecrackers were stocked in the rented building that had no fire evacuation plan
Only two fire extinguishers, and a lone exit that was allegedly locked when the blaze broke out.
The few windows it has were welded shut with wire meshes and iron grilles.
Laws
Constitutionally preventing and fighting fire hazards is a municipal function in India.
The Disaster Management Act, 2005 (Section 41) and the National Policy on Disaster Management, 2009 (para 3.2.9) require the local bodies (i.e., PRI, municipalities, district and cantonment boards, town planning authorities) which control and manage civic services to ensure capacity building of their officers and employees for managing disasters.
Shortcomings in the present system
Lack of:
Unified fire services in some of the states;
Proper organisational structure, training and career progression of its personnel;
Adequate modern equipment and their scaling, authorization & standardization;
Appropriate and adequate funding;
Training institutions;
Infrastructural facilities – fire stations and accommodation of personnel etc.;
Vulnerability analysis;
Public awareness (DOs & DON'Ts), conduct of regular mock exercises and evacuation drills; and
Uniform fire safety legislation in some of the states.
2. Earthquake monitoring- Sensors to be installed in Andaman and Nicobar
In news:
The Indian Tsunami Early Warning System (ITEWS) of the Indian National Centre for Ocean Information Services (INCOIS) is in the process of setting up an elaborate system of sensors on the Andaman & Nicobar Islands for real-time monitoring of earthquakes.
Strong Motion Sensors with Global Positioning Systems (GPS) have been installed at 28 locations on the islands.
Details
INCOIS, which comes under the Ministry of Earth Sciences, has in place a fail-safe satellite-based communication system, Emergency Operation Centres (EOCs), with VSAT based VoIP phone and fax, electronic display board, a computer-based earthquake alert and web access system.
The system is capable of displaying ticket messages related to tsunami events and triggering of a built-in siren alert system audible for up to 1 km, which can be triggered by INCOIS or by the EOCs.
Tsunamigenic quakes
The ITEWS comprises a real-time network of seismic stations, tsunami buoys and tide gauges to detect tsunamigenic earthquakes and to monitor tsunamis.
The real-time data is collated at INCOIS in collaboration with the Indian Meteorology Department, the National Institute of Ocean Technology, the Survey of India and international sources.
It detects globally occurring earthquakes of 5 magnitude and above within 5-10 minutes of the event.
Indian National Centre for Ocean Information Services
INCOIS is an autonomous organization of the Government of India, under the Ministry of Earth Sciences, located in Pragathi Nagar, Hyderabad.
ESSO- INCOIS is mandated to provide the best possible ocean information and advisory services to society, industry, government agencies and the scientific community through sustained ocean observations and constant improvements through systematic and focused research.
Potential Fishing Zone (PFZ): This is the first advisory service started by INCOIS. The backbone of this service is the real-time data for ocean color and SST provided by the OCEANSAT and NOAA respectively.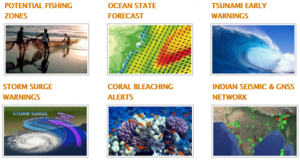 Nothing here for Today!!!
Nothing here for Today!!!
F. Practice Questions for UPSC Prelims Exam
Question 1.Middle income trap refers to

Economic development situation, where a country which attains a certain income will get stuck at that level
Economic policy through which one country attempts to remedy its economic problems means that tend to worsen the economic problems of other countries
A country having conflict of economic interests that arises between short-term domestic and long-term international objectives.
An economic condition where the economy is ruled by Middle class because of high demand of Consumer Products
See
Question 2.With respect to the Surajkund International Crafts Mela, consider the following statements
It was first introduced by Modi Govt to help address issues of Artists
This year, Uttar Pradesh has been chosen as the Theme State for the event
Identify the correct statement/s from the codes given below:
Only 1
Only 2
All of the above
None of the above
See
Question 3.Consider the following statements regarding Nirbaya Fund
Government contribution of Rs. 1000 Crores for empowerment, safety and security of women and girl children
The Fund is administered by Ministry of Women and Child Development
Nirbhaya (fearless) was the pseudonym given to the 2012 Delhi gang rape victim to hide her actual identity
Select the correct answer using the codes below:
1 and 2 only
2 and 3 only
1 and 3 only
All of the above
See
Question 4. With reference to Autolykiviridae, consider the following statements:
It is a virus eating bacteria found in oceans
It has been named after a character in Greek mythology, Autolykos, who was a trickster and difficult to catch
Identify the incorrect statement/s from the codes given below:
Only 1
Only 2
All of the above
None of the above
See
G. UPSC Mains Practice Questions
What is Middle Income Trap? What reforms should the Govt Undertake to overcome this challenge?
Recent cases of Fire accidents in Mumbai and Bawana shows that the administration is not fully prepared. What are the various challenges and what needs to be done in future to prevent such incidents from Occurring?
Is the Aryan invasion theory myth or a reality? Critically Comment.
Also, check previous Daily News Analysis
"Proper Current Affairs preparation is the key to success in the UPSC- Civil Services Examination. We have now launched a comprehensive 'Current Affairs Webinar'. Limited seats available. Click here to Know More."
Enroll for India's Largest All-India Test Series