TABLE OF CONTENTS
A.

 GS1 Related


SOCIAL ISSUES
1. 'Unwanted Girls'


B.

 GS2 Related


POLITY and GOVERNANCE
1. India's housing requirements


C.

 GS3 Related


ECONOMY
1. Economy is set to grow at 7-7.5% - Economic Survey
2. Infrastructure Investment Gap
3. ICEX world's first diamond futures contracts
4. Indian economy is getting formalised


D. 

GS4 Related




E. 

Prelims Fact


F. UPSC Prelims Practice Questions
G. UPSC Mains Practice Questions 
1. 'Unwanted Girls'
The Economic Survey presents the first ever estimate of the number of 'unwanted' girls in India — girls whose parents wanted a boy but had a girl instead — at 21 million.
The number has been arrived at by looking at the Sex Ratio of the Last Child (SRLC) which is heavily male-skewed, indicating that parents keep having children until they get the desired number of sons.
Details
The Survey points out that the huge number of 'unwanted girls' (in the 0-25 age group in the population currently) is a direct outcome of the 'son meta preference' where parents do not stop having children after having a daughter.
The biologically determined natural sex ratio at birth is 1.05 boy for every girl. The Survey points out that in India, the sex ratio of the last child is skewed towards male all throughout — for first-born, it is 1.82, 1.55 for second born, 1.65 for third child and so on.
The report compares India's heavily-skewed-in-favour-of-boys SRLC to that of Indonesia, where the sex ratio at birth is close to the biological ideal, irrespective of whether the last child is a boy or a girl.
The estimate on the notionally "unwanted girls" goes beyond the Amartya Sen framework of "missing women" (owing to sex selective abortion or girl children who die owing to deliberate neglect). Using Sen's methodology of sex ratio difference, as devised in 1990, the Survey pegs the number of "missing women" as of 2014 at 63 million, an increase from the 37 million as per Sen's estimate.
The sex ratio of last birth (females per hundred births) has merely changed from 39.5 per cent to 39 per cent between 2005-06 and 2015-16.
The Survey points out that following the implementation of Pre-Natal Diagnostic Techniques (PNDT) Act, 1994, which outlawed sex selection, India has seen a relatively stable Sex Ratio at Birth (SRB). The SRLC, as an indicator, points to the continued societal preferences for a male ch
The Survey looks at both SRB and SRLC to state that in Meghalaya, both indicators are close to the ideal benchmark. Likewise, Kerala does not seem to practise sex selective abortions as their SRB is close to the ideal benchmark but the son preference is evident in a skewed SRLC, while Punjab and Haryana, two of the richest states, have a highly skewed SRB and SRLC.
This is detrimental to female children because it may lead to fewer resources devoted to them
Unpaid Work
Between 2005-06 and 2015-16, the proportion of women who took up paid work has gone down from 36 per cent to 24 per cent, making India a glaring outlier in this respect. One of the main reasons for this continues to be the disproportionate burden of unpaid care work that falls on women, including looking after elders and children.
Overall, using data from the Demographic Health Survey (DHS) and National Family Health Survey (NFHS), the Survey states that over the last 10-15 years, India's performance has improved on 14 out of 17 indicators of women's agency, attitudes, and outcomes.
B. GS2 Related
Category: POLITY and GOVERNANCE
1. India's housing requirements
What does the Survey Say?
The Survey pointed out that India's housing requirements are complex and policies have mostly "focused on building more homes and on homeownership. So it wants a more holistic approach that takes into account rentals and vacancy rates.
The government needs to address issues such as rent control and unclear property rights rather than focusing on building more homes under its scheme to provide 'Housing for All' by 2022,
In turn, this needs policymakers to pay more attention to contract enforcement, property rights and spatial distribution of housing supply versus demand
A successful housing policy should enable the ability to move to, between and within cities as job opportunities arise.
It should also deliver vertical mobility, so that an aspirational population can climb the socio-economic ladder,
It highlighted that two important areas that need to be looked at are the rental segment and vacancy rates.
Rentals
The share of rental housing has actually been declining in Indian cities since independence from 54% in 1961 to 28% in 2011.
As a proportion, renting accommodation is more prevalent in urban areas than in rural. According to the 2011 Census, the share of households living in rented houses was only 5% in rural areas, but 31% in urban areas.
Vacant Houses
It pointed out that despite the shortage of housing in urban India (more than 18 million households in 2012), there is also a trend of increase in vacant houses: from 6.5 million in 2001 to 11.1 million in 2011.
According to the national census, vacant houses constituted around 12% of the share of the total urban housing stock. Mumbai has the highest number of total vacant houses (0.48 million), followed by Delhi (0.3 million) and Bengaluru (around 0.3 million). In terms of share of vacant houses to total residential stock, Gurgaon ranked highest (26%).
C. GS3 Related
1. Economy is set to grow at 7-7.5% – Economic Survey
What did it tell?
The Survey further predicted that GDP growth in the current financial year would touch 6.75%, higher than the 6.5% estimated by the Central Statistics Office.
Reform measures like the implementation of the Insolvency and Bankruptcy Code and the recapitalization plan for public sector banks would go a long way in addressing the twin balance sheet problem afflicting both corporates and banks, which would in turn further boost economic growth.
However, the Survey did caution about some ongoing trends — such as rising oil prices and stock market prices — that would require vigilance and preventive action.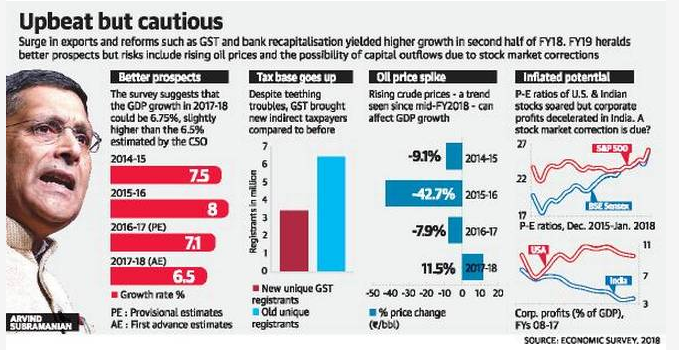 What needs to be done by the Govt?
The reforms need to be undertaken to effectively address the ailing balance sheets of corporates and banks
It needs to work on 'exit' problem and needs complementary reforms to shrink unviable banks and allow greater private sector participation
The Survey also highlighted three areas that would require a policy focus including employment, education, and agriculture.
2. Infrastructure Investment Gap
India will face a $526 billion infrastructure investment gap by 2040 as there are 1,263 projects in progress across sectors such as power, road, railways, shipping and telecom, according to the latest Economic Survey
What did Survey Say?
Around US$4.5 trillion worth of investments is required by India till 2040 to develop infrastructure to improve economic growth and community well-being. The current trend shows India can meet around US$3.9 trillion infrastructure investment out of US$4.5 trillion
The main reasons behind the infrastructure investment shortfall, it said, were the collapse of public private partnerships (PPP), stressed balance sheets of private companies and problems with land and forest clearances.
The Survey said the gap needs to be filled by private investments and the National Infrastructure Investment Bank (NIIB), along with support from global institutions such as the Asian Infrastructure Investment Bank (AIIB) and the New Development Bank.
The Survey also called for encouraging ship-building and manufacturing, given India's strategic location along international trade routes.
Logistics Sector
The Survey pitched for was India's $160 billion logistics sector, which, it said, needs to be improved because of its impact on improving competitiveness in the wider economy. India has been grappling with high logistics costs of 16-18% (of the cost of a product), which make exports uncompetitive when compared with those of China, where these costs make up 8-10%.
Improving logistics sector has huge implication on exports and it is estimated that a 10% decrease in indirect logistics cost can increase 5-8% of exports.
With the implementation of goods and services tax (GST), the Indian logistics market is expected to reach about US$ 215 billion in 2020, growing at a CAGR (compound annual growth rate) of 10.5%.
Way Forward
Innovative financial solutions are the need of the hour. So India would need to find innovative mechanisms to attract investments into infrastructure to sustain its growth
3. ICEX world's first diamond futures contracts
ICEX is the world's first diamond futures contracts to provide exporters with a hedging tool.
ICEX offers trading in diamonds of two sizes: 50 cents and 1 carat (1 carat equals 100 cents).
ICEX will offer HVS2 quality diamond certified by the International Institute of Diamond Grading & Research (IIDGR), a De Beers group company, and vaulting services will be offered by Malca Amit.
Stats
India is a global diamond polishing hub where 14 out of every 15 rough diamonds in the world are polished
India imports rough diamond worth $19 billion and exports polished valued $24 billion annually. India caters to over 90 per cent of the world's polishing market for rough diamonds.
Interestingly, India is the world's third largest diamond consumer, accounting for 8% of the global market. It exports 95% of the total imported rough diamond, as per statistics from the Gems and Jewellery Export Promotion Council (GJEPC).
Indian Commodity Exchange Ltd (ICEX)
Indian Commodity Exchange Limited is a nation-wide on-line trading platform in commodity derivative.
It has put in place grading and vaulting facilities in order to facilitate deliveries. This exchange is ideally positioned to leverage the huge potential of commodities market and encourage participation of actual users to benefit from the opportunities of hedging, risk management and supply chain management in the commodities markets.
The Exchange is a public-private partnership with MMTC Ltd, Indian Potash Ltd, KRIBHCO, IDFC Bank Ltd, Reliance Exchangenext Ltd (Reliance Capital) and Indiabulls Housing Finance Ltd as prominent shareholders.
Background Information:
Diamond mining in India extends back into antiquity. From ancient times, India was the source of nearly all the world's known diamonds, and until the discovery of diamonds in Brazil in 1726, India was the only place where diamonds were mined. India has not been a major diamond-producing country since the 1700s, but diamond mining continues.
Diamond deposits occur in three types of geological settings such as kimberlite pipes, conglomerate beds and alluvial gravels.
The main diamond bearing areas in India are Panna bet in Madhya Pradesh, Munimadugu- Banganapalie conglomerate in Kurnool district, Wajrakarur kimberlite pipe in Anantapur district, the gravels of Krishna river basin in Andhra Pradesh and diamondiferous kimberlite in Raipur, Bastar and Raigarh districts in Chhattisgarh.
Reserves have been estimated in Panna belt, Madhya Pradesh; Krishna Gravels in Andhra Pradesh; and in Raipur district, Chhattisgarh.
As per the UNFC system as on 1.4.2005 diamonds are placed at around 4582 thousand carats, out of which about 1206 thousand carats are under reserve category and remaining 3376 thousand carats are under remaining Resources category.
4. Indian economy is getting formalised
The introduction of the goods and services tax (GST) has brought more firms into the tax net. The number of enterprises paying indirect taxes has gone up by 3.4 million, an increase of 50%. The bulk of the new entrants are enterprises that are in the business-to-business or export sectors, or what economists would call the production of intermediates.
Only around a quarter of the 240 million Indian working outside farms file their income tax returns. The controversial demonetization decision taken in November 2016 seems to have led to a statistically significant increase in the number of new income tax filers, after controlling for obvious problems such as the previous trend as well as seasonal patterns of change.
Nearly a third of the non-farm Indian workforce of 240 million has some social security coverage.
With demonetization more Indians are putting a greater proportion of their savings in the formal financial sector. Bank deposits swelled after November 2016, though the booming stock market has also made financial savings through mutual funds more attractive compared to gold or real estate.
What does such an overdue shift to formal economic activity potentially mean?
The Indian nation state sits on a very weak fiscal base. It is neither able to invest in national security or provide public goods or create a social security system without running up destabilizing fiscal deficits.
India has a tax-to-GDP ratio that is broadly similar to what other countries had at a similar stage of development. The question is whether that ratio can be increased as India gets richer, which is difficult unless more economic activity moves into the formal sectors. The new data offers hope.
Modern social contracts are built on a wide base of tax payers. Almost all Indians pay regressive indirect taxes but too few of us pay progressive direct taxes. With this hopes that more direct tax payments by individuals as well as enterprises will not only create fiscal space for lower GST rates but also provide incentives for citizens to demand better governance.
Nothing here for Today!!!
Nothing here for Today!!!
F. Practice Questions for UPSC Prelims Exam
Question 1. Alipore Zoological Garden is in which of these States?
Uttar Pradesh
Madhya Pradesh
Bihar
West Bengal
See
Question 2. Which of the tiger reserves are located in Assam?
Orang
Kaziranga
Manas
Nameri
Select the correct answer using the code given below:
Only 1 and 3
Only 2, 3 and 4
Only 1, 3 and 4
All of the above
See
Question 3. With reference to Neonicotinoid, consider the following statements:

It is an herbicide
It has the potential to kill bees
Select the correct answer using the code given below.
Only 1
Only 2
Both are correct
None of them
See
Question 4. With respect to Parali Island, consider the following statements:

It is a part of Bangaram atoll in South Andaman
It has been eroded resulting in inundation
Select the correct answer using the code given below.
Only 1 is correct
Only 2 is correct
Both 1 and 2 are correct
Neither 1 nor 2 are correct
See
Question 5. Falta Special Economic Zone is in which of these states?
Maharashtra
Odisha
West Bengal
Rajasthan
See
G. UPSC Mains Practice Questions
GS Paper III
The rough diamond cutting and polishing business has moved from Antwerp to Surat in Gujarat. What factors have led to its Success, Also explain about diamond reserves in India.
The Indian logistics sector needs a revamp. Discuss.
The Indian economy is getting formalized. Critically comment.
Also, check previous Daily News Analysis
"Proper Current Affairs preparation is the key to success in the UPSC- Civil Services Examination. We have now launched a comprehensive 'Current Affairs Webinar'. Limited seats available. Click here to Know More."
Enroll for India's Largest All-India Test Series