TABLE OF CONTENTS
A.

 GS1 Related


ART AND CULTURE
1. A frog dance to woo the rain gods


B.

 GS2 Related




C.

 GS3 Related




D.

 GS4 Related




E. 

Editorials


POLITY AND GOVERNANCE
1. Section 377 and beyond
INTERNATIONAL RELATIONS
1. On India-South Korea ties


F. 

Tidbits


1. 'Stop seeing it as mental disorder'
2. Justice Malhotra makes a case against Sec. 377
3. MGNREGA funds for farm labour?
4. China eyes Indian pharma as U.S. trade turns cloudy
5. Relief for guests from Bangladesh
6. RBI flags States' fiscal stress
7. Stock brokers can't accept cash from clients, says SEBI


G. 

Prelims Fact


1. Red-wattled lapwing (Vanellus indicus)
2. Subramania Bharati
H. UPSC Prelims Practice Questions
I. UPSC Mains Practice Questions 

1. A frog dance to woo the rain gods
Frustrated over lack of adequate rain, inhabitants of Masiakhali village in Odisha's Ganjam district resorted to the traditional ritual of 'bengei nacha' or frog dance to appease the rain gods.
Despite the onset of the monsoon, several areas in Ganjam district have not received proper rain.
As a result, the villagers of Masiakhali have not been able to start work for the kharif season.
Tradition
The croaking sounds made by frogs during the ritual would alert rain god 'Indra Devata' to the lack of precipitation in the village.
As per tradition, two big frogs are snared and then bathed with turmeric water and smeared with vermilion.
They are then tied to a long pole with a piece of new cloth and carried around the village to the beat of traditional drums and cymbals.
The carriers of the frogs dance to the drumbeats, making the frogs jiggle inside the cloth bundles.
Throughout the journey, the womenfolk pour turmeric and red water on the frogs.
The procession is culminated at the Kali temple in Masiakhali, where a special puja has to be performed.
Later the frogs are released in the nearby fields.
It is criticised on the grounds that it is merely a superstition with no scientific basis as rains and frogs have no connection.
Nothing here for today!!!
Nothing here for today!!!
Nothing here for today!!!
Category: POLITY AND GOVERNANCE
1. Section 377 and beyond
Context
The Centre's cautious stand keeps the focus only on the need to decriminalise gay sex.
There is finally good reason to believe that consensual gay sex may once again be decriminalised.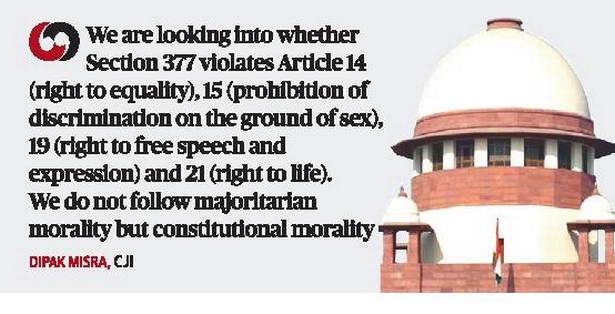 Constitutionality of section 377
The ongoing hearing before a five-judge Constitution Bench of the Supreme Court indicates that there is now a better appreciation of the need for equal constitutional protection to all individuals without any discrimination than was the case in 2013, when a two-member Bench declined to read down Section 377 of the Indian Penal Code as homosexuals constituted only a "minuscule minority".
The Centre's stand was believed to be critical when the current hearing began this month. The Union government is cautiously supporting the cause, but it has stopped short of taking a categorical position.
By leaving it to the Supreme Court's wisdom to decide on the constitutionality of Section 377, the Centre has signalled it is not opposed to the decriminalisation of same-sex relationships as long as these are limited to consensual acts between adults in private.
At the same time, its position is hedged against the possibility that the Constitution Bench, currently reconsidering the court's 2013 judgment upholding the validity of Section 377, may venture into other rights for the LGBTQs relating to marriage and inheritance.
In the event of the court going into issues and rights that are not slated for reconsideration, it wants to file a detailed counter-affidavit spelling out its stand.
Observations by the judges of the Bench, including the Chief Justice of India, indicate that it is now focussing only on Section 377.
Right to life and the right to privacy
However, at least one judge has observed that the question involved was not only one relating to sex, but the right to life and the right to privacy of those in such relationships.
The current hearing is taking place against the backdrop of a nine-member Bench's verdict last year in Justice S. Puttaswamy v. Union of India, which said "the right to privacy and the protection of sexual orientation lie at the core of the fundamental rights guaranteed by Articles 14, 15 and 21 of the Constitution".
In other words, a whole gamut of rights flowing from the decriminalisation of homosexual relationships must be examined, if not now, then at least as and when they arise.
Conclusion
Obviously worried about the reaction of some religious and conservative sections if homosexuality is decriminalised, the Centre has sought to dissuade the court from going into other related rights.
Its apprehension, perhaps, is that once homosexuality is no more an offence, it may lead to demands to legalise same-sex marriages and inheritance by survivorship among gay partners. While the current focus is on the urgent need to overturn the retrograde judgment of 2013 in Suresh Kumar Koushal, the extension of constitutional rights to citizens, irrespective of gender and sexual orientation, is long overdue.
Category: INTERNATIONAL RELATIONS
1. On India-South Korea ties
Why in news?
The South Korean President Moon Jae-in undertook a four-day visit to India this week, when there is hectic diplomacy over the Korean peninsula, speaks of his commitment to improving bilateral ties.
India-South Korea ties have drifted too long — political ownership of them will help.
Significance
In fact, during his election campaign last year he had promised to raise bilateral ties to the level of South Korea's relations with what it calls the four major powers: the S., Russia, China and Japan.
Prime Minister Narendra Modi too has often said he sees South Korea as a significant partner for India, and had travelled to Seoul. But despite the personal touch, and ambitions to align India's Act East policy with Korea's New Southern Policy, ties have drifted for lack of focus.
Trade, at $20 billion, is a fraction of the potential, given that India and South Korea are Asia's third and fourth largest economies.
This figure has been a cause for worry, as the two countries had hit the $20-billion mark in 2011 after the signing of the Comprehensive Economic Partnership Agreement.
The large trade deficit in South Korea's favour has led India to be wary of further opening up.
In turn, Korean companies cite problems in doing business in India, despite a special "Korea Plus" desk set up by the Prime Minister's Office in 2015.
Tourism between the two countries has always been low, and strategically both New Delhi and Seoul are preoccupied with tensions in their immediate neighbourhoods and ties with the big world powers than with each other.
Road map on Converging interests
Agreement to invoke the "early harvest" clause in the 2010 CEPA will allow both to do away with tariffs in 11 areas, benefiting Indian seafood exporters and food processing units, as well as South Korean petrochemical companies.
The inauguration of Samsung's biggest mobile factory in Noida will bring investment and create jobs in India.
More Korean companies should be persuaded to invest, by projecting a counter-narrative to the failed bid by the steel company Posco to set up its plant in Odisha.
Much will depend on negotiations on the regional free trade agreement, the Regional Comprehensive Economic Partnership.
Strategic importance
India has asserted its place as a "stakeholder" in the Korean peace process, while South Korea has for the first time shown an interest in talking about an Indo-Pacific policy.
In the short term, a symbolic token towards shared interests will be seen in a joint "capacity-building" programme in Afghanistan.
At a time when U.S. foreign policy is capricious and unpredictable, and China's is making purposeful moves towards global domination, it is important that the South Korea-India partnership grows and consolidates, to contribute to stability in the region.
1. 'Stop seeing it as mental disorder'
The Indian Psychiatric Society (IPS) has said that it is time to stop looking at homosexuality as a mental illness, stating that there is no scientific evidence that sexual orientation can be altered by any treatment.
Any such attempt may lead to low self-esteem and stigmatisation, it warned.
Homosexuality is not a psychiatric disorder and same sex sexuality is recognised as a normal variant of human sexuality much like heterosexuality and bisexuality.
The IPS supports de-criminalisation of homosexual behaviour and is in line with the position of the American Psychiatric Association and the International Classification of Diseases of the WHO which removed homosexuality from the list of psychiatric disorders in 1973 and 1992 respectively.
2. Justice Malhotra makes a case against Sec. 377
Justice Indu Malhotra, the lone woman judge on the Constitution Bench of the Supreme Court hearing the fight against Section 377 of the IPC, made a strong case against criminalisation of homosexuality.
Views of Justice Malhotra
Homosexuality is only a variation and not an aberration.
But the prejudice and stigma piled on the LGBTQ community had denied it even basic medical care in the country.
The community is so inhibited by societal scorn that it prefers to forego medical care, especially in rural and semi-urban parts of the country.
There is a pressure on homosexual people from within the home.
They succumb to marry the opposite sex, leading to a life of mental trauma and bi-sexuality.
Homosexuality is not against the order of nature, it is nature itself. Hundreds of animal species show same sex orientation.
Other observations
Chief Justice Misra said stigma is the root cause of suffering for the community.
Justice D.Y. Chandrachud expressed the hope that social stigma would vanish if Section 377 is struck down by the court.
The judge said Section 377 creates an environment which is conducive for discrimination of individuals on the ground of their sexuality.
Senior advocate Ashok Desai submitted that a culture of acceptance has prevailed over all odds.
Senior advocate Krishnan Venugopal submitted that Section 377 impinges on the right to liberty, dignity and conscience.
Venugopal spoke of the extent to which LGBTQ persons are denied their fundamental right to express themselves.
He said a person from the LGBTQ community is unable to express himself in dress, conduct or speech in public view. They are denied the freedom to express their identity.
3. MGNREGA funds for farm labour?
A group of Chief Ministers have made a pitch for the Mahatma Gandhi National Rural Employment Guarantee Act scheme (MGNREGA) funds to be used to pay for farm labour.
Suggestions
Use of MGNREGA funds in supplementing labour costs in agriculture.
If MGNREGA can cover costs of agricultural inputs, especially availability of labour during farming season, it will be beneficial for all involved.
4. China eyes Indian pharma as U.S. trade turns cloudy
China is preparing to give swift regulatory approvals to India-manufactured drugs as Beijing looks for new commercial partners ahead of what could be a protracted trade war with the United States.
Indian firms are looking to fill gaps in Chinese demand for generic drugs, software, sugar and some varieties of rice.
No concrete deals have been signed but the outlook for pharmaceutical sales from India is positive.
Chinese authorities have issued instructions that EU-approved Indian suppliers should be granted the industrial drug licence in an expeditious manner so they can enter the Chinese market within six months.
Stats
India dominates the world's generic drugs market, exporting $17.3 billion of drugs in the 2017/18 (April-March) year, including to the U.S. and the EU.
But only 1% of that went to China, the world's second-largest market for pharmaceuticals.
The EU is already one of India's key export markets for medicines and accounted for about 15% of overall drug exports in 2016/17.
Significance
Swift regulatory approvals in China would allow Indian companies to boost revenue at a time when pricing scrutiny and regulatory troubles have hurt U.S. sales.
It will help India reduce its trade imbalance with China.
Background
In the month of May, China exempted import tariffs on 28 drugs, including all cancer drugs.
China has been touting greater access to cancer drugs and pushing to lower prices in a bid to soothe a major social issue in the country, where traditionally many patients with serious illness have had to pay out of their pocket for cutting-edge drugs or have had to buy medicines through unapproved grey market channels.
China also lags far behind in terms of drug approvals versus developed markets.
5. Relief for guests from Bangladesh
India will sign a pact with Bangladesh to ease visa restrictions for citizens from the neighbouring country.
The Memorandum of Understanding (MoU) on revised travel arrangements will be signed during Home Minister Rajnath Singh's three-day visit to Dhaka.
Bangladesh has demanded that travel restrictions for senior citizens be eased and further concessions be given to Muktijoddhas — those who participated in the 1971 Liberation War.
Background
In 2014, India decided to relax visa restrictions for Bangladeshis above the age of 65 and below the age of 13. They were allowed five-year multiple entry visas.
Last year, India announced five-year multiple entry visa to the 1971 war veterans from Bangladesh.
They could walk into the Indian High Commission in Dhaka and eight other consulates in Barisal, Rajshahi, Chittagong, Khulna, Rangpur, Sylhet Mymensingh and Jessore without prior appointment and submit their visa applications.
Citizens from over 150 countries can travel to India on e-tourist visas procured online. This facility is not extended to Bangladesh.
6. RBI flags States' fiscal stress
The Reserve Bank of India (RBI) has pointed to the fiscal stress that States are facing due to several factors including farm loan waivers and said higher borrowing by them could crowd out private investment.
The report
In a report 'State Finances: A Study of Budgets of 2017-18 and 2018-19,' the central bank noted that States' consolidated gross fiscal deficit (GFD) overshot the budget estimates in 2017-18 due to shortfalls in own tax revenues and higher revenue expenditure.
In contrast, the capital account has helped to contain the GFD.
While States together have projected a revenue surplus and a lower consolidated GFD of 2.6% of GDP in 2018-19, 11 States have budgeted for fiscal deficits above the threshold of 3% of GDP.
Concerns
Since the combined GFP to GDP was at 6.4% as compared with the Fiscal Responsibility and Budget Management Committee's (FRBM) medium-term target of 5%, there is a risk that private investment gets crowded out of the finite pool of financial resources.
Risks are also likely to emanate from possible higher pre-election expenditure in more than 10 States and implementation of the balance pay commission awards, particularly to the extent that they are not fully provided for under the budgeted expenditure.
Capital expenditure may have to bear the brunt of the fiscal correction like the past two years.
7. Stock brokers can't accept cash from clients, says SEBI
Investors can no longer deposit cash in their broker's account to trade in stocks.
The Securities and Exchange Board of India (SEBI) made it mandatory for stock brokers to accept client funds only by way of bank or electronic transfers such as cheques and mobile banking.
The capital markets watchdog highlighted the fact that the government had promoted various means for transfer of funds through digital mode for encouraging a cashless economy and financial institutions and banks had introduced various modes of electronic payment.
The move is in line with SEBI's plans to encourage paperless and cashless stock market trading.
Incidentally, applications in an initial public offer (IPO) are now completely done through ASBA – Application Supported by Blocked Amount — a mechanism wherein the bid amount is blocked in the subscriber's account at the time of bidding and is debited only after the allotment of shares is finalised.
1. Red-wattled lapwing (Vanellus indicus)
The red-wattled lapwing (Vanellus indicus) is an Asian lapwing or large plover, a wader in the family Charadriidae.
Like other lapwings they are ground birds that are incapable of perching.
Their characteristic loud alarm calls are indicators of human or animal movements.
They nest in a ground scrape laying three to four camouflaged eggs.
It breeds from West Asia (Iraq, SW Iran, Persian Gulf) eastwards across South Asia (Baluchistan, Afghanistan, Pakistan, the entire Indian subcontinent up to Kanyakumari and up to 1800m in Kashmir/Nepal), with another sub-species further east in Southeast Asia.
May migrate altitudinally in spring and autumn (e.g. in N. Baluchistan or NW Pakistan), and spreads out widely in the monsoons on creation of requisite habitats, but by and large the populations are resident.
This species is declining in its western range, but is abundant in much of South Asia, being seen at almost any wetland habitat in its range.
Indian tradition
Hindus in the Hadoti region of Rajasthan consider the Red-wattled lapwing, auspicious and divinely inspired as they predict the monsoon from its egg-laying patterns.
If the birds lay eggs between March and August at an elevated place, a good monsoon is forecast.
In parts of India, a local belief is that the bird sleeps on its back with the legs upwards and an associated Hindi metaphor Tithiri se asman thama jayega ("can the lapwing support the heavens?") is used to refer to persons undertaking tasks beyond their ability or strength.
Chinnaswami Subramania Bharati, also known as Bharathiyar was a Tamil writer, poet, journalist, Indian independence activist and a social reformer from Tamil Nadu.
Popularly known as "Mahakavi Bharati", he was a pioneer of modern Tamil poetry and is considered one of the greatest Tamil literary figures of all time.
Works
His numerous works included fiery songs kindling patriotism during the Indian Independence movement.
He covered political, social and spiritual themes.
Bharati used simple words and rhythms, unlike his previous century works in Tamil, which had complex vocabulary.
He also employed novel ideas and techniques in his devotional poems.
His poetry not only includes works on Hindu deities like Shakti, Kali, Vinayagar, Murugan, Sivan, Kannan(Krishna), but also on other religious gods like Allah and Jesus.
He worked as a journalist with many newspapers, including The Hindu, Bala Bharata, Vijaya, Chakravarthini, the Swadesamitran and India.
He was well-versed in various languages and translated speeches of Indian National reform leaders like Aurobindo, Bala Gangadar Tilak and Swami Vivekananda.
Women
Bharati is considered the first to have advocated and campaigned for women's participation in politics.
He advocated greater rights for women and their education.
He visualised a modern Indian woman at the vanguard of society.
He was of the strong opinion that the world will prosper in knowledge and intellect if both men and women are deemed equal.
He condemned the Shashtras, the procedures formulated by some orthodox Hindus and weren't held as holy by most Hindus, that suppressed women's rights.
Most of his views are considered contemporary even in modern times.
Caste system
Bharati also fought against the caste system in Hindu society.
He openly criticised the preachers for mixing their individual thoughts while teaching the Vedas and the Gita.
He strongly advocated bringing the Dalits to the Hindu mainstream.
Tribute
The Government of India in 1987 instituted a highest National Subramanyam Bharti Award conferred along with Ministry of Human Resource Development, annually confers on writers of outstanding works in "Hindi literature''.
H. Practice Questions for UPSC Prelims Exam
Question 1. Which term is most appropriately defined by the seasonal migration of people with
their animals in search of pastures and water, with the change in season?
Transhumance
Milpa farming
Pastoral nomadism
Subsistence agriculture
See
Question 2. What are the health ill-effects of open air defecation and lack of sanitation 
and hygiene?
Diarrhoea and intestinal infections
Typhoid
Cholera
Polio
Select the correct answer using the codes given below.
Only 1 and 2
Only 2 and 3
Only 1, 2 and 3
All of the above
See
Question 3. The Right of a child to free and compulsory education is a Fundamental right 
under Article 21A. Consider the following statements in this regard:

Children of the age 6 to 14 years are entitled to free and compulsory education.
It has been enforced in every state.
It is in consonance with the Directive Principle provided under Article 45.
Which of the above statement/s is/are incorrect?
i) only
ii) only
iii) only
None of the above
See
Question 4. Dr. B. R. Ambedkar called Article 32 as 'Soul of the Constitution'. Which of the 
following is not correct regarding Article 32?
It deals with the rights relating to Constitutional remedies.
It cannot be suspended even during the Emergency.
Supreme Court enjoys Original jurisdiction over it.
Citizens are empowered to move directly to the SC in case of violation of the Fundamental rights.
See
I. UPSC Mains Practice Questions
Urban planning is the answer to the growing problem of environmental degradation in cities. Discuss.
Why is there no formation of deltas by rivers of the Western Ghats?
Also, check previous Daily News Analysis
"Proper Current Affairs preparation is the key to success in the UPSC- Civil Services Examination. We have now launched a comprehensive 'Current Affairs Webinar'. Limited seats available. Click here to Know More."
Enroll for India's Largest All-India Test Series