TABLE OF CONTENTS
A.

 GS1 Related




B.

 GS2 Related


POLITY
1. Faster visas for minorities from three nations
2. SC to decide if J&K police can book Army men
3. President clears Bill against witch-hunting
GOVERNANCE
1. NHRC notice to Maharashtra, Centre over farmer suicides
2. National database for gun licence holders
3. TRAI bats for right to choice, consent
INTERNATIONAL RELATIONS
1. India, Iran pledge to maintain trade levels


C.

 GS3 Related


ECONOMY
1. IMF cuts India growth forecast for 2018 by a notch to 7.3%
2. Wholesale price inflation touches a four-year high
ENVIRONMENT
1. SC lashes out at Centre on pollution
SCIENCE AND TECHNOLOGY
1. Predicting solar flares
ECOLOGY AND ENVIRONMENT
1. Care about corals


D.

 GS4 Related




E. 

Editorials


ECONOMY
1. The Companies Act, 2013
HEALTH ISSUES
1. Rising cases of leprosy among Adivasis


F. 

Tidbits




G. 

Prelims Fact


H. UPSC Prelims Practice Questions
I. UPSC Mains Practice Questions 

Nothing here for today!!!
1. Faster visas for minorities from three nations
In news
The Home Ministry has further liberalised the process for granting long-term visas (LTVs) to minorities from Pakistan, Afghanistan and Bangladesh.
One of the officials of MHA was arrested by the Rajasthan Anti-Corruption Bureau for allegedly extorting money from Pakistani Hindu migrants for their visa extension, visa transfer and grant of citizenship.
Process of LTV
The Home Ministry has reduced the time limit for security clearance of applicants from 45 days to 21 days.
After an application reaches the central system, it's forwarded to three agencies for verification — the State government, the Intelligence Bureau and the Home Ministry.
The State government, through the local police, has to run a background check on the applicants who has applied for an LTV. If the State doesn't reply within 21 days, the system will log them out and the application will be deemed to be cleared. If in future, there is a security implication, the onus will be on the State government
Once the replies from all agencies are fed in the system, the application is automatically processed.
A Home Ministry official said that since 2011, nearly 30,000 Pakistanis had been granted LTVs and, currently, 1,500 such applications were pending. The LTVs are precursors to citizenship, based on the report given by the State governments.
The visa facility, first introduced in 2011 for persecuted Hindus from Pakistan in 2011, was further liberalised after the National Democratic Alliance (NDA) government came to power in 2014.
The LTVs granted to Pakistani Hindus from 2011 to 2014 stood at 14,726. From January 1, 2015 to July 16 this year, 15,244 LTVs were issued.
In 2015, the government granted concessions to Bangladeshi, Pakistani and Afghanistan nationals belonging to the Hindu, Buddhist, Sikh, Christian and Jain communities, who entered India on or before December 31, 2014, in respect of their entry and stay in India without proper documents or after the expiry of relevant documents.
It also empowered revenue authorities in some States, not including Assam, to allow them to register properties and take up employment.
Amendment Bill
The Citizenship Amendment Bill, 2015 that proposes citizenship to Hindus, Jains, Sikhs, Parsis, Christians and Buddhists from Pakistan, Afghanistan and Bangladesh who came to India before 2014 has hit a hurdle.
There has been strong resistance to the Bill in Assam as it seeks to grant citizenship to non-Muslims from Bangladesh.
Several political and civil groups in Assam have said that the Bill will pave the way for granting citizenship to illegal Hindu immigrants from Bangladesh in Assam in violation of the Assam Accord, 1985.
There have been no exact numbers of such minority refugees from these countries but officials put the figure at around 2 lakh Hindu and Sikh refugees from Bangladesh, Pakistan and Afghanistan living in India.
There are 400 Pakistani Hindu refugee settlements in cities such as Jodhpur, Jaisalmer, Bikaner and Jaipur.
Hindu refugees from Bangladesh mostly live in West Bengal and the northeastern States.
2. SC to decide if J&K police can book Army men
In news
A legal tussle broke out between the Centre and Jammu and Kashmir on whether Army personnel stationed in the restive State can be prosecuted for their action taken in good faith.
The case pertains to the incident when Army personnel opened fire on a stone-throwing mob, killing some of them, in J&K's Shopian.
Appearing before a Bench led by Chief Justice of India Dipak Misra, the State submitted it is the duty of a police officer to register an FIR if a cognisable offence has been committed, whether by an Army man or not.
The Centre countered that Section 7 of The Armed Forces (Jammu and Kashmir) Special Powers Act of 1990 lays down that there would be no legal proceedings against Army men for acts done in the course of their duty.
The three-judge Bench decided to examine the question of law, which is significant as it would mean the court referring the issue to a Constitution Bench.
A PIL petition was filed by Vineet Dhanda against the ignominy suffered by Army personnel who are made to face criminal proceedings for doing their duty.
Senior advocate Shekhar Naphade, for Jammu & Kashmir, said the controversy is covered by the Constitution Bench decisions in the Naga People's Movement of Human Rights judgment of 1997 and the Lalita Kumari verdict of 2013.
The latter order held that registration of FIR is mandatory if a cognisable offence is disclosed.
The CJI said it was a pure question of law and scheduled a hearing for July 30.
3. President clears Bill against witch-hunting
In news
State of Assam received the President's approval for the Assam Witch Hunting (Prohibition, Prevention and Protection) Bill, 2015
President Ram Nath Kovind gave his assent to the Bill against witch-hunting that the Assam Assembly passed three years ago.
Now, killing or maiming people in the name of witchcraft will be punishable under the law.
Provisions of the Act
Under the Act every offence is cognizable, non-bailable and non-compoundable.
The Act prescribes a prison term of up to seven years and up to Rs. 5 lakh in fine for calling a person witch.
It also has provisions to come with Section 302 of the IPC -punishment for murder if someone is killed after being branded a witch.
Birubala Rabha
She is a 65-year-old woman campaigning against witch-hunting after a quack almost killed her son in 1996.
She stood her ground despite the threat of excommunication by the local shaman and went on to rescue over 50 women from being branded as witches before launching Mission Birubala against the menace.
Rabha's inputs had gone into the legislation.
Kuladhar Saikia
Another important person behind the legislation is Director-General of Police Kuladhar Saikia.
As Deputy Inspector-General in Kokrajhar district, he launched Project Prahari in 2001, which blended normal policing with social campaigns to check the menace
Significance of the legislation
The legislation is crucial in the present context in which communication technology is being used to magnify superstitious beliefs, black magic and social prejudices with fatal consequences, primarily affecting the life of marginal groups.
1. NHRC notice to Maharashtra, Centre over farmer suicides
The National Human Rights Commission (NHRC) said it had issued notices to the Central and Maharashtra governments over the suicide of 639 farmers in that State between March and May 2018.
The NHRC took suo motu cognisance of media reports that said the Maharashtra government had informed the State Assembly that 639 farmers had committed suicide, and among the reasons cited were crop failure, debt and inability to pay back loans.
Seeking detailed reports within four weeks, the NHRC issued notices to the Secretary of the Union Ministry of Agriculture and the Chief Secretary of Maharashtra government.
The two officers were asked to provide details of the status of the implementation of schemes for the welfare of farmers.
The Centre was expected to provide information about any plan it has to address the situation.
The NHRC further observed that this was not the first time such a development had taken place and that it had been receiving complaints about farmer deaths across the country.
Observations of NHRC
Committing suicide in such a large number is a serious matter as it involves the right to life of the victims. Their families also come under tremendous pressure due to the sudden demise of an earning member.
The NHRC observed that despite the Centre and state governments announcing schemes for crop insurance and loan waivers, the farmers' condition had generally remained the same.
2. National database for gun licence holders
In news
According to Ministry of Home Affairs, from April 2019, names of all arms licence holders, new or old, will be included in a national database and they will be issued a unique identification number.
The move is aimed at keeping a tab on authorised private gun holders, many of whom are often found involved in crimes and celebratory firing leading to loss of lives.
Every licensing and renewing authority will have to enter the data in the National Database of Arms Licences system, which will generate a UIN, and with effect from April 1, 2019, any arms licence without UIN shall be considered invalid, the Ministry said in a notification.
Additionally, any existing licensee holding multiple licences shall on or before April 1, 2019 make an application for grant of a single licence in respect of all firearms held by him or her under his or her UIN to the concerned licensing authority.
3. TRAI bats for right to choice, consent
In news
Telecom regulator TRAI said each user owned his or her data collected by or stored with the entities in the digital ecosystem that includes devices and applications.
The entities are mere custodians of the data, while pointing out that the existing framework for protecting the personal data of telecom users is not sufficient.
Right to be forgotten
In its recommendations on 'privacy, security and ownership of the data in the telecom sector', the Telecom Regulatory Authority of India has said the right to choice, consent, data portability, and the right to be forgotten ought to be given to consumers.
Additionally, the regulator has suggested that all entities in the digital ecosystem that control or process users' personal data such as devices, operating systems, browsers as well as applications, be brought under a data protection framework.
Till such time a general data protection law is notified by the government, the existing rules/licence conditions applicable to TSPs for protection of users' privacy be made applicable to all the entities in the digital ecosystem.
B.N. Srikrishna Committee
The government has formed a committee, headed by former Supreme Court judge B.N. Srikrishna, under the Ministry and Electronics and IT, which is working on the country's first data protection framework.
While proposing that a study be undertaken to formulate the standards for anonymisation, or de-identification, of personal data generated and collected in the digital ecosystem, TRAI also said entities should be restrained from using meta-data to identify individual users.
Along with running consumer awareness programmes, the regulator has suggested that multilingual, easy to understand, short templates of agreements or terms and conditions be made mandatory.
It has also recommended prohibiting use of pre-ticked boxes to gain users' consent.
TRAI suggested that device manufacturers incorporate provisions so that users can delete pre-installed applications if they so decide.
Category: INTERNATIONAL RELATIONS
1. India, Iran pledge to maintain trade levels
In news
Indian and Iranian officials said they would "maintain the momentum" of bilateral cooperation between them.

Both sides reviewed and positively assessed the progress in implementation of decisions taken during President Rouhani's visit, especially for enhancing connectivity and strengthening cooperation in trade and economic issues and in the promotion of people-to-people exchanges.
It was agreed to maintain the momentum of mutually beneficial multifaceted bilateral cooperation and exchanges between the two sides
External Affairs Minister Sushma Swaraj will also travel to Tehran for the next Joint Commission meeting in November.
Both sides had discussed issues that have arisen over the Joint Comprehensive Plan of Action (JCPOA).

The United States pulled out of the 6-nation JCPOA, and decided to reimpose sanctions on Iran.
U.S. is asking all countries including India to bring oil imports from Iran to zero.
Joint Comprehensive Plan of Action (JCPOA).
The Joint Comprehensive Plan of Action known commonly as the Iran nuclear deal or Iran deal.
It is an agreement on the nuclear program of Iran reached in Vienna on 14 July 2015 between Iran, the P5+1 ( Germany), and the European Union.

Under the agreement, Iran agreed to eliminate its stockpile of medium-enriched uranium, cut its stockpile of low-enriched uranium by 98%, and reduce by about two-thirds the number of its gas centrifuges for 13 years.
For the next 15 years, Iran will only enrich uranium up to 3.67%. Iran also agreed not to build any new heavy-water facilities for the same period of time. Uranium-enrichment activities will be limited to a single facility using first-generation centrifuges for 10 years.
Other facilities will be converted to avoid proliferation
To monitor and verify Iran's compliance with the agreement, the International Atomic Energy Agency (IAEA) will have regular access to all Iranian nuclear facilities.
The agreement provides that in return for verifiably abiding by its commitments, Iran will receive relief from U.S., European Union, and United Nations Security Council nuclear-related economic sanctions.

On 8 May 2018, President Trump announced that the United States would withdraw from the agreement.
1. IMF cuts India growth forecast for 2018 by a notch to 7.3%
In its update on World Economic Outlook, The International Monetary Fund (IMF) projected a growth rate of 7.3% in 2018 and 7.5% in 2019 for India as against 6.7% in 2017, making it the fastest growing country among major economies.
India's growth rate is expected to rise from 6.7% in 2017 to 7.3% in 2018 and 7.5% in 2019, as drags from the currency exchange initiative and the introduction of the Goods and Services Tax fade
The projection is 0.1 and 0.3 percentage points lower for 2018 and 2019, respectively, than in the April WEO, reflecting negative effects of higher oil prices on domestic demand and faster than-anticipated monetary policy tightening due to higher expected inflation
Despite this slight downgrade in its projections, India continues to outperform China.
Growth in China is projected to moderate from 6.9% in 2017 to 6.6% in 2018 and 6.4% in 2019, as regulatory tightening of the financial sector takes hold and external demand softens.
The IMF said global growth is projected to reach 3.9% in 2018 and 2019, in line with the forecast of the April 2018 WEO.
2. Wholesale price inflation touches a four-year high
In news
Inflation at the wholesale level quickened to 5.77% in June, the highest since December 2013, driven in large part by rising fuel prices.
The announcement of Kharif MSP [minimum support price] by the Union government is expected to push it beyond the current levels.
The real upward push in wholesale inflation came from the crude petroleum and natural gas segment.
WPI measures the change in price level at wholesale market.
There are three main components in WPI –

Primary Articles (weight: 22.62%),
Fuel & Power (weight: 13.15%) and
Manufactured Products (weight: 64.23).

Within WPI, Food Inflation is also calculated on year-on-year basis.
In India, headline inflation is measured through the WPI (the latest base year 2011-12) – which consists of 697 commodities (services are not included in WPI in India).
It is measured on year-on-year basis i.e., rate of change in price level in a given month vis a vis corresponding month of last year. This is also known as point to point inflation.
1. SC lashes out at Centre on pollution
In news
The Supreme Court's Green Bench of Justices Madan B. Lokur and Deepak Gupta made clear to the government that the people of this country are more important than anything while hearing the issue of ban on import of petcoke .
Petcoke
Petcoke is a toxic fuel used in hazardous industries.
Petroleum coke or petcoke is one of the many consumer products produced during oil refining.
During oil refining, the crude oil is first processed into various products such as gasoline, diesel, jet fuel, lubricating oils and waxes.
After all these products have been created, a residual crude is further undergoes additional processing called "coking" to produce various fuels including pet coke.
Pet coke is used as a source of energy and carbon for various industrial applications.
Hazards of Pet Coke
Health and environment concerns are regarding the Higher Sulphur content in petcoke

Pet coke is used as a substitute for coal and has a higher heat content than coal. Thus, less pet coke is required in comparison to coal for same industrial process.
Since less pet coke is able to replace an amount of coal; pet coke is responsible for less CO2 emission in comparison to coal.
Further, emission of NOx depends on the technology used in the industrial process.

However, Pet coke has more sulfur content than coal. The largest use of pet coke is in cement industry where 90% sulfur compounds are absorbed in clinker.
Pet coke is extremely polluting because of its higher sulphur content and because pollution is transferred from one product (coal) to another (pet coke).
Court Observations
The court has been urging the government since December 2017 to move forward towards a nationwide ban on the use of petcoke and furnace oil to power up industries, in a bid to fight pollution.
The court had by then, in October last year, already ordered a ban on the industrial use of petcoke and furnace oil in Uttar Pradesh, Haryana and Rajasthan.
The ban on use came after an EPCA Report, including the ban on sale, distribution and use of furnace oil and petcoke in the NCR. Their use is already prohibited in Delhi.
Pursuant to the Supreme Court ban, both the Environment Ministry and the Central Pollution Control Board had brought into immediate effect a prohibition on the use of petcoke and furnace oil by any industry, operation or processes within the States of Uttar Pradesh, Haryana and Rajasthan until further orders.
The court had even highlighted how petcoke is being imported from countries like the United States and China, which have already stopped using them after due consideration of its harmful effects on human beings and environment.
Category: SCIENCE AND TECHNOLOGY
1. Predicting solar flares
How can Solar flares be predicted?
Plasma jets inside Sun may help predict occurrences of solar flares and space storms that sometimes render satellites useless
Plasma jets within the Sun can help foretell the erratic patterns of sunspots on its two hemispheres, allowing scientists to predict the occurrence of solar flares and space storms that sometimes render satellites useless.
The Sun's activity waxes and wanes periodically and affects our space environment.
What are Sunspots and how are they related to satellites?
Sunspots, strongly magnetised blotches on the solar surface, sometimes release fierce storms in space that severely impact our ssatellite-based communication and navigational systems.
Understanding Sunspot activity
However, a complete understanding of all aspects of the sunspot activity cycle remains elusive.
One of its curious features is the long observed lopsided activity of its two hemispheres.
Sometimes, the northern hemisphere becomes more active, sometime the south, with no apparent way to predict when this might happen.
Scientists from the Indian Institute of Science Education and Research (IISER) Kolkata and the Tata Institute of Fundamental Research (TIFR) in Mumbai have uncovered a link between plasma jets in the Sun's interior and the sunspot cycle which may foretell the unequal activity of the Sun's hemispheres.
What does Plasma material explain?
Plasma material at different locations inside the Sun rotates at different rates powering a dynamo mechanism that creates the magnetic sunspots.
The rate of rotation has been earlier observed to change with time with faster and slower streams of plasma jets known as torsional oscillations superposed on the average rotation.
These jets accompany the progress of the sunspot cycle with their patterns of migration similar to those of sunspots on the Sun's surface hinting at a causal link.
What does the study reveal?
The study, showed that asymmetries in plasma jets just below the Sun's surface precede asymmetries in sunspot activity by about a year, a discovery with no clear theoretical explanation yet.
Global Oscillation Network Group
The researchers used ground-based data from the Global Oscillation Network Group – a multinational consortium of observatories involving the US, India, Spain, Australia and Chile, and space-based data from the Helioseismic and Magnetic Imager instrument onboard NASA's Solar Dynamics Observatory.
Category: ECOLOGY AND ENVIRONMENT
1. Care about corals
In news
Australia's Great Barrier Reef, the world's largest coral reef system, could suffer a bleaching event every two years by 2034 under the current level of greenhouse gas pollution, finds a new study.
What are Corals?
Corals are 500 million years old. Starting off as simple, solitary organisms, they have come a long long way before evolving into the reefs we know today.
Over the years, corals formed colonies when conditions were favourable.
They withered in mass extinctions, only to reappear after each event in a different shape and form.
They have come and gone throughout the geological record. About 210 million years ago during the Triassic Period, things began to change.
A massive worldwide coral-reef expansion was taking place and the hitherto lonely corals met algae.
Corals began to offer algae shelter, while in return, the latter offered nutrients from photosynthesis.
Algae added colour to corals' life. This symbiotic relationship has kept corals, algae and coral reefs alive all along.
Many times corals have had to expel algae for various reasons, mostly due to ocean warming.
And every time they expelled algae, the corals lost their colour ( bleached). The marine life that made the reefs their home have been left in the lurch. But they have always got back together, once the corals recovered.
Threat to Corals
But the bleaching experienced in the recent past has been different.
Scientists have predicted that the back-to-back severe bleaching events will leave little chance for recovery, especially in Australia's Great Barrier Reef. This means two-thirds of the reef are dying.
According to a recent study published by the Climate Council, it has been found that the Great Barrier Reef could suffer a bleaching event every two years by 2034 under the current level of greenhouse gas pollution.
According to the study, 70 % of coral reefs will be at risk of long-term degradation by 2100 if the global temperature rises by 1.5 degrees Celsius above pre-industrial levels.
Significance of Corals
Coral reefs provide habitats for one in four marine species.
Reefs also form crucial barriers protecting coastlines from storms.
They provide billions of dollars in revenue for countries from tourism and fishing.
Many of the compounds are used in human medicines.
The Great Barrier Reef
The Great Barrier Reef is the largest reef system comprising more than 2,900 individual reefs.
The reef is located in the Coral Sea, off the coast of Queensland, Australia. It is the world's biggest single structure made by living organisms.
The new Caledonia Barrier Reef, The Red Sea Coral Reef, Rainbow Reef (Fiji), Tubbataha Reefs (Cagayancillo, Philippines), Raja Ampat (Indonesia), Palancar Reef (Cozumel, Mexico), Wakatobi Islands (Indonesia) and the Maldives are some of the other systems around the world.
Nothing here for today!!!
1. The Companies Act, 2013
Why in news?
The Centre has announced the constitution of a committee to recheck several provisions of the Companies Act, 2013 that impose stiff penalties and, in few cases, prison terms as well, for directors and key management personnel.
Context
The 2013 law entailed the first massive remodel of India's legal regime to govern businesses that had been in place since 1956 and was borne of a long-drawn consultative process.
Ministry of corporate affairs (MCA) has constituted a 10-Member Committee to review the offences under the Companies Act, 2013
To review the penal provisions in the Companies Act, 2013 it has been setup to examine 'de-criminalisation' of certain offences.
The MCA seeks to review offences under the Companies Act, 2013 as some of the offences may be required to be decriminalised and handled in an in-house mechanism, where a penalty could be levied in cases of default.
It can also allow the trial courts to pay more attention on offences of serious nature.
Details
The panel, which includes top banker Uday Kotak, has been given 30 days to work out whether some of the violations that can attract imprisonment (such as a clerical failure by directors to make adequate disclosures about their interests) may instead be punished with monetary fines.
It will also examine if offences punishable with a fine or imprisonment can be re-categorised as 'acts' that attract civil liabilities.
The committee has also been told to suggest the broad contours for an adjudicatory mechanism that issues penalties to be levied for minor violations, perhaps in an automated manner, with minimal discretion available to officials.
Challenges
Some of the provisions in the law are so tough, even a spelling mistake or typographical error could lead to be construed as a fraud and lead to harsh strictures.
The government hopes such changes in the regulatory regime should allow trial courts to devote attention to serious offences rather than get overloaded with cases as zealous officials pursue prosecutions for even minor violations.
Significance
The decision to build in harsh penalties and prison terms for corporate wrongdoing in the 2013 law was, no doubt, influenced by the high-pitched anti-corruption discourse that prevailed in the country at that moment in time.
Aside from several cases of crony capitalism that had come to light during the second UPA government, massive corporate frauds reported at once-revered firms such as the former Satyam Computer Services had spooked investors and other stakeholders about the credibility of corporate India's books and governance standards.
The overall review of the Companies Act was at the top of industry's wish list as a means to revive the economy. Industry captains had red-flagged the effect of such provisions on the ease of doing business, and investor sentiment in general.
It is also required to be seen as to whether any non-compoundable offences, namely offence punishable with imprisonment only, or punishable with imprisonment and also with fine under the Companies Act, 2013 may be made compoundable.
The terms of reference of the Committee are as follows:
To analyse the nature of all 'acts' categorised as compoundable offences viz. offences punishable with fine only or punishable with fine or imprisonment or both under the CA-13 and recommend if any of such 'acts' may be re-categorised as 'acts' which attract civil liabilities wherein the company and its 'officers in default' are liable for penalty;
To review the provisions ally to non-compoundable offences and recommend whether any such provisions need to be re-categorised as compoundable offence.
To investigate the existing mechanism of levy of penalty under the CA-13 and suggest any improvements thereon;
To lay down the broad contours of an in-house adjudicatory mechanism where penalty may be levied in a MCA21 system driven manner so that discretion is minimised.
To take required steps in formulation of draft changes in the law and other matter which may be relevant.
Conclusion
A trust deficit between industry and government owing to go astray incidents of corporate misconduct should not inhibit normal business operations.
The government is ultimately moving purposefully on this, a rethink perhaps triggered by the fact that private sector investment is so far to pick up steam and capital still seeks foreign shores to avoid regulatory risks.
1. Rising cases of leprosy among Adivasis
Why in news?
India officially eliminated Leprosy in 2005 by bringing the Prevalence Rate below 1/10000 at the national level.
However, the National Health Policy 2017 (NHP), which will guide the health policy direction of the country over the next decade or so, still has elimination of Leprosy as a national level target.
Context
It is highly unlikely that India achieves elimination of Leprosy at the state or district levels any time soon.
Yet, elimination of Leprosy remains a pet topic, and many ministers including the PM have called for it, and the health minister has reportedly reassured the country in June that India will be Leprosy Free in 2018 itself. The discussion is clearly about national level elimination, yet again.
Facts and figures
Official data says that the number of new Leprosy cases detected during 2016-17 is 135485 and the prevalence Rate per 10000 population as on 2017 for India is 0.66, it is estimated that the number underestimates the real Leprosy burden.
The Health Minister himself is on record saying that there may be 2,50,000 new Leprosy cases every year, based on a sample survey by Indian Council of Medical Research (ICMR) conducted in 2008-2011. Interestingly, the results of this pan India survey have not yet been released to the public.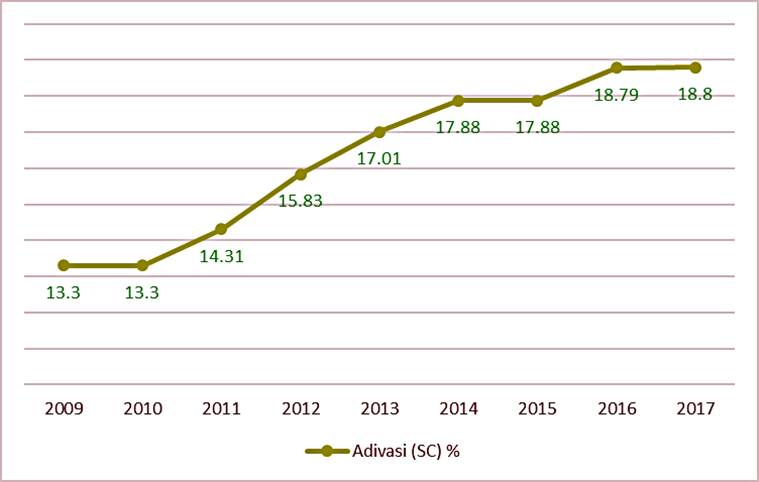 Data on the prevalence of Leprosy amongst the Adivasis (Scheduled Tribes) who, according to Census 2011, constituted 8.6% of the Indian population.
The percentage of new Leprosy patients in India belonging to the Adivasi community is 18.8% – much more than their proportion in the Indian population- and that proportion is fast increasing.
From 13.3% in 2009, it has increased to an alarming 18.8%. In the same period, overall number of new cases have remained almost the same at the national level.
Global prevalence of leprosy
In the past, India has had major advances against Leprosy.
Globally, prevalence was brought under one case per 10000 population by 2000, and there was pressure on most endemic countries like India to achieve the same at the national level at least by 2005, marking a significant milestone in the elimination of leprosy as a public health problem.
The current global widespread presence is estimated by the World Health Organisation (WHO) to be 0.23 per 10000 population. In 2017, India along with Brazil and Indonesia are the only countries where more than 10000 new cases are reported per year.
For the year 2017, 135485 out of the 204686 new Leprosy cases detected globally were in India – a staggering 66%. In the sense, two out of three new global Leprosy cases are detected in India, according to official data.
National prevalence of leprosy
After 2005, curiously, the number of new Leprosy cases detected in India remained around 1.3 lakhs every year, keeping the national prevalence rate safely well within the elimination target.
Latest figures from the government, 128 districts have reported a prevalence rate which is higher than 1/10000 population. As on March 2017, 53 districts in 11 States/UTs reported a prevalence rate higher than 2/10,000 population.
These states are Bihar (4 districts), Odisha (8 districts), Chhattisgarh (15 districts), Gujarat (5 districts), Jharkhand (3 districts), Madhya Pradesh (2 districts), Maharashtra (6 districts), West Bengal (6 districts), D&N Haveli (1 districts), Lakshadweep (1 districts) and Delhi (2 districts).
Leprosy commonness in Adivasi populaces.
While in 2010, there was no locale in India with a predominance level of more than 5/10000 populace, in 2017, there are four such areas.
It should be recollected that in 2010, just 20 locale in seven states had a predominance rate higher than 2/10,000 populace.
These new areas announcing high Leprosy commonness have significant Adivasi populaces.
State level reported data paints an even more distressing picture. Leprosy is at risk of becoming a disease exclusively of the Adivasis in certain states like Gujarat, where despite constituting 14.8% of the state population, Adivasis bear 64.9% of the total new Leprosy case load. 21% of Madhya Pradesh's Adivasis bear 39.4% of the new leprosy case load in the state.
Maharashtra, which has under 10% Adivasis, had 33.7% of all new Leprosy cases reported from the community. West Bengal's Adivasis report 20.3% of all new Leprosy cases when their proportion in the state population is just 5.8%.
Tripura, with 31.8% Adivasis and Dadra and Nagar Haveli with 52% Adivasis report 64.7% and 98.2% new Leprosy cases from among the Adivasi communities, respectively.
Government's own specific information from areas like Tapi in Gujarat with over 80% Adivasis demonstrate that Incidence of Leprosy has gone up from 9.37 for every 10000 populace in 2010 to 17.16 for each 10000 populace in 2014.
Conclusion
That Leprosy is still a major public health problem for the country and the fact that the strategies to contain it are simple and drugs are available in the public sector, draw into question the ethical priorities of our national and state health policies and their implementation.
The prior additions in containing the illness have stagnated and we are in danger of a re-rise of Leprosy as a general medical issue in generous zones of the nation.
F. Tidbits
Nothing here for today!!!
Nothing here for today!!!
H. Practice Questions for UPSC Prelims Exam
Question 1. Consider the following statements about The Citizenship Amendment Bill, 2015:
The Citizenship Amendment Bill, 2015 that proposes citizenship to Hindus, Jains, Sikhs, Parsis, Christians and Buddhists from Pakistan, Afghanistan and Bangladesh.
There has been resistance to the Bill in Manipur.
Which of the above statement(s) is/are correct?
1 only
2 only
Both 1 and 2
Neither 1 nor 2
See
Question 2. Consider the following statements:
The Committee on Data Protection Framework is setup under the Ministry of Law.
The Data Protection Framework Committee will be headed by Justice B.N. Srikrishna.
Which of the above statement(s) is/are correct?
1 only
2 only
Both 1 and 2
Neither 1 nor 2
See
Question 3. Consider the following statements about Joint Comprehensive Plan of Action (JCPOA):
The Joint Comprehensive Plan of Action is known commonly as the Iran nuclear deal or Iran deal.
Under the agreement, Iran agreed to eliminate its stockpile of medium-enriched uranium.
Which of the above statement(s) is/are correct?
1 only
2 only
Both 1 and 2
Neither 1 nor 2
See
Question 4. Consider the following statements about Wholesale Price Inflation (WPI):
In India, headline inflation is measured through the WPI.
It is measured on year-on-year basis, also known as point to point inflation.
Which of the above statement(s) is/are correct?
1 only
2 only
Both 1 and 2
Neither 1 nor 2
See
I. UPSC Mains Practice Questions
 GS II – Governance
Discuss Net Neutrality with respect to the recent developments in India.
GS III – Environment
Explain the need for protection of Coral reefs with special reference to the Great Barrier Reef.
Also, check previous Daily News Analysis
"Proper Current Affairs preparation is the key to success in the UPSC- Civil Services Examination. We have now launched a comprehensive 'Current Affairs Webinar'. Limited seats available. Click here to Know More."
Enroll for India's Largest All-India Test Series