TABLE OF CONTENTS
A.

 GS1 Related


GEOGRAPHY
1. Arctic sea route not possible: Finnish official
2. Decline in low-intensity rainfall reduces groundwater recharge in north India


B.

 GS2 Related


POLITY
1. Closure alone may not solve Thoothukudi issue: UN Group member
INTERNATIONAL RELATIONS
1. Modi, Mattis discuss peace and global security issues


C.

 GS3 Related


HEALTH
1. After a lull of five years, clinical trials on the rise in India
2. No clarity on source of Nipah virus
3. Majority of haemophilia cases go undiagnosed'
SCIENCE AND TECHNOLOGY
1. NASA's IMAP to study cosmic rays in heliosphere


D.

 GS4 Related




E. 

Editorials


ECONOMY
1. Farmers and Fair Price
GOVERNANCE
1. Anti-Sterlite protest of 22 May


F. 

Prelims Fact


G. UPSC Prelims Practice Questions
H. UPSC Mains Practice Questions 

1. Arctic sea route not possible: Finnish official
Contrary to popular belief that the melting ice in the Arctic would open up alternate shipping routes, it would still not be an easily navigable route.
Even if the Arctic becomes ice-free, the Northern sea route will not be an easily navigable route anytime soon.
It will not be practical for container traffic, it may be okay for bulk carriers carrying gas.
But it is containers which constitute the major traffic.
Temperatures a hurdle
Despite melting ice, the waters would be tough to navigate due to sub-zero temperatures and would pose serious challenges to ships effecting their movement and schedules which carries a premium in container traffic.
The Arctic region which has permanently frozen ice is melting at an increasing rate due to global warming and is expected to be ice- free by 2060.
Already several countries have sent their ships and ice breakers in the summer months to demonstrate the navigability.
Countries such as China and Japan are investing in infrastructure development there.
It is seen as an alternate shipping route to cut time and costs and also circumvent the global choke points.
India
The Finnish official called for a greater Indian role in the region as an observer in the Arctic Council, especially in renewing commitment to climate change and environmental protection.
There is increasing concern in India as China makes inroads into the strategically important Arctic region which has large reserves of untapped minerals and fossil fuels.
The Arctic Council
The Arctic Council, which is an intergovernmental organisation, has eight member-states, six independent permanent participating organisations and observers which are non-Arctic states like India and China.
Finland is holding the Chairmanship of the Arctic Council from 2017-19.
The Arctic Council is currently formulating a long-term strategy for action looking into the 2030s based on its founding charter.
2. Decline in low-intensity rainfall reduces groundwater recharge in north India
Based on data collected between 1996 and 2016 from over 5,800 groundwater wells spread across India, researchers from Indian Institute of Technology (IIT) Gandhinagar have been able to find that rainfall intensity is strongly linked to groundwater recharge.
While low-intensity rainfall during summer monsoon is responsible for groundwater recharge in the case of India, particularly north-west and north-central India, high-intensity rainfall is a major driver for recharging groundwater in south India.
The size of aquifers and the yield are much larger in north India compared with south India.
The results were published in the journal Geophysical Research Letters.
Nature of aquifers
The groundwater recharge with respect to intensity of precipitation in the three regions studied is related to the nature of the aquifers.
While aquifers across north India, particularly in the Indo-Gangetic Plain, are characterised by alluvial soil, southern India is characterised by hard-rock aquifers.
Though specific yield of alluvial soil is higher than hard-rock aquifers, alluvial aquifers take longer time to get recharged in response to rainfall.
Rainfall
Rainfall is classified as low-intensity if the amount is between 1-35 mm per day. High-intensity rainfall is characterised by rainfall in excess of 35 mm per day.
Low-intensity rainfall provides maximum time for water to percolate and recharge the aquifer and so is favourable for groundwater in north India.
High-intensity rainfall mostly leads to surface run-off and doesn't contribute much to groundwater recharge in north India.
In contrast, hard-rock and basaltic aquifers are seen in south India. Here, high-intensity rainfall contributes more to groundwater recharge than low-intensity rainfall in south India.
Total amount of rainfall received per year between 1951 and 2016 has declined in the Indo-Gangetic Plain, Maharashtra, parts of Tamil Nadu and Western Ghats. But specifically, the total rainfall contributed by low-intensity rainfall has significantly declined across India, with the maximum reduction seen in central India, Indo-Gangetic Plain and to a less extent in north-west India and south India.
In contrast, the total rainfall from high-intensity precipitation has increased in north-west India (Gujarat and Rajasthan), south India, West Bengal and Orissa. Kerala has witnessed a decline in both high- and low-intensity rainfall.
Groundwater
The researchers used groundwater level data available between 1996 and 2016 from over 5,800 wells and estimated the groundwater recharge for each well and for each year.
Groundwater recharge estimation was done using water table fluctuation method by taking the groundwater table difference between pre-monsoon (May) and post-monsoon (November) months.
The study found the decline in groundwater recharge between 1996 and 2016 is strongly associated with decline in low-intensity rainfall in north-west and north-central India.
At the same time there is an increase in groundwater recharge in south India due to an increase in high-intensity rainfall.
Managing groundwater
These findings have implications on managing groundwater resources in India.
Nature of rainfall supportive of groundwater recharge has changed in north India even as groundwater withdrawal for irrigation has been increasing to meet the demands of intensive agriculture.
This has created an imbalance and has led to an unsustainable scenario for groundwater use for irrigation.
Way forward
The study suggests that north India must make additional efforts (in the form of artificial groundwater recharge) to check the decline in groundwater table while also reducing groundwater withdrawal for irrigation. Both these measures have to be adopted simultaneously.
1. Closure alone may not solve Thoothukudi issue: UN Group member
Simply closing the Sterlite copper plant may not be the answer to the serious and ongoing threat at Thoothukudi, Tamil Nadu, said a member of the UN Working Group on Human Rights and Transnational Corporations and Other Business Enterprises.
They had also publicly raised concern over the disproportionate and excessive use of lethal force against protesters outside the Sterlite Copper Plant.
Way forward
The company is likely to challenge closure. The real issue is to address concerns of affected people and provide them effective remedies.
Whenever the plant is going to restart, the two critical conditions should be met: all Indian laws should be fully complied with and people consulted in a meaningful way.
The Indian government has an obligation to ensure that Sterlite Copper as well as Vedanta Ltd. respect all human rights.
Category: INTERNATIONAL RELATIONS
1. Modi, Mattis discuss peace and global security issues
Prime Minister Narendra Modi met U.S. Secretary of Defence Jim Mattis and discussed security-related issues,
The meeting comes days after the U.S. renamed its oldest and largest military command — the Pacific Command — as the Indo-Pacific Command, amid heightened tensions with China over the militarisation of the South China Sea.
The U.S. move came in the wake of a series of measures by China that have raised tensions in the South China Sea. The Pentagon's move is also reflective of the growing importance of India in US strategic thinking.
They discussed issues of mutual and global interest pertaining to security.
The meeting was held on the sidelines of the annual Shangri-La Dialogue (SLD) addressed by Mr. Modi.
Asia
He said an Asia of rivalry would hold the region back, while an Asia of cooperation would shape the current century. Asia and the world would have a better future when India and China worked together with trust and confidence while being sensitive to each other's interests.
Every country should all have equal access as a right under international law to the use of common spaces on sea and in the air that would require freedom of navigation, unimpeded commerce and peaceful settlement of disputes in accordance with international law.
Significance
The meeting between the two leaders assumes significance as, in his address, Mr. Mattis spoke of both countries working together and with other nations, for ensuring peace and security in the Indo-Pacific region.
1. After a lull of five years, clinical trials on the rise in India
There is a gradual revival in the number of clinical trials being done in India.
From an all-time low of 17 clinical trials approved by the Drug Controller General of India (DCGI) in 2013, the number has slowly increased to 97 in 2017, a more than 400% jump in five years.
Regulators and domain experts attribute the revival to introduction of scientific and balanced guidelines that suit all stakeholders.
Activists, however, feel India is far from a watertight system when it comes to monitoring the trials.
Background
In 2012, a PIL plea filed by the Swasthya Adhikar Manch in the Supreme Court raised an alert over many irregularities in clinical trials, including lack of consent and compensation to the patients referred to as subjects.
Around the same time, the 59th Parliamentary Committee report stated that there was a strong nexus between drug makers, doctors and some government regulators.
Earlier
In 2013, a gazette notification by the Ministry of Health and Family Welfare determining the eligibility for compensation eventually led to many drug makers hunting for other locations for trials.
The clause of compensation was open to misuse and could act as an inducement for participation in the trial as it called for free medical management in terms of injury to the clinical trial subject.
There was no distinction made between study related injury or non-related injury and approval time of clinical trials also takes extremely long.
There were many other clauses that were brought in: like investigators could not undertake more than three trials, to be conducted only in government hospitals, the site of trials should be 50-bed hospitals, etc.
Present scenario
Gradually, they have began harmonizing the clinical trial environment as per international standards and now 50% of the trials can be conducted in private hospitals, there is no restriction of three trials per investigator and a formula for calculating financial compensation has been derived.
Concerns
The recent case of a clinical trial in Jaipur mired in a controversy where patients were allegedly deceived into participating in the trial.
The incident exposed the loopholes in government regulations.
According to the Health Ministry, there were 436 serious adverse events (SAE) of deaths in clinical trials in 2012, 590 in 2013 and 443 in 2014. Of these, 16, 46 and 22 respectively were established to be related to clinical trials.
In 2015 there were 162 deaths but data on those established due to clinical trials was unavailable.
The government data shows that many people were given compensation. But they refuse to share the names of addresses.
There are no drug inspectors for regular checks on trials and private hospitals don't come under the Right to Information (RTI) Act.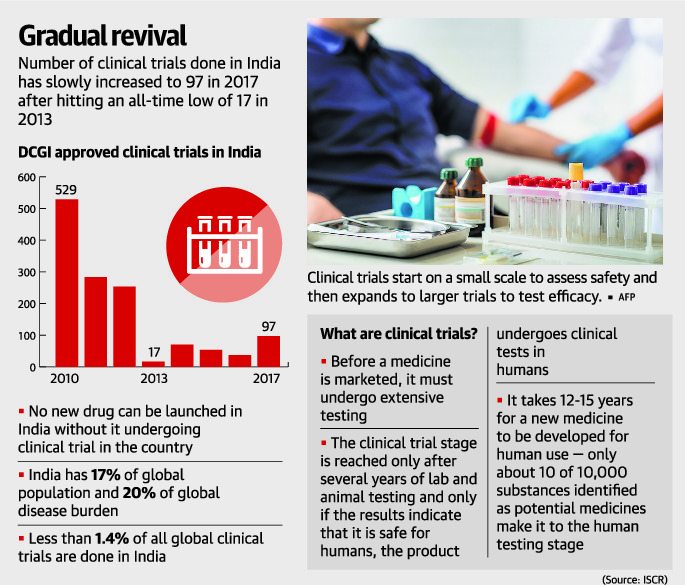 2. No clarity on source of Nipah virus
The Health Department is clueless on the origin of the Nipah virus that claimed 17 lives in Kerala.
According to reports, initial tests on fruit-eating bats suspected of carrying the Nipah virus showed no sign of the disease.
More suspected cases
Meanwhile, 13 more persons have been admitted to the Government Medical College Hospital in Kozhikode with suspected symptoms, taking the total number of persons under observation to 29.
So far, 201 samples have been tested. The eight reports that came were all negative. Seventeen of the 19 confirmed cases are dead and the remaining two have tested negative.
3. Majority of haemophilia cases go undiagnosed'
Of all the haemophilia cases in India, just around 15% are identified while the remaining go undiagnosed.
While there are about 16,000 haemophilia patients registered in the country, reports indicate that the number could be as much as seven times more.
Around half of the haemophiliacs in the world live in India, out of which 70% do not have adequate knowledge or access to treatment. This further exacerbates the risk of death.
A release issued by Heart Care Foundation of India noted that haemophiliacs can experience spontaneous or internal bleeding and often have painful, swollen joints due to bleeding in the joints. This is a rare but life-threatening condition.
Haemophilia
Haemophilia is an inherited bleeding disorder in which a person lacks or has low levels of proteins called 'clotting factors', and the blood does not clot properly as a result.
This leads to excessive bleeding. There are 13 types of clotting factors, and these work with platelets to help the blood clot.
Haemophilia is caused due to a defect in the gene that determines how the body makes certain clotting factors.
The genes that code for these factors are located on the X chromosome, making haemophilia an X-linked recessive disease.
There are three forms haemophilia: A, B, and C.
Haemophilia A and B are more common in males than females. Haemophilia C is an autosomal inherited form of the disease, meaning that it affects males and females equally.
Disease symptoms
Symptoms that indicate the need for immediate medical help, include severe headaches, frequent vomiting, neck pain, blurred or doubled vision, extreme sleepiness, and continuous bleeding from an injury.
There is no known cure for haemophilia.
The line of treatment in case of internal or external bleeding is to supplement the Antihaemophilic Factor level by fresh blood transfusion.
Category: SCIENCE AND TECHNOLOGY
1. NASA's IMAP to study cosmic rays in heliosphere
NASA is targeting 2024 for the launch of a new mission to learn more about the generation of cosmic rays in the heliosphere, a sort of magnetic bubble surrounding and protecting our solar system.
Cosmic rays created locally and from the galaxy and beyond affect human explorers in space and can harm technological systems, and likely play a role in the presence of life itself in the universe.
The Interstellar Mapping and Acceleration Probe (IMAP) mission will help researchers better understand the boundary of the heliosphere.
IMAP was selected following an extensive and competitive peer review of proposals submitted in late 2017.
Heliosphere
Heliosphere is the region where the constant flow of particles from our Sun, called the solar wind, collides with material from the rest of the galaxy.
This collision limits the amount of harmful cosmic radiation entering the heliosphere. IMAP will collect and analyse particles that make it through.
This boundary is where our Sun does a great deal to protect us.
Significance
IMAP is critical to broadening our understanding of how this cosmic filter works.
The implications of this research could reach well beyond the consideration of Earthly impacts as we look to send humans into deep space.
The spacecraft will be positioned about 1.5 million kilometres away from Earth towards the Sun at what is called the first Lagrange point or L1.
Nothing here for today!!!
1. Farmers and Fair Price
Season after season, farmers face price uncertainties mainly owing to fluctuations in demand and supply caused by bumper or poor production, speculation and hoarding by traders.
The miseries of financially distressed farmers seem far from over even as they continue to demand waiver of farm loans and remunerative prices for their produce through several platforms across the country.
Garlic has been the latest casualty of the price crash in the vegetable market after poor returns of tomato and potato crops forced many farmers to abandon their produce owing to a bumper output in recent days.
The problem of plenty has hit the farmers badly. While garlic farmers in Madhya Pradesh and Rajasthan, which produce 45% of the country's garlic, recently fetched as low as ₹1 a kg in wholesale prices, the instances of tomato farmers dumping their harvest on the fields earlier this month — be it in Haryana, Tamil Nadu or Uttar Pradesh after prices nosedived — have only highlighted their woes.
What is the way forward?
The fluctuation in vegetable prices has become a perennial problem and is usually associated with the economics of demand and supply.
Farmers, mainly marginal and small landholders, depend on intermediaries to sell their produce. Being perishable, vegetables are more prone to price fluctuation, hence they require better infrastructure for storage and marketing.
Contract farming is an alternative for farmers to reduce financial risks by providing an assured market for their produce at a pre-agreed price.
Contract Farming
Although varied forms of contract farming exist in some pockets, a formal system is not widespread. By and large, cultivation of commercial crops such as cotton, sugarcane, tobacco, tea, coffee, rubber and dairy has had some elements of informal contract farming.
Experts believe that integration of vegetable and fruit growers with agro-processing units through contract farming could prove beneficial to producers as it takes care of price fluctuations and helps to mitigate production risk.
Under the contract farming law, the agreements would help farmers get an assured price for the produce, which will act as a buffer against price volatility and market fluctuations
The Centre last week approved the State/UT Agricultural Produce and Livestock Contract Farming and Services (Promotion and Facilitation) Act, 2018.
The Act lays stress on protecting the interests of farmers, considering them as weaker of the two parties entering into a contract.
The Act is aimed at ensuring the purchase of the entire pre-agreed quantity of one or more of produce, livestock or its product.
1. Anti-Sterlite protest of 22 May
What is it?
On May 22, a rally taken out to observe the 100th day of the anti-Sterlite factory protests at Thoothukudi turned violent, after some protesters hurled barricades placed on the road.
Soon, stones were thrown, vehicles were burnt and, at some point, the police opened fire in different places, leaving 13 dead over two days.
Since then, condemnation for police action has been pouring in from across the world, with the UN Working Group on human rights and transnational organisations conveying their disapprobation.
The factory has been shut down, power supply to it cut and the order granting land in the SIPCOT industrial park rescinded.
Background of the incident
The protests are by no means recent, nor is the company a stranger to the community-level opposition.
Sterlite Copper had to move from Ratnagiri in Maharashtra, after year-long protests by locals, to Thoothukudi in August 1994, with clearance from the Ministry of Environment and Forests (MoEF).
A licence to operate from the Tamil Nadu Pollution Control Board was granted in the late 1996. After locals began complaining of health issues such as headache, coughing and choking, blaming them on the discharge from the factory, it caught the attention of some politicians led by MDMK leader Vaiko and environmentalists, who began organising the community.
In November 1998, the Madras High Court ordered the plant to be closed, but a week later the court modified its order and allowed the plant to run again, meanwhile asking the National Environmental Engineering Research Institute to conduct a study in the region. That turned out to be a clean chit for Sterlite.
Twelve years later, the court ordered the closure of Sterlite Copper, citing violations of law and for polluting the environment. Three days later, the Supreme Court stayed the order. In April 2013, the court slapped a fine of ₹100 crore on Sterlite Copper, but refused to shut it down.
The current wave of protests was triggered after the MoEF granted permission to build another plant right next to the existing smelter, without conducting the necessary public hearing. When construction began in July 2017, the protest resumed, and with the government failing to engage constructively with the local community, it snowballed into the anger that led to Black May 22.
What next?
The State has ordered closure of the company and revoked its grant of land. It has also appointed a retired High Court judge to probe the May 22 incident.
Members of the National Human Rights Commission have arrived at Thoothukudi to conduct their own probe.
Meanwhile, Sterlite Copper's CEO P. Ramnath has said false propaganda has driven the protests, while the company has always been willing to engage with the environmentalists and the local community.
F. Prelims Fact
Sri Aurobindo
He was an Indian philosopher, yogi, guru, poet, and nationalist.
He joined the Indian movement for independence from British rule, for a while was one of its influential leaders and then became a spiritual reformer, introducing his visions on human progress and spiritual evolution.
Aurobindo was influenced by studies on rebellion and revolutions against England in medieval France and the revolts in America and Italy.
In his public activities he favoured non-co-operation and passive resistance; in private he took up secret revolutionary activity as a preparation for open revolt, in case that the passive revolt failed.
In 1908, Khudiram Bose and Prafulla Chaki attempted to kill Magistrate Kingsford, a judge known for handing down particularly severe sentences against nationalists. However, the bomb thrown at his horse carriage missed its target and instead landed in another carriage and killed two British women, the wife and daughter of barrister Pringle Kennedy. Aurobindo was also arrested on charges of planning and overseeing the attack and imprisoned in solitary confinement in Alipore Jail. The trial of the Alipore Bomb Case lasted for a year, but eventually he was acquitted.
His translation of Vande Matram has been adopted by the Government of India's national portal.
G. Practice Questions for UPSC Prelims Exam
Question 1. Which of the following statements related to State Legislature is/are correct
Parliament can abolish a Legislative Council or create it, if the Legislative Assembly of the concerned state passes a resolution to that effect.
Governor nominates two members from the Anglo-Indian community.
In Legislative Council vacant seats are filled up by fresh elections and nominations (by governor) at the beginning of every third year.
Select the correct answer using the code given below.
1 only
1 and 2 only
1 and 3 only
All of the above
See
Question 2. Rajya Sabha is sub-par compared to Lok Sabha in many perspectives, which includes: 
Approval of ordinances
Approval of money bill
Voting on demand for grants
Select the correct answer using the codes given below.
1 and 3 only
1 and 2 only
3 only
2 and 3 only
See
Question 3. Consider the following statements with respect to Gross Domestic Product (GDP):
It is the value added by all the firms in the economy.
It is the final value of goods and services produced in the economy.
It is the sum of final consumption and investment expenditure by the household, private and government sector and net of exports and imports.
It is the income received by the four factors of production.
Select the correct answer using the code given below.
1 and 2 only
1, 2 and 3 only
1, 2 and 4 only
All of the above
See
Question 4. Consider the following statements: 
Base Year prices are used to calculate the real GDP
Base Year prices are used to calculate the nominal GDP
Select the correct answer using the code given below.
1 only
2 only
Both 1 and 2
None of the above
See
H. UPSC Mains Practice Questions
What are sustainable development goals? What initiatives have been taken to promote sustainable development in the country?
"Naxalites and other revolutionaries tend to be impatient with democracy and its institutions, believing that they can, at a stroke, dismantle all the evils of the system-and that this alone is an adequate corrective." Examine by citing relevant cases.
Also, check previous Daily News Analysis
"Proper Current Affairs preparation is the key to success in the UPSC- Civil Services Examination. We have now launched a comprehensive 'Current Affairs Webinar'. Limited seats available. Click here to Know More."
Enroll for India's Largest All-India Test Series