TABLE OF CONTENTS
A.

 GS1 Related




B.

 GS2 Related


INTERNATIONAL RELATIONS
1. Delhi charts new line on Indo-Pacific area
2. Modi likely to take the spirit of Wuhan to Qingdao
3. 'CPEC is elephant in the room'


C.

 GS3 Related


HEALTH
1. 'Uranium contamination in Rajasthan groundwater'


D.

 GS4 Related




E. 

Editorials


POLITY AND GOVERNANCE
1. Questions of promotion in appointment of judges
ECONOMY
1. A vicious cycle: The escalating trade wars will hurt economic growth worldwide


F. 

Tidbits


1. 'FDI rose to $61.96 billion in 2017-18'
2. 'GST Council meet may take up inclusion of natural gas'
3. Panel to mull ARC for stressed assets
4. SC wants panel to monitor shrines
5. U.S. wants India out of S-400 deal
G. UPSC Prelims Practice Questions
H. UPSC Mains Practice Questions 

Nothing here for today!
Category: INTERNATIONAL RELATIONS
1. Delhi charts new line on Indo-Pacific area
New Delhi does not consider the newly re-established quadrilateral format of U.S.-Japan-India-Australia a part of its Indo-Pacific region policy, India's Ambassador to Russia Pankaj Saran has said.
The senior diplomat, instead, suggested that India would like to engage more closely with Russia in the Indo-Pacific region as well.
It indicates that India's maritime partnerships would not be restricted to the Quad formation with the U.S. and its allies.
The Quadrilateral format of U.S.-Japan-India-Australia is one of the many multilateral dialogues in the region, and not directed against any country.
It is not part of the Indo-Pacific region concept outlined by Prime Minister Modi in Shangri La.
It is important that the Indo-Pacific Region (IPR) and Quad format are not confused with each other.
The Indian view of IPR is positive — this is an open and inclusive arrangement, which is not directed against any country nor intended to contain any country.
The general belief is that the Quad arrangement came together in November 2017 in an effort to contain China's aggressive actions in the South China Sea, and forays in India's neighbourhood.
However, given improved relations with China in the last few months, the government has been seen as less active in promoting the Quad, also declining a request from Australia to join the ongoing Malabar naval exercises with the other three Quad members.
2. Modi likely to take the spirit of Wuhan to Qingdao
Prime Minister Narendra Modi will participate in a two-day summit of the eight-nation Shanghai Cooperation Organisation (SCO) at the weekend, riding on the bonhomie generated by the Wuhan informal summit with Chinese President Xi Jinping, and an extended one-on-one dialogue with Russian President Vladimir Putin in Sochi.
Russia, China and India were likely to emerge as the core of the SCO, after New Delhi and Islamabad joined the grouping last year and would be participating as full SCO members for the first time in Qingdao.
But it was also imperative that the importance of the four Central Asian Republics — Kazakhstan, Uzbekistan, Kyrgyzstan and Tajikistan — not be undermined.
Analysts point out that the America-first doctrine of U.S. President Donald Trump, which was getting translated into rising protectionism and threat of trade wars, had provided an important subtext to the Wuhan summit.
3. 'CPEC is elephant in the room'
Defence Minister Nirmala Sitharaman said that the China-Pakistan Economic Corridor (CPEC) is the elephant in the room for India, but India does not view its bilateral relations with China through the prism of China-Pakistan relationship which is getting intense.
There has been an increased dependence of Pakistan's military on Chinese arms and ammunition.
The fundamental reorientation of the China-Pakistan relationship is getting intense.
Sitharaman said there was now a greater engagement between India and China, and with India's participation in the Shanghai Cooperation Organisation (SCO), the relationship was becoming stronger.
The Defence Minister further said that India had good bilateral cooperation with many members of the SCO.
However, having a hotline between the two countries would help disputes to be resolved faster.
A hotline would definitely reduce the time consumed in reaching the empowered group of decision-makers in case there is a crisis at the ground level.
She said the two-day informal engagement between Prime Minister Narendra Modi and Chinese President Xi Jinping at Wuhan will have some outcome in the short term, but without doubt in the long term the relationship will benefit from it.
1. 'Uranium contamination in Rajasthan groundwater'
Many parts of Rajasthan may have high uranium levels in their groundwater, according to a study by researchers at the Duke University in North Carolina, United States, and the Central Groundwater Board of India.
The main source of uranium contamination was natural, but human factors such as groundwater table decline and nitrate pollution could be worsening the problem.
Nearly a third of all water wells tested in Rajasthan contained uranium levels that exceed the World Health Organization (WHO) and U.S. Environmental Protection Agency's (EPA) safe drinking water standards.
By analysing previous water quality studies, the researchers also identified aquifers contaminated with similarly high levels of uranium in 26 other districts in north-western India and nine districts in southern or south-eastern India.
While previous studies have referred to high uranium levels in some districts of India, this analysis gave a bird's eye view into the extent of such contamination.
The WHO has set a provisional safe drinking water standard of 30 micrograms of uranium per litre, a level that is consistent with the U.S. EPA standards.
Despite this, uranium is not yet included in the list of contaminants monitored under the Bureau of Indian Standards' Drinking Water Specifications.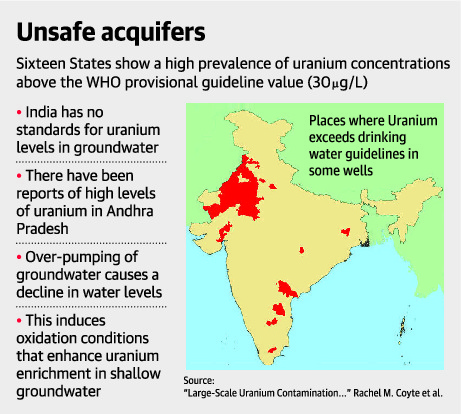 Nothing here for today!!!
Category: POLITY AND GOVERNANCE
1. Questions of promotion in appointment of judges
Background:
The Central government has requested Chief Justices of the High Courts that due consideration be given to suitable candidates belonging to the Other Backward Classes, Scheduled Castes, Scheduled Tribes, minorities and women while sending proposals for appointment of judges.
The appointment of judges of the Supreme Court and High Courts is made under Articles 124 and 217 of the Constitution, respectively.
These Articles do not provide for reservation for any caste or class of persons. Therefore, no caste or class-wise data of judges is maintained,
Administrative control
Under Article 235 of the Constitution, the administrative control over the members of district and subordinate judiciary in the States vests with the High Court concerned.
The State Government, in consultation with the High Court, frames the rules and regulations on matters of appointment, promotion and reservation of judicial officers in the State Judicial Service. The Central government has no direct role in this regard, he said.
Barring a few exceptions, the judiciary has not been encouraging on quotas
The Supreme Court's one line order that the government can go ahead with promotions in government offices — which will have bearing on Scheduled Caste/Scheduled Tribe (SC/ST) reservations in promotions — has come with the caveat "in accordance with law".
This is no victory at all as all such promotions, if made, will again be challenged due to a non-fulfilment of conditions laid down in earlier judgments (which under Article 141 of the Constitution are "law declared by the Supreme Court which is binding on all courts").
The solution could be an ordinance if the Dalit cause is dear to the government.
The judiciary has not been encouraging on reservation policies
In the State of Madras v. Srimathi Champakam Dorairajan (1951), which related to medical and engineering seats, the Madras High Court struck down the reservation policy.
The judgment led to the first amendment to the Constitution to protect reservations. The newly introduced Clause (4) of Article 15 read: "Nothing in this Article or in Clause 2 of Article 29 shall prevent the State from making any special provision for the advancement of any socially and educationally backward classes of citizens or for the Scheduled Castes and the Scheduled Tribes."
Historical judgements
In M.R. Balaji (1962), the Supreme Court did make some positive observations.
The government need not appoint a commission to determine backwardness under Article 340 prior to formulation of a reservation policy; executive orders giving reservation are valid;
caste is important but not the sole determinant of backwardness; and 'caste' and 'class' are not synonymous.
The court struck down the distinction between 'backward' and 'more backward' communities and termed 68% reservation as a 'fraud' on the constitutional power conferred on the state by Article 15(4).
It also introduced a 50% upper limit in reservation. This judicial innovation is unreasonable as there is no statistical basis to argue that efficiency will be adversely affected if reservation exceeds the 50% limit or if it is extended to promotions.
In C.A. Rajendran (1967), where governmental policy of 1963 that did not provide for reservation of posts in class I and II posts was challenged, a five-judge bench upheld the policy by saying that reservation both in appointments and promotions is merely discretionary rather than the constitutional duty of the state.
In T. Devadasan (1963), the "carry forward" in reservations (if reserved seats remained unfilled in a year they would be carried forward subsequently) was struck down.
In State of Kerala v. N.M. Thomas (1975), the Supreme Court did extend the benefit of reservations to promotions while upholding the rule that gave further exemption of two years to SC/ST candidates in passing the tests.
In Indra Sawhney (1992), where 27% Other Backward Classes (OBC) reservation was challenged, a nine-judge bench authoritatively laid down the law on reservation.
The positive findings were:
Article 16(4) is not an exception to the right to equality of opportunity provided under Article 16(1) but an illustration of the right to equality of opportunity;
a caste can be and quite often is a social class in India; a classification between 'backward' and 'most backward' is constitutionally permissible, and T.Devadasan was wrongly decided.
But here too the court explicitly said that in future reservation, benefits cannot extend to promotions and 'creamy layer' is to be excluded in reservation for OBCs.
Further, reservation though not 'anti-merit', should not apply to some services and certain posts.
The government brought in the 77th amendment to the Constitution in order to overturn Indra Sawhney on the issue of promotions.
But in Virpal Singh Chauhan (1995), and subsequently in Ajit Singh (1999), a 'catch up rule' was introduced under which senior general candidates who were promoted after SC/ST candidates would regain their seniority over SC/ST candidates promoted earlier.
As a result, the 85th amendment had to be passed to reverse these judgments and to give consequential seniority to SC/ST candidates.
The two amendments were challenged leading to M. Nagaraj (2006) in which the court made certain unusual observations:
The concept of SC/ST reservation is hedged by three constitutional requirements:
Backwardness of SC/STs,
Inadequacy of their representation in public employment, and
Overall efficiency of administration.
A number of High Courts following Nagaraj have struck down reservation in promotions after applying these requirements.
Surprisingly, the bench in Nagaraj also went against the judgment of Indra Sawhney where the court had said that SC/STs were definitely socially backward.
In 2004 a constitution bench in E.V. Chinnaiah did admit the backwardness of Dalits and said that SCs are not only backward but indeed most backward.
Moreover, since the backwardness of SCs was taken into account (Article 341), Nagaraj was erroneous in insisting on quantitative collection of data to prove their backwardness. Ironically no petitioner in Nagaraj disputed the backwardness of Dalits.
The judgment is also off the mark on the issue of exclusion of the creamy layer in promotions. When this layer is not relevant at the initial appointment, how can its exclusion be insisted upon in promotions?
In fact, in Ashoka Kumar Thakur (2008), the Supreme Court clarified that the creamy layer doctrine has no relevance in SC/ST reservation.
Concerns on efficiency
Efficiency is demonstrated in the performance of employees. No research has so far proved that SC/ST employees are less efficient than employees recruited under the general category.
And the judiciary should not pre-judge the efficiency of any category of employee prior to their appointment/promotion. Justice Chinnappa Reddy in K.C. Vasanth Kumar demolished the efficiency argument when he said:
"Efficiency is very much on the lips of the privileged whenever reservation is mentioned." He added: "The underlying assumption that those belonging to the upper castes and classes who are appointed to the non-reserved castes will, because of their presumed merit, 'naturally' perform better than those who have been appointed to the reserved posts and that the clear stream of efficiency will be polluted by the infiltration of the latter into the sacred precincts is a vicious assumption, typical of the superior approach of the elitist classes." In 2017, the Supreme Court finally referred reconsideration of Nagaraj to a Constitution bench.
1. A vicious cycle: The escalating trade wars will hurt economic growth worldwide
What is Trade war?
A situation in which countries try to damage each other's trade, typically by the imposition of tariffs or quota restrictions.
Nobody wants to lose a trade war.
Why in news?
The European Commission announced it would impose tariffs as high as 25% on imports worth $3.3 billion from the U.S. beginning July.
Context
A whole range of American goods, from motorbikes and jeans to peanut butter and orange juice, will now face higher taxes when sold in the European Union zone.
The Commission is also mulling import duties on more American goods if the trade war with the U.S. intensifies.
Europe is not alone in waging a battle against imports from the U.S.; China, Mexico and Canada have joined hands in response to President Donald Trump's decision to impose tariffs on steel and aluminium imports.
Reasons for such issues
The U.S. imposed a 25% tax on steel and a 10% tax on aluminium imports from the EU, Mexico and Canada.
The first salvo in this ongoing trade war, however, was fired by Mr. Trump in March this year, when he imposed tariffs on Chinese steel and aluminium to protect American producers.
Workers in America's manufacturing sector have played a key role in Mr. Trump's electoral success, so his zealousness to be seen to be protecting their interests is unsurprising.
Implications
However, consumers in America and the rest of the world are likely to suffer as their respective governments make it costlier for them to access foreign goods and services.
Judging by their actions, it is now clear that America's major trading allies would not really want to lose this trade war against the U.S.
Tariffs that seek to disadvantage foreign producers in favour of domestic producers, whether they are imposed by the U.S. or any of its major trading partners such as Europe or China, only increase the burden of taxes.
Countries that are protesting America's metal tariffs in the name of free trade are also only encouraging further protectionism when they impose retaliatory tariffs.
As former Reserve Bank of India Governor Raghuram Rajan aptly put it, the ongoing trade war is a "lose-lose situation" for the warring parties.
The only winners will be special interest groups and consumers in countries that do not engage in the tit-for-tat tariff war, but their winnings will come at the cost of global growth.
Conclusion
This leads to eventually is slower global economic growth.
The fact, however, is that at the end of the day nobody actually wins a destructive trade war.
The World Bank has warned that the effect of the increased use of tariffs to regulate international trade could be similar to the significant drop in global trade after the financial crisis a decade ago.
It is high time countries worldwide come together to promote the cause of free trade.
1. 'FDI rose to $61.96 billion in 2017-18'
Foreign direct investment (FDI) in India increased by about 3% to $61.96 billion in 2017-18 on account of steps taken by the government to improve business climate and liberalised policy norms.
FDI inflows stood at $60 billion in the previous fiscal. The figure includes equity inflows, reinvested earnings and other capital.
In the last four years, the government has liberalised FDI norms in sectors such as defence, medical devices, construction development, retail and aviation which contributed to the jump to $222.75 billion from $152 billion in the previous four-year period.
2. 'GST Council meet may take up inclusion of natural gas'
The Goods and Services Tax Council is likely to take up the possible inclusion of natural gas in the indirect tax regime during its next meeting.
Petroleum is a considerably larger source for revenues not only for the Centre but States also and on the natural gas front, there is some consensus for bringing it into GST ambit and therefore, it could be the first petroleum product that could come within the GST network.
This could be soon followed by the inclusion of aviation turbine fuel (ATF).
Currently, petroleum crude, motor spirit (petrol), high speed diesel, natural gas, and ATF have been kept out of GST.
3. Panel to mull ARC for stressed assets
The finance ministry has set up a committee to examine the possibility of setting up an asset reconstruction company or an asset management company to fast track resolution of stressed assets.
The committee will submit its report in two weeks.
At least five state-run banks do not have a chief executive, and several executive directors' positions are also vacant. Some more vacancies are expected to arise in the coming months.
Banks are selling non-core assets to boost capital and that resolution of stressed assets would also release some funds.
4. SC wants panel to monitor shrines
The Supreme Court directed the Centre to form an independent committee to review whether the management practices of shrines across the country are visitor-friendly.
It also ordered a judicial enquiry into allegations of rampant fleecing and exploitation of worshippers by staffers and sevaks at the Puri Jagannath Temple in Odisha.
The court told the Centre that it wanted the panel to collect information on shrines across the country so that their management practices could be reviewed for the benefit of all visitors.
5. U.S. wants India out of S-400 deal
The United States is trying to discourage India from buying large defence systems from Russia, an action that may attract sanctions, according to a senior official of the State Department.
Countering America's Adversaries through Sanction Act (CAATSA), a 2017 law, requires that countries that have significant defence cooperation with Russia be sanctioned by America.
India is planning to buy five S-400 Triumf air defence systems for around $4.5 billion from Russia.
The Donald Trump administration has publicly expressed its desire to protect India from CAATSA, considering the U.S.-India strategic ties.
G. Practice Questions for UPSC Prelims Exam
Question 1. Consider the following statements with regard to the Swadeshi movement.
The formal proclamation of the Swadeshi Movement was made on the 7 August 1905 and the famous Boycott Resolution was passed in that meeting.
Boycott and public burning of foreign cloth, picketing of shops selling foreign goods etc became common during the movement.
This movement was successful in persuading the government to annul the partition immediately.
Which of the above statement/s is/are incorrect?
1 only
2 only
3 only
1 and 3 only
See
Question 2. Match the following important pre-Congress organizations with the leaders:
East India Association, London          i) Pherozshah Mehta
Indian Association, Calcutta               ii) Dadabhai Naoroji
Poona Sarvajanik Sabha                      iii) Surendranath Banerjee
Bombay Presidency Association        iv) Justice Ranade
Options:
1-ii), 2-iii), 3-iv), 4-i)
1-i), 2-ii), 3-iii), 4-iv)
1-i), 2-iii), 3-iv), 4-ii)
1-ii), 2-iv), 3-iii), 4-i)
See
Question 3. Match List I with List II and select the correct answer using the codes given 
below the lists:
     List I               List II
Iqta             (A) Marathas
Jagir           (B) Delhi Sultans
Amaram    (C) Mughals
Chauth      (D) Vijayanagara
Codes:
I-C, II-B, III-A, IV-D
I-B, II-C, III-D, IV-A
I-B, II-C, III-A, IV-D
I-C, II-B, III-D, IV-A
See
Question 4. What were the reasons of decline of Maratha power?
Internal jealousies
Weak economy based on agriculture only
Religious conservatism
Autocratic administration
Out-dated weapons
Options:
i), ii) iii) and v) only
i), iii) and v) only
i), ii), iv) and v) only
All of the above
See
H. UPSC Mains Practice Questions
How has the concept of development changed over time? Discuss.
Environmental degradation is an existential threat, but the political discourse around the world seems to overshadow it. Rather than being considerate about the natural resources/symbols, Indian society is paying more attention to national symbols than they deserve, in a technologically world ridden with poverty. Discuss.
Also, check previous Daily News Analysis
"Proper Current Affairs preparation is the key to success in the UPSC- Civil Services Examination. We have now launched a comprehensive 'Current Affairs Webinar'. Limited seats available. Click here to Know More."
Enroll for India's Largest All-India Test Series