TABLE OF CONTENTS
A.

 GS1 Related




B.

 GS2 Related


GOVERNANCE
1. National Dam Safety Authority in the works
INTERNATIONAL RELATIONS
1. Downturn in ties with Maldives hits Indians' job opportunities


C.

 GS3 Related


ECONOMY
1. India, China discuss 'Oil Buyers Club'


D.

 GS4 Related




E. 

Editorials


ENVIRONMENT
1. Green ambitions on renewable energy targets
POLITY AND GOVERNANCE
1. The missing tiers: Urban local government


F. 

Tidbits


1. Prabhu's visit fails to resolve issues
2. Mushrooms show early fruiting
G. UPSC Prelims Practice Questions
H. UPSC Mains Practice Questions 

Nothing here for today!!!
1. National Dam Safety Authority in the works
The Union Cabinet, chaired by Prime Minister Narendra Modi, has approved a proposal for introduction of the Dam Safety Bill, 2018 in Parliament.
The Bill envisages a National Dam Safety Authority, which will liaise with State-level dam safety organisations and the owners of dams for standardising safety-related data and practices.
The NDSA will investigate dam failures and have the authority to fine the States that are found remiss in implementing safety measures.
It will look into unresolved points of issue between the States which share dam territory and look to eliminating potential causes for inter-State conflicts.
Mullaperiyar Dam
A case in point is the Mullaperiyar dam in Kerala, which is a perennial flashpoint between the State and neighbouring Tamil Nadu.
The Chennai floods of 2015 due to unusually heavy rain were thought to have been compounded by an unprecedented release of water from the Chembarambakkam dam into the Adyar.
Due to lack of legal and institutional architecture for dam safety in India, dam safety is a perennial concern.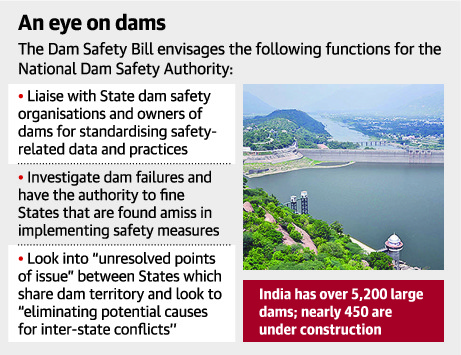 Category: INTERNATIONAL RELATIONS
1. Downturn in ties with Maldives hits Indians' job opportunities
Since February, when Maldivian President Abdulla Yameen ordered an Emergency, which India took a strong position against, the Maldives Immigration Authority has reportedly held up thousands of work permits to Indians.
More startling are public advertisements from companies that are hiring but says clearly that Indians need not apply, as they would not be given work permits.
Despite the increasing numbers of desperate job-seekers, the MEA has refused to take up the matter, and the Embassy of India in the Maldives (EoI) has replied to queries from the job-seekers by saying it cannot help.
India has taken up the issue through diplomatic channels urging the Maldives government to abide by the bilateral visa agreement, with the hope that the matter would be resolved soon.
Around 29,000 Indians live and work in the Maldives, and an estimated 2,000 have pending applications for work permits.
India-Maldives ties
India-Maldives ties have been on the downswing since 2015, when Prime Minister Narendra Modi cancelled his visit to Male over the treatment of Opposition leaders by President Yameen.
Since then, China's growing presence and a free trade agreement with Beijing, as well as President Yameen's emergency declaration and arrest of Opposition leaders, have led to protests from India, further straining ties.
Maldives had told India to remove its helicopters from two strategic locations by the end of June, when visas of Indian Coast Guard and naval pilots and personnel manning the choppers will expire.
1. India, China discuss 'Oil Buyers Club'
With oil producers' cartel OPEC playing havoc with prices, India discussed with China the possibility of forming an 'oil buyers club' that can negotiate better terms with sellers as well as getting more U.S. crude oil to Asia to cut dominance of the oil block.
On the discussion table was de-bottlenecking infrastructure to facilitate more U.S. crude oil coming to Asia so as to cut the dominance of the Organization of the Petroleum Exporting Countries (OPEC), which supplies about 60% of India's oil needs.
Production cuts by OPEC have led to international oil prices hitting a four-year high last month that forced a Rs.3.8 per litre raise in petrol and Rs.3.38 a litre increase in diesel prices.
In a throwback to 2005 when the then oil minister Mani Shankar Aiyar had proposed an alliance of the oil consuming nations, Oil Minister Dharmendra Pradhan wants to form an oil buyers' club with China, Japan and South Korea to take up issues like premium being charged from Asian buyers.
At the IEF meeting, India and China agreed to join hands to have a collective bargaining power against cartelisation of oil producers.
So far, India has not been able to bargain better rates from the Gulf-based producers of the oil cartel, OPEC.
Instead of getting a discount for bulk purchases, West Asian producers such as Saudi Arabia, charge a so-called Asian Premium for shipments to Asian buyers, including India and Japan, as opposed to Europe.
Nothing here for today!!!
1. Green ambitions on renewable energy targets
About Renewable Energy
There are many forms of renewable energy. Most of these renewable energies depend in one way or another on sunlight.
Wind and hydroelectric power are the direct results of differential heating of the Earth's surface which leads to air moving about (wind) and precipitation forming as the air is lifted.
Solar energy is the direct conversion of sunlight using panels or collectors.
Biomass energy is stored sunlight contained in plants. Other renewable energies that do not depend on sunlight are geothermal energy, which is a result of radioactive decay in the crust combined with the original heat of accreting the Earth, and tidal energy, which is a conversion of gravitational energy.
A brief note
Policy tweaks and incentives are needed to meet the renewable energy targets
In a surprising statement this month, Union Power Minister R.K. Singh said India would overshoot its target of installing 175 gigawatts of capacity from renewable energy sources by 2022.
India was on track, he said, to hit 225 GW of renewable capacity by then.
This is a tall claim, considering India has missed several interim milestones since it announced its 175 GW target in 2015.
The misses happened despite renewable capacity being augmented at a blistering pace, highlighting how ambitious the initial target was.
Challenges
Technological and financial challenges remain: both wind and solar generation could be erratic, and India's creaky electricity grid must be modernised to distribute such power efficiently.
Meanwhile, wind and solar tariffs have hit such low levels that suppliers are working with wafer-thin margins. This means small shocks can knock these sectors off their growth trajectories.
The obstacles have capped capacity addition to 69 GW till date, with India missing its 2016 and 2017 milestones. To hit its 2022 target of 175 GW, 106 GW will have to be added in four years, more than twice the capacity added in the last four.
In the solar sector alone, which the government is prioritising, policy uncertainties loom large. Manufacturers of photovoltaic (PV) cells have demanded a 70% safeguard duty on Chinese PV imports, and the Directorate General of Trade Remedies will soon take a call on this.
But any such duty will deal a body blow to solar-power suppliers, who rely heavily on Chinese hardware, threatening the growth of the sector.
There is also the problem of the rooftop-solar segment. Of the current goal of 100 GW from solar energy by 2022, 40 GW is to come from rooftop installations, and 60 GW from large solar parks.
Despite being the fastest-growing renewable-energy segment so far — rooftop solar clocked a compound annual growth rate of 117% between 2013 and 2017 — India only hit 3% of its goal by the end of 2017, according to a Bloomberg New Energy Finance report.
The reason being Homeowners aren't warming up to the idea of installing photovoltaic panels on their terraces because the economics does not work out for them.
Compared to industries and commercial establishments, a home typically needs less power and will not use everything it generates. So, homeowners need to be able to sell electricity back to the grid, which in turn needs a nationwide "net-metering" policy.
Conclusion
As of today, only a few States have such policies, discouraging users elsewhere. Such challenges can be overcome with the right incentives, but they will take time to kick in.
The good news is that even if India hits the 175 GW target, it stands to meet its greenhouse-gas emission goal under the Paris climate agreement. This in itself will be a worthy achievement. Overshooting this target will be a plus, but until the government tackles the policy challenges, it must hold off on implausible claims.
Category: POLITY AND GOVERNANCE
1. The missing tiers: Urban local government
Twenty-five years ago, the Constitution underwent what is arguably its most significant transformation with the passage of the 73rd (mandating the creation of panchayats) and the 74th (creation of municipalities) Constitutional Amendments.
While the 73rd Amendment came into force on April 24, 1993, the 74th Amendment came into effect on June 1, 1993.
As the Central Government's  Smart Cities mission completes three years this month, it's the right time to examine India's tryst with municipal governance.
Much has been written about the failure of States to implement the provisions of the 74th Amendment. However, it is important to examine concerns in the underlying constitutional design of urban local governments and the politics impeding this Amendment's operation.
The "implementation failure" narrative tends to focus on how local governments are financially constrained and do not have the administrative capacity to carry out its functions.
It is also important to explore how urban local governments are actively disempowered and depoliticised as an institution.
The disempowerment and depoliticisation has happened in multiple ways.
First, elected representatives at the city-level are rendered powerless by making them subservient to the State government.
In most municipal corporations, while the mayor is the ceremonial head, the executive powers of the corporation are vested with the State government-appointed commissioner.
This disjuncture in municipal governance has been exploited by State governments to ensure that no city-level politician challenges their control over a city.
An overshadowing
Municipal corporations are further denied their political role by the continued operation of various parastatal agencies created by the State government.
These may take the form of urban development authorities (which build infrastructure) and public corporations (which provide services such as water, electricity and transportation). These agencies, which function with a certain autonomy, are accountable only to the State government, not the local government.
Even urban planning and land-use regulation (globally a quintessential local government function) is with State government-controlled development authorities.
Current situations
Central government programmes such as the Smart Cities Mission seek to ring fence projects from local government. This programme mandates the creation of special purpose vehicles (SPVs) for Smart Cities which will have "operational independence and autonomy in decision making and mission implementation".
It further "encourages" a State government to delegate "the decision-making powers available to the ULB (urban local body) under the municipal act/government rules to the Chief Executive Officer of the SPV".
The creation of parallel institutions that disempower the elected local government shows how higher levels of government distrust local politics and craftily retain control of a city's reins. Even for performing functions that are within its purview (such as levying local taxes or undertaking civic projects above a certain budget) the local government requires State government permissions.
Hence, municipalities are not yet autonomous units that can be genuinely called as the "third tier" of government in India's federal system.
Even after the 73rd and 74th Amendments, India has effectively only two levels of government — Union and State.
Future pathways
While the 74th Amendment has become a lodestar for civic activism in many cities, it has certain inherent limitations. Many of its key provisions are not mandatory for the State government.
The functions listed under the 12th Schedule — which a State government is expected to devolve to the local government — do not include essential civic issues such as urban transportation, housing or urban commons.
The 74th Amendment also contains an industrial township exception whereby a municipality need not be constituted in areas which are declared as industrial townships. These provisions have been employed by State governments to keep local governments weak.
Civic activism has often been focussed on the creation of two bodies mandated by the 74th Amendment — ward committees and metropolitan planning committees.
However, an over-reliance on such semi-representative bodies does not augur well for creating a genuinely democratic city government.
In fact, civil society's fixation with nominating its members into ward committees can further depoliticise local governments and make them captive to the interests of certain elite resident welfare associations.
Instead of distrusting them, we must acknowledge that local governments are inherently political spaces where multiple interests compete.
Way forward
As cities struggle to meet the basic needs of their inhabitants, we must re-examine the existing modes of organising power in urban India.
Unlike the 73rd Amendment which provides for three levels of panchayats (village, taluk, and district levels), power in urban areas is concentrated in a single municipal body (whether it is a municipal corporation, municipal council or town panchayat).
However, as Indian cities have grown exponentially over the last 25 years, with some crossing the 10 million population mark, we must rethink the present model of urban governance that vests power in a singular municipality.
While urban governance reforms can take multiple shapes, they must be foregrounded in the political empowerment of local government that furthers local democratic accountability.
1. Prabhu's visit fails to resolve issues
Union Commerce Minister Suresh Prabhu's meetings with U.S. Ministers and industry leaders did not resolve lingering disputes between the two countries on multiple trade issues.
The price control on medical devices imposed by the Indian government and requirement of data localisation announced by the Reserve Bank of India (RBI) remain intractable questions.
American interlocutors also did not appreciate India's move to take the question of U.S steel tariffs to the World Trade Organisation.
Bone of contention
American medical device manufactures worry that if the Indian model of price control is allowed to stand, other developing countries may soon follow suit.
American companies are also protesting the data localisation requirement for financial services companies.
American industry has been concerned by certain policy and regulations in recent months that inhibit trade and innovation in Indian economy.
Medical device companies are among the big investors in India in recent years. There is a large demand for medical devices in India.
2. Mushrooms show early fruiting
Climate change may be changing the growth patterns of local wild edible mushrooms called roen alami.
These mushrooms grow on termite hills.
These species can't fruit without termites.
So, the termites are adapting to climate change as the spores are transported to their underground 'Olamo' or fungus garden.
Termites in Goa consume 50% of dry dead litter and convert it into soil using this fungus which generally fruits in the last week of June.
But this year, it fruited two weeks early — a record.
This could be evidence of the impact of global warming on wild mushrooms in the coastal State of Goa with possible implications for similar species in other Western Ghat States.
G. Practice Questions for UPSC Prelims Exam
Question 1. With reference to 'Bodhgaya', consider the following statements:
The Indian Government decided to develop Bodhgaya as the site of spiritual capital to serve as a civilizational bond between India and the Buddhist world.
Mahabodhi Temple, located in Bodhgaya, is designated as a UNESCO World Heritage Site.
It is also included in the Buddhist circuit under Swadesh Darshan scheme.
Which of the above statement/s is/are correct?
1 and 3 only
1 and 2 only
3 only
1, 2 and 3
See
Question 2. With reference to the Non-banking Financial Companies (NBFCs) in India, consider 
the following statements:
They cannot engage in the acquisition of securities issued by the government.
They cannot accept demand deposits like Savings Account.
Which of the statement/s given above is/are correct?
1 only
2 only
Both 1 and 2
Neither 1 nor 2
See
Question 3. 'Al Nagah' is a military exercise that India and which one of the following countries 
participate?
Iran
Oman
Bahrain
Saudi Arabia
See
Question 4. Supreme court of India was inaugurated on January 28, 1950. The following 
statements, except one, depict facts in functioning of the court post inauguration. Identify the 
incorrect statement. 
Jurisdiction of Supreme Court is greater than that of its predecessor.
It adopted the American system of judicial system and is free of any sort of interventions from other organs of the government.
Supreme court succeeded the Federal court of India and also replaced the British Privy Council.
Federal court was established under the Government of India act 1935.
See
H. UPSC Mains Practice Questions
Good governance and citizen-centric administration are inseparably associated. Discuss.
Regionalism and nationalism go hand in hand. Comment.
Also, check previous Daily News Analysis
"Proper Current Affairs preparation is the key to success in the UPSC- Civil Services Examination. We have now launched a comprehensive 'Current Affairs Webinar'. Limited seats available. Click here to Know More."
Enroll for India's Largest All-India Test Series