TABLE OF CONTENTS
A.

 GS1 Related


ART AND CULTURE
1. Celebrating the deity of Kamakhya in Assam


B.

 GS2 Related


INTERNATIONAL RELATIONS
1. Seychelles stalls project for Indian naval base


C.

 GS3 Related


ENVIRONMENT
1. States' claim on fighting plastic only strong on paper


D.

 GS4 Related




E. 

Editorials


POLITY AND GOVERNANCE
1. Citizens' Draft Privacy Bill Seeks To Revolutionise Data Collection, Storage In India


F. 

Tidbits


1. Kharif crop sowing slows down as monsoon stalls
2. 'Cannot share Aadhaar data for crime probe'
3. Are we ready for a pandemic?
4. India to teach satellite tech to students from abroad
5. Oil rises after OPEC agrees to lift output
6. South Korean President to visit India in July
7. Jaitley defends Centre's 'muscular' policy in J&K
G. UPSC Prelims Practice Questions
H. UPSC Mains Practice Questions 

1. Celebrating the deity of Kamakhya in Assam
Ambubachi Mela is a four-day fair to mark the annual menstruation of the goddess at Kamakhya temple, centre for Tantra worship.
Kamakhya, atop Nilachal Hills in Guwahati, is one of 51 shaktipeeths or seat of Shakti followers, each representing a body part of Sati, Lord Shiva's companion.
Significance
The ritualistic fair celebrating the goddess' period is one of the reasons why the taboo associated with menstruation is less in Assam compared to other parts of India.
The attainment of womanhood of girls in Assam is celebrated with a ritual called 'Tuloni Biya', meaning small wedding.
Ambubachi Mela is also an occasion to promote awareness on menstrual hygiene.
The legend
Kamakhya Temple denotes the spot where Sati used to retire in secret to satisfy her amour with Shiva, and it was also the place where her yoni fell after Shiva danced with the corpse of Sati.
The only ones that avoid the temple are the descendants of the medieval Koch royalty, who had reconstructed Kamakhya temple in 1565.
This is because the goddess is believed to have cursed the royalty after the king and his brother Chilarai — one of Assam's revered generals — had secretly watched her dance.
There are legends about the goddess dancing when Kendukoli, a priest during Naranarayan's reign, performed puja with his eyes shut.
Naranarayan and Chilarai convinced the priest to allow them to watch the goddess's dance.
Incensed, the goddess punished the priest besides cursing the duo and their descendants with doom if they visited the Kamakhya temple ever.
The temple
The current structural temple, built and renovated many times in the period 8th-17th century, gave rise to a hybrid indigenous style that is sometimes called the Nilachal type: a temple with a hemispherical dome on a cruciform base.
The temple consists of four chambers: garbhagriha and three mandapas locally called calanta, pancharatna and natamandira aligned from east to west.
The temple's sanctum sanctorum houses the yoni — female genital — symbolised by a rock.
Category: INTERNATIONAL RELATIONS
1. Seychelles stalls project for Indian naval base
1. States' claim on fighting plastic only strong on paper
While Maharashtra may be gearing up for a stringent ban on plastic, experience from across the country suggests that States' claims on reigning in plastic are stronger on paper than on the ground.
Rules
According to the Centre's Plastic Waste Management (PWM) Rules, 2016, all States have to annually apprise the Central Pollution Control Board (CPCB) on the steps taken to reign in plastic use, whether a ban is in force, and the strength and performance of a recycler and waste-processing network.
The latest such report — as of July 2016 — notes that only 24 States and Union Territories have complied with these directions.
Ground reality
Most States, while claiming a ban, qualify it by saying that the ban is imposed in specific towns or cities.
Or that it is focussed on particular categories of plastic.
Take Assam. Its performance report states that while there is a complete ban on plastic carry bags in Kamrup, Sonitpur, Nalbari, Dibrugarh, it allows the import of substandard plastic carry bags, provided the Commissioner of Taxes, Assam is informed.
In Gujarat, the estimated plastic waste generation is approximately 2,69,294 tonnes per annum and there are nearly 689 plastic waste recyclers, all of them registered.
But only Gandhinagar — the capital city but with less than 4% of neighbouring Ahmedabad's population — has an explicit ban on the use of plastic carry bags.
Delhi, which reportedly generates the largest quantity of plastic waste in the country, has not provided information on its plastic management initiatives to the CPCB.
The law requires that all plastic waste recyclers register themselves but there were around 312 unregistered plastic manufacturing/recycling units in Andhra Pradesh, Assam, Jammu & Kashmir, Jharkhand, Manipur, Punjab, Tamil Nadu, Telangana, Uttrakhand and Uttar Pradesh.
It is observed that most of the States/UTs have not set up proper monitoring system for use of carry bags as per the specified guidelines.
It has been observed that those States/UTs, who have imposed complete ban on use and sale of plastic carry bags, the plastic bags are stocked, sold and used indiscriminately.
Besides, substandard carry bags (<50 micron) are used widely in other States/UTs, violating PWM Rules, 2016, the CPCB highlights in the report.
India generates an estimated 32 million metric tonnes of packaging waste each year, of which plastic waste constitutes 16%. But only 60% of the collected plastic waste is recycled.
Single-use plastics
Around 43% of manufactured plastics are used for packaging, most of it single-use plastic.
So far, not a single one of the 24 States that report their plastic waste management performance have plans in place to tackle single-use plastics.
Independent experts say that while Maharashtra's initiative is laudable, it still hinges on extremely efficient enforcement.
Maharashtra has increased its collection centres in the last three months but the problem remains as there are no alternatives to single-use plastics.
The manpower requirements and enforcement challenges are enormous.
Examples to learn from
Kerala and Sikkim are the States with the most creditable plastic waste management policies.
Sikkim has a system of buying back plastic from consumers. Maharashtra needs to implement such a system.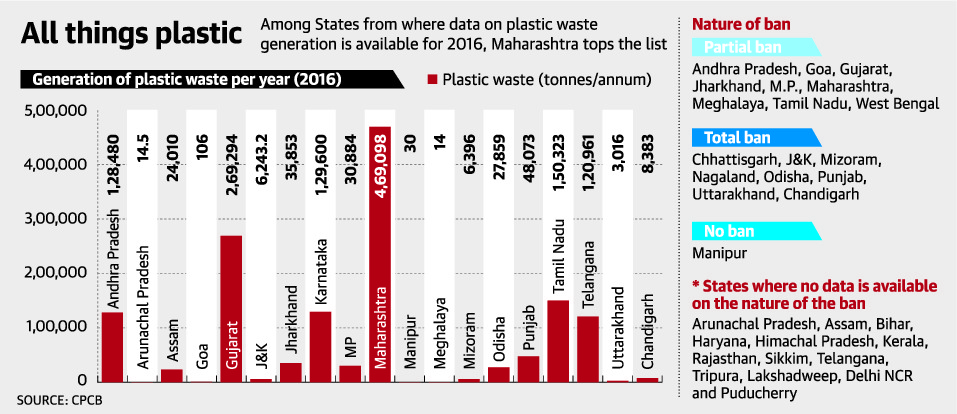 Read more about effects of plastic and its management.
Nothing here for today!!!
Category: POLITY AND GOVERNANCE
1. Citizens' Draft Privacy Bill Seeks To Revolutionise Data Collection, Storage In India
Why in news?
A draft privacy bill proposes sweeping reforms to the way personal data is collected, processed and stored in India.
Details
Titled Indian Privacy Code, 2018, the draft proposes that "all data collected, processed and stored by data controllers and data processors prior to the date on which this Act comes into force shall be destroyed within a period of two years from the date on which this Act comes into force".
The draft has been put together by a group of lawyers and policy analysts and uploaded on the website of 'Save our Privacy' — a public initiative to put forth a model law on data protection. The initiative is backed by the India Privacy Foundation.
No person, including a data controller and data processor, shall collect any personal data without obtaining the consent of the data subject to whom it pertains, the draft bill says.
Collection of personal data without consent can happen only when:
It's necessary for the provision of an emergency medical service.
Prevent, investigate or prosecute a cognizable offence.
Exempted by a privacy commission that the draft seeks to institute.
Also, the draft bill proposes that no person shall store any personal data for a period longer than is necessary to achieve the purpose for which it was collected or received. The same applies to the processing of personal data.
The draft bill has been submitted to the Justice Sri Krishna Committee — which will deliberate on a data-protection framework for the country.
The bill prescribes punishment for offenses related to interception of communication, surveillance, abetment, repeat offenders and offenses by companies.
Seven principles
The bill is based on seven principles.

The importance of individual rights
A data protection law must be based on privacy principles and guidelines discussed in the report of Justice AP Shah Committee of Experts; the Supreme Court judgement on Right to Privacy and European Union's General Data Protection Regulation.
A strong privacy commission must be created to enforce privacy principles. The commission should be granted wide powers of investigation, adjudication, rule-making and enforcement. The privacy commission must have jurisdiction over the government as well as private bodies.
The government must respect user privacy. The government cannot deny essential services to citizens if they choose not to share data with it. The draft says government withholding services on pretext of collection of information effectively amounts to "extortion of consent".
A complete privacy code must come with surveillance reform. Even when individual interception and surveillance is carried out this should be severely limited in substance and practiced through procedural safeguards.
Strengthen the Right To Information Act and exempt information commissioners from interference or control by the privacy commissioner
International protection and harmonisation is a must to protect the open internet. The group suggests the law must have extraterritorial effect and apply to web services and platforms which are accessible in India and gather personal data of Indians.
The bill takes inspiration from the Privacy (Protection) Bill, 2013 which was drafted over a series of roundtable discussions and inputs conducted by the Centre for Internet and Society, Bengaluru.
1. Kharif crop sowing slows down as monsoon stalls
With the western sweep of the monsoon stalled over the Konkan coast, kharif crop sowing has also slowed.
About 12 lakh fewer hectares have been planted than at the same time last year, according to a statement by the Ministry of Agriculture and Farmers' Welfare.
The biggest lags are seen in rain-fed crops such as pulses and oilseeds.
The monsoon has not started yet in many of the key areas.
This is a rainfed crop, so farmers are delaying planting till the onset of the monsoon.
The mission was launched in 2014 in an effort to reduce India's dependence on edible oil imports by increasing domestic production to meet rising domestic demands.
However, oilseed prices crashed to a five-year low last year, even as production increased.
But even if prices have fallen, farmers will have to sow. They are not going to leave their fields empty.
Apart from oilseeds and pulses, sowing for paddy, coarse cereals and cotton is also lagging behind slightly.
2. 'Cannot share Aadhaar data for crime probe'
3. Are we ready for a pandemic?
A 100 years ago, history's worst known infectious disease outbreak of the Spanish flu occurred in 1918.
The influenza virus H1N1 killed more than 50 million people and infected over 500 million people globally.
In India, the death toll had touched nearly 17 million.
As this year marks the centenary of the 1918 pandemic, it has triggered one question: Are we ready to face such a large-scale pandemic now?
Answer to the question
An article published in The Lancet Infectious Diseases says the answer is no.
The stand is echoed by medical experts in Mumbai, which saw the worst outbreak of H1N1 in 2009.
Why?
We do not know what virus will cause the next pandemic, there is no way to rapidly develop and deploy an effective vaccine against a pandemic virus.
Differences in quality of health systems hamper a prompt response, and surveillance data on influenza have major gaps.
An influenza pandemic could only be managed with a rapid and effective response from both national governments and the international health community.
In a country like India which is so overcrowded, control is difficult.
We don't have isolation facilities if such a pandemic arises.
Nor do we have enough protection gear.
Mumbai, for example, is equipped for testing, but who will go and do the tests if the cost remains high.
Influenza
Influenza is a virus that is known to cause the flu.
The serotypes of influenza A virus like the H1N1, H5N1, H3N2, etc., have caused pandemics in humans.
The infection passes from person to person through coughing, sneezing etc.
Way-out
Experts emphasize on the need to follow coughing and sneezing etiquette, self-quarantine in case of symptoms and avoiding self-medication.
4. India to teach satellite tech to students from abroad
India has thrown open its satellite-building expertise to engineering graduates chosen from other countries.
Starting this year, and for three years, a total of 90 qualifying engineers from various countries will be taught to build and test three small satellites each year.
They will be hosted in Bengaluru for two months each year and work in three annual batches of 30.
India is also ready to launch the small satellites built during the programme if they are good.
It is called the Indo-UN Small Satellites Programme (UNSSP).
In the last 40-odd years, ISRO's U.R. Rao Satellite Centre (URSC) (known as ISAC earlier) has developed over 100 Indian satellites for various purposes in its facilities.
The capacity-building programme is India's contribution to the world in response to a request that the UN Office for Outer Space Affairs had made to space-faring nations last year.
UNISPACE+50
The countries are marking the 50th year of the first UN Conference on the Exploration and Peaceful Uses of Outer Space — called UNISPACE+50, organised by UNOOSA.
Three such conferences held earlier recognised the potential of space and laid the guidelines for human activities and international cooperation related to outer space. They were:
UNISPACE I, Vienna, 1968
UNISPACE II, Vienna, 1982 and
UNISPACE III, Vienna, 1999
The United Nations Office for Outer Space Affairs (UNOOSA)
The United Nations Office for Outer Space Affairs (UNOOSA) works to promote international cooperation in the peaceful use and exploration of space, and in the utilisation of space science and technology for sustainable economic and social development.
The Office assists any United Nations Member States to establish legal and regulatory frameworks to govern space activities and strengthens the capacity of developing countries to use space science technology and applications for development by helping to integrate space capabilities into national development programmes.
5. Oil rises after OPEC agrees to lift output
Oil prices rose almost 3% as OPEC agreed to a modest increase in output to compensate for losses in production at a time of rising global demand.
The Organization of the Petroleum Exporting Countries (OPEC), meeting in Vienna, agreed to boost output from July after its de facto leader Saudi Arabia persuaded arch-rival Iran to cooperate in efforts to reduce the crude price and avoid a supply shortage.
The group agreed that OPEC and its allies led by Russia should increase production by about 1 million barrels per day (bpd), or 1% of global supply.
Smaller real increase
But the real increase will be smaller because several countries that recently underproduced oil will struggle to return to full quotas while other producers will not be allowed to fill the gap.
Analysts had expected OPEC to announce a real increase in production of 5,00,000 to 6,00,000 barrels per day, which would help ease tightness in the oil market without creating a glut.
The effective increase in output can easily be absorbed by the market.
Background
Oil prices have been on a roller-coaster ride over the last few years, with Brent trading above $100 a barrel for several years until 2014, dropping to almost $26 in 2016 and then recovering to more than $80 last month.
The most recent price rally followed an OPEC decision to restrict supply in an effort to drain global inventories.
The group started withholding supply in 2017 and this year, amid strong demand, the market tightened significantly, triggering calls by consumers for higher supply.
Declining production in Venezuela and Libya, as well as the risk of lower output from Iran as a result of U.S. sanctions, have all increased market worries of a supply shortage.
6. South Korean President to visit India in July
South Korean President Moon Jae-in will visit India in July and hold meetings with Prime Minister Narendra Modi when the two countries are expected to sign a number of MoUs and strengthen the bilateral economic engagement.
Background
When Prime Minister Modi visited South Korea in 2015, they launched a special strategic partnership. This time it is to mature this partnership.
They want to create a broadened new community along with their southern partners — ASEAN and India mainly.
Purpose of the visit
The main purpose of his visit to India is to upgrade the partnership.
The visit of Mr. Moon will lay emphasis on his vision of a New Southern Policy, and his vision of 3Ps — People, Prosperity, and Peace.
There could be progress on the Comprehensive Economic Partnership Agreement between India and South Korea before Mr. Moon's visit.
Concerns
The pace of the business processes in India is an issue for businessmen in Korea.
They want to see a real change in daily business practice, how they do business.
For example, the immigration office — business people apply for visa. If they have a three- or five-year stay visa, it will be convenient for them.
It would also help Korean businessmen, if they can at least complete their stay permit processes in one meeting. But instead of that, five or six visits are required now.
It would help Korean companies in India if more Korea Plus desks are set up in south India.
Right now there are 450 companies and 6,000 Korean nationals in south India — it's a starting point for them, they say.
7. Jaitley defends Centre's 'muscular' policy in J&K
Union Minister Arun Jaitley has defended the Union government's policy, termed "muscular" by Opposition parties, in dealing with the Kashmir issue, saying that terrorists have to be dealt with firmly to protect human rights of ordinary citizens.
He asked if fidayeens who were ready to die and kill should be dealt with through satyagraha (Mahatma Gandhi's chosen form of passive resistance and non-cooperation).
A terrorist who refuses to surrender and refuses a ceasefire offer, has to be dealt with as anybody taking law in his own hand.
This is not muscular. It is the rule of law.
Jaitley said that while an elected government, a dialogue with the people, a humane approach towards the average Kashmiri are the ultimate objects of the Indian state with which few can disagree, every Indian was also concerned with who can hold the country together.
He said the policy that should be followed in Kashmir had to be to protect the ordinary citizen of the Valley; get him freedom from the terror; provide him with a better quality of life and environment.
It is paramount to protect India's sovereignty and the right to life of its citizens.
Speaking on some human rights organisations, Mr. Jaitley said that Maoist-sponsored human rights organisations only espouse the cause of separatism and violence be it in Kashmir or Chhattisgarh.
It has brought a bad name to a very precious and valuable concept of human rights.
G. Practice Questions for UPSC Prelims Exam
Question 1. Which of the following is to organize the traditional industries and artisans into 
clusters to make them competitive and provide support for their long-term sustainability by way 
of enhancing the marketability of products, improving the skills of artisans, making provision 
for common facilities and strengthening the cluster governance systems?
IMPRINT
SWAYAM
SFURTI
ASPIRE
See
Question 2. With respect to the Maternity Benefit Act 2017, which one of the following statements
is incorrect?
A woman with two children will be entitled to 12 weeks of maternity leave.
The bill requires every establishment to provide creche facilities.
The Act provides the provision for work from home with mutual agreement between the employer and the women.
The benefits available under the act must be given in writing and electronically to the woman.
See
Question 3. Which of the following convention(s) of UN has/have been ratified by India?

UN Conventions on Persons with Disability
UN Conventions on the Rights of the Children
UN High Commissioner for Refugees – UNHCR
Select the correct answer using the codes given:
Only 1
Only 1 and 2
Only 2 and 3
All of the above
See
Question 4. Which of the following statement/s is/are correct?

The Lodi dynasty was started by Sikander Lodi, an Afghan tribal.
Raziya, daughter of Iltutmish, was the first and last woman ruler of medieval India.
Battle of Amroha was fought between Alauddin Khilji and Mongols.
Options:
1 and 2 only
2 and 3 only
1 and 3 only
None of the above
See
H. UPSC Mains Practice Questions
Plastics have been responsible for the transformation of everyday life. Comment.
Bhakti movement contributed enormously to the battle against orthodoxy in the Indian society. Explain.
Also, check previous Daily News Analysis
"Proper Current Affairs preparation is the key to success in the UPSC- Civil Services Examination. We have now launched a comprehensive 'Current Affairs Webinar'. Limited seats available. Click here to Know More."
Enroll for India's Largest All-India Test Series