TABLE OF CONTENTS
A.

 GS1 Related




B.

 GS2 Related


INDIAN CONSTITUTION
1. Promotions in govt. offices should go ahead, says SC
2. Centre not to file counter-affidavit on Article 35A
INTERNATIONAL RELATIONS
1. China seeks to deepen anti-graft ties


C.

 GS3 Related


ECONOMY
1. 'Rs.5 lakh crore loans turned bad in FY18'
2. Services PMI contracts in May
3. Cross-holding norms issued for rating firms
ENVIRONMENT
1. India's per capita plastic use among lowest: Modi
2. Nitrogen emissions going up: study
3. It will be a war on single-use plastic
ECOLOGY
1. Environment Day bouquet: 539 species discovered in India in 2017


D.

 GS4 Related




E. 

Editorials


ECOLOGY AND ENVIRONMENT
1. Life in plastic: on waste management framework
INTERNATIONAL RELATIONS
1. Familiar moorings: on foreign policy re-orientation
SOCIAL ISSUES
1. Preventing the next health crisis


F. 

Prelims Fact


G. UPSC Prelims Practice Questions
H. UPSC Mains Practice Questions 

Nothing here for today!
1. Promotions in govt. offices should go ahead, says SC
The Supreme Court observed that promotions in government offices should go ahead in accordance with law.
The court was responding to the government's complaint that the entire promotion process was in limbo because of uncertainty over reservation in promotion for the Scheduled Caste/Scheduled Tribe employees.
A Bench of Justices A.K. Goel and Ashok Bhushan said nothing prevented the government from promoting employees in accordance with law. But the court was not clear about the law it was referring to.
At a standstill
The promotions had come to a standstill because of the status quo order passed by the court in 2015 after the High Courts gave orders at cross-purposes.
It is made clear that the Union of India is not debarred from making promotions in accordance with law, subject to further orders, pending further consideration of the matter.
Background
The petition before the Bench was the Centre's challenge to the Delhi High Court's verdict of August 23 last, quashing the government order extending reservation in promotion to employees of the Scheduled Castes and the Scheduled Tribes beyond five years from November 16, 1992.
2. Centre not to file counter-affidavit on Article 35A
The Centre has decided not to file any counter-affidavit on Article 35A, which has been challenged in the Supreme Court through a Public Interest Litigation (PIL) petition.
Court order
Attorney General, representing the Union of India, stated that a conscious decision has been taken not to file any counter-affidavit in this case because the issues, which are raised for adjudication, are pure questions of law.
The State government has filed an affidavit opposing any such move.
Article 35A
It grants a special status to Jammu and Kashmir.
Article 35A allows the Jammu and Kashmir legislature to decide the permanent residents of the State, prohibits a non-State resident from buying property in the State and ensures reservation in employment for residents.
Article 35A was incorporated into the Constitution by an order of the then President Rajendra Prasad on the advice of the Jawaharlal Nehru Cabinet in 1954.
The Constitution (Application to Jammu and Kashmir) Order followed the 1952 Delhi Agreement between Nehru and the then Prime Minister of Jammu and Kashmir, Sheikh Abdullah, which extended Indian citizenship to the State subjects of Jammu and Kashmir.
Mufti said earlier that any attempt to tinker with Article 35(A) would have repercussions, and that India will not get a shoulder to carry its national flag in Jammu and Kashmir.
Background
The petition, filed by We The Citizens, said Article 35A is against the very spirit of oneness of India as it creates a class within a class of Indian citizens.
A second petition, filed by Jammu and Kashmir resident Charu Wali Khanna, has challenged Article 35A for protecting certain provisions of the Jammu and Kashmir Constitution, which restrict the basic right to property if a native woman marries a man not holding a permanent resident certificate.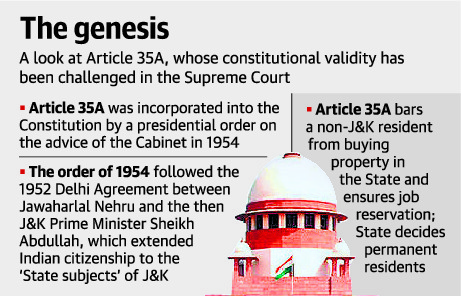 Category: INTERNATIONAL RELATIONS
1. China seeks to deepen anti-graft ties
A six-member delegation of senior Chinese officials will meet their counterparts in Indian agencies to deepen cooperation between the two countries on people wanted for corruption and asset recovery.
The delegation will hold meetings with the Central Bureau of Investigation (CBI) Director Alok Kumar Verma and chiefs of the Central Vigilance Commission and the Department of Personnel and Training.
The meetings are also aimed at sharing experience pertaining to various anti-corruption measures and better coordination on the issue within G20 and BRICS.
During the Chinese presidency of G20 in 2016, the "High Level Principles on Cooperation on Persons Sought for Corruption and Asset Recovery" was initiated to address the issue of persons accused of corruption fleeing the country and transferring the proceeds of crime overseas to evade the law.
India has supported the initiative in principle.
The document envisaged greater international cooperation in detection and investigations, besides other aspects of anti-corruption initiatives.
It is believed that those accused have been taking advantage of the investment-based immigration offered by several countries to get passports and even citizenship.
1. 'Rs.5 lakh crore loans turned bad in FY18'
While loans worth Rs.5 lakh crore turned non-performing in 2017-18, fresh slippages are moderating, indicating the tide is turning, rating agency Crisil said in a statement.
A fifth of the bad loans last fiscal was due to the withdrawal of the various restructuring schemes.
According to Crisil, gross non-performing assets in the banking system increased to Rs.10.3 lakh crore, which is 11.2% of the gross advances, as on March 31, 2018, as compared with Rs.8 lakh crore, or 9.5% of advances, as on March 31, 2017.
The tide is slowly turning and CRISIL expects moderation in slippages, better recoveries from NPAs and improved provision coverage to bode well for banks.
Further, prospects of recovery from stressed accounts referred to the National Company Law Tribunal are improving
More than a quarter of the Rs.3.3 lakh crore worth of cases referred to NCLT for resolution are from the steel sector, which has seen heightened bidding interest due to improving prospects for the sector.
2. Services PMI contracts in May
India's services sector activity contracted for the first time in three months in May as new business orders stagnated and cost pressures intensified amid higher fuel prices, according to a monthly survey.
However, a bright spot was that business sentiment was the strongest since January 2015, rooted in expectations of improvements in demand conditions in the year ahead.
The seasonally adjusted Nikkei India Services Business Activity Index fell to 49.6 in May from 51.4 in April, indicating a marginal contraction in business activity, following a two-month period of growth.
3. Cross-holding norms issued for rating firms
Markets regulator SEBI has imposed a 10% cap on cross-shareholding in credit rating agencies, raised their net worth requirement to Rs.25 crore from Rs.5 crore and disallowed an agency from having a seat on a rival's board.
The new norms are likely to have an impact on global rating agencies like S&P, Moody's and Fitch which have significant holdings in domestic agencies besides their direct presence.
New rules
SEBI has issued new rules under which a credit rating agency (CRA) will not, directly or indirectly, have more than 10% of shareholding or voting rights in another CRA and would not have representation on the board of the other CRA.
Further, SEBI's prior approval would be needed for acquisition of shares or voting rights in a CRA that results in change in control.
A shareholder with 10% stake or voting rights in a CRA will not hold similar holding or voting rights in any other CRA.
This restriction will not apply to holdings by Pension Funds, Insurance schemes and Mutual Fund schemes.
The Securities and Exchange Board of India (SEBI) has given three years to existing CRAs to comply with the net worth requirement.
1. India's per capita plastic use among lowest: Modi
India has among the lowest per capita consumption of plastic in the world, much lower than that of many developed countries, said Prime Minister Narendra Modi at the World Environment Day celebrations.
He, however, said India was committed to reducing the use of plastic and would join the Clean Seas programme — a Sweden-led initiative to reduce littering of marine ecosystems.
Environment Day
The theme for this year's Environment Day, organised in partnership with the United Nations Environmental Programme, is "Beat plastic pollution".
India is the global host nation for the 43rd edition of this event.
Environment Ministers, representatives from the United Nations and members from various industry bodies were among those who attended the event.
Noting that India was the fastest growing economy in the world today, he said that they are committed to raising the standards of living of Indian people and to ensure that they do so in a way that is sustainable and green.
As part of Nationally Determined Contribution (NDC), India is committed to reducing 33-35% of emission intensity of its GDP from 2005 to 2030.
According to the Central Pollution Control Board, India generates about 15,000 tonnes of plastic waste every day, of which about 40% remains uncollected.
About 70% of the plastic packaging products become waste in a short span of time.
While plastics have a wide variety of applications, the global rally is against the so-called single use or disposable plastic — used in bottles, cups, wrapping paper and bags. Together, they account for over half the plastic produced.
The Environment Ministry, two years ago, notified plastic waste management rules that sought to control the manufacture of the particular kind of plastics.
However, several States and city corporations have been unable to effectively enforce the rules — particularly the provision that bans the use of bags less than 50 microns thick.
2. Nitrogen emissions going up: study
Nitrogen particles make up the largest fraction of PM2.5, the class of pollutants closely linked to cardiovascular and respiratory illness, says the first-ever quantitative assessment of nitrogen pollution in India.
While the burning of crop residue is said to be a key contributor to winter smog in many parts of North India, it contributes over 240 million kg of nitrogen oxides (NOx: a generic term for the nitrogen oxides that are most relevant for air pollution, namely nitric oxide and nitrogen dioxide) and about 7 million kg of nitrous oxide (N2O) a year.
The Indian Nitrogen Assessment assesses the sources, impacts, trends and future scenarios of reactive nitrogen in the Indian environment.
Facts
Though agriculture remains the largest contributor to nitrogen emissions, the non-agricultural emissions of nitrogen oxides and nitrous oxide are growing rapidly, with sewage and fossil-fuel burning — for power, transport and industry — leading the trend.
Indian NOx emissions grew at 52% from 1991 to 2001 and 69% from 2001 to 2011.
Annual NOx emissions from coal, diesel and other fuel combustion sources are growing at 6.5% a year currently, the report says.
As fertilizer, nitrogen is one of the main inputs for agriculture, but inefficiencies along the food chain mean about 80% of nitrogen is wasted, contributing to air and water pollution plus greenhouse gas emissions, thereby causing threats for human health, ecosystems and livelihoods.
Agricultural soils contributed to over 70% of N2O emissions from India in 2010, followed by waste water (12%) and residential and commercial activities (6%).
Since 2002, N2O has replaced methane as the second largest Greenhouse Gas (GHG) from Indian agriculture.
Chemical fertilizers (over 82% of it is urea) account for over 77% of all agricultural N2O emissions in India, while manure, compost and so on make up the rest.
Most of the fertilizers consumed (over 70%) go into the production of cereals, especially rice and wheat, which accounts for the bulk of N2O emissions from India.
Cattle account for 80% of the ammonia production, though their annual growth rate is 1%, due to a stable population.
India is globally the biggest source of ammonia emission, nearly double that of NOx emissions.
But at the current rate of growth, NOx emissions will exceed ammonia emissions and touch 8.8 tonnes by 2055.
The poultry industry, on the other hand, with an annual growth rate of 6%, recorded an excretion of reactive nitrogen compounds of 0.415 tonnes in 2016.
That is anticipated to increase to 1.089 tonnes by 2030.
The nutrient recovery/recycling from waste water for agriculture could cut down N2O emissions from sewage and waste water by up to 40%.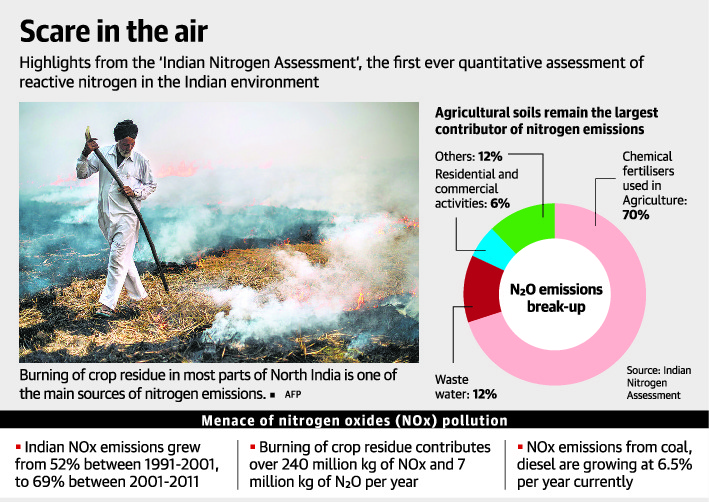 3. It will be a war on single-use plastic
As the global host nation for the 2018 World Environment Day (June 5), and as a country that generates over 25,000 tonnes of plastic waste every day, India led the charge against plastic with programmes in different parts of the country focussed on the theme of 'Beat Plastic Pollution'.
Prime Minister Narendra Modi highlighted the need for effective plastic waste management and said that an unclean environment hurts the poor and the vulnerable the most.
EU embassies
In the national capital, the Delegation of the European Union (EU) and embassies of the member states adopted a 'Green Pledge', under which the 28 EU member-states made a commitment to green their embassies.
In a statement, they undertook to discontinue the use of harmful plastics including plastic straws, stirrers, cups, water bottles in their embassies and residences and switch to eco-friendly materials.
Mumbai
Meanwhile, the Mumbai International Airport Limited (MIAL), has decided to switch from imposing fines on those who litter, to witty signage aimed at raising environmental awareness.
Tamil Nadu ban
The Tamil Nadu Government said it would ban the manufacturing, storage, and use of plastic products (except packing material for milk, curd, oil and medical products) from January 1, 2019.
1. Environment Day bouquet: 539 species discovered in India in 2017
As many as 539 new species of plants and animals were discovered by scientists and taxonomists in the country in 2017, say publications from two major survey organisations: the Zoological Survey of India (ZSI) and the Botanical Survey of India (BSI).
Animal Discoveries, 2017 from the ZSI lists 300 newly discovered species of fauna.
Plant Discoveries, 2017 lists as many as 239 newly found flora species.
Besides these discoveries, the biodiversity in the country recorded another 263 species with 174 new records of animals and 89 of plants found.
The number of discoveries of sub-species and varieties takes the number of floral discoveries to 352.
Among the animal discoveries are 241 invertebrates. The number of vertebrates discovered includes 27 species of fish, 18 of amphibians and 12 of reptiles.
New fossils
The highlight of the animal discoveries is a new fossil reptilian species — Shringasaurus indicus — recorded by scientists of the Kolkata-based Indian Statistical Institute.
The important discoveries include a frog species, Nasikabatrachus bhupathi,with snout-shaped nose like a pig and named after Indian herpetologist S. Bhupathy; and a snake, Rhabdops aquaticus, discovered from the northern Western Ghats and deriving its name from the Latin word for water in reference to its presence in freshwater bodies.
With these discoveries, the number of animal species in India stands at 1,01,167, which is 6.45% of the faunal species found in the world.
The number of plant species has increased to 49,003, which is 11.4 % of the world flora.
Among the 352 species and sub-species and varieties of plants, there are 148 flowering plants, 108 macro and micro fungi, four pteridophytes, six bryophytes, 17 lichens, 39 algae and 30 microbes.
In 2017, scientists discovered some 20 species of balsams and three species each of wild musa (banana) and jamun.
The BSI publication lists 18 species of grasses discovered under the family Poaceae and two gymnosperms particularly cycads.
In terms of names for the discoveries, Tupistra khasiana, named after the Khasi tribe of the Khasi hills, and Drypetes kalami, named after former President A.P.J. Abdul Kalam, stand out.
Riches among hills
The Western Ghats and the Himalayas are home to most of the plant and animal discoveries.
While the Western Ghats contributed 19% of the discoveries of species and sub-species of plants, the number was 37% in terms of animal discoveries.
The Himalayas contributed 35% of all plant discoveries (18% of the plant discoveries from the western Himalayas and 17% from the eastern Himalayas).
In terms of animal discoveries, over 18% of the new species were discovered from both the eastern and western Himalayas.
Kerala's record
Among the States, Kerala recorded the highest number of discoveries — 66 species, sub-species and varieties of plants and 52 species of animals.
Tamil Nadu recorded 31 new species of animals and 24 species, sub-species and varieties of plants.
West Bengal, which has the distinction of having both Himalayan and coastal ecosystems, recorded 27 discoveries in categories of plants and 45 discoveries of animal species.
Nothing here for today!!!
Category: ECOLOGY AND ENVIRONMENT
1. Life in plastic: on waste management framework
Context
As a major producer of plastic waste that ends up in the oceans, India is arguably the best place to host World Environment Day.
Union Environment Minister Harsh Vardhan has said the government means business, and the UN theme, "Beat Plastic Pollution", will not remain an empty slogan.
His claim would have inspired greater confidence had India taken its own rules on waste management seriously.
Rules
Both the Solid Waste Management Rules and the Plastic Waste Management Rules of 2016, which built on previous regulations, mostly remain on paper.
State governments have simply not given them the necessary momentum, and the producers of plastic articles that are invariably used just for a few minutes have shown little concern about their negative environmental impact.
The Centre's somewhat liberal estimate shows over 60% of about 25,000 tonnes of plastic waste generated daily is collected.
That essentially means a staggering 10,000 tonnes of trash is being released into the environment, a lot of it going into the sea.
Concerns
Not every piece of plastic collected by the system is scientifically processed.
The Ganga-Brahmaputra-Meghna river system is on the UN map of 10 rivers worldwide that collectively carry the bulk of the plastic waste into the oceans.
The effects are evident: they threaten marine life and the well-being of people, as microplastics are now found even in drinking water.
Voluntary efforts
In their response to the crisis, communities and environmentally minded individuals are ahead of governments and municipal authorities.
They segregate waste, compost at home, conduct "plastic free" social events and help recover materials that would otherwise just be dumped in the suburbs and wetlands.
But, valuable as they are, voluntary efforts cannot achieve what systemic reform can.
Challenges
The provisions of the Plastic Waste Management Rules require manufacturers of compostable bags to get a certificate from the Central Pollution Control Board, but this has not stopped counterfeit products from entering the market.
Local bodies mandated under rules to ensure segregation, collection and transfer of waste to registered recyclers have spectacularly failed to fulfil their responsibilities.
The State Level Monitoring Committees provided for under the rules have not been made accountable.
The waste management framework is dysfunctional, and Mr. Vardhan's assertions on beating plastic pollution alone will not inspire confidence.
India and the world face a plastics crisis. Solving it will take more than slogans.
Conclusion
India's framework on discouraging its use is in disarray.
It is the Centre's responsibility to ensure that the Environment (Protection) Act, the overarching law that enables anti-pollution rules to be issued, is implemented in letter and spirit.
Ideally, regulation should help stop the manufacture of single-use plastic articles such as carry bags and cutlery, and encourage the use of biodegradable materials.
Category: INTERNATIONAL RELATIONS
1. Familiar moorings: on foreign policy re-orientation
Why in news
With his Shangri-La Dialogue address, the PM signals a foreign policy re-orientation
Prime Minister Narendra Modi's visit to Indonesia, Malaysia and Singapore, three of India's most important partners in Southeast Asia, could not have come at a more important moment in Indian foreign policy positioning.
In the past few months, the government has shifted considerably in its signalling, with Mr. Modi visiting China and Russia for informal summits with Presidents Xi Jinping and Vladimir Putin, respectively.
India's Strategic approach
The fact that these visits have taken place at a time the U.S. administration has sharpened its aim at China and Russia with sanctions and threats of a trade war suggests Mr. Modi is also attempting to moderate India's strategic posturing on the global stage, and striving for a more balanced approach in what it increasingly sees as an uncertain world.
India has also maintained its commitment to relations with the U.S. in order to build a "free and open" Indo-Pacific region, maintain the "international rules-based order", and work together to combat terrorism and terror financing — as they have done more recently at the UN and the Financial Action Task Force.
Meanwhile, India's membership of both the Quadrilateral (with the U.S., Japan and Australia) and the Shanghai Cooperation Organisation (the Russia-China-led grouping of Central Asian countries, whose summit Mr. Modi will attend this week) is also an indicator of the new balance that New Delhi seeks.
Asia-pacific
In Singapore Mr. Modi chose the platform of the Shangri-La Dialogue of defence leaders of the Asia-Pacific region to emphasise Indian "strategic autonomy".
In his speech on the concept of the "Indo-Pacific" he referred to India's relations with Russia, the U.S. and China.
Given his government's particular distaste for the term in the past, it is telling that Mr. Modi appeared to be channelling some of the "Bandung spirit of 1955" that led to the formation of the Non-Aligned Movement, when he praised Singapore for teaching the world the importance of making "free and fair choices" and "embracing diversity at home".
Emphasis
"When nations stand on the side of principles, not behind one power or the other, they earn the respect of the world," Mr. Modi said as he unveiled a seven-point vision for the Indo-Pacific region.
While warning the world about the possible return of "great power rivalries", he emphasised the importance and centrality of the ASEAN in the concept of the Indo-Pacific.
The "principled" vision Mr. Modi projects is a departure from the transactionalism and pragmatism espoused by many in South Block over the last few years.
However, it may also be a return to familiar moorings of Indian foreign policy, necessitated by what the Prime Minister identified as the "shifting plates of global politics and the fault lines of history".
1. Preventing the next health crisis
Context
A range of policy responses is crucial to tackle the rising incidence of obesity
It is clear that India has a lot to do to tackle nutrition challenges — 26 million children suffer from wasting (a low weight-for-height ratio), more than in any other country.
Yet, the country has the second highest number of obese children in the world — 15.3 million in China and 14.4 million in India.
While tackling undernutrition through assurance of adequate nutrition (usually interpreted as dietary calories), we need to ensure that it is also about appropriate nutrition (the right balance of nutrients).
Our policy response has to move from "food security" to "nutrition security".
New problem
India must step up its efforts to fight overweight and obesity just as it has been doing with wasting and stunting.
Between 1980and 2015, obesity doubled for children and tripled for adults; an additional 2.6 million children will be obese in India by 2025, a trend that will not reverse without action.
Rising obesity is putting pressure on already fragile health systems in India by posing a high risk of chronic diseases such as cardiovascular diseases, diabetes and some cancers (clubbed together as non-communicable diseases, or NCDs).
Research shows that Indians have higher levels of body fat and lower levels of lean muscle when compared to many other populations.
Therefore, the risk of cardiovascular diseases and diabetes operates even below global thresholds for defining overweight and obesity.
Public health measures
Apart from a high burden of premature mortality, these threats are something that India can ill-afford to ignore as it looks ambitiously toward a universal health coverage system where everyone can access quality health services that are free of financial burden.
The rise in obesity is deeply concerning because just as growing up underweight gives that person a lifetime of health problems so does a childhood of being overweight.
The potent combination of Indian children eating more junk food while becoming increasingly sedentary puts them at an even greater risk.
Research has shown that early warning signs for fatty liver disease can be found in children as young as eight if they had larger-than-advised waistlines when they were three.
Fortunately, this year is an ideal opportunity to tackle obesity as global health decision-makers are focussing on how to garner the political will to drive "best buys" such as sugar taxes and mass media campaigns on healthy diets (proven ways of bringing down obesity) while continuing to vigorously pursue efforts to prevent undernutrition.
A high-level commission and a UN General Assembly meeting on NCDs are giving new life to existing evidence-based yet largely unimplemented plans of action.
Appropriate responses
Policy responses should include agricultural systems that promote crop diversity (to enable dietary diversity) as well as regulatory and fiscal measures (to decrease the availability, affordability and promotion of unhealthy foods, while making healthy foods more accessible).
For example, taking the lead from a directive by the Delhi High Court, India should ban the sale of junk food in and around schools.
Legislators should also put into practice the results of a recent Lancet study on India.
It showed that higher taxes on junk food can actually lead those on lower incomes to live healthier lives.
Even in clinical settings, counselling and care are needed. Instead of being downgraded as ways of managing "poor lifestyle choices", obesity management, prevention and treatment should be provided as essential health services targeted at a condition that undermines health in many ways.
This would help reverse the stigma attached to obesity even by health professionals (which has also undermined the response to it).
Further, India should link obesity and undernutrition and treat them as twinned challenges to be jointly addressed under the universal health coverage umbrella.
Ambit of Universal health coverage
Universal health coverage is encapsulated in the idea that no one should have to suffer financial hardship in order to access essential health care.
By tackling obesity through prevention and early care, financially debilitating NCDs can be avoided.
India will be in a better position to fulfil the promise of universal health coverage if it disrupts the cycle whereby poverty leads to NCDs and vice versa.
There is compelling evidence that heart disease and diabetes impose high burdens of catastrophic health expenditure, result in a loss of livelihoods and crush people into poverty.
With no insurance or personal savings, a heart disease diagnosis can compromise a person's wealth as well as health.
By making connections to both under- and over-nutrition, health advocates should make economic and social arguments to spur a 'whole-of-government' approach to these 'whole-of-society' problems.
Tackling obesity benefits the economy and the environment, as healthy and sustainable diets are good for productivity levels and the planet.
It is now time to get ahead of this unfolding health crisis and save lives and money in the process.
Nothing here for today!!!
G. Practice Questions for UPSC Prelims Exam
Question 1. Sustainable agriculture comprises of farming techniques that protect the 
environment, public health, and animal welfare. Which of the following is/are sustainable 
farm techniques?
Shifting cultivation
Precision Farming
Organic Farming
Zero land tilling
Burning of agricultural residue for Nitrogen fixation
Integrated Pest control management
Codes:
Only 1, 2 and 3
Only 2, 3, 4, 5 and 6
Only 2, 3, 4 and 6
Only 1, 4, 5 and 6
See
Question 2. Which of the following is primarily a crop of temperate zone?
Wheat
Cotton
Sugarcane
Coffee
See
Question 3. Why is the freight transport by road gaining importance?
Road transport is the most economical for short distances.
The construction and maintenance cost are very low.
Due to increase in the size of Lorries and its power, roadways can now carry large and heavy goods.
Options:
Only 1 and 2
Only 2 and 3
Only 1 and 3
None of the above
See
Question 4. Consider the following Statements regarding Janani Suraksha Yojana:
It aims to reduce maternal mortality among pregnant women by encouraging them to deliver in government health facilities.
Under the scheme, non-cash assistance is provided to eligible pregnant women for giving birth in a government health facility.
Identify the correct statements:
Only 1
Only 2
Both 1 and 2
None of the above
See
Question 5. Consider the following statements:
SAKSHAM is a centrally sponsored scheme to empower adolescent girls.
SABLA is a centrally sponsored scheme to empower adolescent boys.
Which of the above statement/s is/are correct?
Only 1
Only 2
Both 1 and 2
None of the above
See
H. UPSC Mains Practice Questions
Discuss significance of the theme for Environmental Day, 2018. And suggest ways to curb plastic pollution.
Uniformity doesn't necessarily mean equality. In light of the given statement, critically analyse the need of a uniform civil code in India.
Also, check previous Daily News Analysis
"Proper Current Affairs preparation is the key to success in the UPSC- Civil Services Examination. We have now launched a comprehensive 'Current Affairs Webinar'. Limited seats available. Click here to Know More."
Enroll for India's Largest All-India Test Series