TABLE OF CONTENTS
A.

 GS1 Related




B.

 GS2 Related


POLITY
1. SC tells HCs to set up panels to monitor POCSO Act trials
INTERNATIONAL RELATIONS
1. Track II team holds talks in Pakistan


C.

 GS3 Related


ENVIRONMENT
1. End of celebrations with party poppers
2. Taj Mahal turning brown and green, says worried SC
3. NGT hobbled by delay in appointing members
ECONOMY
1. Soon, you can make calls, browse while flying in India
2. Railways launches portal to identify weak areas
3. Centre says Saubhagya scheme will reach hamlets not covered by rural electrification programme
4. India rejects U.S. request on medical device price caps
5. RBI allows FPIs to buy T-bills; debt limit stays
6. Review of jute packaging rule
SCIENCE AND TECHNOLOGY
1. DNA profiling Bill in Monsoon Session, Centre informs SC


D.

 GS4 Related




E. 

Editorials


INFRASTRUCTURE
1. Power drive: on the quest to achieve full electrification
SECURITY
1. Fake and frightening
ECONOMY
1. Control on cloth output liberalised


F. 

Prelims Fact


G. UPSC Prelims Practice Questions
H. UPSC Mains Practice Questions 

A. GS1 Related
Nothing here for today!!!
1. SC tells HCs to set up panels to monitor POCSO Act trials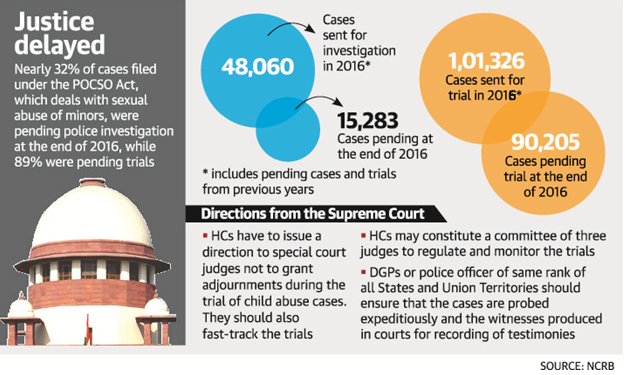 Shocked by the high rate of pendency of child sexual assault cases, the Supreme Court directed High Courts to set up panels of its judges to regulate and monitor trials under the Protection of Children from Sexual Offences (POCSO) Act.
The Supreme Court, which had ordered a review of the backlog under POCSO, found that States such as Uttar Pradesh have over 30,000 cases pending despite the child protection law coming into existence as early as 2012.
Many States have not yet even set up Special Courts to try POCSO cases as mandated by the law.
Bad implementation
In February, a three-judge Bench led by Chief Justice of India Dipak Misra found the implementation of POCSO in a shambles and decided to review the issue.
The Bench was hearing the case of rape of an eight-month-old child in the National Capital.The PIL petition filed by Alakh Alok Srivastava said child rapists should be awarded the death penalty.
Though the government was initially against the death penalty in child rape cases, saying "death penalty is not an answer for everything," the rape of an eight-year-old in Kathua proved to be the last straw and the government recently promulgated an ordinance allowing courts to pronounce death penalty to those found guilty of raping children up to 12 years of age.
Speedy justice
Additional Solicitor General Pinky Anand, for the government, informed the court about the ordinance. She submitted that it warrants investigation to be completed in two months and courts to dispose of appeals in six months, ensuring speedy justice to victims.
But the court said the POCSO statistics showed that children and victims in many States were still waiting in the corridors of courts for justice.
The Bench, also comprising Justices A.M. Khanwilkar and D.Y. Chandrachud, issued a series of directions which supplement the ordinance.
These include:
The State police chiefs should constitute special task forces to investigate cases.
High Courts should ensure that they are tried and disposed of by the designated Special Courts under the Act.
POCSO judges will give no adjournments and make every effort to fast-track trial.
Witnesses should be produced in court on the day of the hearing .
High courts should make every effort to provide a child-friendly atmosphere in tune with the spirit of the Act.
Category: INTERNATIONAL RELATIONS
1. Track II team holds talks in Pakistan
A group of Indian experts visited Pakistan to discuss all aspects of bilateral ties and revive the Track II diplomacy process with , amid the chill in the relationship after a number of terror attacks in India by Pakistan-based outfits.
The original Track II initiative, Neemrana Dialogue, received a fresh start with the visit.
The Indian side was led by former Foreign Ministry Secretary Vivek Katju, while the Pakistan side was led by former Foreign Secretary Inamul Haque. The interactions took place between April 28 and 30 in Islamabad, sources said.
1. End of celebrations with party poppers
In a dampener for celebrants, the Central Pollution Control Board (CPCB) has banned party poppers — a popular decorative used at parties and celebrations, including at IPL matches — on the grounds that the devices posed a health risk.
Such poppers are commonly available at neighbourhood stores and work akin to the popping of a champagne bottle. It is a sealed cardboard case, as big as a rolled-up newspaper, and stuffed with shredded paper and glitter.
Pulling an attached string sets off a mild, chemical explosive, which 'pops' open the case and releases a confetti of coloured paper and glitter. However, these plastic bits and the associated chemicals, the CPCB says, are harmful to health.
It is observed that the plastic glittering material and the other charge chemicals, which are generally low-intensity explosive, often composed of red-phosphorous, potassium chlorate and potassium perchlorate, are harmful to human health and environment. They get mixed with food items and may cause severe eye trauma or facial injuries.
Spreading awareness
An official in the Environment Ministry said the government's aim was to spread awareness of the harm from poppers. It's quite common in birthday parties.
There's a chemical explosive charge and sometimes the contents explode with such force that it can, if not positioned properly, hurt children.
However, there is hope for safer alternatives. The Ministry note says that poppers that don't rely on the chemical explosive are fine, though as of today, it's the explosive version that dominates the market. From now on, CPCB officials would be empowered to fine stores that stock explosive-laden poppers.
A CPCB committee deliberated on whether poppers should be viewed as a 'firecracker' but it turned out that it didn't merit that level of regulation. However, the Ministry would now focus on monitoring the potential for pollution.
2. Taj Mahal turning brown and green, says worried SC
The Taj Mahal was yellow and now turning brown and green, a Supreme Court Bench of Justices Madan B. Lokur and Deepak Gupta found from photographs handed over to them by noted environmental lawyer M.C. Mehta in open court on Tuesday.Mr. Mehta said the upkeep of the UNESCO World Heritage site was in a shambles.
River Yamuna, which used to flow nearby, has dried up. Encroachments and industries have cropped up in the neighbourhood of the white marble mausoleum. CCTVs hardly work. The government merely views the Taj as a money-making venture.
Foreign dignitaries
The court observed that foreign dignitaries were still given a tour of the Taj Mahal. This would surely mean that the government was interested in its preservation.
Nadkarni submitted that the maintenance was done by the Archaeological Survey of India. He said there were also expert bodies like the Indian National Trust for Art and Cultural Heritage (INTACH), which had worked to preserve an ancient fort in Goa.
3. NGT hobbled by delay in appointing members
The inordinate delay in appointing judicial members and expert members to various benches of the National Green Tribunal is leading to a lot of hardship for petitioners, who now have no other option but to approach the principal bench in New Delhi.
With almost all the zonal benches becoming dysfunctional due to the retirement of judicial and expert members, the principal bench, too, is under pressure as cases pile up and transfer petitions are filed by applicants from across the country.
The NGT Act provides for a minimum of 20 members – 10 judicial and 10 expert – and a maximum of 40 – 20 judicial and 20 expert. At present, only the principal bench is functioning — with three judicial members and two expert members.
In fact, the NGT does not have a full-time Chairperson following the retirement of Justice Swatanter Kumar in December 2017. The Supreme Court, in March, appointed Justice Jawad Rahim as acting Chairperson.
Applicants and lawyers are upset at being forced to go to the principal bench in Delhi. They are worried over both the time limit for filing an appeal against any project – 90 days – and the expenses involved in travelling to Delhi.
For example, a petitioner from Rameswaram will now have to travel to Delhi to file an appeal within the specified time limit, as the southern bench is not functional.
1. Soon, you can make calls, browse while flying in India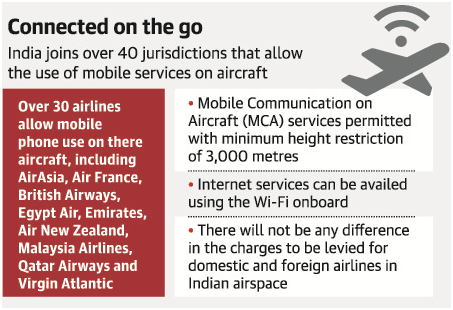 Flyers on board an aircraft will be able to make calls and remain connected to the Internet while travelling through the Indian airspace in the next three to four months.
The Telecom Commission, which is the highest decision-making body in the Department of Telecommunications (DoT), on Tuesday gave its nod to a proposal by regulator TRAI.This will also be applicable to communication on ships.
Gateway in India
The in-flight connectivity has been approved. It was decided to accept the TRAI's views except that the satellites used for providing services should be the Department of Space-approved satellites and the gateway should be in India.
The regulator had recommended that the onboard Internet traffic be routed to a satellite gateway on Indian soil as it provides an effective mechanism for legal interception and monitoring.
Sundararajan, who also heads the Telecom Commission, said the department would now work towards creating the licence framework for a separate category of in-flight connectivity (IFC) service providers. These would be charged a licence fee of ₹1 per annum.
2. Railways launches portal to identify weak areas
The Ministry of Railways has launched an e-inspection software, a mobile app and a web portal to eliminate paper-based reporting of various inspections and passenger grievance redress system.
The e-inspection module will enable railway officers deployed on footplate (travel in locomotive of trains for short distances), level-crossing, per-departure, on board and station inspections to upload their reports online.
The digital platform will serve as a tool for Management Information System to generate periodic reports on various aspects of sections, stations and trains.
Massive network
The Railway Board has generated 3,300 user names and passwords for officers across the network and designated the Senior Electronic Data Processing Manager in each division as the 'admin' of the system to ensure that the master data is entered as per the specification and given time-frame.
The e-inspection software and mobile application were developed by the Delhi Division under the direct supervision of the Transformation Cell of the Indian Railways.
The relevant data from January 1, 2018 is being fed in the e-module. The overall statistics will help in identifying the weak areas both in train operations and passenger services.
By collating the data at the national level, the Railway Board can assess the shortcomings and analyse the means to rectify them while taking policy decisions.
3. Centre says Saubhagya scheme will reach hamlets not covered by rural electrification programme
The government responded to allegations that its village electrification programme was still incomplete despite its claims of 100% electrification, saying that the few remaining sub-village units would be covered under its Saubhagya household electrification scheme.
There are reports in some sections of media that some villages are still un-electrified, contrary to the government's claim of achieving 100% village electrification.
In this connection, it may be reiterated that the Government had taken up electrification of remaining un-electrified census villages, duly identifiable as per census code, reported by the States as on April 1, 2015, under 'Deen Dayal Upadhyaya Gram Jyoti Yojana' (DDUGJY).
Electrification of all these villages has been reported complete by all the concerned States.
Some of the households in sub-village units viz. habitations/hamlets/Dhanis/Majras/Tolas may not be having electricity as of now, and it is felt that certain news agencies are reporting about such habitations.
All the remaining households located in the habitations/hamlets/Dhanis/Majras/Tolas associated with the census villages and households attached to urban settlements would be covered under 'Saubhagya'.
4. India rejects U.S. request on medical device price caps
India has told the United States it won't abstain from capping prices for more medical devices, regardless of pressure to rethink its stance after price controls on heart stents and knee implants spoilt the market for some U.S. firms, sources familiar with the matter said.
India's drug pricing authority is also pushing to bring three more devices, used in treating heart ailments, under the ambit of price controls as they are sometimes more expensive than the stent itself, showed a government letter reviewed by Reuters.
India's $5 billion medical device market has provided rich fishing grounds for U.S.-based companies like Abbott Laboratories and Boston Scientific Corp., but the prospect of price caps being extended to more products sent shivers through their ranks.
In September, the U.S. Trade Representative (USTR) wrote to Prime Minister Narendra Modi's office and Commerce Minister Suresh Prabhu urging them "to not expand price controls to additional medical devices", according to a copy of the letter seen by Reuters.
During a meeting last month, Indian officials told USTR Assistant Trade Representative Mark Linscott that India had decided against making any such commitment, a trade ministry official told Reuters on Tuesday.
'Illegal profiteering'
A USTR spokesperson declined to comment for this article, and Mr. Modi's office did not respond to Reuters' queries. Price controls form part of Mr. Modi's broader agenda to improve India's dilapidated public health system and boost affordability of treatment.
Equating high trade margins on some medical devices with "illegal profiteering", the government last year capped prices of some high-end heart stents — small wire-mesh structures used to treat blocked arteries — at about $450, compared to $3,000 charged earlier.
During a visit to Britain last month, Mr. Modi himself extolled the price caps' success in making treatment much more affordable for Indians. And India's National Pharmaceutical Pricing Authority (NPPA) has been pushing for more price controls.
'Objective diluted'
The regulator wrote to the health ministry on Feb. 26, asking for three other devices used to treat heart ailments — cardiac balloons, catheters and guide-wire — to be added to a list of products eligible for price controls.
In the letter, the NPPA described the prices charged for these products as "exorbitant", and said companies involved in bringing them to the market were enjoying high trade margins.
"Because of these exorbitant prices of catheter and balloon, which are many times higher than the stent price itself, the objective of price capping of stents gets diluted," the NPPA said in its letter.
Intraocular lenses
The NPPA also said intraocular lenses, which are used during eye surgery, should be brought under the list. Medical device manufacturers argue that India's price control mechanism hurts innovation, profits and future investment, and the USTR described India's policy as "very troubling."
Indian trade officials anticipate coming under more pressure from the United States. The USTR is currently reviewing India's eligibility under its Generalized System of Preferences (GSP), a programme that allows duty-free imports of certain goods. India was the largest GSP beneficiary at $5.6 billion, the USTR said in April.
5. RBI allows FPIs to buy T-bills; debt limit stays
The Reserve Bank of India (RBI) has allowed foreign portfolio investors (FPIs) to invest in treasury bills issued by the central government.
The central bank's move comes close on the heels of foreign portfolio investors being permitted to invest in corporate bonds with minimum residual maturity of above one year.
The requirement that investment in securities of any category [G-secs, State Development Loans or, in terms of this circular, corporate bonds] with residual maturity below one year shall not exceed 20% of total investment by an FPI in that category applies, on a continuous basis.
Consistency
Incidentally, the April circular was issued to bring consistency across debt categories and hence it was stipulated that investments by an FPI in corporate bonds with residual maturity below one year should not exceed 20% of the total investment of that FPI in corporate bonds.
At any point in time, all securities with residual maturity of less than one year will be reckoned for the 20% limit, regardless of the maturity of the security at the time of purchase by the FPI.
According to the circular, if there are investments in securities with less than one year residual maturity as on May 2, and it constitutes more than 20% of the total investment in any category, the FPI will have to bring such share below 20% within a period of six months from the date of the circular.
6. Review of jute packaging rule
Union Textiles Minister Smriti Irani has sought the intervention of her counterpart at the Consumer Affairs, Food and Public Distribution ministry to help stave off the risk of jute mill closures by increasing orders for jute sacks for packaging foodgrains.
The issue was flagged earlier by the Textiles Secretary, who had written to his counterpart in the Consumer Affairs ministry saying that the problem had its genesis in the request made by the Consumer Affairs ministry to the Textiles ministry seeking dilution of the Jute Packaging Mandatory Order (under the Jute Packaging Material Act, 1987) in favour of the HDPE/PP bags sector.
Responding to the February 8 request from the Consumer Affairs ministry, the Textiles Ministry had granted a relaxation of 2.58 lakh bales for HPDE/PP bags based on a projection of bag requirement for foodgrains packaging and an anticipated shortage of supply of jute bags.
This relaxation was given to ensure that the food-procurement programme is not affected due to the anticipated shortfall in supply of jute bags till March 31.
The Secretary also noted that subsequently the total requirement till April was projected at 16.7 lakh bales, of which the order for jute bags was put at 13.68 lakh bales. The jute industry had already met 93.4% of this order.
Not in tune
The Textiles ministry contends that the total bag requirement (including HDPE) was now being put at only 15.6 lakh bales and that unless the order allowing the use of HDPE bags was withdrawn the jute industry could be hit.
Nothing here for today!!!
1. Power drive: on the quest to achieve full electrification
Context:
Getting affordable electricity to every household needs sustained policy support
Access to electricity drives the productivity of households, empowers women and enables education and communication.
Prime Minister Narendra Modi recently announced that all inhabited villages now enjoy electrification, it signalled a significant milestone in the country's development.
This recent announcement by PM Narendra Modi is an achievement that will raise aspirations in the remotest districts.
Millions of homes still lack this vital resource in India.
As of April 1, 2015, the official count of unelectrified villages was 18,452.
Yet, broad-brush statistics conceal severe disparities, including the actual number of households in villages that have power connections, the number of hours they get reliable power, and the per capita power that rural and urban Indians consume.
For one, the existing definition to declare a village electrified is coverage of a mere 10% of households and common facilities such as schools, panchayats and health centres.
The claim of electrification pales when viewed against some of these realities.
Rural household electrification has a wide range across States, from 47% to 100%.
The average hours of power supplied in a day to rural areas in January 2018 ranged from 11.5 in Mizoram, 14.91 in Haryana and 17.72 in Uttar Pradesh to 24 hours in Kerala, Gujarat and Tamil Nadu.
These anomalies are often the result of infrastructure deficits and administrative inefficiency and they show that, even with supportive Central schemes, the Power for All 24×7 goal adopted by States and Union Territories with a deadline of April 1, 2019 is far from realistic.
Census data for 2001 and 2011 indicate that the number of rural households that use electricity as their primary source of lighting rose by about 12 percentage points to 55.3%, while in that decade urban households rose five points to 92.7%.
The per capita consumption between rural and fast-rising urban India also represents a challenge, since there is a divergence between the two.
Challenges to improve the service
There are twin challenges to be faced in improving access and equity.
To many, the falling cost of renewable, decentralised sources such as solar photovoltaics represents a ready solution for rural India.
Yet, the evidence from States such as Maharashtra, which made an early claim to full electrification six years ago relying partly on solar power, shows that theft, damage and lack of technical capacity can pose serious hurdles.
Solutions:
The answer may lie in a hybrid solution that ensures continued scaling up of both grid-connected and standalone solar systems in appropriate areas, augmenting conventional sources of electricity, with a clear emphasis on rooftop solutions for cities.
Cheaper renewables will enable differential pricing for households in remote areas, a key determinant of wider social benefits of electricity.
Rural electrification in India has been a long effort, achieving rapid growth from the Third Plan to the Twelfth Plan, but getting affordable power to every household needs sustained policy support.
1. Fake and frightening
Context:
Rana Ayyub's case shows how fake news is being created to target individuals
Even as governments and social media companies grapple with methods of countering the publishing of fake news, a particularly alarming strain has come into existence recently, in the Rana Ayyub case.
Keypoints:
Fake news has wreaked damage several times over the last few years.
It has whipped up communal frenzy.
It has potentially sabotaged elections.
Ayyub, a freelance journalist and author of Gujarat Files, a book about the 2002 riots, registered a police complaint in Delhi about personalised fake news that put her in danger.
About the Issue
According to her complaint, Ms. Ayyub was alerted by friends that a fake quote accompanied by her photograph was doing the rounds on social media.
It was first tweeted by a fake account mimicking a TV channel's logo. The fake quote went viral and triggered real outrage.
Ayyub pointed out on her social media accounts that the quote and the account were fake, but this did not do much to control either the virality of the tweet or the damage.
Soon, she began to receive death and rape threats.
In addition, pornographic videos using morphed images of her began to make the rounds.
Her phone number and home address were posted on the Internet. In her complaint to the police as well as media statements, Ms. Ayyub said she is genuinely scared for her life and the well-being of her family.
Impact of fake news:
While fake news has tended to malign whole communities so far, it wasn't a weapon to attack a person.
Social media users, especially opinionated women, are well acquainted with troll attacks.
The attacks often come and go in a span of 24-48 hours, leaving a litter of bilious comments and misogynistic observations in their wake.
However, those attacks are often for something the user might have actually said; therefore it can be explained and some kind of background provided in defence.
In Ms. Ayyub's case, neither the original post nor the dog whistle to it was hers.
This is a potential threat to anybody who has an online presence.
It has been proven that false news spreads faster and farther than real news. Any attempts at correcting statements that are wrongly attributed to users will find a much more limited audience and once the screenshots reach WhatsApp, there is absolutely no stopping them as they leap from group to group within seconds.
The damage to one's reputation is immediate and impossible to completely reverse.
Social media has now brought us to a point where the possibility of a baying mob outside our homes, based on absolutely nothing we might have done, is imminent.
The speed of distribution of false news as well as the ease of maintaining anonymity on the Web make it difficult for law-enforcement officers to prevent these attacks or track down perpetrators.
Since this is a problem created by technology, its solution too lies in technology.
Unless users push digital publishing companies to ensure a trail for every post and eliminate anonymity, incidents like this are likely to escalate.
1. Control on cloth output liberalised
Context:
A comprehensive short-term policy, which includes adjustments of pattern of production, marketing and excise duty on cotton textiles, was announced by the Commerce Minister.
Why this policy?
This short term policy aimed to relieve the present difficulty faced by the textile industry.
What's in the policy?
Under the new scheme, the area of control has been reduced from 40 to 25 per cent.
The controlled varieties will now consist of dhotis, saris long cloth, shirting and drill made in coarse and lower medium categories.
The superfine, fine and higher medium categories have been taken off the control.
A two per cent increase in the ex-mill price of the controlled varieties has been allowed, but this will not affect the consumer price, because it will be absorbed by the reduction in excise duty from 3 paise to 1 ½ paise per square metre and abolition of processing surcharge.
In order to maintain the competitive position of decentralised sector vis-a-vis the mill sector, a corresponding reduction is being made in the processing surcharges applicable to coarse and medium handloom and power-loom cloth.
Nothing here for today!!!
G. Practice Questions for UPSC Prelims Exam
Question 1. Consider the following statements about GOBAR-DHAN Scheme:
The Ministry of Drinking Water & Sanitation has launched GOBAR (Galvanizing Organic Bio-Agro Resources) – DHAN scheme at National Dairy Research Institute (NDRI) Karnal.
It was launched under Swachh Bharat Mission (Gramin).
Which of the above statements are correct?
1 only
2 only
Both 1 and 2
Neither 1 nor 2
See
Question 2. Consider the following statements about GOBAR-DHAN Scheme:
The scheme focuses on managing and converting cattle dung and solid waste in farms to useful compost, biogas and bio-CNG.
The scheme envisages implementation of 700 bio-gas units in different states of the country in 2018-19.
Which of the above statements are correct?
1 only
2 only
Both 1 and 2
Neither 1 nor 2
See
Question 3. Consider the following statements about Neemrana Dialogue:
The bilateral dialogue between India-Paksitan gets its name from the Neemrana Fort, where it was first held in 1991-1992.
Neemrana is also a non-governmental dialogue.
Which of the above statements are incorrect?
1 only
2 only
Both 1 and 2
Neither 1 nor 2
See
Question 4. Consider the following statements about Saubhagya Scheme:
Pradhan Mantri Sahaj Bijli Har Ghar Yojana –"Saubhagya" is a scheme to ensure electrification of all willing households in the country in rural areas.
The beneficiaries for free electricity connections would be identified using Socio Economic and Caste Census (SECC) 2011 data.
Which of the above statements are correct?
1 only
2 only
Both 1 and 2
Neither 1 nor 2
See
Question 5. Consider the following statements about Pravasi Bharatiya Divas:
Pravasi Bharatiya Divas is celebrated every year in India on 9 January.
The day is celebrated to mark contribution of overseas Indian community to the development of India.
Which of the above statements are correct?
1 only
2 only
Both 1 and 2
Neither 1 nor 2
See
H. UPSC Mains Practice Questions
 General Studies II
India's ranking in Press freedom is dropping year after year. What are the possible reasons and what should Govt do to overcome this issue?
General Studies III
Capping of Prices on medical stents is a important social welfare move but has its set of negative implications. Discuss.
Also, check previous Daily News Analysis
"Proper Current Affairs preparation is the key to success in the UPSC- Civil Services Examination. We have now launched a comprehensive 'Current Affairs Webinar'. Limited seats available. Click here to Know More."
Enroll for India's Largest All-India Test Series