TABLE OF CONTENTS
A.

 GS1 Related




B.

 GS2 Related


POLITY
1. SC pulls up Centre for not framing Cauvery scheme
INTERNATIONAL RELATIONS
1. Trump pulls U.S. out of Iran n-deal
GOVERNANCE
1. Panel for time-bound release of MPLADS funds
2. Commission approves modern animal-free testing for drugs


C.

 GS3 Related


SCIENCE AND TECHNOLOGY
1. Purifying water using sunlight
2. Fostering the AI ecosystem in India


D.

 GS4 Related




E. 

Editorials


ECONOMY
1. Take the long view


F. 

Prelims Fact


G. UPSC Prelims Practice Questions
H. UPSC Mains Practice Questions 

Nothing here for today!!!
1. SC pulls up Centre for not framing Cauvery scheme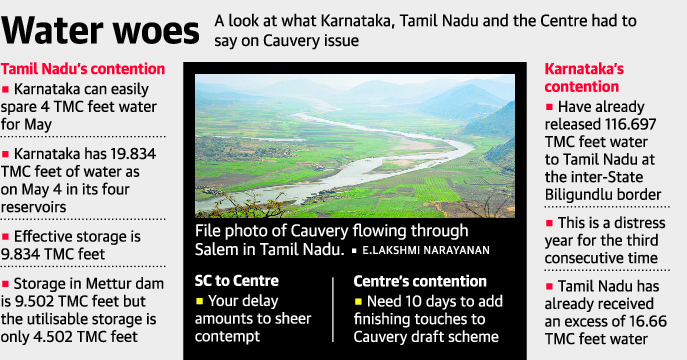 The Supreme Court rapped the Centre for showing sheer contempt of court by not framing the Cauvery draft scheme, but adjourned the case to May 14, well after the crucial polling day for the Karnataka Assembly election.
Attorney-General K.K. Venugopal asked a Bench led by Chief Justice of India Dipak Misra for 10 days' time to add the finishing touches to its draft scheme and get the nod of the Union Cabinet.
The SC had categorically directed the Centre to frame the draft scheme by May 3 to prove its bona fide resolve to end the 200-year-old dispute between Karnataka and Tamil Nadu.
Directive to official
The court did not go into pleas and counter-pleas by Tamil Nadu and Karnataka over the release of Cauvery water. The CJI said this may only retard the implementation of the judgment and the nitty-gritty of water-sharing should be looked into by the authority which would be put in place by the Centre as per the scheme.
What is contempt of court?
Contempt of court, often referred to as "contempt", is the offence of being disobedient towards a court of law and its authorities in the form of behaviour that opposes or defies the dignity of the court.
It manifests itself in wilful disregard of the authority of a court of law.
There are broadly two categories of contempt: being rude to legal authorities in the courtroom, or willfully failing to obey a court order.
When a court decides that an action constitutes contempt, it issues an order called "found" or "held" in contempt which declares a person or organisation is found to have disobeyed the court. This is likely to jeopardise a fair trial. Besides, those found guilty of contempt of court may have to pay a fine or even go to jail.
Category: INTERNATIONAL RELATIONS
1. Trump pulls U.S. out of Iran n-deal
U.S. President Donald Trump pulled out of the landmark nuclear deal with Iran, an Obama-era accord which he has repeatedly criticised.
Moments later he signed a fresh set of sanctions against Iran and warned countries against any cooperation with Iran on its nuclear weapons programme.
U.S. President Donald Trump's announcement to pull his country out of the Iran deal upended a key foreign policy achievement of his predecessor Barack Obama.
Trump has directed his administration to immediately begin the process of re-imposing sanctions against Iran that were lifted under the deal, the White House said.
Trump's decision to formally end the U.S.'s participation in the deal that curtailed Iran's nuclear ambitions could strain its relations with key allies like France, Germany and the United Kingdom, aggravate tensions with Russia and China, and add to instability in West Asia.
Repeating his long-held views on the deal, Mr. Trump said the deal failed to deal with the threat of Iran's missile programme and did not include a strong enough mechanism for inspections and verification. Accusing Iran of malign activities in the region, he said the U.S. would not surrender to nuclear blackmail by Iran.
Arms race threat
Though the formal exit of the U.S. happened only with Mr. Trump's announcement, the country has already been in violation of the agreement, according to some commentators, who pointed out the administration's active role in stopping commercial agreements Iran sought with Western companies.
The Trump administration has already been pressing European countries to stay away from commercial deals with Iran. Boeing, one American entity that was allowed to do business with Iran by the Barack Obama administration, has not proceeded with the opportunity.
1. Panel for time-bound release of MPLADS funds
In news
The parliamentary panel on Member of Parliament Local Area Development Scheme (MPLADS) funds has recommended that amounts donated by lawmakers for rehabilitation work after natural disasters be disbursed within two weeks.
Issues raised by the Panel
The panel, headed by Deputy Speaker of Lok Sabha M. Thambidurai observed that funds allocated for the purpose by the MPs often reach the affected people too late to help.
Currently, the actual transfer takes anything from six months to over a year because of red tape. Funds are to be released by the nodal district of the lawmaker concerned to the district authority of the affected district.
Background: MPLADS
Member of Parliament Local Area Development (MPLAD) scheme, introduced in December 1993 is an important scheme of Government of India which empowers every Member of Parliament (MP) to spend a certain sum of amount on the development of his/her constituency on various social development areas such as health, education, drinking water, electricity, family welfare, sanitation and so on.
The idea is creation of durable community assets and for the provision of basic facilities including community infrastructure, based on local requirements. The scheme essentially entitles every MP (Lok Sabha as well as Rajya Sabha Members) to recommend spending Rs. 5 crore every year on works of development nature.
A Member of Parliament gets Rs.5 crore a year to spend on local area development. Members of Parliament were allowed to spend the money outside their constituency and their State in case of Rajya Sabha MPs — after the 1999 super cyclone in Odisha.
The MPs can recommend the work(s) in their constituency (in case of Lok Sabha)or anywhere in the state from where they are elected (in case of Rajya Sabha).
The Ministry of Statistics and Programme Implementation has been designated as the nodal agency to coordinate the work and to conduct Internet audit of the work carried out by the public representatives.
2. Commission approves modern animal-free testing for drugs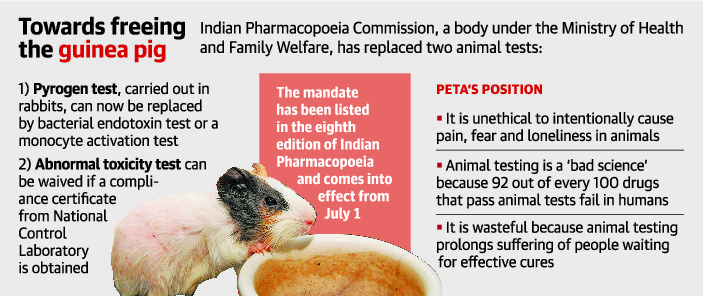 In a step that would spare animals from suffering due to drug experiments, the Indian Pharmacopoeia Commission has approved modern, animal-free tests for drug manufacturers.
In the 2018 edition of Indian Pharmacopoeia, that provides guidelines on tests for drugs manufactured and marketed in India, the IPC has replaced the pyrogen test carried out on rabbits and the abnormal toxicity test carried out on guinea pigs and mice with tests that can be done in test tubes. The guidelines in the edition will come into effect from July 1.
The pyrogen test is carried out to check impurity or substance that can cause adverse side-effects. For the test, the drug is injected into a rabbit and the animal is closely observed for feverish symptoms.
The abnormal toxicity test is carried out to check potential hazardous biological contamination in vaccine formulations.
This batch test is done before the product is approved for marketing. In this, mice or guinea pigs are injected with the vaccine. The scientists observe if there is death of any animal.
New mandate
With the Indian Pharmacopoeia Commission's new mandate, the pyrogen test will be replaced by a bacterial endotoxin test or a monocyte activation test which can be carried out in test tubes. Vaccine manufacturers can apply for the waiver for the abnormal toxicity test by getting a compliance certificate from the National Control Laboratory instead.
People for the Ethical Treatment of Animals (PETA) India has been pushing for doing away with the cruel methods of testing on animals for the past several years.
Tests like the one for abnormal toxicity have been removed by the U.S. and European pharmacopoeia as they are not an efficient marker.
Category: SCIENCE AND TECHNOLOGY
1. Purifying water using sunlight
New technology that uses the sunlight to purify water with near-perfect efficiency has been developed.
By draping black, carbon-dipped paper in a triangular shape and using it to both absorb and vaporise water, researchers have developed a method for using sunlight to generate clean water with near-perfect efficiency.
The low-cost technology could provide drinking water in regions where resources are scarce, or where natural disasters have struck. The technique has many advantages.
It is simple, and the power source – the sun – is available just about everywhere. However, even the latest solar still models are somewhat inefficient at vaporizing water.
Most groups working on solar evaporation technologies are trying to develop advanced materials, such as metallic plasmonic and carbon-based nanomaterials.
2. Fostering the AI ecosystem in India
NITI Aayog joined hands with Google to foster growth in India's nascent artificial intelligence (AI) and machine learning ecosystem by working together on several initiatives in the two areas.
Under the aegis of the programme, Google will train and incubate Indian AI startups in an accelerator programme.
These startups will be mentored and coached by Google and its affiliates to enable them to better leverage AI in their respective business models.
Further, Google will also bring its online training courses on AI to students, graduates and engineers to numerous cities across India in the form of study groups and developer-run courses.
Under the programme, NITI Aayog and Google will organise an AI and machine learning hackathon focused on solving key challenges within agriculture, education, healthcare, financial inclusion, transportation and mobility.
The NITI Aayog has been entrusted by the government to set up a national programme to conduct research and development in frontier technologies such as AI.
Nothing here for today!!!
1. Take the long view
The rupee is sinking. But move to review prudent investment limits for FPIs is worrying
Why in news?
The Centre and the Reserve Bank of India (RBI) seem to be in panic mode with the rupee crossing the 67-to-dollar mark and weakening by about Rs 3.5 so far in the current year alone.
Reasons behind the concern
Brent crude
The concern is largely fuelled by oil: Brent crude is now trading at around $ 76 per barrel, its highest since November 26, 2014.
The rising oil import bill and far from satisfactory export growth has led to India's current account deficit widening to $ 50 billion in 2017-18 and a projected $ 75 billion in 2018-19, as against $ 26.86 billion, $ 22.15 billion and $ 15.30 billion in the first three years of the Narendra Modi government.
Outflows
That, coupled with capital outflows (since the start of April, foreign portfolio investors have made over $ 3.3 billion worth of net sales in India's equity and bond markets), has led to a drawdown of more than $ 4.2 billion in the RBI's foreign exchange reserves.
But does this justify the reaction, especially by the RBI?
The central bank, on April 27, eased rules to allow Foreign Portfolio Investors to invest in government bonds or securities and state development loans with a residual maturity of below one year with the caveat that at any point of time, such investment should not exceed 20 percent of the total investment of the FPI.
Similarly, foreign portfolio investors have been allowed to invest in corporate bonds with a minimum residual maturity of less than one year. It is not just the opening up of the window for portfolio flows.
The RBI has also liberalised the rules for foreign borrowing by Indian firms. Both these measures are presumably aimed at ensuring higher inflows, even if it means creating or adding to debt and reflecting the policy mindset which has prevailed on management of capital flows marked by the switching on or off of the tap for calibrating foreign inflows.
That's what the central bank and government have taken recourse to each time the rupee has come under attack or when the Current Account Deficit has widened as was the case from 2011-12 to 2013-14.
Rupee crisis 2013
At the peak of the rupee crisis in mid-2013, the government increased the investment limits or quota for overseas funds in rupee debt.
Yet, for years, India's policymakers had kept the lid on short-term debt inflows especially in government bonds or securities, including treasury bills, because of potential volatility and destabilising flows — which is why the current move to review what was considered by many as prudent investment limits for FPIs appears worrying. This is especially so after taking into account the rebound in global growth.
Way forward:
What these moves point to, despite indications of an uptick in growth in FY19, is an underlying weakness in the economy.
Addressing it includes reviving stalled projects and getting the entrepreneurial spirit going and further easing rules to encourage FDI.
Else there will be a high cost to pay for opening up the short-term debt tap.
Nothing here for today!!!
G. Practice Questions for UPSC Prelims Exam
Question 1. Consider the following statements about Illegal Migrants:
Foreigners without valid travel documents are considered as illegal migrants.
Foreigners who stay beyond their visa period are called illegal immigrants.
Which of the above statements are correct?
1 only
2 only
1 and 2 only
None of the above
See
Question 2. Consider the following statements related to Indian Pharmacopoeia Commission (IPC):
IPC is an Autonomous Institution of the Ministry of Commerce. IPC is created to set standards of drugs in the country.
Its basic function is to update regularly the standards of drugs commonly required for treatment of diseases prevailing in this region.
Select the correct answer using the codes given:
1 only
2 only
Both 1 and 2
None of the above
See
Question 3. Consider the following statements about MPLADS:
A Member of Parliament gets 5 crore rupees a year to spend on local area development.
The MPs can recommend the work(s) in their constituency (in case of Lok Sabha) or anywhere in the state from where they are elected (in case of Rajya Sabha).
Which of the above statements are correct?
1 only
2 only
1 and 2 only
None of the above
See
Question 4. Consider the following statements about Contempt of Court:
Contempt of court is the offence of being disobedient towards a court of law and its authorities in the form of behaviour that opposes or defies the dignity of the court.
Those found guilty of contempt of court may have to pay a fine or even go to jail.
Which of the above statements are correct?
1 only
2 only
1 and 2 only
None of the above
See
H. UPSC Mains Practice Questions
 General Studies II
The Citizenship (Amendment) Bill, 2016 does not solve the problems of Citizenship but instead raises new concerns. Critically Analyze.
General Studies III
The depreciation in value of rupee against the dollar is due to mix of domestic and international policies. Elaborate.
Also, check previous Daily News Analysis
"Proper Current Affairs preparation is the key to success in the UPSC- Civil Services Examination. We have now launched a comprehensive 'Current Affairs Webinar'. Limited seats available. Click here to Know More."
Enroll for India's Largest All-India Test Series